The lanky young man settles into the start zone, knowing that this race — Toronto Waterfront Marathon — doubles as the Canadian championship and the Olympic Games trial.

For Trevor Hofbauer, it also stands as the culmination of a singleminded six-year plan.

A lot to consider. And a lot to bear? Perhaps.

But on that October morning in 2019, Hofbauer, maintaining a clear mind, produces his finest performance.

The Calgarian not only captures the national crown, he pares seven minutes off his personal-best time, qualifies for Tokyo 2020 by beating the Olympic standard of 2:11:30, and becomes the second ever Canadian to break the 2:10 barrier.

The dazzling display from the underdog, who posts an official time of 2:09:51, catches off-guard much of the Canadian running community.

His own future is radically re-shaped.

Hofbauer laughs. "Oh, yeah." Because, he admits, that there had been much more than glory on the line that day.

"In all transparency, if things went differently — if I had run 2:15 and that was my absolute best — I might have retired from the sport in that moment," he said. "I was running pretty low on my savings. That had an expiry and it was coming up pretty quickly. So if I didn't do what I did, it might have been over.

"I wasn't really on the radar for Athletics Canada to make the Olympic team. I didn't have (Sport Canada) carding. I didn't have any support.

"But, thankfully, by doing that, it opened up doors."

He laughs again. "Life-changing is definitely the right word to use."

Financial burden eased, he spent the past two years preparing and, of course, looking forward to the 42.2-kilometre race at the Summer Games. The men's marathon, as usual, is set for the final day of the Olympics — in this case, Aug. 8.

"It's wild how it all worked out because, in the back of your mind, you create plans and you create lofty goals for yourself," said Hofbauer, who trains with Calgary Spartans coach Deon Flynn. "You just never know if it's going to work out. For it to actually work out? For me to fulfill that plan? It felt incredible.

"It kind of blows my own mind away."

The marathon will be contested in Sapporo, 800 kilometres north of Tokyo. It's a flat course, meaning a relatively brisk trip for contenders. Asked what he's aiming for, in terms of time and placing, Hofbauer politely ducks.

"I appreciate the question," he said, chuckling, "but I'm not going to budge there. All I'll say is that I have high expectations for myself. I'm not going over there to just enjoy the experience. I want to represent Canada to my fullest. I want to make sure we're represented well on race day."

These days, in mid-July, there is no time to daydream. He's still sweating through a heavy block of training. In fact, the heaviest phase, with one more 180-kilometre week to go. Then, mercifully, comes the tapering process.

Less than a month out from the big day, Hofbauer, a process-oriented person, is hardly stressing about the spotlight, about the stakes, of the Olympic stage.

"I'm pretty neutral about the whole thing, to be honest — that's just how I approach every race," the 29-year-old said. "I'm in a mindset right now where I won't get excited until the morning of the race — more specifically, when I'm doing my warmup and on the start line.

"Before that, it's staying calm, staying neutral, and just being present."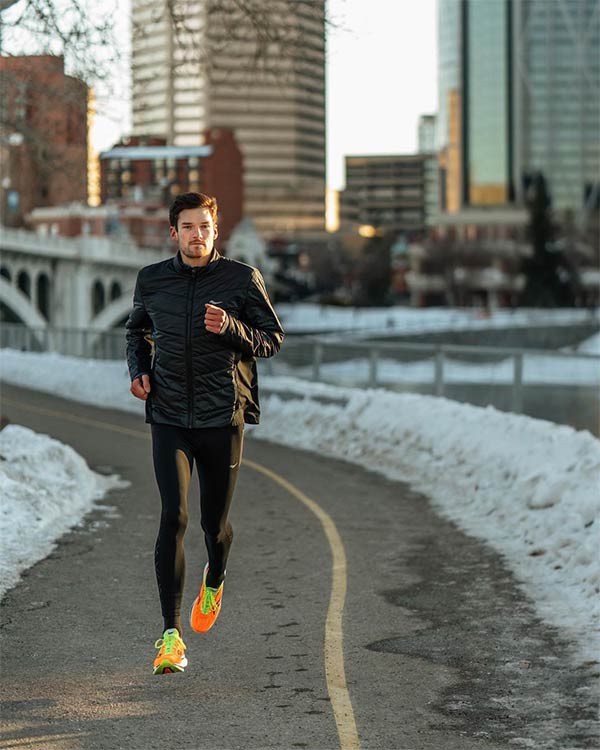 Growing up in McKenzie Lake in the city's southeast, Hofbauer had been an active lad, throwing himself into basketball, golf, baseball, indoor soccer, hockey. He also swam competitively.

"I've always been fit. I've always had that aerobic engine," he said. "I was very much a multi-dimensional athlete."

Hofbauer ran cross-country at Bishop O'Byrne High School, then continued at SAIT, while earning a diploma in hospitality and tourism management. Around that time — April 2013 — he made headlines, but it had nothing to do with first-place finishes.

Days after the Boston Marathon bombing, Hofbauer, who had just turned 21, decided that he wanted to organize something to show support for the victims. His idea was to bring together a small group of like-minded folks for what he called the Run For Boston. Thanks to word of mouth nearly 1,000 showed up at Edworthy Park.

"It feels like a million years ago, but it also feels like it was just yesterday," Hofbauer said. "That was an incredible moment I'll never forget … how wild and chaotic it was to create the event, how scatterbrained I was at times. But also how grateful I was for other support around me to make it happen.

"That one specific event, as much as it was for the community, it really helped shape my life. It gave me some really key role models. It's really allowed me to stay grounded and stay humble in my roots."

Soon after, a plan began to take form. Hofbauer would shoot for the Olympics.

At what distance, he did not know. Initially he toyed with 10,000 metres. But, despite the fact that he can break 30 minutes in a 10-kilometre road race, the six-foot-three, 170-pounder determined that he wasn't built for that distance. He lacked the requisite raw speed.

"I'm a bigger human in the running world," said Hofbauer. "The way that my body is designed, it's more for longer distance. I've just used that to my advantage. So I focused on building that aerobic engine and focused on building my strength."

He shifted his focus to marathons, customizing his regimen and mindfully building toward racing at that specific distance. (On an Excel spreadsheet, he's logged every single one of his workouts since 2013.)

For his debut, Hofbauer chose the 2017 national championship in Toronto.

He won. Really.

The conclusion to that race, he calls an "expressive finish-line moment." To say the least. Hofbauer had been jacked.

"That was because, in that moment, I knew that I loved the distance," he explained. "If I did not love the distance? The dream was potentially over. It was marathon or nothing to make that Olympic dream happen. That moment was all about finding love for the distance, regardless of time, regardless of placement."

During the jubilant march down the home stretch, Hofbauer took his time, high-fiving and celebrating with fans lining the course. The emotional outburst was costly. He clocked in at 2:18:06 — a half-dozen seconds shy of a better prize-money threshold. So, instead of pocketing $2,500, he settled for $1,250.
Trevor Hofbauer's finish-line celebration costs him half his prize money: https://t.co/gk6QVYFSFd #STWM @RunCRS pic.twitter.com/UeSVUiEhXO

— Canadian Running (@CanadianRunning) October 23, 2017
Not that he gave a hoot.

"A thousand bucks isn't a lot when you look at the life of a human being," said Hofbauer. "When I look at the long-term effect of it, it's nothing. That moment was worth much more than the monetary value that I lost."

Because, as he points out, that day he knew his Olympic Games wheelhouse — the marathon.

And, two years later, the red-letter day arrived. The 2019 national championship, with a Tokyo 2020 spot on the line.

Hofbauer's fastest time was 2:16:48. Meaning, in a stacked field, he was nobody's favourite.

No matter.

With his blazing 2:09:51, he was deservedly the star of the show.

"There was a lot of surprise," Hofbauer said. "The community here in Calgary … it wasn't a surprise to them. I told the guys what my expectations were. They've seen my training, they've seen my work ethic. So to the guys who know me? It wasn't a surprise."
Securing a place in the 2020 Olympics had been a life-affirming checkmark.

But there was a catch.

Like elite athletes around the world, he was forced to hit pause because of the pandemic. His competitive schedule got shortcircuited. Hofbauer raced in Phoenix in February 2020 — and not since.

But moan and groan? Not this chap.

"There was so much more for the world to worry about," Hofbauer said. "Before I'm an athlete, I'm a person and I care about the health of everybody around me. My grandma had COVID and she's 96. My immediate attention went to her and the care for her. She survived. But it's scary in that moment.

"My first concern was, 'Let's figure this out as a world.'"

Now, finally, is the chance to fulfill a dream — compete in the Olympics. Nearly all the work has been done. He's ready.

Feel free to scoff at his chances. But know that your lack of belief doesn't faze him. In the least.

Snubs and slights don't rattle Hofbauer. Rather, they stoke the man.

Only weeks prior to that name-making race in 2019, he was informed that his sponsor, a shoe company, had decided to ditch him. Then in Toronto, despite having been the 2017 national champion two years earlier, he wasn't invited by organizers to the pre-race press conference.

Everyone knows what ended up happening.

"I love the doubters and the naysayers," said Hofbauer. "I think it goes back to my basketball roots. A part of my mind, a part of my mentality in sports, is very much Kobe Bryant-esque. I love it when people say, 'Oh, you can't do that.' Anything that expresses doubt … I crave it almost. At times it fuels me.

"Somebody saying, 'Oh, great job, Trevor' — that doesn't motivate me. But somebody telling me I can't do something? Oh yeah, that'll get me out of bed."