Don Buchignani: 2020-2021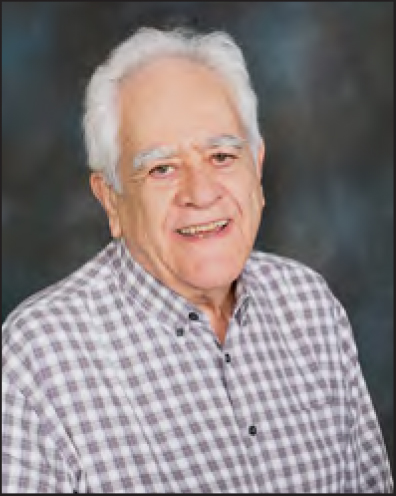 Don grew up in Trail, B.C. where he played hockey in the winter and baseball in the summer.
He attended St. Francis Xavier University (Nova Scotia), University of Alberta (Edmonton) and Gonzaga University (Washington), earning a Master's degree in Education Administration.
Don was a math and science teacher, a coach, and an administrator for 34 years in the Calgary Catholic School District. He rose to vice principal at Father Lacombe High School before assuming the position of principal at St. Francis High School prior to his retirement in 1997.
Don enjoyed an extensive coaching career with volleyball, basketball, hockey, and cheerleading taking up most of his time. His true passion however was recognized in swimming and diving where he coached many successful teams at St. Francis High School. He also found time to serve as 'The Official Starter' at the annual Calgary high school swim and dive meets for more than 20 years. Over 1,000 competitors would be organized and shepherded on-time, and on a tight schedule through their heats and finals in this one-day meet, as the direct result of Don's expertise and leadership.
Don's community involvement is equally as impressive as he served as president of the University of Calgary Swim Club and was also the Lindsay Park Sports Society president for 12 years. He was a Board member of Swim Canada and Swim Alberta sitting on numerous committees, along with officiating regularly at swim meets. Don also served as Swim Canada Team Manager for the 1992 Barcelona Olympic Games, the 2007 World Swim Championships and the 2008 Beijing Olympic Games. These are undoubtedly among the proudest moments of Don's illustrious swim volunteer leadership career.
Another area of interest for Don has been the Calgary Booster Club where he has volunteered as a Director for 24 years, including a term as President. He has been an active member of the Awards and Endowment selection committees which selects promising young athletes to annually receive Calgary Booster Club scholarships. As Chairman of the original Calgary Booster Club Wall of Fame at the Lindsay Park Sports Centre (now Repsol), Don was responsible for overseeing the fund raising and eventual renovations to this project before it was eventually moved to WinSport at Canada Olympic Park. Don continues to ensure the Wall is updated each and every year. He was also the Booster Club's representative on the former CODA Board of Directors for many years.
Recently, Don has taken on a key leadership role in the organization and planning for the 67th Calgary Booster Club Virtual Sports Gala night.
The Calgary Booster Club is honoured to recognize an outstanding individual with the President's Award for 2020-2021, for his many contributions to sport in Calgary and specifically, to the Calgary Booster Club.
Congratulations Don Buchignani for this well-deserved recognition.