Dedicated to the development and encouragement of athletic endeavour
The Calgary Booster Club, a volunteer-run organization, has been a fixture on the local sports landscape since 1952. It dedicates its resources and support to deserving members of the community, annually honouring volunteers, athletes, coaches, and administrators.
In addition to handing out multiple scholarships and endowments, and running an annual Sports Gala, the Calgary Booster Club recognizes the city's top athletes, male and female. Also singled out is the Special Olympics athlete of the year. The highest honour bestowed on an individual is the Sportsperson of the Year.
The Calgary Booster Club recognizes and supports achievement and leadership in sport.
We will continue to contribute to the building of the finest sport community in Canada.
The Calgary Booster Club has a long and proud tradition of involvement in the local athletic scene. Several businessmen (Stu Adams, Roy Beavers, Ron Butlin, Vere Carmichael, Harry Cohen, Pete Egan, Curly Hunt, Les Maxwell, Ernie McCullough Jr., Jack Quigley, and Art Smith) formed the idea of a club to promote sport at an unofficial meeting at the Club Cafe in downtown Calgary in 1951. Vere Carmichael served as the first Calgary Booster Club President during 1952-1953. In the ensuing years, hundreds of prominent Calgarians have devoted countless hours to Calgary Booster Club activities. Included in the Club's many accomplishments is its role as a catalyst for the 1988 Winter Olympic Games bid.
In February 1979, planning expenses were donated to the Calgary Olympic Development Association. As a result of Calgary Booster Club's assistance, competition, education, and recognition programs, thousands of Calgarians have benefited.
Since 1952, the Calgary Booster Club has woven itself into the fabric of our community, and continues to help support the finest athletic landscape in Canada. Often standing behind the scenes, our organization has endeavored to provide assistance to aspiring athletic champions, to recognize leadership that has made Calgary's athletic programs so vibrant, and to celebrate athletic accomplishments in our city, both individual and collective.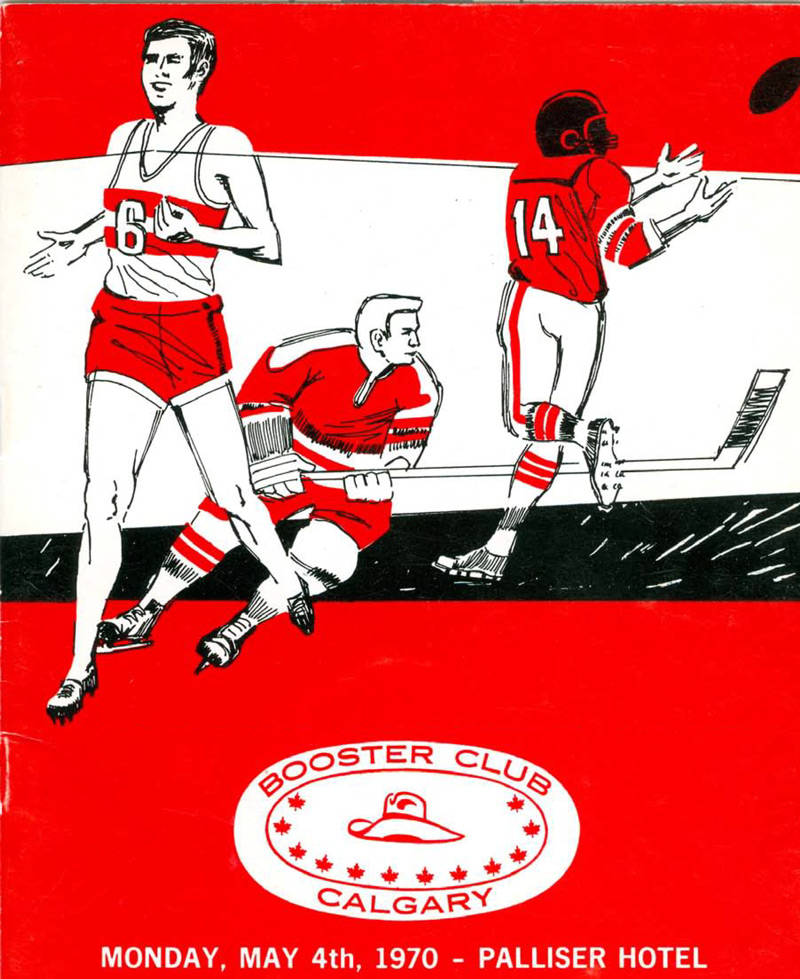 The Club originated in 1951 when a diverse group of local businessmen began informal luncheon meetings at the Club Cafe on Eight Ave East. The idea was basic: to organize a Club of sport enthusiasts to boost amateur sports and sports in general in the City of Calgary.
Stu Adams – Adams Distillers Limited
Roy Beavers – Owner, Club Cafe
Ron Butlin – Business Exec., Central Liquidation (Canada) Ltd.
Vere Carmichael – Medical Supply Salesman
Harry Cohen – Manager Director, General Distributors Ltd.
Pete Egan – Manager, Palace Theatre
Curly Hunt – President, Hunt Real Estate
Dr. Les Maxwell – Dentist
Ernie McCullough, Jr. – Maclin Motors
Jack Quigley – Insurance Executive, Quigley Hunt Insurance
Art Smith – Advertising Executive
1980 – Jim (Deak) Cassidy
1980 – Marv McDill*
1982 – Mr. Justice
1982 – Joe Kryczka*
1982 – Doug Mitchell, Q.C.*
1984 – Bill Warren, Q.C.
1985 – Bill Nield
1985 – Fred Wuotila*
1989 – Frank King*
1999 – Dennis Kadatz*
2000 – Art Smith*
2003 – Stu Adams*
2003 – Roy Beavers*
2003 – Ron Butlin*
2003 – Vere Carmichael*
2003 – Harry Cohen*
2003 – Pete Egan*
2003 – Curly Hunt*
2003 – Dr. Les Maxwell*
2003 – Ernie McCullough, Jr.*
2003 – Jack Quigley*
2006 – Bob Niven
2008 – LeRoy Pelletier
2016 – Doug Kowel
2016 – Jack MacDonald
2016 – Rob Stinson
*deceased
1952-53 – Vere Carmichael*
1953-54 – Art Smith*
1954-55 – Ernie McCullough*
1955-56 – Wally Rowan*
1956-57 – Al Ward*
1957-58 – Curly Hunt*
1958-59 – Bob Freeze*
1959-60 – Ken Moore*
1960-61 – Bill Dickie
1961-62 – Ron Butlin*
1962-63 – Ron Butlin*
1963-64 – Bill Pullar*
1964-65 – Joe Kryczka*
1965-66 – Lou Goodwin*
1966-67 – Stu Adams*
1967-68 – Gerry Maier
1968-69 – Doug Mitchell*
1969-70 – Jack Prette*
1970-71 – Jim (Deak) Cassidy*
1971-72 – Roy Maxwell
1972-73 – Don Park
1973-74 – Tony Schneider*
1974-75 – Dennis Kadatz*
1975-76 – Jack Wilson
1976-77 – Bill Warren
1977-78 – Fred Wuotila*
1978-79 – Bill Nield
1979-80 – Don Podgurny
1980-81 – Ted Sullivan
1981-82 – Trevor Williams
1982-83 – Skip Morgan
1983-84 – Wes Dalgleish
1984-85 – LeRoy Pelletier
1985-86 – Sim Laing
1986-87 – Doug Kowel
1987-88 – Lorne Scott
1988-89 – John Langille
1989-90 – Bill Waddell
1990-91 – Rod Antoniuk
1991-92 – Jack MacDonald
1992-93 – Don Beamer
1993-94 – Chuck Rose
1994-95 – Dr. Brent Humphrey
1995-96 – Lawrence King
1996-97 – Reg Verley
1997-98 – Bob Croteau
1998-99 – Brian Randall
1999-00 – Reid Morrison
2000-01 – Sue Chambers
2001-02 – Don Buchignani
2002-03 – Don Young
2003-04 – Leon Nellissen
2004-05 – Pat Franks
2005-06 – Rob Stinson
2006-07 – Gary Maher
2007-08 – Kathy Van Heurn
2008-09 – Wayne Meadows
2009-10 – Al Taylor
2010-11 – Wayne McDougall
2011-12 – Brent Gough
2012-13 – Mike Boyles
2013-14 – Don Phelps
2014-15 – Ron Gerlitz
2015-16 – Al Taylor
2016-17 – Jon Jewell
*deceased
Rod Antoniuk
Ray Barry
Ron Butlin*
Jim (Deak) Cassidy*
Sue Chambers
William (Bill) Code
Bob Croteau
W.D. (Bill) Dickie, Q.C.
Bill Dockery*
Mary Anne Downing
Myrna Empey
Joe Ferguson*
Pat Franks
Dr. Lou Goodwin*
Clarence Gourlay*
Harry Hobbs
Dr. Brent Humphrey
Tom Humphrey*
Curly Hunt*
Don Ingram
Dennis Kadatz*
Frank King*
Doug Kowel
Mr. Justice
Joseph Kryczka*
Simpson Laing
John Langille
Jack MacDonald
Gerry Maier
Bill Manarey
Roy C. Maxwell
John Mayell*
Ernie McCullough*
Ken McKenna*
Art Meyer
R.W. (Bud) Milner
Doug Mitchell, Q.C.*
The Honourable
W.K. (Ken) Moore*
Robert (Skip) Morgan
Reid Morrison
Bill Nield
R.D. (Bob) Niven
Don Park
Russ Parker
Leroy Pelletier
Don Podgurny
Jack Prette*
Jack Quigley*
Brian Randall
Chuck Rose
Tony Schneider*
Lorne Scott, Q.C.
John Semkuley
Art Smith*
Ron Smyth*
Dr. Ward Steckle*
Gordon Stitt
Ted Sullivan
Reg Verley
Bill Waddell
Bill Warren, Q.C.
Darol Wigham*
Trevor Williams
Jack Wilson
Gordon Wood*
Fred Wuotila*
*deceased
Beginnings
Art Smith describes the Club's beginnings. "We recognized there was no single umbrella organization supporting amateur sports. But it was Vere Carmichael's idea and his alone. I was the first person he came to. I told him, "You be President and I'll be your Vice-President." Then he became very ill in the second month of his term when I took over as acting president.
During a meeting at the Club Cafe, I wrote 'dedicated to the development of amateur sport' on a package of Millbank cigarettes. That's still in the letterhead. I remember some of the wild ideas the board thought we should take on. They wanted to do a Trans-Canada run but people thought we were nuts. We did some ridiculous things like holding a polo match in the snow during halftime at a Calgary Stampeder game and raced professional standard car races. We did something different all the time.
There were no other groups like the Booster Club across the country. We didn't think there was anything we couldn't do. The moment we were successful, we had hundreds of people to join us. We also had the support of the sportswriters.
All of the directors had assignments. We were active in promoting sport because we were the only game in town.
We worked with the professional sports to benefit amateur sports: forming a Quarterback Club for the Stampeder Football Club. We promoted the team in escorting Stampeder players to events throughout Alberta.
Part of the Club's history was their affiliation with the Calgary Boosterettes, a ladies auxiliary of local women interested in sports in sports promotion.
The Boosterettes aided the Club with ticket sales, fundraising, and spring fashion shows. The concept had the ladies working in conjunction with the Club but acting as a separate organization. The partnership lasted until 1967 when the Boosterettes disbanded.
About Art Smith
Art Smith was often referred to as "Mr. Calgary". He was a wartime hero, a Calgary alderman, an Alberta MLA, a three time Member of Parliament and an advisor and Canadian delegate to the United Nations.
Art served on numerous boards and foundations, including, president of the Calgary Chamber of Commerce, the Chief of Protocol for the XV Olympic Games and a founder of the Calgary Homeless Foundation.
During his career he received many awards and honors including the Order of Canada, the Alberta Order of Excellence, honorary doctors of law degree from the University of Calgary and was appointed Honorary Colonel of the 416 Tactical Fighter Squadron.
The Booster Club's endowment fund supporting grants to amateur athletes is named in his honour.
He was born in Calgary, 16 May 1919 and died 30 June 2008 at the age of 89.