Photo credit: Yvens B.

File this episode under Family Folklore. That time on a camping trip Caeli McKay – only four years old and enjoying her time hanging around an outdoor pool in Fernie, B.C. – showed a flicker of things to come.

Keeping a watchful eye that day had been her grandfather. Presumably with a twinkle in his eye, he dared the life-jacketed little girl to jump off the diving board, offering two bucks as an incentive.

Caeli's reaction? To immediately clamber up the steps and not only launch herself into the water … but to do a flip in the process.

Gramps might get credit for providing the nudge. But note that the apple doesn't fall (or leap) far from the tree – Caeli's parents, Mark and Kathy, are no strangers themselves to spine-tingling challenges.

"They're really active, really outdoorsy kind of people," said Caeli. "They mountain bike, rock climb, ice climb, kite surf, wind surf – all that kind of stuff – so it's a really adrenaline-junkie kind of family.

"It was pretty natural to seek adrenaline when I was younger."

Back in those days Mom and Dad owned a Volkswagen van, which, on weekends, they would point in the direction of their next adventure.

"We just dragged her around with us," said Kathy. "So she just learned from us. She was always running and jumping and flipping and flopping."

That baked-in fearlessness – plus countless hours of preparation – has propelled Caeli to sport's grandest stage, the Olympic Games. In Tokyo, she'll compete in the women's synchronized 10-metre platform diving with partner Meaghan Benfeito.

Caeli being Caeli, she's hardly spooked by the spotlight.

"As big as the Olympics is, as big as the dream is, in my head, it's just another competition," said the 22-year-old, who, this past April, took home the Henry Viney Trophy after being named the Calgary Booster Club's Female Athlete of the Year. "It's the exact same people that I compete against all year long. In that aspect, there's nothing new."

Understandable is the desire to maintain an even keel leading up to an athletic life's brightest moment. But know this – even before Caeli devoted herself to diving, the Olympics was already a subject of keen fascination.
Tuned into the 2004 Summer Games in Athens, Caeli, then only five, had been rapt by the spectacle. The podium, especially, captivated her.

"Not necessarily thinking about any sport in particular, I told my parents that I wanted to go to the Olympics," she said. "I remember watching the opening ceremonies … everything just drew me into sport."

Growing up in Country Hills in the city's northwest, she played soccer. Participating in gymnastics was "too boring" – Caeli wasn't permitted to attempt much more than a cartwheel. "She was not happy. She wanted to do more," said Mom. "She wanted to do what the boys were doing, flipping and stuff."

So Kathy went online, discovered an introduction-to-diving camp, and enrolled her six-year-old daughter. The fit was perfect.

"I remember having a blast," Caeli said, "and being allowed to go on the trampolines and flip as much as I wanted."

Not lost on the Dive Calgary coaches had been Caeli's hesitation-free flair. They asked the kid to join the competitive branch of their club. She pounced at the opportunity and began ringing up provincial triumphs.

All the while, the allure of the Olympics remained intense.

Catching her eye from coverage of the 2006 Winter Olympics in Turin had been the medals themselves – the ones with the distinctive holes in the middle. That made an impression. With a laugh, Caeli recalls a memory: "Me competing at diving, then getting a medal and crying because it didn't look like that – they didn't look like a doughnut. My parents were like, 'You just won a gold medal. Why are you crying?' And I'm like, 'Because it doesn't look like the Olympic medal.'"

By the time she was 12, diving had become her sole athletic pursuit.

Excellence, with no flat line to her progression, was legitimate. As a junior, she was establishing senior provincial records that still stand.

Then came the 2014 Winter Nationals in Saskatoon, a high-profile event for the finest divers in Canada.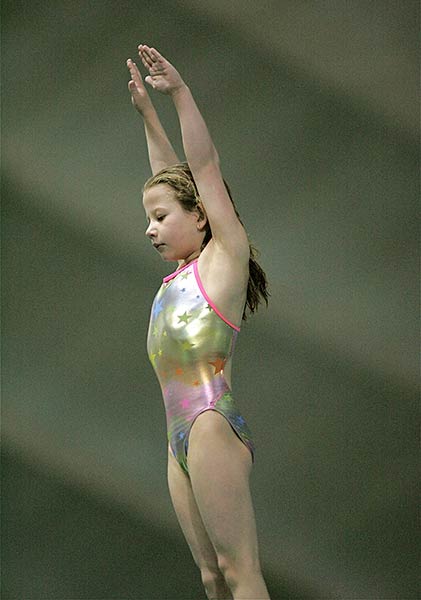 For the 14-year-old, it was a trip meant to provide experience, not produce medals. Nevertheless, the kid dazzled on the 10-metre platform and ended up on the podium alongside a pair of established standouts, Meaghan Benfeito and Roseline Filion, respectively, 10 and 12 years older than her.

"Definitely one of the biggest break-throughs because they were my idols, along with Blythe (Hartley)," said Caeli. "That was a huge moment. Pretty crazy, but it really motivated me to think I could compete with the best in Canada … so it was pretty awesome."

Stoked by the result, Caeli dedicated herself to her craft.

In Grade 11 – she was attending the National Sport School in Calgary – a fork appeared. Should she stay put? Or move to Montreal by herself to train full time with the national squad? No small decision, especially for a 16-year-old.

"I was always kind of independent in every kind of way," said Caeli. "It was more me saying, 'This is where I need to be. This is where the opportunity is.' So I took it."

Early on, she lived with Benfeito's family. She also hooked up with the Alberta Distance Learning Centre to continue her studies. So, away from the training centre, she was set.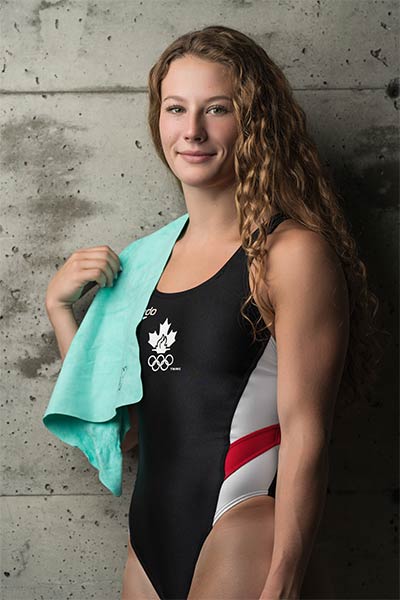 At the pool, though, she admits it had been challenging.

"A new environment, with Olympians I'd only seen on TV," said Caeli. "I got thrown into a very competitive field – the best in the world. I was very starstruck and it was a lot to deal with. But, in the end, I learned a lot.

"I grew into some shoes pretty fast that I wouldn't have expected to."

Shoes, like those of Filion, who, retiring after the 2016 Olympics, left Benfeito in the market for a synchro partner.

Enter Caeli, who, as it turns out, is an awfully quick study.

In their first international appearance as a duo, she and Benfeito earned silver at a 2017 Grand Prix event in Germany. Later that year, they picked up World Series silver in Russia, then capped the season by finishing fourth at the world championship.

The following year, they brought home silver from the Commonwealth Games in Australia. In 2019, Caeli and Benfeito grabbed gold at the Pan Am Games in Peru.

February 2020, looking unstoppable, they got gold at the World Series stop in Montreal.

Then the pandemic slammed shut everyone's world, including theirs.

But, despite being dry-docked by COVID restrictions, Caeli didn't fritter away her momentum. She and boyfriend Vincent Riendeau, a fellow national-team diver, retreated to his family's cottage in the Eastern Townships of Quebec.

"It was a great time for me to work mentally on myself as an athlete," said the five-foot-three, 117-pounder. "I took advantage of it – I learned a lot about myself. And with my boyfriend, it was a good journey for us, because we're both athletes. We motivated each other."

Clearly, because back in business only a couple of months ago – May 2, to be exact – Caeli and Benfeito clinched their spot for the Olympics by winning a World Cup event at the Tokyo Aquatics Centre.

Yes, at the Olympic venue. Now there is significant comfort in having already performed – and performed well – there. "Absolutely," she said. "Because I know what to expect from the pool, so it's not going to be a big surprise when we get there."

But the ramp-up has not been without hitches. She sprained her left ankle during a training session, prompting her to post an emotional two-minute update June 28 on Instagram.
Soon after, a photo of her wearing a walking boot appeared on social media.

But in recent weeks, her health and mood have been bolstered.

"I'm feeling good. I'm progressing fast," said Caeli. "Things are looking bright. I'm just trying to appreciate every day a little bit more."

And, now that she's in Tokyo, there is plenty to soak up. Lending their wisdom to the experience are her been-there-done-that teammates – Riendeau competed at the 2016 Olympics, while Benfeito is heading into her fourth.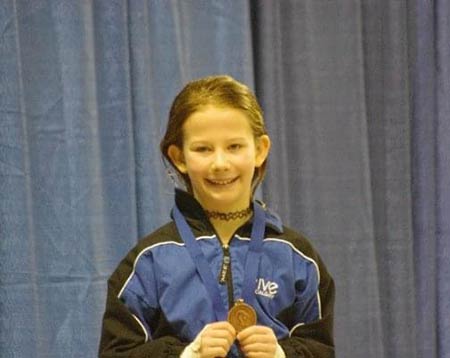 These Summer Games, however, promise to be different. The pandemic and its protocols ensure that.

"It's one that's going to stand out and be really unique," said Caeli. "So nobody really knows what to expect from this, which is completely fine with me.

"I've put myself in the mindset of expect the unexpected."