Photo credit: Kevin Bogetti Smith
Broad-shouldered and blessed with a bottomless reserve of menace, he dominates one of the toughest sports of them all.
Wheelchair rugby.
Which is sometimes referred to as Murderball. And the man himself is sometimes referred to as the Baby-faced Assassin.
Meaning no one would dare to doubt his moxie.
Yet Zak Madell, even while furiously scrapping for another square inch of hardwood, is always aware of his mom Wendy's whereabouts.
"To this day, if I fall over or get knocked over," said Madell, "I'm still going to be looking for her face in the stands."
Even if, all these years later, he can easily predict his mom's reaction — it's the same expression she wore more than a decago ago when he burst onto the wheelchair-rugby scene.
Laughing, he describes the look as panic. "She doesn't necessarily love seeing me go flying out of my chair, but, at the end of the day, that's what I'm out there to do."
Wincing, Mom got to witness firsthand her boy's heroics at the 2012 and 2016 Paralympic Games. But for Tokyo 2020, because of pandemic protocol, she'll be forced to stay home.
But Wendy — and everyone else watching on television — knows what they're going to get from No. 33 at these Paralympics.
Another rousing display of productive rambunctiousness.
Madell, who split his childhood between Calgary and Okotoks, leads the Canadians into the eight-nation tourney, which opens Aug. 25. Empty bleachers or not, expectations are lofty.
"We take a lot of pride," said the 27-year-old, a good-natured sort when he's in civvies. "Knowing that this is our sport — wheelchair rugby originated in (Winnipeg in the 1970s) — we want to continue to be one of the best in the world at it."
Fair to say the rescheduling of the Paralympics, shifting from 2020 to 2021, has only served to boost Madell's appreciation of the showcase. For elite athletes locked into the quadrennial cycle, a year's postponement can be a perspective-changer.
"We thought the Games were going to be cancelled for good," said Madell. "The fact that we still have the opportunity to go and participate in the Paralympics — in whatever capacity that looks like, whether there's spectators or not — it is truly the opportunity of a lifetime.
"If you're lucky, it's the opportunity of a lifetime you get to go through three times."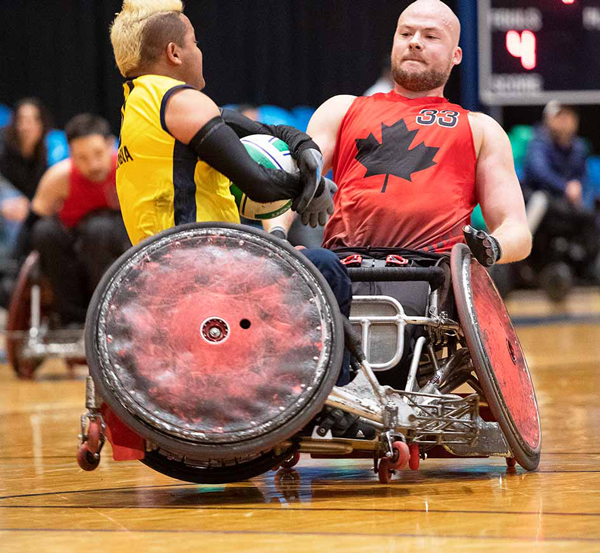 Madell describes his comically active childhood, one that ran the gamut — soccer, baseball, volleyball, basketball, lacrosse. "And I was about to join football when I first got sick."
When he was 10, a septic staph infection put him in hospital for six months and necessitated the amputation of his fingers and legs.
Madell soon discovered that his appetite for playing games had not waned. First, he took up sledge hockey, despite the challenges. "I had to be duct-taped onto the stick, which is not ideal."
Madell added wheelchair basketball to his repertoire and began to dream about the Paralympics. "But once I found rugby, it stole my heart right away. Me and rugby seemed to be a good fit."
That had been clear.
Only 16, he was invited to a prospect camp in Winnipeg. Despite his lack of experience, he engaged immediately. In the opening game, in fact.
"I remember having a big collision, with my chair going flying up in the air," said Madell, laughing. "And the guy that I hit, he was going flying up in the air.
That was his introduction to the sport. It also marked the first time he'd seen that horrified look on his mom's face.
"Because her little boy is out there smashing into people," said Madell, chuckling. "She wasn't against it … but she was just a little reluctant to let me go out there and crash into people."
Plenty evident, too, had been the teenager's joy and aptitude for the game.
No fool, national-team coach Kevin Orr got busy. Unbeknownst to Madell, he sought out Wendy on the sidelines to make a series of pitches. One included Team Canada whisking her son to the 2012 Paralympics in London — which was in 18 months' time.
It took very little convincing.
"Once I heard that news," said Madell, "I realized pretty quick that I wanted to be a rugby player."
Orr, true to his word, put the Alberta lad on his roster. And the youngster, despite the stakes, excelled in London.
"I was just there soaking it all in," said Madell. "Two years before, I didn't hardly even know about the sport. I never would have dreamed that I'd be sitting there on the court, listening to the Canadian national anthem before my first Paralympic Games a year and a half later."
The team enjoyed a stellar showing, with the rookie, 10 years younger than his next-youngest teammate, grabbing the spotlight with an exemplary work rate.
The Canadians, who fell 66-51 to the Australians in the championship match, settled for silver. But Madell's debut on the international stage created a bit of buzz.
"Eighteen-year-old me was out there running around like a chicken with his head cut off, not knowing what we were doing," he said. "But luckily I had the speed and the competitive spirit to keep up."
With hopes soaring for the 2016 Paralympics in Rio de Janeiro, the Canadians faltered, ending up fourth after being toppled by Japan in the bronze-medal match. It stands as the only time in Canadian wheelchair-rugby history that the outfit failed to reach the podium.
Shortly after, Madell announced that he was taking a break from the sport.
And that he may not return.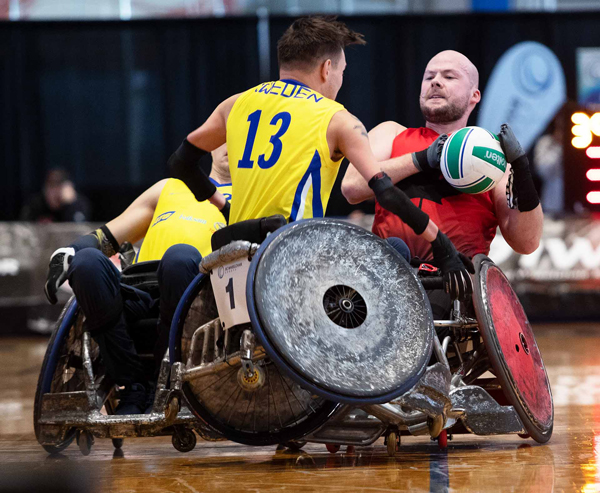 The man doesn't deny his wicked case of burn-out.
"You guys get to see us doing all the fun things — getting the glory, representing our country," Madell said.
What happens without fanfare is the personal investment. Behind the scenes, much is sacrificed to maintain an elite level. That can take a toll. It left the 22-year-old exhausted — but not without purpose.
Free of training obligations, he enrolled at SAIT to begin working on a diploma in architectural technology.
"As athletes, your job security is non-existent," Madell explained. "You're one injury away from not having a job or source of income. I had a couple injuries leading up to Rio that really opened my eyes to that."
Madell stuck to his plan, hit the books, graduated in the spring of 2019.
Diploma secured and anxious to re-commit himself to the cause, he reached out to Team Canada. He was ready to come back.
"Going to school and working for a couple years while I was in school made me realize that I'm not quite ready to sit at a desk for the rest of my life," said Madell. "And this rugby opportunity is a pretty cool chance to go travel the world, playing the sport you love with some of the closest people in my life."
Refreshed, Madell dusted off his rugby chair, battered but trusty. "Basically they're as light as they can be and still be durable enough to maintain their shape and form."
He also needed to make sure he had a surplus of handwear — a specific brand of gardening gloves, from which he snips off the fingers. "I buy a whole lot of them because I end up blowing through at least one pair, if not more, every game."
He was back in business.
Not long after, however, COVID changed the world.
Madell and the Canadians captured the Paralympic qualifying tournament in Richmond, B.C., in March 2020. Great news, but by the time he got home the lockdown had kicked in.
Isolating in his Calgary apartment, he worked up daily sweats with body-weight exercises and water-bottle-filled backpacks.
In some ways, this was not a fresh challenge for Madell. As the lone Albertan on the national squad, he'd been accustomed to training by his lonesome, swimming laps, pushing his chair, lifting weights. "I'm no stranger to figuring out new and creative ways to keep the skills sharp."
Recent months, however, began to feel more normal.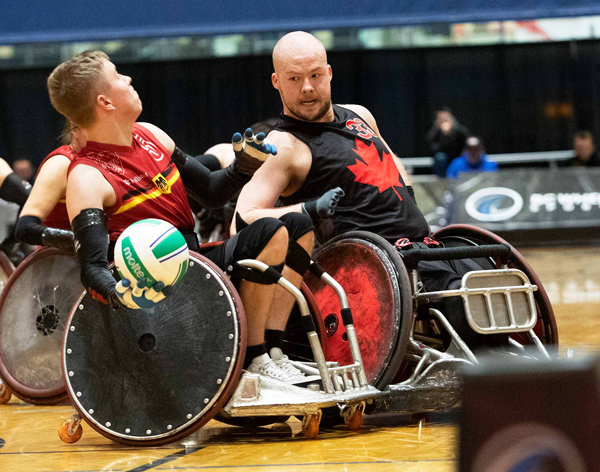 There have even been national-team camps, an opportunity, Madell says, for everyone to take stock of each other's dedication. "If you show up and you've got a little pudge on you or you're a little slower, we notice."
Freshly fine-tuned, the Canadians are soon headed for the Paralympic stage. Yoyogi National Stadium, for obvious reasons, is not likely to contain spectators.
"We've played in plenty of tournaments over the years where you're in a gym and there's two teams and about five people in the stands," said Madell. "So it won't be a foreign feeling for us."
Besides, the players, all of the players, will have each other to lean on.
Madell points out that the wheelchair-rugby community, in-game battering aside, remains a close one.
"Everyone gets along so well," he said. "There's hardly any animosity. Yeah, when you're out there, you're competing, getting a little chippy, maybe trash-talking a bit. But at the end of the day, everyone can go out and sit down and have dinner or a beverage."