Photos courtesy of Dave Holland.
Having worked until nearly daybreak at a local bar, Alysia Rissling wakes up in the early afternoon. She pads into the living room of the family's home and plants herself on the couch.
She grabs the remote, clicks on the television. And, without a switch of channels, there it is — live coverage of the opening ceremony of the 2012 Olympic Games in London.
Rapt, she watches the procession of beaming athletes.
"Just the look on their faces is what resonated with me," said Rissling. "I wanted to feel that sense of accomplishment."
This tired youngster, perched on the sofa, is no slouch herself.
She'd starred at St. Francis Xavier High School in Edmonton, earning scholarship offers in four sports — basketball, volleyball, soccer, track. That her track specialties included shot put, triple jump, 100-metre relays illustrates the athletic range.
A 5-foot-10 forward, she played five years for the University of Alberta Pandas' basketball team.
But now? After graduating — Bachelor of Science in kinesiology — and finding out she did not get into med school, Rissling is growing restless.
"I was looking for this new goal," she said. "I was like, 'What am I going to do this fall?' I was in that transition phase, trying to figure out what I should do with my life.
"I remember turning on the TV."
So does her mother Bernadette, who happens to be in the room that fateful day.
"Alysia just looked at me and I went, 'No,'" said Mom, chuckling. "And she's like, 'I've got to do this.' You just knew that she had to do what she had to do — and that was continue with sports. I just didn't know what direction it was going.
"I know it sounds bizarre, but you could tell by the look on her face, 'This is what I'm going to do.' She just had that itch. You could see it. She was not ready to give up being an athlete."
It is one thing to declare that your goal is performing on the Olympic stage.
But what's the route? Heck, what's the sport?
Sitting there, Rissling recalls the bobsleigh folks showing up to scout the varsity track team at the U of A. So there is cross-over potential. She doesn't know much about the sport, except that it's a "natural path" to the Olympics. "I thought, 'Maybe I'll give this one a try.'"
This, mind you, isn't some fanciful bout of day-dreaming.
On the spot, while the London festivities are playing out in front of her, she crafts an email — "How do I get involved in the sport?" — and shoots it to the Alberta Bobsleigh Association.
Fast forward 2,024 days.
Rissling, as pilot of one of the Canadian sleds, is marching in the opening ceremony at the Winter Games in PyeongChang.
"Obviously, I get a glow and a chill when you say that," said her father Kelly. "We didn't think, other than after-work co-ed sport fun, that there was anything left on the table for her.
"But that's the one thing about Alysia — how she competes at the highest level, how she brings her game to that notch — she's very dynamic. She doesn't have a three-quarters switch or 50 per cent switch. She's all in."
It's the kind of wholehearted approach that carried Rissling to the 2018 Olympics. Dedicating herself to a newfound passion and re-purposing her athletic gifts, she has navigated a remarkable road, from wheel-spinning to sled-driving.
Mom will not forget the spark of commitment coming off her 23-year-old daughter that afternoon in the living room.
"It was an a-ha moment, for sure," said Bernadette. "If I would've known that that dream would carry on right through to the Olympics, I would've taken a picture and said, 'Here is her new goal.' In my mind, I've relived that moment many times. I knew it. I knew it right then and there.
"It's always been the ongoing joke — she'll get there somehow, believe me."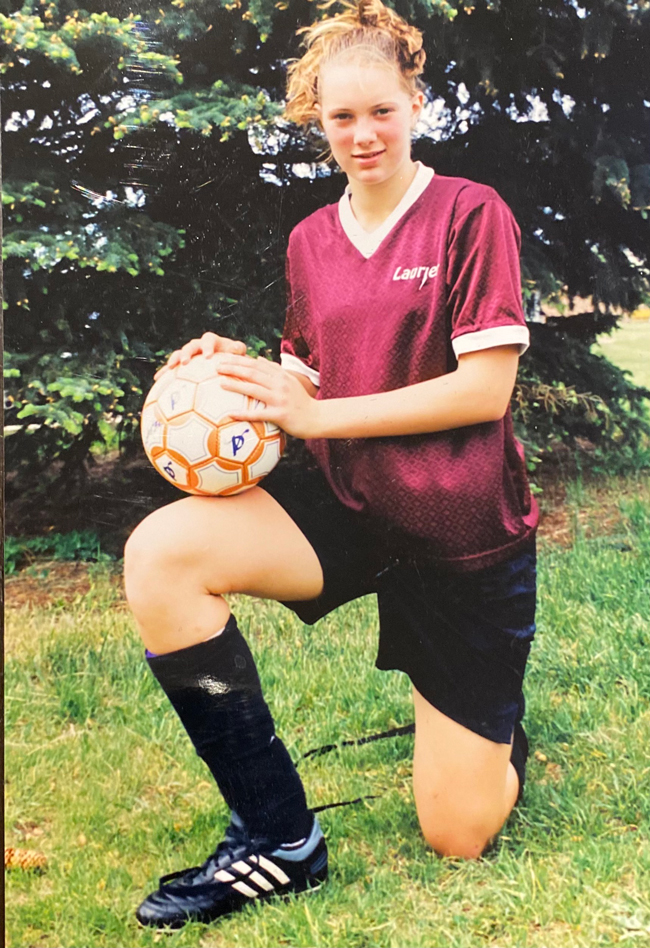 The mettle of the Calgary resident, as the 2022 Olympics draw near, is once again being tested.
Right now Canada's premier bobsledders are trying out the new track in Beijing.
Rissling, meanwhile, starts the winter on the North America's Cup, a circuit one rung below the World Cup — despite being injury-free for the first time in years, despite recently posting the best fitness numbers of her career.
But, as she points out, there had been no selection races at the team's camp — just pushing evaluations, which left her ranked fourth. Potentially, three female pilots will compete at the Winter Games.
"My Olympic dream isn't over," said Rissling. "I have a chance to qualify through the back door."
Dominating the North America's Cup, which begins next month, could vault her into the Beijing mix. Then again, who really knows?
The other day, while getting ready to leave for the team's base in Whistler, B.C., she's not sure if she should pack for two months or four months — or for something in between.
Which must be an unsettling existence.
"That is life," said Rissling. "But this year it's been absolutely tenfold … more than normal. And, honestly, it's the source of all of my fears and anxieties. Living like this is horrible. I don't wish this on anyone. You know what? I've learned to live with it, just by anticipating that it's going to happen like this. It just sucks to be in this position.
"I'm 100 per cent healthy. I did everything I could, but based on circumstance … I wasn't given an opportunity to shine where I know I can. So that just adds to the frustration.
"There's still hope. I have to cling to what I have left of that."
Don't count her out.
Because, beyond strength and experience, on her side is a stubborn streak, wide and deep, which has served her well.
For instance, shortly after deciding that bobsleigh was her future, she needed to convince her parents that she knew what she was doing.
As a family, the Risslings are no strangers to the hockey landscape. Kelly's older brother Gary skated in the NHL and he himself played professionally. Son Jaynen was a Calgary Hitmen blueliner, who got drafted by the Washington Capitals. That's how hockey works.
Bobsleigh was another universe. "We had no familiarity," said Kelly. "Absolutely none."
Hence their daughter's strategy — a presentation featuring handcrafted flowcharts, spelling out the ramifications of making provincial teams, national teams, Olympics teams.
Refusing to be denied, Rissling won over her folks, who also learned that she would be moving to Calgary. Grasping the stakes, they stood back.
"She was 100 per cent in," said Kelly. "So, as parents, we just said, 'Here we go. Let's do this now.'"
During Jaynen's time with the Hitmen — 2009-14 — they missed few games at the Saddledome, despite the highway miles. No different for their daughter. They travelled to Calgary and Whistler and winced as she blurred down the icy chute.
Dad laughs. "I'd never even seen a bobsled in real life. Next thing you know, I see my daughter sitting in one and going by me at 130 km-h."
Mom's assessment: "It was fast and, in my opinion, out of control."
Good thing Bernadette missed her kid's first-ever descent. Operating as brakeman, Rissling joined forces with a brand-new pilot and banged every wall on their maiden voyage.
"You could hear the sled coming down," she said, laughing. "When I got to the bottom, I ripped my helmet off and I had this big smile on my face. There was a volunteer there — I'll never forget this — and he looked at me and said, 'If you think that run was fun, this is the right sport for you.'"
But as she and her family discovered, the time between Olympic showcases are challenging, filled with injuries, politics, happenstance, financial twists and turns.
"It's ridiculous," said Mom. "I feel like I lost four years of my life with worry. As a parent, you do worry."
Pausing, something else comes to mind: "You knew she raised the money to buy that bobsled, right?"
Yes, that. One of the defining chapters of Rissling's experience and it's coming.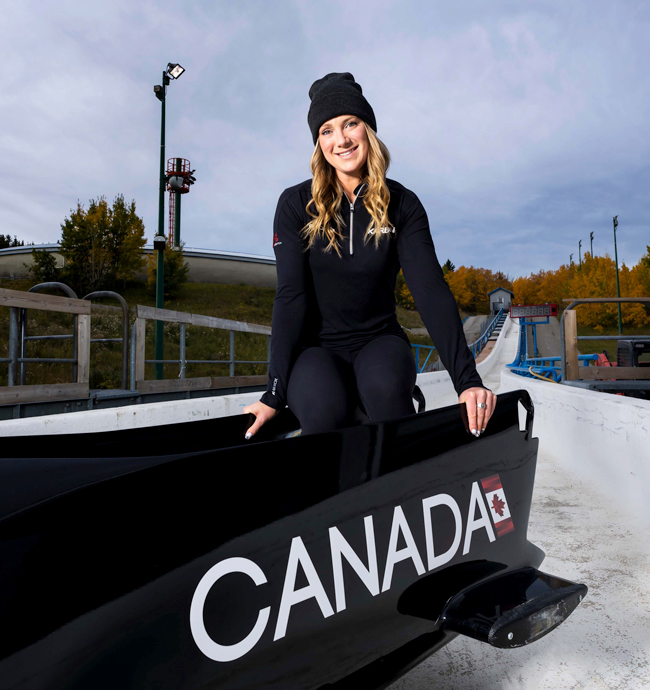 No matter where she goes from here, Alysia Rissling will forever be known.
She drove the first all-female team in an internationally sanctioned four-man bobsleigh competition, which took place at a North America's Cup race in Park City, Utah, in February 2015.
As part of her essay "Pushing The Limit," Rissling wrote about that legacy-sealing scene for The Park Journal: "It was bold, and the entire sport was watching. I was more nervous to take that four-man sleigh down than I had been during my early days in the sport. When I got to the bottom, I found myself screaming with anger at all the men who told me the four-man was going to be so hard. I cursed the older 'traditional' men in Europe who rule the sport that didn't believe four women could do this.
"We made history! This is where I found my calling to be a part of the fight for equality in women's sport. It was only the beginning."
Because only a year and a half later, Rissling was again pushing back.
At a national-team get-together — August 2016 — she heard that three new sleds were being purchased.
And given to the men's side of the program.
"Because they felt they had a greater chance of success," said Rissling. "I'm really good friends with my men's team and I would never want to take something away from them, but I had to fight for myself."
Furious, she stormed out of the meeting and quit her job. After all, a server at a breakfast diner isn't going to rustle up enough dough for a new sled, which was her intention.
"She wasn't going to go somewhere using eight-year-old, two-Olympic-cycle-old equipment," said Kelly. "She phones, 'Dad, I need a sled.' I go, 'Sure, let's go get a sled.' I didn't know. Is it $5,000? Is it $10,000? I fell off my chair when I heard."
Rissling heard doubters in the sledding community. "Most people rolled their eyes at me because it was like, 'There's no way she's going to come up that kind of money.'"
With signature singlemindedness, she spent two weeks on her computer learning the ins and outs of business proposals. Then she got busy.
One of her former regulars at the diner, who was plugged into corporate Calgary, served as liaison. Rissling hustled, putting on a suit, getting meetings, making presentations.
In a couple of weeks, she had enough cash for a down payment. The rig, ordered from Austria, was paid off in two months. Total bill — including shipping, taxes, duty — came to $91,000.
"Who else does that?" said Bernadette, chuckling. "I'm like, 'You don't even own a car.'"
Looking back, Rissling says it was less about instigating a war for equality and more about getting her hands on adequate gear. "I did it for myself. It was very selfish."
Rissling's hunch was bang-on — the new ride did make a difference. For the World Cup's opening stop of the 2016-17 schedule, expectations were for her to place 10th, at best. She ended up fourth.
"The next race, fifth," she said. "I spent the entire season inside of the top 10."
And that extended stretch of excellence propelled her all the way to you-know-what.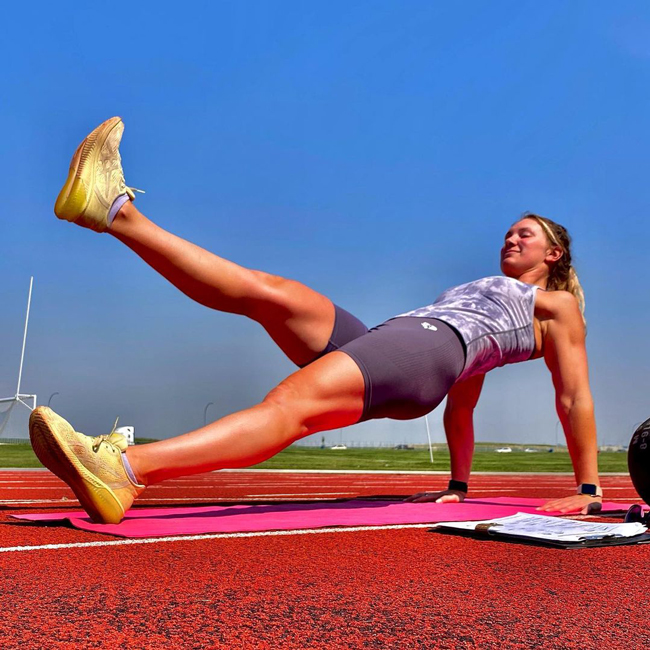 Less than six years after first squeezing into a bobsled, there she was, participating in the opening ceremony at the 2018 Olympic Games.
"Full circle, right?" said Rissling. "I got to walk in the parade. I got to have that massive smile on my face — my cheeks hurt, I think, for three days. I got to re-live that exact moment I dreamt up when I turned on the TV that day.
"It was an incredible full circle."
Friends and family made the long trip to see Rissling and Heather Moyse, considered Canada's third sled, finish sixth amongst the world's finest racers.
"Three years later and I'm still going, 'Did we really do that?'" said Dad. "Off the charts remarkable. I've been through a lot of things personally. Jaynen winning the (2010) Western Hockey League championship and going to the Memorial Cup. I've been to a couple Allan Cups myself.
"But the Olympics? We're talking the pinnacle of the world in that environment."
Behind the scenes, too, his daughter tries to make a difference.
Living in the city since December 2012, earning a Calgary Booster Club endowment along the way, she's thrown herself into charity work. Chipping in with Classroom Champions. Cohosting "The Face First Podcast," on behalf of KidSport, with skeleton racer Grace Dafoe.
These days, of course, Rissling is focused on an Olympic return.
With the Beijing in mind, she'd taken off the 2019-20 season to rehab a calf-muscle tear. The leg is now 100 per cent, but the absence cost her ground.
"Hoops and hurdles, right?" said Dad. "She's not going to let the injury terminate her career. Somebody else has to beat her."
Yes, far from conceding a single thing, Rissling spent the summer sweating.
Per week — three sprint workouts, three weight-room visits, three pushing sessions, one active-recovery day (cycling or tennis). On top of that, a pile of physiotherapy and chiropractor appointments, plus massage maintenance.
She skipped part-time work to wholly devote herself to the cause.
"I knew was going to be on the bubble as it was," said Rissling. "If I was going to give it one last kick at the can, I had to give it everything I had."
All those years ago when she was plotting her athletic future, the plan was to take bobsledding in bite-sized chunks — winter by winter.
Now, here she is, with a decade of her life invested in this adventure.
"Becoming an Olympian made it all worth it," said Rissling. "Maybe these (last) four years I might have some regret about not moving on with my life … you keep thinking it's going to get easier, but it never does."
Which makes relevant the words of the neighbourhood babysitter — Eryn Bulmer, two-time Olympic diver — who, once upon a time, signed a photograph for her, writing: "Alysia: The journey makes all the sacrifices worthwhile! Enjoy it!"
Turning 33 next month, she is keenly aware that the journey's conclusion is within sight.
"I've said if I win the gold medal, I'll keep going indefinitely," Rissling said with a chuckle. "We'll see what happens this year. But I think we're getting close to the end."
She laughs. "I'm ready for some stability in my life."