Photos courtesy Michelle Doepker and Tieso Piscionieri.
When it comes to football, no one is left guessing about the depth of Tieso Piscionieri's passion.
When his father Frank took him to McMahon Stadium for his first live look at the Calgary Stampeders, the little boy was unmistakably hooked. Taking note, Dad forked out for season tickets.
When Piscionieri suited up for the first time — as an atom-aged defensive lineman for the Hilltoppers club — his feelings about the sport were obvious to everyone.
"It was so exciting," Piscionieri recalled, "especially when you're eight years old, just running around on the field. It's really the best time."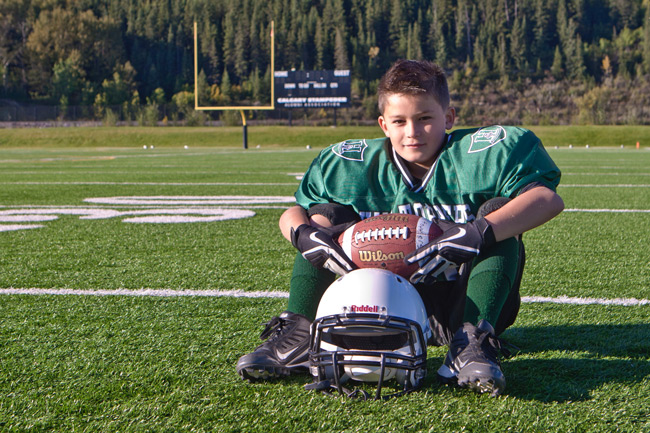 When David Diluzio was introduced to the youngster a few years back, he had been blown away by the lad's enthusiasm.
"When you talk to a person in Grade 6, Grade 7 and they're just gushing about the sport, it's awesome because there's so many other things kids could be doing," said Diluzio, coach of Notre Dame High School's highly regarded football program. "For them to be really on track and goal-centred at that young age is awesome. And he definitely was that way."
As the autumns have blurred past, nothing much changed for Piscionieri, who, as a student at Notre Dame, has now constructed a well-rounded resumé that features athletic achievement, academic excellence, community engagement.
All of which makes the senior a worthy recipient of the Harry Hood Memorial Football Award. Piscionieri earns a $1,000 scholarship sponsored by the Stampeders and a plaque presented by the Calgary Booster Club.
Other Division 1 nominees were Nash Chudyk (All Saints), Dalton Mendive (Henry Wise Wood), Adam Hargrave (William Aberhart).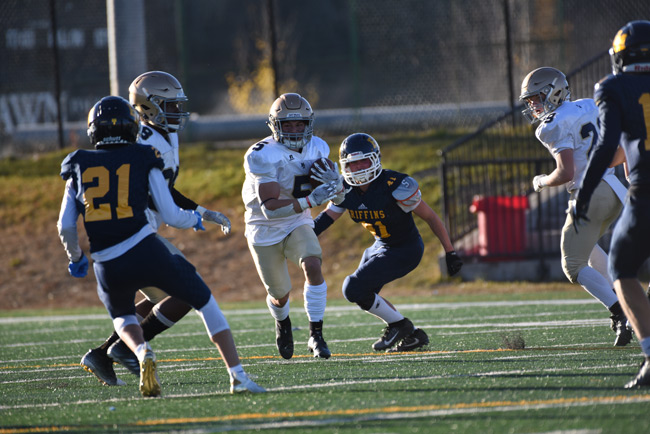 Piscionieri — and the winners of the Harry Hood Division 2 and 3 awards (which will be announced Nov. 17) — will be invited to the Calgary Booster Club's 68th annual Sportsperson of the Year Gala in April.
"I am extremely honoured," he said of the recognition. "It's been a lot of hard work this year … but it's been a really amazing experience. This is a true honour."
While his work on the field this year is commendable — 388 rushing yards (on 60 carries) and 217 receiving yards (on seven catches) as running back for one of the top outfits in the city — it's Piscionieri's character that is most impressive.
"He's the all-round good kid," said Diluzio. "He's the type of kid that could talk to anybody. We've got all kinds of characters on our football team and he's able to relate to all of them. He's the same with adults, too. It's very rare that you get kids that ask you how you're doing — and they really want to know how you're doing. They really are invested in how your day is going, how your family is doing.
"Tieso's just a super all-round good kid. Always pleasant, always smiling. The type of person that brings other people up. Every interaction you have with him, you feel better after you have that talk."
Further, the head coach knows he can trust Piscionieri to help to keep the rest of the crew on track.
"He takes the temperature of the guys," said Diluzio. "If somebody isn't acting the way they're supposed to be, instead of the coach always coming down and telling kids how to act, it's nice to have a player who's able to do that."
Piscionieri served as one of the captains of the junior squad in Grade 10. He's now captain of the senior side.
And, in his final year of high school, it's a responsibility he takes seriously.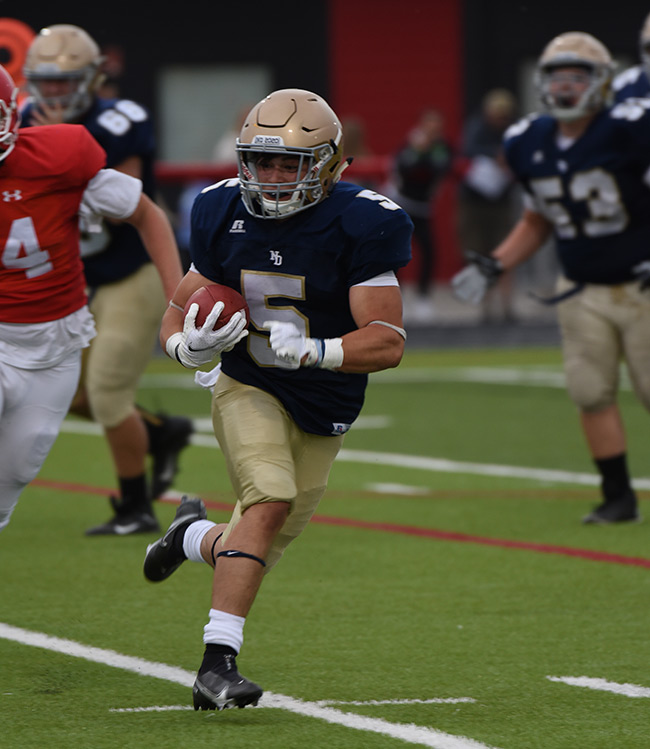 "I feel I've always led by example," said Piscionieri, 5-foot-10, 180 pounds. "When everything seems really tough, I'm just a guy who puts his head down and does it. Something I've been big into, especially this year, is being that voice, that vocal leader, to encourage everyone to take that extra step."
That approach extends beyond the gridiron — he wants to become a quality role model for his baby brother Livio. "I'm hoping to set a good example for him … this is honestly a bigger opportunity to be a leader."
This is a young man with plenty of idols, starting with his father, of course.
He also admires Colton Hunchak, receiver of the Stamps, alumnus of Notre Dame. "I've talked to him a couple times at coaching clinics," said Piscionieri, who happens to wear No. 5, Hunchak's old number.
Hunchak went on to star at York University. And now Piscionieri, an honour-roll presence in every one of his high-school semesters, is bound for a post-secondary education — the first of his family to do so. "It's a big weight to carry, but one I wouldn't trade for the world."
At this stage, no one is doubting Piscionieri.
Including unwavering dedication to the weight room — those 5:30 a.m. lifting sessions in Grade 10 — he represents the blueprint for success. For Diluzio, he's like "an additional assistant coach."
Even in 2020 when COVID scrubbed the season and shut down facilities, Piscionieri managed to stand out. His coach remembers seeing videos of the kid working out in the dark. Other times, he was rounding up teammates for informal get-togethers.
"He's a glue guy that kept players engaged," said Diluzio. "That really helped us this year. For every team, it was almost like starting at zero again. He was able to keep kids together, keep them interested in football.
"That's obviously a credit to him. He's been a pleasure to be around."