Photos courtesy Daniel Lavoie and Coral Lukaniuk.
A long-time lacrosse player, Daniel Lavoie was eager to expand his horizons when he got to high school.
So, as a Grade 10 student at Crescent Heights, he considered his sporting options.
"This is funny," recalled Lavoie. "I was about to try out for the volleyball team when I saw a couple of my buddies going to the football locker-room. I decided to follow them in. I've never looked back."
Despite having never played a single down of football, he threw himself into the high-school level.
First, though, there had been one significant adjustment. Lavoie was aiming to make his name as a receiver. That hope didn't last long — because one of the position coaches assessed the newcomer and poached him.
In the middle of practice.
"He looked at me and he was like, 'There's no way you're being a receiver. You're coming over on defence,'" Lavoie said, laughing. "I didn't want anything to do with the offence after that. Defence is my favourite."
What did that coach see in him?
"Probably my aggressiveness, but I don't like to toot my own horn," Lavoie replied. "And maybe I was inclined to hit people."
Aaron Sayer, head coach of the senior side, says the youngster's recollection is fairly accurate.
"Trying out as a receiver, he was doing really well," said Sayer, "then they realized that he was fearless when it came to contact and he had no issues making tackles.
"Within the first or second week he was our starting linebacker."
And if the coaches appreciated Lavoie's upside — they did name him captain of the Grade 10 squad — he, in turn, found everything about football appealing. Especially the group approach to success.
"The camaraderie — I've never played a sport with such a team dynamic," said Lavoie. "In lacrosse, you've got five players out on the field and you're talking, but in football there's just something about it. That teamwork aspect is so crucial.
"And I do like the aggressive nature of it. Putting everything out there, slamming bodies together, I think that's a lot of fun."
He laughs. "It's a lot better than volleyball, I'll tell you that."
Lavoie's lack of regret is understandable. Now, in Grade 12, he's a football star.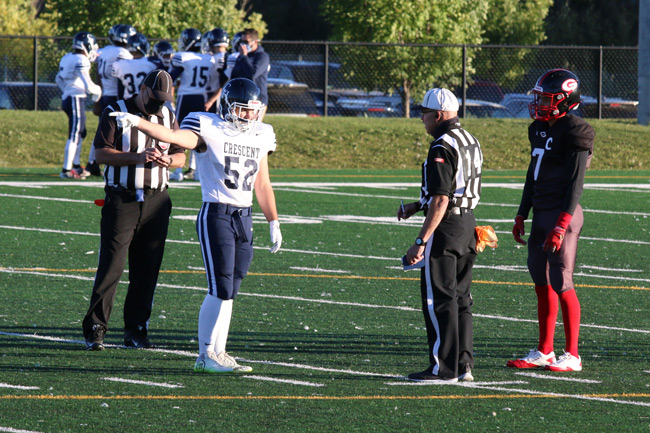 He's also an honour-roll whiz in the classroom. Notable, too, are his contributions away from the field.
All of which makes Lavoie the Division 2 winner of the Harry Hood Memorial Football Award. Started in 1956, the distinction goes to a high-school senior who has displayed across-the-board excellence — athletics, academics, community engagement.
"Those three things are something I really take pride in," he said. "They are three things that make my life complete in a sense."
Lavoie earns a $1,000 scholarship sponsored by the Calgary Stampeders and a plaque presented by the Calgary Booster Club.
Other Division 2 nominees were Centennial's Nick Kohan, Sir Winston Churchill's Isaac Rogers-Hill, Central Memorial's Ben Longo, Taylor Innes of Our Lady of The Rockies.
This year's winners — Notre Dame's Tieso Piscionieri (Div. 1), Lavoie (Div. 2), Bishop Carroll's Luke Bednarek (Div. 3) — are invited to the Calgary Booster Club's Sportsperson of the Year Gala in April.
Lavoie learned of the award shortly after Crescent Heights was eliminated from the playoffs by Joane Cardinal-Schubert. "It was something that boosted my spirit, because I was a bit down," said the 5-foot-10, 175-pounder. "The loss stung a lot. But Coach Sayer telling me felt great. It's an honour to win. Oh man, it was thrilling. It was a great feeling."
Lavoie wants to go to university, preferably somewhere he can play both football and lacrosse.
If suiting up for two varsity sports — plus meeting the demands of a post-secondary education — sounds like an incredible commitment, his coach has few doubts about No. 52.
"He'll never grumble about any hard work," said Sayer. "You never hear him say, 'Oh, Coach, I'm really worried about a test coming up. I need to make sure I spend some time (studying).' He's always able to handle whatever comes his way. He doesn't mind putting in the extra time and effort to do that."
Even though COVID restrictions wiped out the 2020 football season, his team continued to work out on a regular basis — via Google Meet.
In addition, coaches arranged team-building activities. During one of those sessions, Lavoie told everyone that he'd recently suffered a couple of personal losses. The news came as a surprise.
"Without him sharing that, we wouldn't have known," said Sayer. "He's a kid that doesn't let things overwhelm him. When things got tougher in his life, he just buckled down and worked a little bit harder to get through."
Well-rounded, Lavoie is about more than hitting books and hitting backs.
Earlier this year, his family, through the Calgary Humane Society, fostered a husky and her litter. Since the mother's name was Soda Pop, they named the seven puppies after soft drinks. At the end of the two-month arrangement, they decided to keep one — Pepsi. The rest were adopted days later. "It was pretty cool. A lot of fun."
Lavoie, by the way, is not done experimenting in athletics.
He is wrestling — for the first time — in the coming weeks. Then, in the spring, he intends to shoehorn another new sport, rugby, into his portfolio. And he still plays lacrosse.
Don't expect to hear Lavoie crowing about his accomplishments.
"Daniel's a pretty humble, soft-spoken guy," said Sayer. "Probably easily the best player on our team, but based off his attitude and the way he presented himself, you would never expect that he would think that."