Photos courtesy Luke Bednarek and Josh Knude.
If you're looking for Luke Bednarek, don't bother checking the sidelines.
Because when Bishop Carroll High School is engaged in a game of football, the youngster rarely gets — or wants — a breather.
If the Cardinals have the ball, Bednarek operates as a receiver.
When the defence takes to the field, he doesn't budge. Because he also serves as the safety.
If the opposition is booting the ball — punting or kicking off — Bednarek trots into position. Yes, he handles all return duties.
And when the Cards need to punt, guess who's responsible for the long-snapping chores? Yup, you-know-who.
Which leaves what? Well, when Bishop Carroll has to kick off, No. 11 gets out of the way. "That's the only time I'm off," said Bednarek, laughing. "Yeah, some of the nights can get pretty long."
But the Grade 12 student isn't griping. Ask his head coach about that.
"He doesn't like coming off the field," said David Holowaychuk. "In terms of helping our team, he's a multi-faceted, all-over-the-place kind of guy."
It's a mindset that extends to all of Bednarek's endeavors. He seems to have a hand in nearly everything.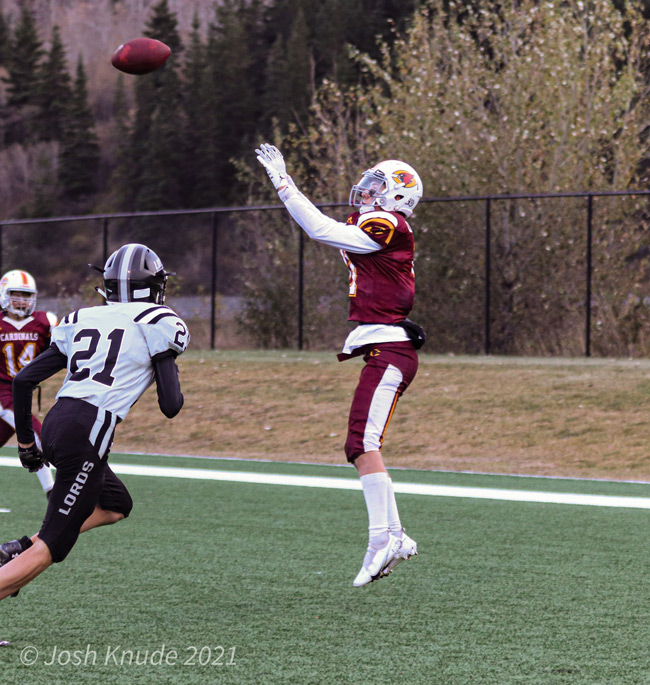 He wants to be a shooting guard for Bishop Carroll's basketball team. And, later in the school year, he intends to try out for the track team, so he can race hurdles and 100 metres.
Bednarek also plays Babe Ruth baseball, most often in centrefield — "but I play a lot of positions … a utility player."
While he refuses to be pigeon-holed in sports, his approach when it comes to education is hardly scattershot. His average has been north of 90 per cent since walking through the doors of Bishop Carroll.
Too, he manages to find time to pitch in as a volunteer.
Thanks to that wonderfully well-rounded resumé, Bednarek is the Division 3 winner of the Harry Hood Memorial Football Award, which goes annually to the high-school senior who displays across-the-board excellence — athletics, academics, community engagement.
The honour includes a $1,000 scholarship sponsored by the Calgary Stampeders and a plaque presented by the Calgary Booster Club.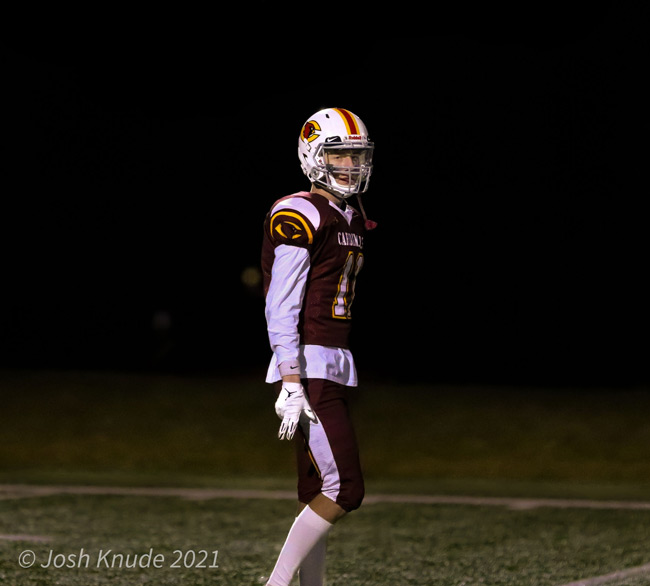 Other Division 3 nominees were Bishop McNally's Olisa Oputa, Father Lacombe's Jonathan Rodney, Lester B. Pearson's Tyler Hooper, St. Mary's Senan Hurley, Robert Thirsk's Eisa Iqbal.
Invited to the Calgary Booster Club's 68th annual Sportsperson of the Year Gala in April are this year's winners — Notre Dame's Tieso Piscionieri (Div. 1), Crescent Heights' Daniel Lavoie (Div. 2), Bednarek (Div. 3).
"Really cool," said Bednarek. "I was very excited when I got the call. It's a really prestigious award. I'm very happy."
University — and football — are in his future, even if there's nothing in ink just yet. "I still haven't made my final decision. I'm talking to a couple coaches."
To his credit, the 17-year-old appears to have already mastered the art of time management. On top of athletic commitments, he's thrived in Bishop Carroll's self-directed model.
"He's a diligent worker," said Holowaychuk. "Bishop Carroll's kind of a unique building … he is given free rein to make his academic experience whatever it needs to be. He's organized. He's focused. He's really taken it and run."
When Bednarek arrived, he had a single year of club football — with the Wildcats — under his belt.
But he was keen to learn more about the game at Bishop Carroll. "I loved it. (But) I was smaller, I was slower."
No worries. When the Grade 10 outfit was hunting for a long snapper, he stepped forward. After all, he had an ace up his sleeve.
Bednarek's father Jodi — a linebacker of the University of Calgary Dinos, a 1998 draft choice of the Calgary Stampeders — had doubled as a long snapper back in the day. He schooled his son.
Then again, even in the early stages, no one was too worried about Bednarek's upside. "His skillset was pretty vast," said Holowaychuk. "He was your typical Grade 10 kid who was very athletic."
Bednarek, however, refused to coast on natural ability.
Thanks in part to three times receiving the Bob Freeze Sport Grant from the Calgary Booster Club, he hired a private skills coach. Under Jason Sealy's watchful eye, he enhanced his footwork. "Jason's been a big part of helping me."
Additionally, when COVID-19 shut down his Grade 11 season, the kid didn't flinch. Instead he dedicated himself to bolstering his strength.
"Yeah, he put some serious time into the weight room," Holowaychuk said of the 6-foot-2, 165-pounder. "His progression has been pretty staggering. I mean, he started for us in Grade 10, but he's become one of the main threats of our offence, for sure. And defensively, he's pretty fantastic."
Provincially at the U18 level, Bednarek was part of Team South, which faced the Team North in Red Deer in the summer. After an impressive showing as receiver, he's been asked to suit up for Team Alberta in its match against Team B.C. next month in Langley. He'll be the lone Division 3 presence. "It's a big honour."
For Bishop Carroll, Bednarek served as a captain in all three years. In Grade 12, teammates had a say in the decision — something the kid proudly points out.
And it was well-deserved recognition, according to the coach.
"Luke's definitely (a lead by) example guy. He gets emotional and energized by the game, but by what he's doing, not by what he's saying," said Holowaychuk. "Just an all-round great student-athlete, with some excellent character qualities.
"He's made the most of his high-school experience and didn't let the setbacks that affected a lot of kids hinder him. He used them to his advantage."