Photos courtesy of Mike Frostad.
Riding in an open-air trolley through Atlanta's downtown streets all the way to Cobb County and Truist Park, in front of adoring crowds numbering in the hundreds of thousands, Mike Frostad had reason to celebrate.
This was truly something to savour.
Frostad, as a member of the Braves' athletic training staff, was a World Series champion. And participating in the parade, along with the likes of Freddie Freeman and Jorge Soler and Ozzie Albies, capped an incredible experience.
The occasion is the pinnacle of any baseball career. Yet, believe it or not, the Calgarian may have had other things on his mind.
Because only two days after the Braves' title-clincher against the Houston Astros, Frostad phone rang. It was the Los Angeles Angels reaching out with an enticing proposal — come to California and serve as our head athletic trainer and director of sports medicine.
They dialled up Frostad the next day, too, to lay out the contract specifics, including salary, of their life-changing offer — all of which was very lovely to hear.
But it also happened to be parade day.
"So the whole time, I'm sitting there thinking, 'Here I am with all this going on around me,'" said Frostad. "And in the background nobody else knew about it … that there was this other opportunity looming pretty much as soon as the parade was finished."
It was enough to disrupt the ride, literally, of a lifetime.
Well, almost enough.
Because the fans' appreciation had been mind-blowingly captivating.
Frostad laughs. "I mean, you get caught up in that. There was no way you couldn't. It was so loud. You couldn't even hear yourself think. There was so many people screaming and yelling, it was unbelievable."
He relished the reception, seared it into his memory — then, soon after, found a quiet moment and accepted the Angels' terms.
After serving as an assistant trainer for a dozen years in Major League Baseball, this was going to be one honey of an upgrade. "Definitely a promotion. To also get that director (of sports medicine) role, it puts me into a little bit of a niche in baseball."
And, on behalf of the Angels, he began immediately.
Because, for what he does, chores are hardly seasonal. There are medical reviews to scrutinize, player-rehab arcs to track, free-agent options to consider, department hires to make, co-workers to meet.
"I jumped in feet-first," he said the other day from his winter home in Redcliff, Alta., minutes from Medicine Hat. "I was down in Anaheim three or four days (recently), just trying to get the lay of the land and figure some things out down there."
For Frostad and his wife Candice Henson, autumn has been a rollercoaster.
Championship ecstasy. Dream-job elation. And, unavoidably, real-life responsibilities.
Such as packing up their condo in Atlanta, moving all their stuff into a pod, trying to get the condo on the market and sold, finding suitable accommodation in Anaheim, arranging to have their belongings shifted to California. "It's kind of never-ending right now."
But recent weeks also stand as a crowning achievement of a career that began a quarter-century ago — icing the knees of marketing majors on the campus of the University of Calgary — and swept him through baseball's minor-league wilderness.
Now look at him.
"It's at the point now where I'm at the top of the profession, really," said Frostad, 49. "These jobs don't come open very often. I just didn't want to be looking back three years from now, wondering if I hadn't taken this position, 'Did I make a mistake?' I didn't want to regret not ever having the chance to be a director of sports medicine and head athletic trainer all at the same time.
"I really had to take it on and jump at the chance."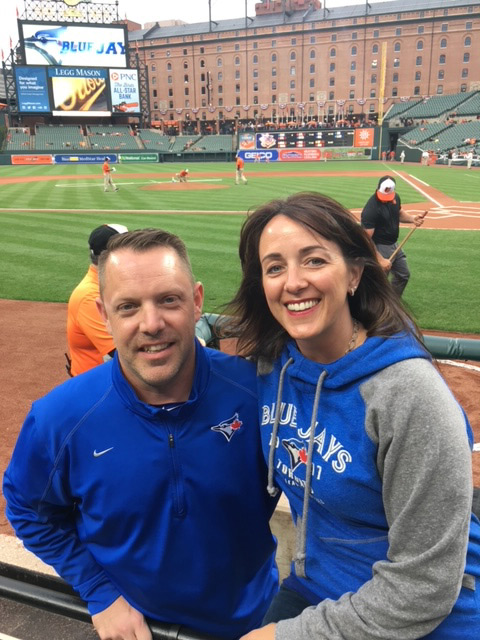 Frostad grew up in Mayland Heights, in the city's northeast, playing hockey and skiing.
Graduating from Crescent Heights High School, he started working toward a bachelor's degree in physical education at the U of C. His professional future, at that point, felt somewhat vague.
"It wasn't until I'd taken a couple of the injury courses that I was like, 'This is something good. I don't mind doing this,'" said Frostad. "It wasn't like a doctor or anything, but it was still medical-related."
Embracing a role as student-trainer for the Dinos, he gathered experience. In 1995, he travelled with the football team to the Vanier Cup in Toronto. It was there that he connected with staffers of the Blue Jays. "And I talked to them a little bit over the course of the winter."
The following spring, they flew to Calgary to interview him for a job with the St. Catherines, Ont., Stompers, one of the Jays' affiliates.
Frostad was hired. And he was in — a trainer in professional ball.
No different than for a prospect, there was now at least a path to the Major Leagues. But he didn't give himself a time limit.
"I knew it's a long shot, really," said Frostad. "At the time, you had 30 teams — each one had a head trainer and an assistant trainer, and that was really about it. It was a profession where there's only 60 of those jobs available in the world. I didn't know how long it would take me to get there."
He took it seriously, investing his time, and slowly — but steadily — moving up the rungs of the Jays' organization.
One year in St. Catherines in the New York-Penn League. Two in Medicine Hat in the Pioneer League. Two in Hagerstown, Md., in the South Atlantic League. Five in Dunedin in the Florida State League. Five more in Dunedin as the team's medical co-ordinator.
"I loved it. Looking back now, I wouldn't trade it for the world, obviously, because of where I'm at," said Frostad. "But it's got its ups and downs. A minor-league trainer is a hard life. The pay isn't as great as people might think. When you're in the minor leagues, you're moving around from city to city, potentially, and if you've got a family it's tough.
"Minor-league baseball is a grind. Bus rides are eight, 10, 12 hours."
In 2010, Frostad made the leap, graduating from highway hauls to charter flights.
Yes, the Jays welcomed him to The Show. For a long-time fan — he can remember where he watched the championship-clinching games in the 1992 and 1993 World Series — this was amazing.
"To be able to be a Canadian trainer in baseball … there really wasn't a lot of us," he said. "To be able to do that and fulfill that dream with the only Canadian team that was left in existence? That was pretty special."
In an eight-year run in Toronto, there were many highlights. The one that stands out will not surprise followers of the Jays.
Oct. 14, 2015. You know it.
Game 5 of the American League Division Series against the Texas Rangers at Rogers Centre. "Just crazy all-round" — but especially the seventh inning.
Catcher Russell Martin's infamous throw to the mound — the ball striking the hitter's bat and Rougned Odor scoring from third. The run counts and garbage flies from the stands onto the field. The bottom of the inning is even more eventful — three errors by the guests and, of course, José Bautista's bat-flipper of a homer.
"One of the craziest games I've been a part of."
The Blue Jays fell to the Kansas City Royals in the AL championship series. They made the playoffs again in 2016, but faltered badly the following year, finishing fourth in the division.
The Jays decided to make changes. And, after a 22-year association with the club, Frostad was out of work.
But not for long.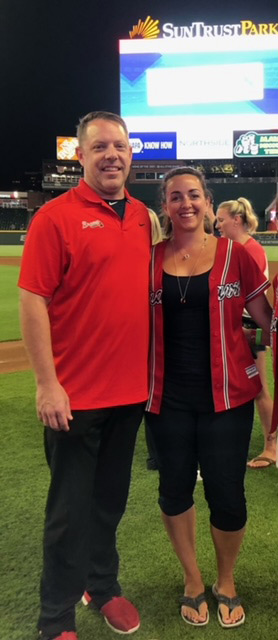 A fortuitous series of events paid off for Frostad. "I was lucky."
Alex Anthopolous, after a couple of years with the Los Angeles Dodgers, was in the process of taking over the Braves. As former general manager of the Jays, 2009-15, he'd come to know — and appreciate — the contributions of the medical staff in Toronto.
So, prior to the 2018 season, he threw life-lines to Frostad and George Poulis, former head trainer of the Jays.
It was a show of support that made the emotions of the recent conversation — Frostad informing Anthopoulos and the Braves that, after four years, he was bound for the Angels — quite mixed.
"I had these people that were helping me along the way, then I almost feel like I'm deserting them," he said. "We make the playoffs every year and this year it culminates with the World Series win. Then a few days after that you have to tell them, 'Hey, I'm going to take this other position.'
"Yeah, it's definitely bittersweet."
The sweet part of that equation he will never forget. How could he?
Early on, 2021 didn't appear to be the Braves' year. Unavailable was Calgarian Mike Soroka, a star pitcher recovering from Achilles tendon surgery. Gone for much of the season was Ronald Acuña Jr., one of the finest players in the game.
Atlanta, for much of the summer, had been an afterthought.
But, after hitting the all-star break with a 44-45 record, the Braves rallied. Eighty-eight wins slotted them atop the NL East. They knocked off the Milwaukee Brewers and the Los Angeles Dodgers and, for all the glory, the Astros.
"The group of guys we had, they just persevered," said Frostad. "We weren't supposed to do what we did. Nobody expected the Braves to do what they did."
Game 6 at Houston, Frostad was perched in the dugout, as always, as the Braves neared the ultimate prize.
"We got to the sixth inning," he recalled. "I looked over at George Poulis and I said, 'We need nine outs.' Then you get through the seventh, 'We need six outs.' Then it's, 'Three outs.' He was the first one I hugged when we got that last out. He was the guy that brought me in. He was the one that gave me my first opportunity back in 2010 to be a Major League trainer. I've worked in the Big Leagues with him for 10 years and I've known him for over 20. He's a big influence on me and to be able to hug him first … I think that was important for both of us."
Then, with everyone else, they raced onto the field at Minute Maid Park.
"You know what? It's really hard to put into words," said Frostad. "You just feel that exhilaration."
He was thrilled to be able to share the moment with Soroka, whose hard-luck story has been well-publicized.
"I felt bad that the last year and a half he hasn't been able to play," said Frostad. "But the fact that he was with this team all year, doing his rehab day-in and day-out. Regardless if we were at home or on the road, he was in there grinding. For him to be a part of it was obviously something special."
No surprise, he's keeping all the commemorative apparel from the championship run, including the parade-day hoodie, and he's going to order a World Series replica trophy — the full-sized version.
"Because who knows when or if you ever get back to one of these things," said Frostad. "It's great to say that you're a part of that team that won the World Series that year. I don't think it'll change me that much, but you can call yourself a world champion."
But, of course, that is only part of his updated resume.
The freshest line, of course, refers to his employment for the Los Angeles Angels, whose roster includes a few stars. A couple of baseball's biggest, in fact, with former MVP Mike Trout and reigning MVP Shohei Ohtani.
"I have to look at it as a ballplayer is a ballplayer, but guys like that don't come around every day," said Frostad. "For me to be able to say now that I'm going to work with them and have my hands on their career at some point … it is kind of a big deal.
"I'll try to downplay it as much as I can, but, of course, you have to be excited to some extent."
And so should the Angels.
Frostad is not only a world champion, his teams have qualified for the postseason in six of the past seven years. Maybe he's the lucky charm the Angels need. "Well, I hope that's the case."
Naturally, his career trajectory is about more than good fortune. This is a man who has devoted his life to the craft.
Calling it a "gratifying profession," he appreciates the sense of closure it provides on a case-by-case basis.
"You get to see that injury through, from start to finish," said Frostad. "You're there when it happened. You're there when they get their surgery. You work with them every day until they're fully recovered and playing."
Still not satisfied with his own base of knowledge, he is within two semesters of his online master's degree in health science, with a specialization in athletic training. He's a certified member of both the Canadian Athletic Therapist Association and the National Athletic Trainers Association.
And, for the last couple of years, Frostad and wife Candice Henson — district administrator of Medicine Hat Little League — have given back, helping to stage the Coaching, Teaching, Leadership Conference in Calgary.
The road to this level of recognition may seem long, but, according to Frostad, it has been a relatively straight journey.
"I always thought I was going the right way," he said. "Looking back on it, I'm just glad everything turned out the way it did. Going from the Blue Jays to the Braves and now to the Angels, everything's been a stepping stone the entire way."