Photos courtesy of Leah Hennel.
The Calgary Stampede concluded a few days earlier. So life now is about enjoying the rest of the summer, basking in the warmth of the remaining weeks.
On a Friday evening — with the temperatures starting to cool after a high of 29 C — patios are heaving with revellers, barbecues are getting stoked, pints are being savoured.
Things are much quieter — more chill in every way — at Pason Centennial Arenas in Okotoks.
The Gold sheet of the complex is perfect, unmarked, and nearly empty — with only three people weaving around the ice. But the occasion packs a punch.
It is unforgettably meaningful for those in attendance.
For this is Ryan Straschnitzki's maiden voyage into sledge hockey. And it's the kind of the development that represents far more than someone sampling a sport.
Barely 100 days after surviving the Humboldt Broncos' bus crash, which, on April 6, 2018, killed 16 people, here is the teenager, paralyzed from the chest down, strapped into a high-backed beginner's sled, beginning his push toward his already-declared mission of representing Canada at the Paralympics.
But in the silent rink, there is little fanfare. Just an earnest young fellow trying his hand at a complicated mode of ice transportation.
With Straschnitzki are Chris Cederstrand — former member of the national sledge hockey team and soon-to-be mentor — and Cederstrand's chum, Corban Knight, a professional stand-up player.
"Thinking back to it, it was an emotional moment for him, it was an emotional moment for me," recalled Cederstrand. "Just to see that excitement back in his eyes after spending so much time in the hospital and in physio. Especially after an accident, you get back into sport and it's this freedom. You could just see him (thinking), 'This is home.'
"I'm sure there were moments when he thought he wouldn't have that anymore. So for him to experience that? He got out there, booted around. He had an absolute blast.
"He was very, very pumped up. We had trouble getting him off the ice that day — he was that fired up."
The momentous day is captured, via phone camera, by Straschnitzki's dad Tom.
"From that point on," said Cederstrand, "it became a constant for him."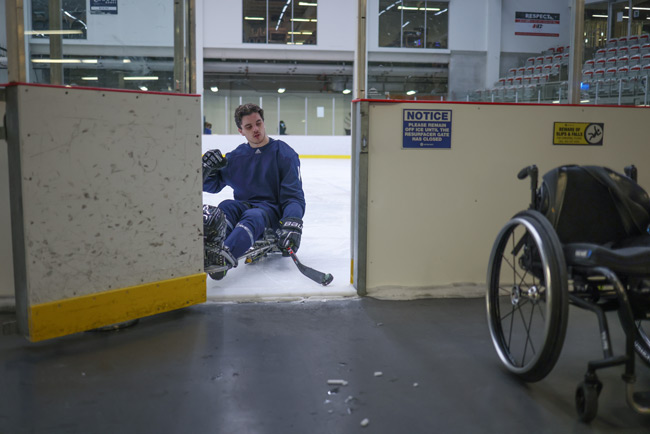 Asked what he remembers about that night in Okotoks — July 20, 2018 — Straschnitzki says it had been a bundle of mixed emotions. Yes, the thrill of being back in a rink — such familiar surroundings for the kid — but also the struggles that go along with getting the hang of a fresh pursuit.
"Obviously, moving around in a sled with two sticks with spikes on the bottom is a little different," he said. "It definitely feels like a long time ago, just because so much has happened in three and a half years. Time seems to be flying by."
Flying by, sure, but not without remarkable progress, despite sledge hockey's steep learning curve.
"It's truly an amazing thing," said Cederstrand. "For someone with that level of injury to be able to make that transition and be out on the ice as quickly as he was …"
He pauses. "It's hard to even speak to."
For the second straight year Straschnitzki — operating as a defenceman (as he did in junior) — is a member of highly regarded Team Alberta, four-time defending champs of Canada. COVID-19 restrictions shut down the 2021 national showdown, but he is hoping for the successful staging of the upcoming tournament, slated for May in Leduc, Alta.
The 22-year-old, home in Airdrie the other day following a morning at the rink, says he's pleased to have reached the provincial-team level — but hardly satisfied.
"As high-level athletes, we like to challenge ourselves and this is one of my biggest challenges — trying to see how far I can take it," Straschnitzki said. "I'm doing all I can at the moment, but things like this take time.
"I've got a long way to go."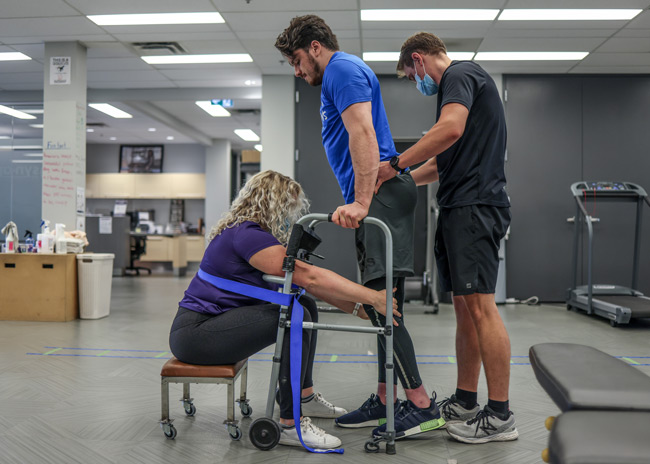 This is not a person likely to idle away the hours.
There are three weekly sessions on the ice and another three in the weight room, plus his physiotherapy routine at Synaptic Spinal Cord Injury and Neuro Rehabilitation Centre in Calgary.
And in addition to his (re-)budding athletic career, Straschnitzki is branching out, testing himself, and wading into the world of public speaking.
Last month at Don Campbell Elementary School in Red Deer, he conveyed a message of hope. ("If you can persevere through any sort of adversity, if you have the right mindset, honestly, anything can be achieved," he told students. "You either succeed or you learn. There's no such thing as failure. Every time I'm on the ice and fall, or I mess up, or when I'm in rehab and something doesn't work properly, I don't see it as failure.")
More recently, he made an appearance in Banff on behalf of the Motor Dealers' Association of Alberta.
"I've definitely had hockey teams, schools, and a couple corporate events ask me to speak," he said. "It's something I want to get good at, for sure."
Straschnitzki acknowledges that he is no pro when it comes to making presentations. But that's not going to faze him.
"There's definitely times when I've struggled and fumbled over words and probably didn't say things the way I wanted to say them," he said, chuckling. "But I've learned from that and built on that. It's getting more natural each and every talk."
These days he also devotes time to his charity organization, StrazStrong Foundation, which aims to help those with mental and physical disabilities.
The program had been created by a close friend shortly after the accident, and Straschnitzki is now ready to take ownership. Ironing out a few details, he hopes to re-launch the initiative at the end of January.
Plenty, in other words, is going on.
His is a journey worth following — and he ensures that you can.
Straschnitzki is not shy about providing details of his obstacle-filled (and -overcome) existence. Via Twitter and Instagram — rstraz_ — he shares updates, but hardly goes overboard with posts. "He's a really quiet kid," said Cederstrand. "You can tell that from his social media. He's not pumping stuff out all the time. He just likes to keep his head down."
In the aftermath of the Saskatchewan Junior Hockey League club's bus crash, media gathered to report the heart-breaking facts, to humanize the tragedy.
The likeable lad from Airdrie ended up front and centre. Meaning he didn't choose to publicize his tale of determination — others took care of that.
"Ryan really did become the face of that accident," Cederstrand said. "He was the one that, more than the rest of the people, was sort of thrust into limelight."
But Straschnitzki is not a reluctant subject. If complete strangers are interested in the state of his well-being, why shouldn't he fill in the blanks? If a reporter calls, why shouldn't he make time?
"I have no problem being open and educating people on my story," said Straschnitzki. "I've embraced it and realized that it can inspire others. I've taken control after the accident."
So, in June, when he stood for the first time with a walker, he let his followers know. When, a couple of months later, he took a few steps, he announced that, too. All while knowing full well that his missives would grab the attention of news desks across North America. But relying on social media to mark milestones is just a 22-year-old, any 22-year-old, living their life. Nothing extraordinary there, he said, laughing. "Yeah, that's just the new day and my era."
Straschnitzki points out that it's a healthy two-way arrangement — a wellspring of give and take. As much as he inspires others, he is motivated by feedback.
"Just to prove that no matter what kind of situation you're in, you can always accomplish whatever you want as long as you have the right mindset and put in the work."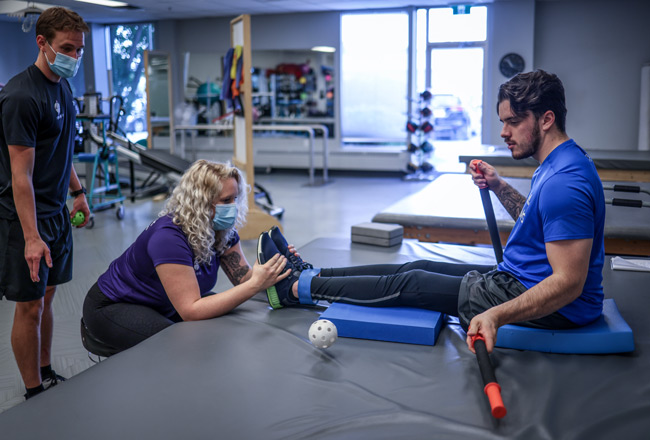 Including, it seems, participating as a member of Team Canada in the 2026 Paralympics in Italy.
"That is our goal, for him to make it," said Cederstrand, a coach with Team Alberta and a retired international-level player. "For him to be there for those Games is a very attainable goal, given the progression that he's made so far. I believe we can get him there."
Cederstrand, who lost his right leg above the knee in a workplace mishap, says Straschnitzki's body continues to mend itself. Which is a bit of an X factor in all of this.
"Ryan's constantly getting things back," he said. "We'll go out to an ice session and all of a sudden he's got maybe a little bit more back activation happening or something along those lines.
"He's gradually progressing. His body is continually still learning and recovering."
November 2019 in Thailand, Straschnitzki had an epidural stimulator implanted in his spine. Cause for optimism, of course.
Improvements, though, are never as rapid as anyone wishes.
"I can try as hard as I want, but the body's not going to follow the mind," said Straschnitzki. "Talking to other people who have come out of spinal-cord injuries, it takes years and years. It's up to the body on how fast it heals — or if it heals at all. So it's kind of a waiting game.
"You definitely want to see results right away … but it's a little bit out of my control. So I have to do what I can until the day comes when it either heals or it doesn't."
In the meantime, he is dedicating himself to sledge hockey — eager to make it look as easy as the world's finest players do. No small feat.
In game action, Straschnitzki found himself needing to skate, shoot, absorb a hit, maintain his balance — all at the same time, while utilizing only his arms. "That was an eye opener."
Describing the dexterity required to excel, Cederstrand said: "A lot of people can rub their head and tap their stomach at the same time — but (in sledge hockey, it's like) you need a third arm to pat your knee. It's definitely a big transition … because there's such a huge dynamic that needs to be learned."
By now, though, no one is doubting the kid's gumption.
Cederstrand insists that Straschnitzki's success isn't solely about athletic upside.
"What Ryan needs to realize, regardless of what he does, it's him as a human that makes it such an incredible story … his no-quit attitude is so impactful," he said. "The kid, he's just an amazing human being all-around. His ability to inspire people through his work ethic and his attitude, it's a rarity."
But the dark days of the COVID-19 pandemic have been a grind for everyone, Straschnitzki included.
During lockdown restrictions, he was often unable to get to physiotherapy appointments, unable to get his hockey fix.
Nevertheless he discovered ways to fill his days. "Internally, I had to look at what I could do to benefit myself and benefit others."
Marooned at home, he tinkered with his diet, tweaked his workouts. He learned how to play guitar. And staying off the phone and away from TV as much as he could, he turned to books.
"Doing things I normally wouldn't do," said Straschnitzki. "Why not try to learn more about myself? I had to try new things, to get out of my comfort zone.
"Definitely there were bad days, but I think I came out of this pandemic stronger than I was before."