Photos courtesy of Lindsey Wilson College Athletics.
Cohen Achen's entrance into the world of college athletics was crushing.
On behalf of Big Bend — against highly regarded Spokane — the kid got peppered in his debut.
"It did not go as planned," said Achen, who surrendered nine earned runs and failed to escape the second inning. "It showed me what the next level of baseball is all about. I was like, 'Wow.' It was like a huge shock.
"A lot of nerves going into it. I gave up a hit, 'Oh, that sucks.' Then another one. And another one. And I think there was a three-run home run in there.
"My pride just started going down. I started getting in my head. Control went away. Velo went down. A mix of everything, really."
Lesson absorbed, the Calgarian got another start two weeks later — March 8, 2020.
This time the teenager was dialled in.
The right-hander sailed through three innings, striking out four and surrendering zero runs. In the dugout, he overheard his coach raving about him.
"I was feeling it," said Achen. "I was like, 'No one's going to hit me.'"
Top of the fourth, facing a lefty, the rookie opened the at-bat with a sinker and …
"He hit it right off my head — 95 (mph) to my skull," said Achen. "Through my head, it was one of the loudest things I've ever heard in my life. It just echoed.
"That moment was crazy to me."
Blood was dribbling from his ear when he regained consciousness, surrounded by concerned coaches and teammates. They told him not to panic, that an ambulance was en route. And he kept asking them if his jaw was broken. "Everyone was telling me no — I probably asked them eight or nine times. I think I was just in complete shock."
Achen had been struck flush on the right side of his face, in the area between his temple, ear, eye, chin. "It actually hit me in the best spot it could've hit."
The blow fractured his skull, though.
After a series of tests at the hospital, he was discharged — "I was kind of shocked that they didn't let me stay the night" — and driven to his coach's home. Already on their way from Calgary were his parents, Graham and Caroline.
The following day when he started throwing up, Mom and Dad whisked him back to the hospital where a concussion was confirmed, "which I thought was pretty obvious from the size of my bump."
Season over, Achen and his folks drove back to Calgary.
It's quite the tale.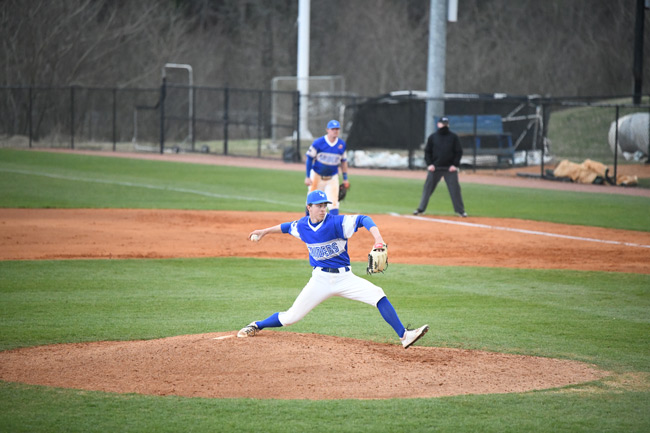 The other day, for not the first time, he supplied the gory details for a reporter. Albertadugoutstories.com and CTV News Calgary have already expertly delved into the scary incident. The young man himself doesn't downplay the compelling nature of the episode. He knows it is powerful stuff.
However, he doesn't care to have his baseball career defined by a freak accident.
"I don't want it to be, 'Oh, I feel bad for this kid,' said Achen. "I want it to be, 'Wow, this happened to him — now look at what he's doing.'" Yes, now look.
Check out the chapter the 20-year-old is writing.
In the 355 days after being knocked out cold, Achen nursed himself back to health; overcame the debilitating effects of vertigo; re-grooved his throwing motion by chucking balls by himself in his family's garage; regained significant weight and strength loss; recovered from the dejection of being denied entry into the U.S. (which ended his time at Big Bend); switched schools to resurrect his baseball career, upgrading from junior college to the NAIA (National Association of Intercollegiate Athletics) in the process.
And? Clambered back onto the mound.
Feb. 26, 2021 — for Lindsey Wilson College, a school in Columbia, Ky. — Achen mopped up, working the seventh and eighth innings, allowing a pair of runs, striking out four.
That, as it turns out, was nothing.
By the time the 2021 campaign drew to a close, he'd muscled his way into the Blue Raiders' starting rotation and, in seven nods, constructed a 5-0 record and a 2.38 earned-run average.
For his outstanding handiwork, the Babe Ruth Calgary product was named the Mid-South Conference's freshman of the year. He also received second-team all-star honours.
But crow about the remarkable comeback? Not this guy.
Because Achen does not seem content. Rather than bask in the startling turnaround, he sees nothing but deficiencies.
He mentions, for instance, that he surrendered 10 home runs. That didn't — and doesn't — sit well with him.
"Positives come and go … but if you always focus on certain things to work on, that's just going to make you better," said Achen. "I think it's pretty constructive."
He's eager to show exactly how constructive.
After spending a week in Calgary for the holidays, he is already back in Kentucky. The Blue Raiders open Feb. 4 against William Carey (Miss.) University.
And, to be clear, Achen isn't interested in maintaining. He needs to see progress.
"A lot of people have a really good year and the cockiness level goes through the roof, then they have a bad year and everything goes downhill," he said. "If I say, 'Realistically, I didn't have the year that I wanted to have,' then I feel it humbles me and keeps me at a goal level I need to reach every single year."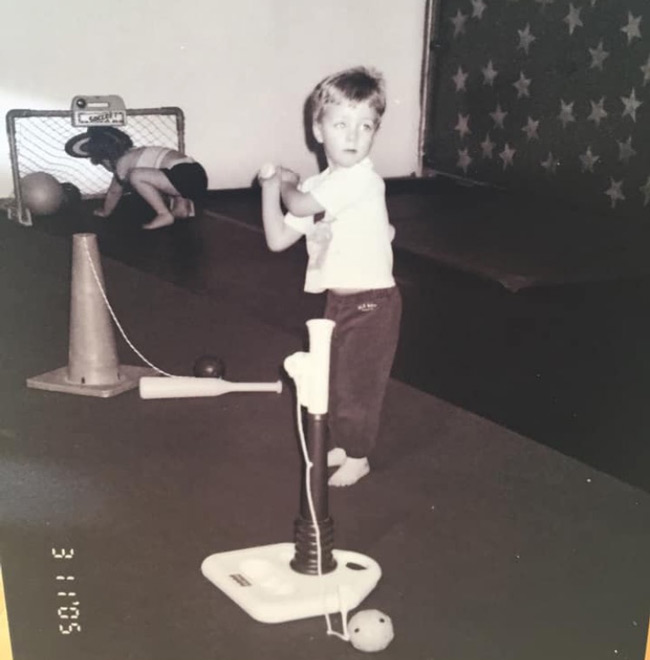 The love of baseball had been evident early. By the age of three Achen was playing T-ball for CalSouth Little League. From there, he advanced to Babe Ruth.
"That's when my coaches realized, 'Wow, you're much better at pitching than you are at hitting and fielding … if you want to go far, I would stick with pitching,'" he said with a laugh. "Obviously, that's what I did."
Achen spread his wings along the way, throwing for Team Alberta and the junior varsity branch of the Calgary Dinos' club.
Wanting to take baseball as far as he could, the Bishop O'Byrne High School student explored his options. After a pal told him to contact Big Bend Community College, in Moses Lake, Wash., he went online, filled out a form, sent video. On the coaching staff was Reign Letkeman, a Red Deer native, and Achen was offered a tryout.
So, in February of his Grade 12 year, he travelled to the Big Bend campus and threw a bullpen session.
He signed the same day.
And, in the fall of 2019, he became a college ballplayer, even if the adjustment had been plain.
Achen, laughs, recalling the gap then. Because while his skillset was adequate, his strength fell short. He carried only 160 pounds on his 6-foot frame. "I was severely underweight compared to everyone. I was weak compared to everyone," said Achen, now three inches taller and 35 pounds heavier. "I saw it as, 'I can play here, but I have to work hard.'"
For the 2020 season, he was part of the starting rotation, getting schooled in his first game, getting KO'd in the second.
Even now, nearly two years later, Achen feels bad for his parents — who were summoned by the coach immediately after their boy got conked; who white-knuckled through an all-night wintertime drive to get there; who, because of shaky cell service, had little concept of what they were going to find at Moses Lake.
"They were definitely in shock," he said. "I couldn't imagine what they had to go through. They were pretty scared."
Achen has never seen a replay of the incident — none exists because of a video mix-up — but he would like to. "Because I got hit and blacked out, I have no clue. I just want to know what happened after that."
Well, what happened after that, in the grand scheme of things, is the world shut down — his and everyone else's. Not surprisingly, COVID restrictions had little impact on his lifes, which featured three months of bed rest and a little TV. "But I could only watch a certain amount because my head would start to kill me."
Also, beset by vertigo, he couldn't lie flat on his back or his side.
"If I looked up too fast, looked down to fast, the whole world would spin and I'd feel like I had to pass out or something. So a lot of it was sleeping pretty much straight up."
But never did he think his baseball adventure was over.
Even if his weight had dipped to 145 pounds. "I was extremely skinny." He worried about his strength, already a question mark. He remembers going downstairs, itching to snap off a few pushups, and his dad wisely stopping him. Physically dry-docked, Achen tried to use his time constructively, contemplating his pitching mechanics, considering various diets and workouts.
Cleared in late-May, he began to work out, gently.
By September, he was throwing.
The plan was to return to Big Bend in time for the winter semester — and the 2021 season. But since fall classes had been online, it was determined by U.S. customs officials that he had no good reason to be in Washington. "They said, 'Sorry, but we can't let you cross because you're not an essential traveller if you can do everything at home.' It definitely put a little stick in my path."
But not for long. Nudged by an acquaintance, he contacted the Lindsey Wilson College coaches and they turned out to be interested in his services. And despite having already applied to the University of Calgary — just in case — Achen didn't hesitate to move to Kentucky.
With the resumption of his baseball career in mind, he toyed with the idea of a custom cap, something "with a built-in hard front," to protect his head. But wearing one of those heavy lids would serve as an everyday reminder of you-know-what, so he decided against it.
"If it happens again, I'm done. I'm not playing again," he said, managing a laugh. "The odds of it happening the first time are extremely rare. It's kind of like lightning — it doesn't strike in the same place twice."
Nevertheless, he'd been scarred by the incident.
Returning to the mound meant facing — and fearing — hitters, who, in the NAIA, swing metal bats. Comebackers, to this day, spook him. "It was definitely hard to get back out there. Anything that's close, I kind of like flinch. And instead of going for it, I typically just let it go."
The Blue Raiders allowed the newcomer to ease into things. And Achen appreciated the bullpen deployment. "I saw it as a good way to get an inning in every game, just get a feel of the mound again and work my arm up."
When one of the team's starters departed, he jumped into the rotation and became a go-to thrower, thanks to his effective fastball-slider arsenal.
In 64 innings, he fanned 54, walking 14. Opponents hit only .217 against him.
Naturally, heading into his sophomore year, Achen hopes to improve his numbers, to ratchet his standing among conference pitchers, to continue to be a consistent presence for Lindsey Wilson.
"If I feel really good on a start day, it's, 'All right, perfect. I did my job for that day. Now I have to let that go completely. Leave it in the past. In these next six days, till my next start, I have to work my ass off to get back and have another good start.'"
Hard to dispute the upside of the steely-eyed approach. But occasionally he finds himself wandering online, getting a feel for the prospect landscape. There, in scouting reports, he finds inspiration — such as bulletins of 15-year-olds throwing 95 mph.
"You're like, 'All right. I suck compared to some of these kids,'" said Achen, chuckling. "But at the same time it's motivation, 'All right, I'm not as good, but I'm going to beat them because I have drive.'"
Drive, plus one obvious — and handy — blueprint for success.
Mike Soroka — first-round pick and part of the Atlanta Braves' starting rotation — is a fellow Calgarian, who, at 24, is only a few years older than him.
"Obviously it's a little different because he got drafted out of high school and he throws, like, 97," said Achen. "But just knowing a kid from Calgary grew up and put in the hard work, and now he's playing professionally and making how much money and loving what he does every single day, it just says, 'Yeah, you can do it, too.'
"Just because you're a little kid from Calgary … it doesn't mean anything."