University graduate and former triple-jumper, Helen Upperton had been ready for the next phase.
Which meant living in Toronto, probably going to medical school.
Then bobsleigh's head-hunters sunk their hooks into her. She tried out, loved the sport, especially when she realized how close she was to becoming an Olympian.
Putting life on hold, she returned to her home town, Calgary, and embraced the challenge. Bobsled-racing trumped all else.
"Well, it has to, I think," said Upperton. "If you want to become one of the best in the world, you've got to go all-in at some point, right?
"People talk about the mentality of elite athletes and you have to be a bit bonkers, right? You become obsessive. And everything else in your life falls to the wayside."
Blinders on, she invested wholeheartedly in her sliding career — becoming a World Cup factor, a medal-winning and two-time Olympian, a boundary-pushing trailblazer for the women's side of the sport.
Bobsleigh defined Upperton's existence. This was her universe.
Till she retired following the 2012 world championship.
Meaning, after years of singleminded pursuit, she had been untethered. Feet up and expectations down, it was finally time to take a breather.
Unless you are Upperton.
Who, since last throwing herself down an icy chute, has:
Coached and mentored and promoted sliding sports
Handled communications work on behalf of WinSport
Hosted and produced a reality-adventure television series
Become an award-winning broadcaster for the CBC
Welcomed consultant work with high-performance athletes
Launched a sleep-coach business after getting her certification
Joined the Calgary Bid Corporation in an effort to land 2026 Olympics
Earned a spot as a full-time firefighter with the Calgary Fire Department
Embraced the world of motherhood, raising two young children
After listening to that lengthy run-down, Upperton, for not the first — nor last — time in the conversation, laughs.
"Like, how many jobs can one person have? I don't know," she said, still chuckling. "Yeah, it's been a bit of a whirlwind, doing a lot of different things. It doesn't feel like it's been a decade (since I competed).
"When people say that, it's, 'Wow, that 10 years went by so fast.'"
Fast perhaps, but not uneventfully. Multi-talented, she introduces herself as "Jack of all trades — most importantly new mom," on her LinkedIn account.
"I'm so proud to be a mom — it's definitely the best and most rewarding job — and I have so many other things I want to do as well," said Upperton, 42. "I'm so passionate about the concept that you don't have to give everything up to become a parent."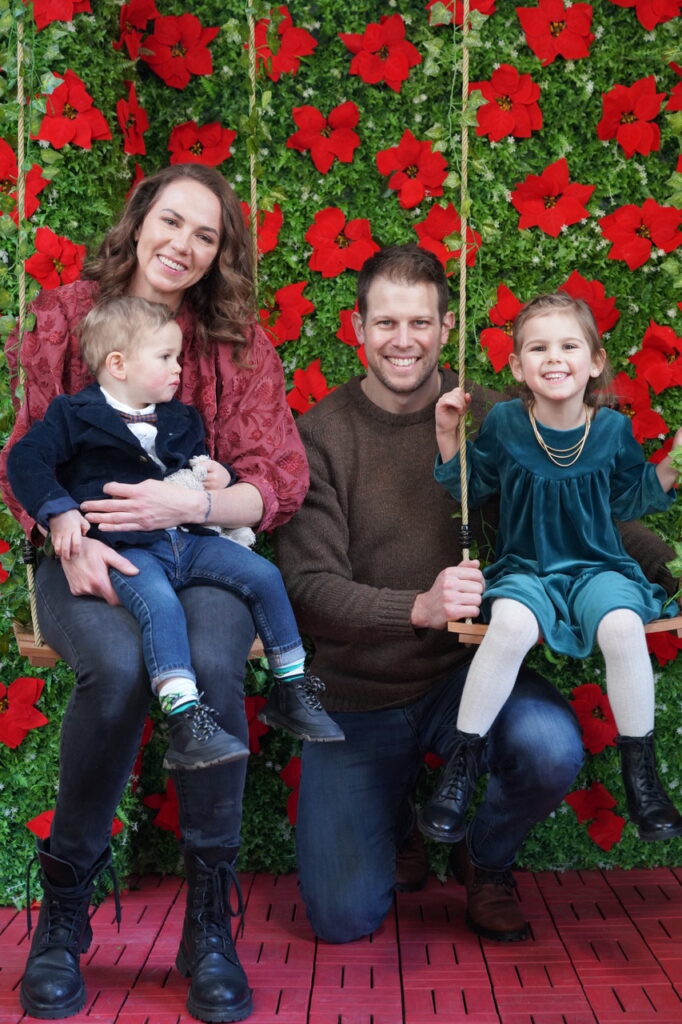 Right now — scaling back the consulting arrangements, putting the sleep-coaching venture on pause, taking a brief leave of absence from the Calgary Fire Department, placing the kids in the trusty hands of her partner (and now retired Olympic bobsledder) Jesse Lumsden — Upperton is leaning into her blossoming broadcasting sideline.
The 2022 Winter Games stands as the third Olympics she's worked — even if she's breaking down the Beijing races from the CBC studios in Toronto.
Regardless of the situation, she's a natural on the mic. And it's more than just her wealth of knowledge.
"My parents used to always joke that I liked talking too much," said Upperton. "Now I just found a way to do it where lots of people get to listen."
Working alongside the savvy likes of Mark Lee and Mark Connolly — "They make everybody sound so good" — she aims her expertise at the casually curious, not the aficionados.
"They've told us, 'You have to remember you're not doing this broadcast for the one per cent of people who know the sport as well as you. You're doing it for the (other) 99 per cent,'" said Upperton. "How do we make the sport really exciting for viewers? I try to give them a lot of information so they can understand what's happening because obviously it's very high-speed, quick-action kind of sport.
"Bobsleigh and skeleton and luge are kind of fringe sports, right? My goal is to always try to make it make sense to people that have never seen it before."
That package — presence, delivery, insight — has not gone unnoticed.
In 2020, she was nominated for a Canadian Screen Award in the sports-analysis category. Which came as news to her, even as texts from friends and colleagues poured in.
"I was like, 'What is a CSA?'" said Upperton. "So I googled it and saw all the people I was up against — pretty amazing broadcasters. It was this super huge honour … and I was so confused, completely shocked."
In the running against Jack Armstrong (basketball), Tracy Austin (tennis), Carmelina Moscato (soccer), Upperton ended up prevailing, which, for her, served as a validation of a job well done.
"Lots of family and friends say, 'Oh, you're really good at this. I love listening to you.' And I'm like, 'Well, you have to say that,'" said Upperton, with a laugh. "Ever since (winning) I've felt that that's the standard. We have to do these great shows because these are the people we're being compared to. There are so many great broadcasters out there."
Of course, as she interprets the action, enlightening a coast-to-coast audience, the Calgarian can't help but think of her own career, especially her Olympic debut — 2006 in Turin, Italy.
At the start of that name-making season, Upperton remembers her two-woman rig being ranked eighth in the world. "And we kept winding up on the World Cup podium week after week," she said. "So we went from not being sure if we'd qualify (for the Winter Games) to being medal contenders."
At the Olympics, with the eyes of Canadians on them, Upperton and Heather Moyse whisked their sled through the four heats. One so-so run proved costly, leaving them a whisker away from the podium.
"I was so nervous — and overwhelmed. I wasn't prepared for the amount of pressure," she said. "The consistency that comes with years of experience, I just didn't have it yet. It kind of haunts you, a fourth-place finish — but it also serves as a really great motivator."
Fast forward four years. Without a flinch, Upperton shouldered the role of home-turf medal contender at the 2010 Winter Games in Vancouver. She and Shelley-Ann Brown finished behind only one pair — Kaillie Humphries and Moyse — en route to silver.
The result added serious grist to her competitive experience, something that lends itself to the on-air job — having an elite performer's perspective on nearly anything that can happen.
"That's what gives it a special feel, the storytelling ability — we've all been there," said Upperton. "I know what it feels like to be an athlete at their first Games. I know what it feels like to have the pressure of being the host nation, of being a medal favourite. I know how it feels to miss the podium and finish fourth.
"You're really able to share those emotions with the viewers, so it becomes that much more authentic.
Born in Kuwait — her parents were in the oil industry — and growing up in Calgary, Upperton never mapped out a future that included the Olympics.
This, though, was a quality athlete — soccer at the provincial level, track at the national junior level.
Graduating from Dr. E.P. Scarlett High School, she packed her triple-jumping skills to the University of Texas at Austin. Handily enough, her family had just moved to Houston, only a couple of hours away.
On campus, it had been a learning experience.
And not just in the classroom.
"I always picked things up pretty fast and I was always pretty good, but when you go to one of the top NCAA programs …," said Upperton. "You go down to a place like Texas and you're like, 'Holy smokes. If I'm even going to be average here, I'm going to have to work so much harder.' It made a fundamental change in how I viewed what being an athlete really was. My work ethic totally changed.
"Without that opportunity, I don't think I would've been as successful in the sport of bobsleigh. I feel like it was such a blessing."
Broken bones in her foot shut down her collegiate career. Sidelined, she underwent a procedure, stayed put and graduated, and went to live with her sister in Toronto.
Her athletic story would have faded right then — 2002 — if Bobsleigh Canada, on the look-out for talent, hadn't come calling. "I can't remember exactly what (recruiter Matt Hindle) said on the phone, but something like, 'You're the right type of athlete and you're pretty big for a girl.' Who says that?"
She laughs. "But he was right — I'm 5-9 — there's definitely a size component to bobsleigh. They're very good at picking out people. The trick is convincing them to come and try it."
She travelled to Calgary for an audition. Her surgically repaired foot had healed, but Upperton was hardly finely tuned. "Very average," is how she describes her fitness. "But Matt said, 'I think if you stay and train a little bit, you'll be great — and probably make the next Olympics.' And I thought, 'That's got to be a joke, right? There's no way.'"
Upperton made a deal with herself — she'd give it one year, then re-assess.
She called her sister, asked her to ship her stuff to Calgary. She stayed with friends of her parents. But she had no wheels. "So I would catch a bus with all my sliding gear to get to Olympic Park."
Progression was unmistakable. Starting as a brakeperson, Upperton, by season's end, had switched to the driver's seat.
"And that was that."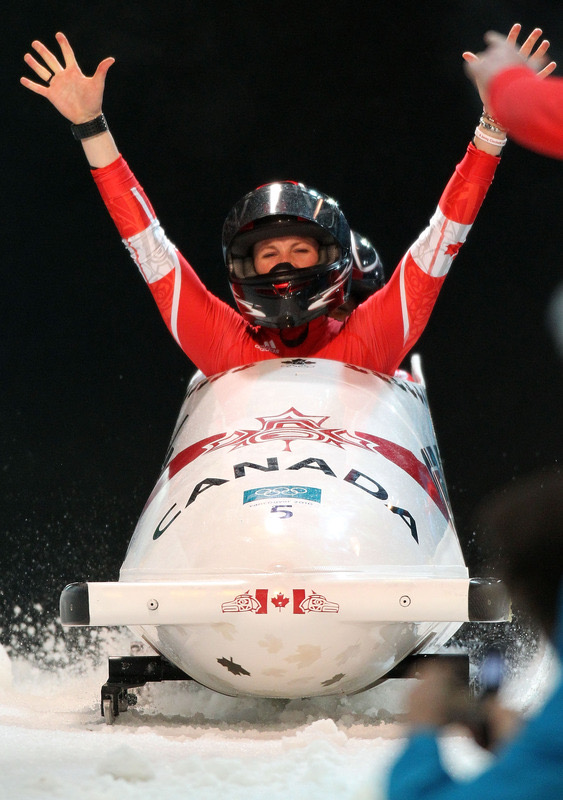 In addition to appearances at two Olympics, Upperton, with Moyse, earned Canada's first-ever gold at a World Cup women's event in 2006. In total, she bagged 20 medals on the international circuit.
In other ways, too, Upperton was making an impact, doing whatever she could to lever into prominence the women's side of the sport.
"We actually got the program to a point where we were medal contenders every week like the men had been for so many years," she said. "Our generation took the team to the same playing field as the men's program."
Pounding down your fist in boardrooms, demanding "the same treatment, the same opportunities, the same equipment, the same chance to be successful" as the men is admirable, of course.
There's no sense wasting your platform. Still, it can come at a cost.
"There were some run-ins," said Upperton. "And I know full well that the women who came before me had it significantly worse and much harder, so there's always people who paved the way before you that you feel grateful for. Then you try to do your part. I would like to say I helped.
"People don't remember how many races you medalled in, which competitions you won. I think people more remember the type of person that you were, the type of teammate that you were.
"I always tried to advocate for the program and for my fellow athletes. That's probably a thing I feel the most proud of, on top of having a great career with a bunch of success."
Upperton's latest undertaking?
Firefighting, which began in September when she was hired by the Calgary Fire Department. She works downtown, out of Station 2. For a long time, this field interested her. "It's pretty amazing that that's finally happened."
For Upperton, pulling on this particular uniform comes with pay-it-forward motivation. Because she realizes her athletic journey didn't happen without help. Lots of help.
"It's a very selfish career choice — you're on this path to accomplish your goals," said Upperton. "And all these people's jobs are in support of you and your dream, right? If you don't recognize that, you're missing something very important.
"So I think it's really nice to have a career where I can serve the community."
And, if you know Upperton at all, there is one other obvious factor leading her to a livelihood like firefighting.
"An office job is never going to be a great fit for me," she said, laughing. "It just doesn't suit my extreme energy levels."