Photos courtesy of Chris Cederstrand and Candice Ward.
Chris Cederstrand — a 25-year-old who is freshly married; a trained firefighter who graduated at the top of his firefighting class at Lakeland College in Vermilion, Alta.; an elite athlete who skated in the Western Hockey League — is only a week out of a medically induced coma.
A workplace accident in Calgary had cost him his right leg.
Now he's dying to know how the injury is going to affect his potential?
So, lying in his bed at Peter Lougheed Centre, it is with considerable anticipation that Cederstrand awaits the arrival of his assigned mentor. Someone who is going to bring his fate into focus. Who is going to outline his new direction. Who is going to tell him what he can expect.
Surely, this will be an exchange filled with soul-stoking inspiration and spirit-boosting possibility, a pep talk encouraging him to go ahead, live his dreams.
To the question of his sporting future, Cederstrand gets an answer that is as devastating as it is short.
Bowling.
Hitting the lanes, apparently, is his destiny.
"It was a very discouraging moment," Cederstrand said the other day. "You've already got so many things running through your mind, like, 'How am I going to be a husband? How am I going to be a father? How am I going to play with my kids?' Then to have that bomb dropped on you? A pretty traumatic thing to hear.
"It was something that absolutely crushed me. It took me a very long time to recover from that. If losing the leg wasn't the most defeating aspect of what happened, that was right near the top.
"This was my first contact with the adaptive world. Obviously, it was a very sour one."
That was 2005. Cederstrand, an above-knee amputee, had also been informed that he would never wear a prosthetic leg. "You'll be crutch-, wheelchair-bound," is what he was told. Also? His firefighting career was over.
He describes the feedback as undeniably "low bar" — and one he eventually chose to reject. Looking back, he still doesn't understand the motivation behind that mindset.
To not strive? What an odd thing to promote.
"Because you want to turn (trauma) into a footnote in the story of your life," said Cederstrand. "It should never be something that defines you. At the end of the day, you're able to go way beyond it and accomplish amazing things."
But even for someone as earnest as Cederstrand, it took years to find his groove.
One day in the mall, a national para-cycling coach spied Cederstrand, a well-conditioned specimen, moving past. He hailed the young man and convinced him to join the team. Cederstrand also became the first Canadian to purchase a "snowboarding knee," which would allow him to return to the slopes.
"I was slowly getting back into sport."
Five years after his accident, he happened to be at a Calgary Flames game when, during the intermission, there had been a sledge-hockey exhibition. The demonstration failed to captivate him. "They had guys out there pushing people around. They really didn't appeal to my high-performance side and I automatically dismissed it."
Soon after, though, Kieran Block convinced Cederstrand to come out to watch the Sledge Hockey Challenge and get an up-close look at the national squad.
"I got that holy-crap factor," he said. "I was hooked — the compete level, the physicality. I decided that was my goal … my big turning point. Once I found my passion, everything just turned around for me.
"It changed my life, obviously — a huge push in my recovery. Once I found that, things just got so much brighter. My future got brighter."
Since then, it's fair to say, Cederstrand has been all-in with sledge hockey.
As a player, as a coach, as a promoter, as an organizer, as a pace-setter.
He is there to put the good word into the ears of the recently hurt. "One of my pushes — I try to meet as many people as I can with newly acquired injuries."
Which is why, back in April 2018, he reached out to Ryan Straschnitzki, who, paralyzed from the chest down in the Humboldt Broncos' bus crash, was still in hospital.
"I wanted to make sure that he didn't have that same experience — that none of the people I talk to have the same experience — that I had," said Cederstrand. "And to know that you're the only person who can put limitations on yourself at this point."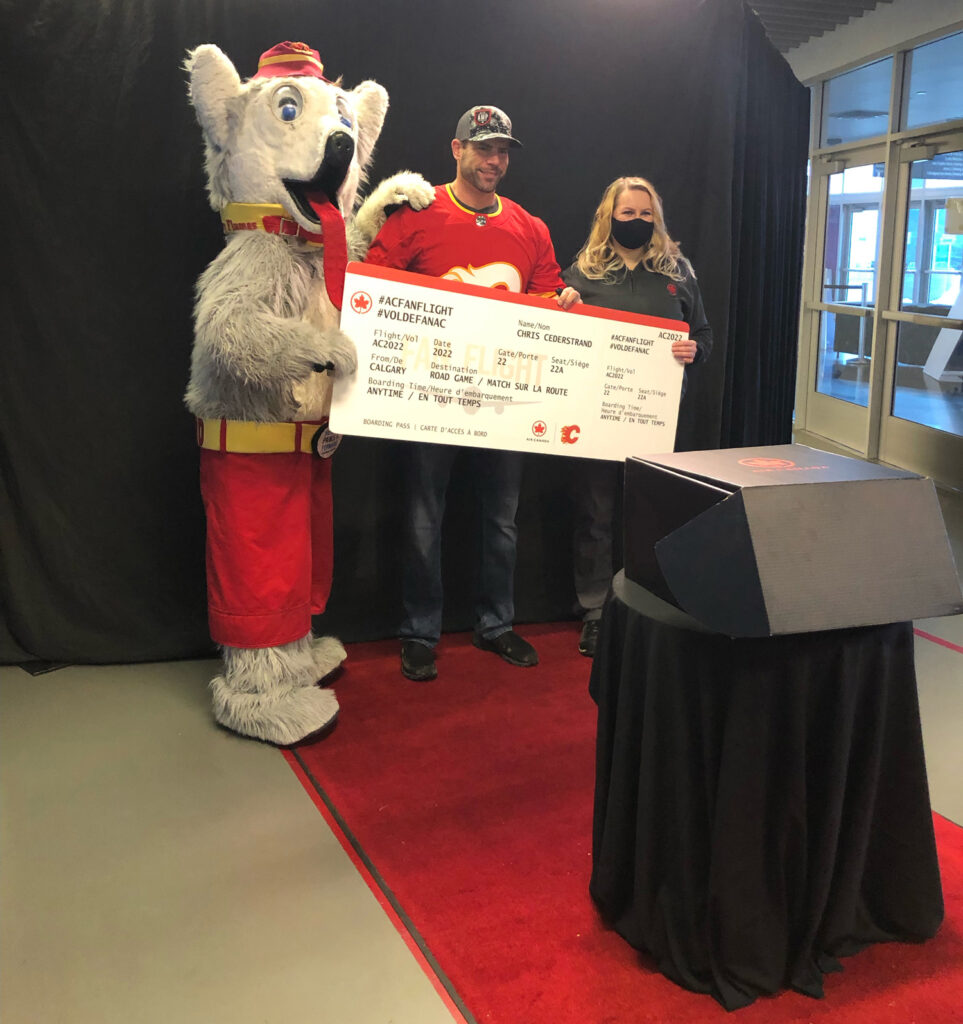 A couple of Saturdays ago, Cederstrand had been asked to make a morning-time drive to WinSport.
As someone with a hand in many sledge-hockey initiatives in Calgary, he is fair game for local reporters looking for savvy soundbites. Figuring it was the CBC's turn for a chat, he headed over. "They got me all mic'd up. Walked me out to the concourse.
"Then all of a sudden …"
To his surprise — with his wife, friends, parents, assorted acquaintances in attendance — he was presented with the Flames Community Champion Award for "his outstanding efforts within the Calgary and sports communities," according to the NHL team.
The honour, sponsored by Air Canada, means Cederstrand is bound for a Flames game, and VIP treatment, in Vancouver.
"It was quite the craziness. I was not expecting it," he said. "Obviously, it's nice to have that recognition, but it's not why I do what I do. To everyone that put my name forward, it's definitely nice to know that people are noticing what's happening, right?
"I'm hoping they're noticing the movement that we're making within the adaptive world, making sport more accessible to people. I was just fortunate enough to be at the helm of some of that."
It's a full to brimming plate for the 41-year-old.
Cederstrand operates the Accelerated Multisport Pathway (AMP) Academy, which, according to its website, is "professionally designed to empower adaptive athletes with physical disabilities."
The online introduction includes this music-to-the-ears kicker: "The program is provided free of charge for all participating adaptive athletes."
Partnering with the Flames Foundation, AMP getting roller sleds into schools and hospitals, which provides a "less intimidating" first step into sledge hockey. "Then they have that gateway for getting out on the ice."
AMP Academy — which also offers golf, alpine skiing, snowboarding, roller hockey — is making a move to add wheelchair lacrosse to its slate.
"We've got all sorts of cool things happening."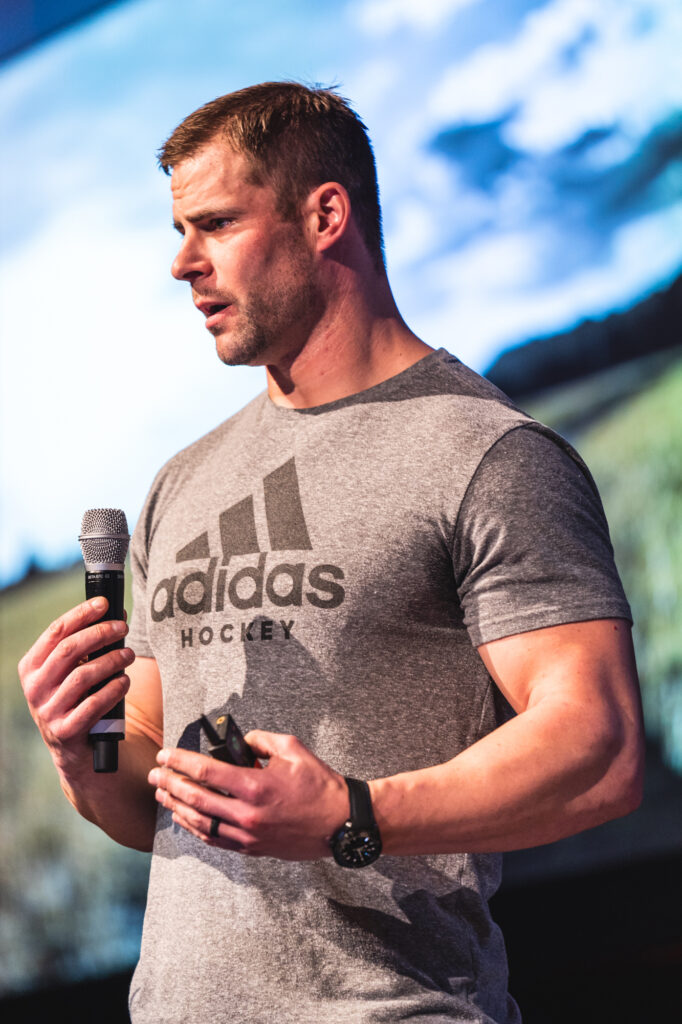 Including possible collaboration with the National Sport School. "Our goal is to ultimately give kids scholarships," said Cederstrand, "so they're able to get everything they need out of one facility."
Earlier in February, AMP ran its annual Star Wars Tournament, which features sledge and stand-up players competing in the same games. "It really reinforces, especially for our adaptive community, that everyone's just an athlete."
On top of it all, he runs the Cederstrand Foundation, which, no surprise, raises funds to reduce the cost of entry into adaptive sport.
"It's not buying a $70 pair of skates, then getting your kid on the ice — it's buying a $700 sled," said Cederstrand. "It's not buying a pair of shoes and a basketball, then sending your kid out to a court — it's buying a $5,000 wheelchair and a basketball."
Cederstrand's intentions have not gone unnoticed — Flames Community Champion is only the latest nod.
He's considered a distinguished alumni member at Lakeland College. And in 2017, he landed on Shaw Communications' list of 50 Outstanding Canadians. The resulting $1,500 grant, he funnelled into KidSport Calgary.
Also one of the coaches for Team Alberta, Cederstrand understands the power of sport.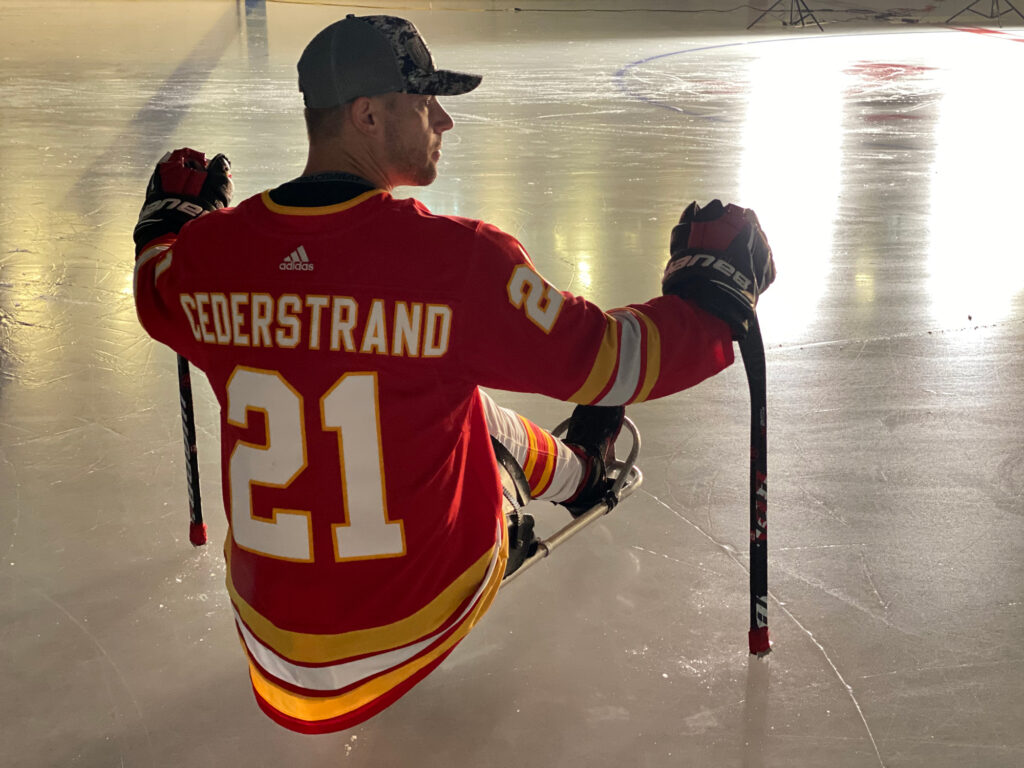 Throwing himself into sledge hockey, the young man worked his way onto the national team, earning a spot as an alternate on the roster that qualified for the 2014 Paralympic Winter Games in Sochi, Russia.
But it wasn't glory — or only glory — that Cederstrand had been chasing.
"From my personal experience, (sport) was one of the biggest things that allowed me to get a lot of normalcy back in my life," he said. "At the time of my accident, it wasn't as easy to go out there and find adaptive sports.
"It's getting out there and getting active. When you get involved in these sports you get to meet so many other people who have all gone through some sort of tragedy or have life-long disability.
"You know that you're not alone."
That social aspect is critical. So, too, is the notion of taking on a challenge, being willing to move into the unknown.
Pushing out of your comfort zone isn't bad. In fact …
"That's truly where great things happen," said Cederstrand. "And not just great things in a sporting realm, but great things on a personal realm. It shows that there aren't limitations."
He would know. Remember, this is someone who was a trained firefighter before his accident — but there had never been an active above-knee amputee firefighter in North America.
"It was a dream I thought I'd lost."
Applying to the Foothills County fire department, he was told that he'd be welcome to attempt to catch on. Meaning he would be put through an array of strength and conditioning evaluations — like everyone else. "I had to meet the same standards. They made zero exceptions."
So Cederstrand trained like crazy. He knew that gaining entry into a "very alpha industry" would require beating out other applicants, some of whom looked down on his efforts.
"You're immediately sloughed off to the side, and (hearing), 'This is going to be an embarrassment,'" said Cederstrand. "You're being looked at as an outcast from the moment you get in there. It was, 'I can't let this guy beat me, because he's missing a leg.'"
Determined, Cederstrand attacked the testing, finishing in the pack, with strong enough numbers to qualify him for front-line employment. That was seven years ago.
"I consider it one of my biggest accomplishments," he said. "One of the toughest things I've accomplished."
After hurting his shoulder in 2019, he took a leave of absence. Despite being devoted full-time to his hockey school, he'd like to one day get back into firefighting, even on a volunteer basis.
Now, though, promoting adaptive sports is his passion.
He's a living, breathing example of the upside.
"When you allow kids to push past their limitations, this incredible growth happens," said Cederstrand. "Their physical and mental demeanour changes. They start to flourish. They're out there talking, they're more engaged, whether it's at school or in the community.
"It's a truly remarkable thing to see kids grow, just from something as simple as getting them active within a sport."