Photos courtesy of Amy Fraser and Sébastien Berthiaume.
Stacks of textbooks, piles of assignments, blocks of exams — academic pursuit can be chore-driven drudgery.
So, for students, wool-gathering is commonplace. Healthy even.
No surprise, Amy Fraser, while attending the University of Calgary, would zone out occasionally, her daydreams featuring persistent themes.
"I'd see where my friends are in the world and be like, 'Wow, that looks way better than studying for cellular biology,'" she said. "I was definitely envious of where others were and what they were doing.
"Like many, I lived through escapism — 'I really wish I was skiing right now.'"
Unlike many, Fraser grabbed hold of that alternative reality, as outlandish as it may have seemed, and ran with it. Like, really ran with it.
Prompted to explain her athletic ascent — and the unlikely journey to the 2022 Olympic Games — she laughs.
"Kind of super random," said Fraser. "Definitely an unusual path."
No question about that.
The starting point was those aforementioned friends — national-team freestyle skiers Mark Hendrickson and Max Moffatt — whom she'd met while working summers at WinSport after her second year of university.
At this point, Fraser wasn't even an active skier. Preoccupied by her studies, she hadn't hit the slopes for couple of years. But she joined her pals for a few day trips and was immediately captivated by the lifestyle.
"'Wow, you guys get to travel to all these cool places and have fun skiing with your friends,'" she said. "It made skiing seem like so much fun. I wanted to learn how to do a backflip, slide some rails.
"But there was no way I was anywhere near as good as them. I never really looked at them and was like, 'I could do that.'"
But her background — competitive gymnastics through her early teens, former ski racing as a kid — set her up for success. "I'm definitely co-ordinated as a human being."
Taking a closer look at freestyle skiing, what it required from practitioners, Fraser convinced herself that it was indeed something she could do well.
"My grandma always said, 'What one fool can do, so can another.'"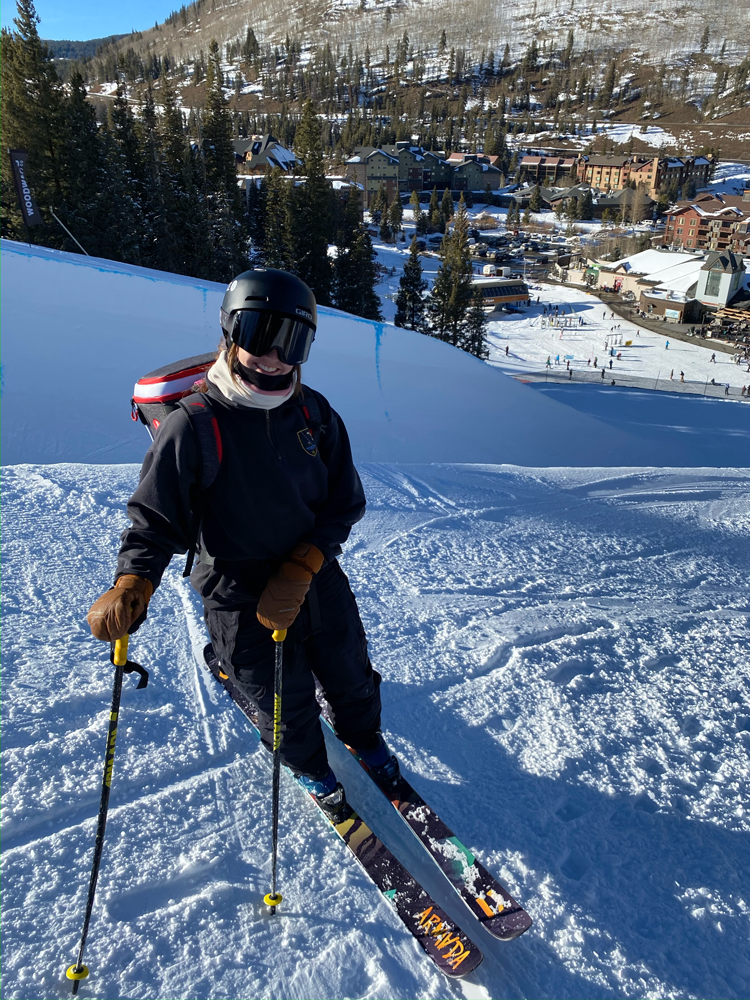 Winter evenings — after wrapping up a biological-sciences degree in 2016 — were spent at Canada Olympic Park where Fraser tried to teach herself basic tricks. Sometimes she'd show up 30 minutes before closing and, before being chased off by security, could rattle off a few laps, hit a couple of rails.
One night the Calgary Freeriderz coach, admiring her gumption, invited the solo skier to join his club for the night. No hesitation — "I was, like, 'Heck, yeah.'"
Because that would mean access to an airbag, so she could work on backflips. Because that would mean she'd be able to avoid hecklers. "You definitely get yelled at as a woman or a girl in skiing. You have to have a pretty thick skin. So it was really nice to have a team and know other skiers in the community … instead of just being made fun of constantly when I was by myself."
Officially joining the group, this was Fraser's first freestyle team. She had never competed.
And she was about to turn 22 years old.
The coach, near season's end, encouraged her to enter an event in Quebec. That caught her off guard. "I thought I was already too old."
And if this feels a Hollywood moment, with Fraser, as a late-blooming unknown, dominating the field, the wave of momentum carrying her all the way to the Winter Games — it is not.
A couple of days before departing for her debut, Fraser got a ski stuck on the airbag, tearing up her knee. "A really loud popping, then pain." Surgery wasn't required, but her season was over.
She skied the following winter for the Freeriderz and kept a close eye on the 2018 Olympics. Which, at that time, was more spectacle than legitimate goal. "Frickin' cool. I was just in awe."
In 2018-19, she hooked up with WinSport's club. Her passion for freestyle skiing, by now, was clear.
"Once I started doing it, I really got addicted."
Which comes at a price. Her mission in those days had been simple — make enough cash to support her skiing habit. And she wasn't fussy, one summer holding down four jobs. (As an aside, she passes on this heartfelt shout-out: "To everyone who employs kids who are home for two weeks, then leave for two weeks, then home for three weeks, then gone for a week.")
She skied two years for the NextGen team — a development squad — before, just this past summer, being lifted to national-team status.
Then, weeks before the start of the 2022 Winter Games, Fraser got official word that she had earned a trip to Beijing.
She would be representing Canada in the women's halfpipe.
Which, in a fantastic way, was jarring. "If you told me a few years ago that I'd be going to the Olympics, I'd've laughed in your face. I would've thought it was a hilarious joke. 'Nah, you're kidding.'"
Because it is quite a tale.
Asked if she's proud of writing this inspirational story — taking up a new sport in her 20s; being tormented by kids half her age as she tries to master the moves; blowing out her knee before her first showing; then, after a few years' grind, winding up in sport's shiniest showcase — she takes a few seconds to think about it.
"That's just how it happened, I guess," said Fraser. "I don't know. I was just happy skiing and I just wanted to be happy for a while — not in school, and living the dream skiing.
"I don't look back on it too much, maybe because everything happened so quickly that I haven't paused to reflect in some time.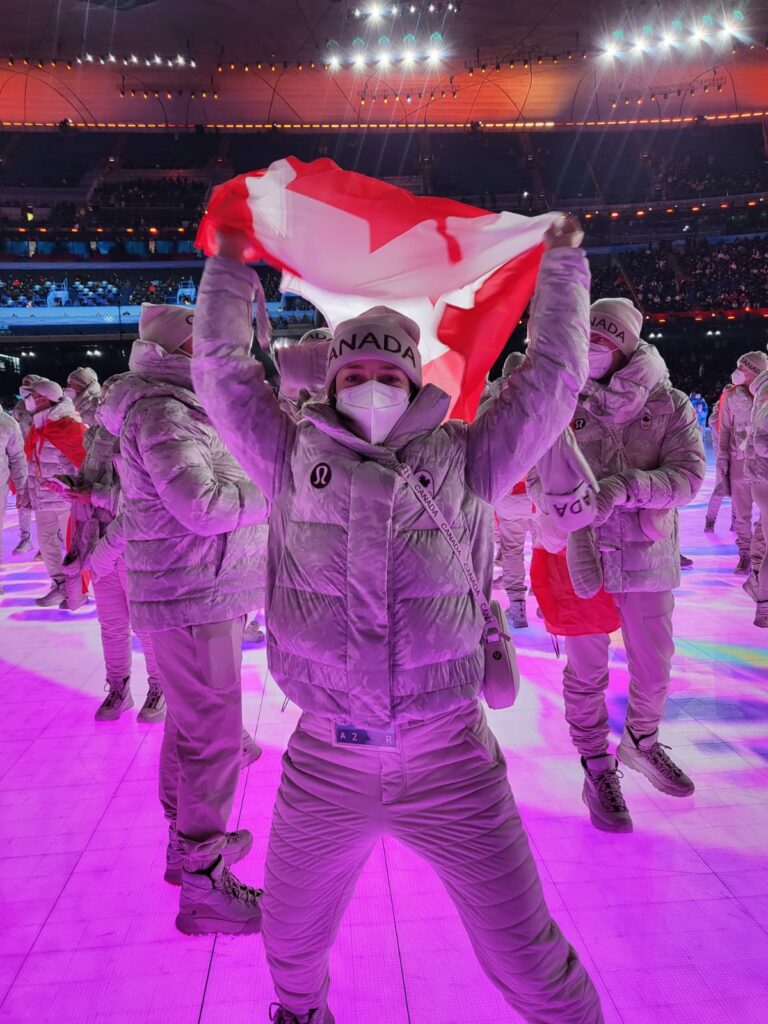 Fraser returned to Calgary last week. And even though she's already begun to sneak in workouts — "Going to the gym is really important for my mental health" — she is embracing the down time.
"I can definitely feel the stress leaving my body after the last few months or years," she said. "I think I can say I easily underestimated how much stress I was letting myself carry."
The pressure of competing, event to event, is one thing. But coping with Canada's qualifying pressure-cooker is something else entirely. "Someone should really do a TV show on how stressful it is. It's pretty interesting — and equally heart-breaking."
Having survived that process, Fraser had high hopes for Beijing — to reach the final, which she accomplished. But she was disappointed by how the showdown went.
"I had definitely hoped to be on the podium or really close," said Fraser, who placed eighth, while halfpipe teammates Rachael Karker and Cassie Sharpe medalled. "I just wanted to ski well and put down a run that I would be proud of. Unfortunately, that's the way the cookie crumbles sometimes."
Far from discouraging, Beijing sparked her.
With a bead on the 2026 Games in Italy already, she is keen to experience what she calls a "normal" Olympics, getting to meet people and travel around the host country.
"And I'm pretty motivated to push my skiing," she said. "I'd love to see a Canadian in the gold-medal position — and I'd love to be that person.
"So we'll see what the next four years bring."
Interestingly, given her remarkable arc, retirement crossed her mind when COVID-pandemic restrictions blanketed the sporting world.
Her competitive window closed for nearly a full year — and she was starting to think about life beyond skiing. "I didn't have any real plans. I know that sounds super bad, but I was just like, 'I'd love to go skiing one last year, go on all the trips, give it my best shot. If nothing happens, I'll just bow out gracefully … and let my funding go to another deserving skier.'"
Shut down since March 2020, Canadian freestylers gathered for a camp in February 2021.
In a matter of days, Fraser learned a couple of tricks. She polished them, packed up, and headed to Aspen, Colo., for her first crack at the big time — FIS World Championships. At that stage, she'd competed in only a couple of World Cup events, finishing in the bottom half of the field. "I felt quite pathetic with that," she said. "I'm a competitive person and I wasn't proud of my skiing and what I was putting down."
Fraser knew she was better. So, despite the layoff, she jacked her expectations for Aspen.
"That was the most nervous I've been, I think, ever," she said. "I thought I was going to puke all over my skis in the start gate, which is pretty awesome."
She laughs. "I'm really glad I didn't."
Because, in what stands as a turning point, she placed ninth at the worlds in March 2021. That large leap did not go unnoticed by Canada's deciders.
"That's when the whispers started, 'Hey, Amy — you could go to the Olympics next year. You could go to X Games. If you learn some other tricks, you've got this.' And I was like, 'Holy crap. Let's do it.' That all happened in a span of three or four weeks, which is pretty wild."
And, incredibly, the Olympics did happen for her.
Now Fraser's focus is wringing what she can out of her promising career.
"I came into this sport a little later than most," said Fraser, who received the Art Smith Endowment Grant from the Calgary Booster Club in 2020 and 2021. "I know I can't do this forever — even though I'd love to. So it's all about making it count right now and enjoying it. We get to go to some of the most beautiful places in the world. It's definitely not a burden."
A half-dozen years ago when she was dreaming about an appealing lifestyle, this had been the target. Becoming a full-time freestyler — skiing wherever she wanted, with whomever she wanted, having as much fun as she wanted.
"I was, 'It's going to be sick. We're just going to travel the world. Money's going to come from somewhere,'" she said. "And it is fun all the time, but also sometimes … I don't want to say I have to treat it like a job, but you've got to be a little more businesslike. There's definitely a lot more rules, a lot more hoops to jump through.
"I was definitely a bit naive in that sense."
But on the topic — daydream versus reality — an appreciative Fraser quickly added: "I'd say it's measured up pretty dang close."
She laughs. Because life is funny. And maybe even too good to be true at times.
"I have that fear that someday I'll wake up and have no idea how I've done any of the tricks I've done or what I'm actually doing," said Fraser. "I feel super lucky that I've ended up where I have."