Photos courtesy of Mike Soroka and Mike Frostad.
In 2015, the Atlanta Braves' big brains decided to spend a first-round pick on a teenaged pitcher from Calgary.
Latching onto Mike Soroka — a Grade 12 student at Bishop Carroll High School — turned out to be a move that would pay off handsomely for the club, which had used the 28th overall selection at the Major League Baseball draft.
Fairly sprinting up the Braves' minor-league ladder — Danville (rookie) in 2015, Rome (A) in 2016, Mississippi (AA) in 2017, Gwinnett (AAA) in 2018 — Soroka made his MLB debut as a 20-year-old, staring down New York Mets' ace Noah Syndergaard, on May 1, 2018, at Citi Field.
The following season, as a full-time member of the Braves' starting rotation, the right-hander performed brilliantly, going 13-4, registering a 2.68 earned-run average, earning an invitation to the all-star game, finishing second in the National League rookie of the year race, even garnering Cy Young votes.
Capping 2019 had been his career highlight — starting a postseason contest, in which he checked the home-field St. Louis Cardinals on one run and two hits through seven innings.
Then, in 2020, Soroka was named the team's opening-day starter. Quite an honour.
This story, though, has been derailed by injuries. His most recent regular-season appearance was Aug. 3, 2020.
So when the Braves captured the World Series four months ago, the Calgarian could only watch.
Right now Soroka is preparing to resume his promising career — even if MLB owners have locked out the players. He has been working hard in Green Bay, Wisc., rehabilitating his Achilles tendon with specialists at the facility of the surgeon who repaired it.
Following an afternoon workout last week, the 24-year-old shared his thoughts on everything from the delay of the baseball season to the status of his recovery to Atlanta's run to glory to, of course, his favourite hockey team.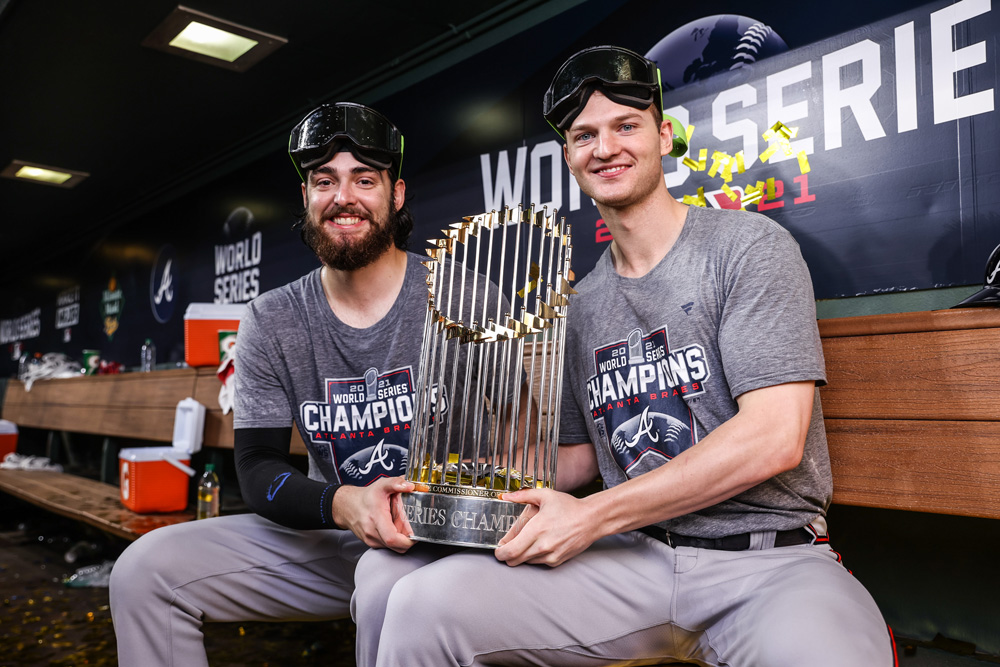 Big fan of the Calgary Flames, Soroka has had the chance to check out the upgraded locals in person this winter.
They've been looking awesome. It's the best Flames team that I've ever seen. I don't really remember the 2004 team, but talking to some people, a lot of the reason we were so good then was because of a great captain (Jarome Iginla) and an incredible goaltender (Miikka Kiprusoff). Now it seems like we have all the bases covered. They're doing good and it's going to be fun to watch down the stretch.
Soroka recalls the NHL's 2004-05 lockout, a labour stoppage that ended up burning an entire season.
That was the first time I got into hockey. The Flames just made that huge run (to the Stanley Cup final), then I'm told they're not playing again. It was, "What do you mean they're not playing this year?"
The primary dispute at that point was the NHL team owners' desire to implement a salary cap. Not all the fans, however, had been obsessed with the fine print of the proposals. For many, simply seeing the teams back in action was the priority. That's probably no different now, with the MLB season on hold. People just want games — let someone else sweat the details of the collective bargaining agreement.
I get that perspective, for sure. When they're not involved in the detail and history and precedent, they just see a lot of people with a lot of money bickering over what seems to be very small issues — and I get that. You want baseball back. Everybody does.
This time is a little bit different. I don't know if it's social media, but it seems to me that a lot more people are getting out there and helping (to spread the word) … filling everyone in on the details and perception and things that matter to us and the reason we're in this whole mess, period.
But it's something that I definitely understand, though. They just want to watch games and I don't blame them.
With his livelihood directly affected, Soroka is plugged into the hot-button topics of the current work stoppage — including service time, rule overhauls, expanded playoff scenarios, overall salary decreases.
Half of all Major Leaguers at this point are on minimum salary ($570,500). Yes, minimum is still a very good wage, but now you're seeing young talent produce more than ever. Look at the Blue Jays — that's an easy team to peek at. You've got Vlad (Guerrero Jr., with a $605,400 base salary in 2021) and Bo Bichette ($587,800) and a whole whack of them who are all on minimum and are basically the team. If you don't want to pay the mid-level guys, you're going to have to start to pay the younger guys and show them their worth a little earlier.
That's the majority of this battle — getting fair compensation for worth earlier because they're starting not to see it later.
We don't mind making adjustments here and there, and talking about it, but the way they want to handle things right now is basically making changes to the game that really doesn't need changing. We've heard so many times, "Oh, baseball is falling in viewership. People are getting bored with baseball. Game times are too long." It doesn't change the fact that baseball is a growing-revenue industry. I mean, they've increased revenue every year, except the COVID year … to the point where I think we're looking at a $12-billion industry within the next few years.
We're tired of hearing the narrative that the sport is hurting and it's sinking when it's doing better than ever.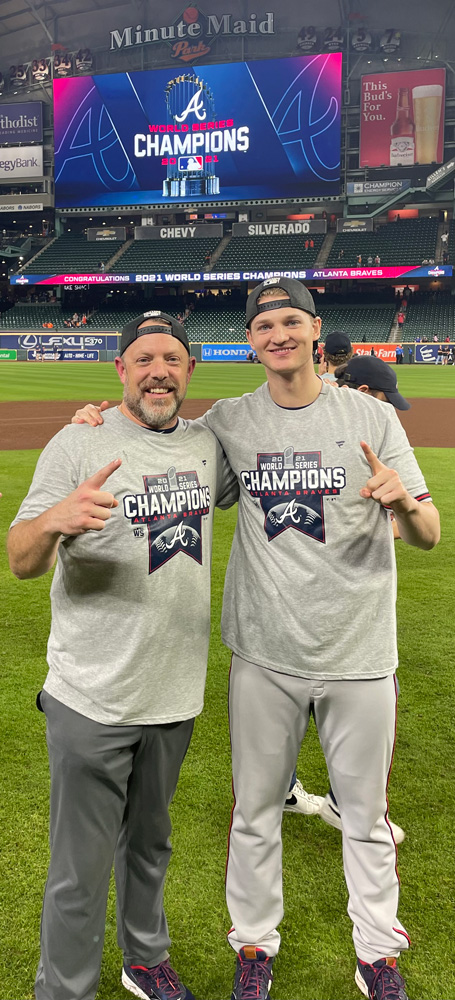 Athletes are creatures of habit. Typically, pitchers and catchers report for spring training in mid-February, with position players showing up a week later. Already, the first two series of the regular season have been cancelled because of the negotiating stalemate.
Yeah, it's weird. At this point I was expecting to be at our facility in North Port (Fla.) — it's weird to think of this as March right now. It's too bad. It didn't have to happen. It's very clear that only one side is committed to getting this done. It's frustrating. That's the worst part about this. We want to go, we want to get this done, and it doesn't seem like there's a want on the other side. That's a tough place to be.
Naturally, there is concern about the state of Soroka's readiness after having had three operations on his right Achilles tendon. Originally hurt and repaired in August 2020, there had been a follow-up procedure in May 2021. Then, a month later, he tore it again, requiring more surgery. But he's optimistic.
It's coming quick. I'm getting to the point where I can see the light at the end of the tunnel. There's obviously a ton of work left, but most of it is fun work at this point. I'm not just sitting on a trainer's table doing ankle circles.
With it being a revision surgery — and a graft insert as well — we wanted to make sure that the repair was solid and that it was tight. We said right away that we're looking at 10 to 12 months. That was our estimate and so far it's been pretty good.
After the first (surgery), I was much more timeline-oriented. I wanted to be back for opening day, I wanted to make it, I wanted to push, I wanted to do it to prove to myself, and obviously everybody else, that I could. But at this point it's just making sure that I am 100 per cent of what I was — and more.
I think (returning in) July is still pretty reasonable. If I could get back on the mound for bullpen (sessions) by the very end of spring training — end of March or even in April — I would be happy. That would kind of be the start to being able to really map out a return date.
Mid-summer sometime is not unreasonable, for sure. That would be a best-case scenario.
One of the most pleasant people you'd ever hope to meet, Soroka is also an extremely competitive person. So setbacks, particularly the re-tearing of the Achilles tendon in June, have taken their toll emotionally on the young man.
The first month after the second rupture, it was horrible. There's a sense of failure that you've got to get over. You feel like you failed yourself, you feel like you failed others in your rehab. It goes through your mind what you could've done differently — regrets and all that kind of stuff. Getting through that was definitely not easy. My dad (Gary) has been huge in my life and, as much as any other time, this year.
I was obviously in one of the worst places I've been at that point. Having to pick things up and just put one foot in front of the other, pretty well literally …
A lot of people were asking me if it was over — as if I was going to call it quits. I honestly didn't understand that. It almost made me angry when I'd get asked that question, because I don't even know how that would be an option. I'm still sitting there with a brand-new Achilles that I still have to rehab, so why on earth would I go through a whole ton of rehab and then say, "No, that's it"? Honestly, that never even crossed my mind.
That question might have been a little more valid had I been in my mid- to late-30s … but, really, for the most part, I've only had a taste of it.
I want to be back. I want to be on that team. I got to watch a lot of my best friends win a World Series. Although, yes, I was a part of it, there's still that voice inside you that knows you didn't really have that much to do with (what happened) on the field. That's OK. Something you've got to get used to, but having to watch that really also pushed me to keep going and make that comeback and be there when they do it again.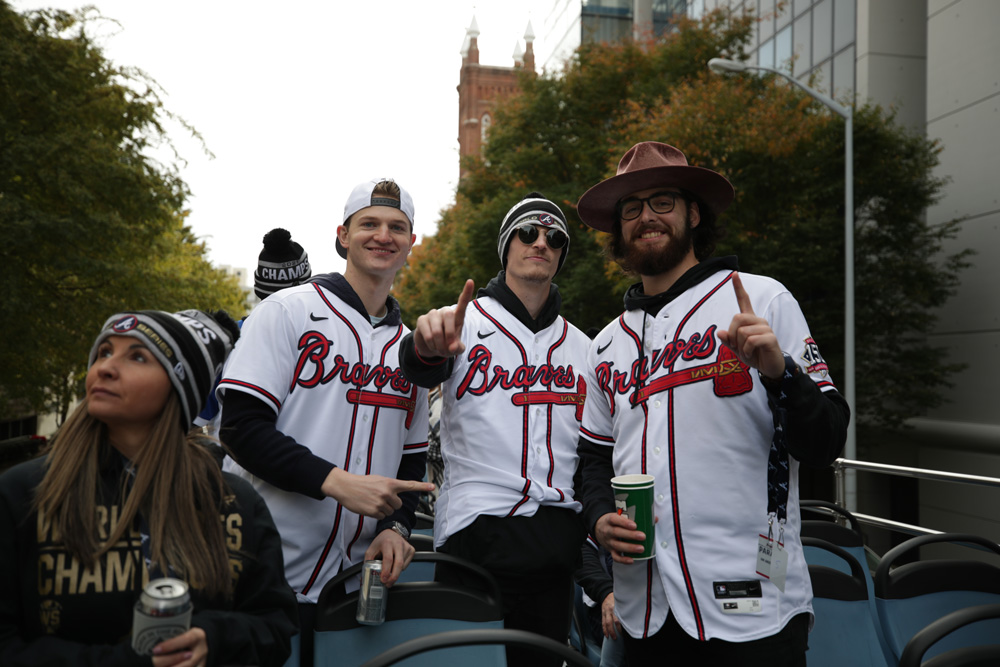 Joining Soroka on the Braves' sideline during the team's run to the championship was star outfielder Ronald Acuña Jr., who, then 23, had torn his ACL in July.
Ronald was in a pretty similar situation … we both made our debuts around the same time, we both played for a team that suddenly became a contender, and I think we both understood that, if we were to win a World Series, we'd probably be a pretty big part of it. Then to watch the team go forth and do that without us? It's a difficult feeling to get over because: yes, on one hand, you're watching your team, you're watching your best friends, do it, but, at the same time, you are a little bit jealous because you wanted to be out there.
Even the first couple times they were popping bottles in the clubhouse, I had to stay out of it because of risk of slipping and falling on the slick floor, which I understood. I absolutely get it.
But sitting and watching them celebrate, I'll never forget that moment, I'll never forget what that felt like. With Ronald, we both took the approach — "We could be hurt on a bad team or be in the minor leagues, so let's enjoy it. Let's use it as fuel for the days when maybe down the road you're tired and you don't want to keep going. You remember what that felt like — staring outside in when everybody was celebrating without you." That was kind of the way we decided to take it. I think that'll be the best way to move forward.
Soroka, who monitored the World Series action from the bullpen, was at Houston's Minute Maid Park for Game 6 — the clincher.
I saw how Max (Fried, our starter) came out … it was just like, 'This game, it's over.' I never felt like I was sitting there, biting my fingernails, waiting for something bad to happen.
And, actually, I'd been drinking quite a bit of water in preparation for that night. That was my trick. Will (Smith) went out there (for the bottom on the ninth) and I was kind of, "Well, this is it." But I had to go to the bathroom with two outs because, literally, there was no chance I'm making it out there if we win. So I'm in the bathroom and I'm trying to hurry up because it could end and I could be in the bathroom for the last out. But luckily I made it.
Everyone in the bullpen was very sure to not react till that out was called. Then they all ran in. I walked in with a couple of other guys, the bullpen coach and a couple bullpen catchers.
The Braves' parade, three days later, started downtown, near the team's old headquarters, Turner Field, and wound its way to the new stadium, Truist Park in suburban Cobb County.
It was really good to start in downtown Atlanta because I think a lot of those fans don't typically get to see us anymore because we are basically up in Marietta, so it was good to see them. Tons of kids out — I think Atlanta-area schools took the day off to be able to attend. I'm sure a lot of people got off work.
By the time we got up to the stadium … the Battery (the area near Truist Park) was just packed. You could not squeeze any more in there than they did that day.
I guess it's a thing in parades, people tossing beers to the buses. It's all fun when you see the beer coming and you get a chance to catch it. But we started to get people trying to throw beer from the fourth storey of their apartment. You're so scared, because if you miss, somebody's taking it in the forehead.
It was definitely something I will always remember. It's one I hope we get to do again for the city of Atlanta and I get to be a bigger part of it next time.