Photos courtesy of Dick Vanderstam and Mark Stephen.
Dick Vanderstam, coffee cup in front of him, ponders the question.
During his days as a basketball referee, how many coaches did he eject?
Considering the depth of the man's experience — 4,500 games over the course of 40 years — this is no small consideration. Memory banks consulted, Vanderstam comes up with his answer.
All told, he gave the heave-ho to … zero coaches. "Never chucked one."
Never? "Nope."
Another pause. More deliberation. "Well, hold on now — once," said Vanderstam. "I threw one out and he phoned the next day and apologized."
Which, given the muss-free way the Calgarian conducted his business, sounds about right.
He describes his style of game-management as "vanilla" — but not in a bad way. Yes, he whistled while he worked, but only as much as he needed. There was no grandstanding.
"You watch March Madness and there's guys who call all over the floor because they want to be seen," said Vanderstam. "Their egos are taking over."
Not a worry with this gentleman.
As the law and order for every level of basketball in these parts — community, junior high, high school, college, university, senior — it didn't matter that his uniform's back didn't feature a name or number. This was a familiar presence.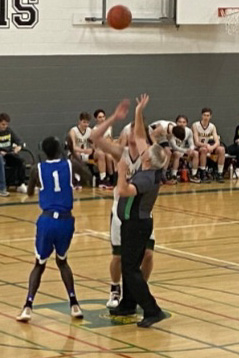 When players and coaches saw him on the court, they recognized reliability. His reputation sound, they could bank on the officiating.
"They knew what kind of game it was going to be," said Vanderstam. "I'm a cool, calm, collected kind of guy. They knew that it was going to be a fair game — I couldn't care less who won. All I wanted was the best team on that day to be given every chance to win, whether they were the underdog or not.
"It was never about me, right? It was just about the game."
That's not to say there was no friction. That's not to say that "conflict resolution" — his words — wasn't occasionally required. After all, on every call, one coach is always going to have their doubts. And that dissatisfaction may be expressed loudly.
"It's how you deal with it," said Vanderstam. "With experience, I've built up a level of credibility, so that was never an issue with me. But some coaches always push the envelope, you could say. But you live with it. It's just the nature of the game.
"It all depends on what kind of relationship you have. The longer you've known each other, the more benefit of the doubt you get on calls."
He laughs. "Some of the newer coaches, you had to educate them a little — that that kind of behaviour is unacceptable."
Besides, according to Vanderstam, he and the excitable folks with the clipboards had an understanding. Nothing was ever personal. Nobody was out to get anybody else. And both sides respected basketball.
"I tended to think the coaches and I were partners as opposed to enemies."
If you happened to be at Bowness High School for the Division 2 boys' city championship on March 12, a Saturday afternoon, you got to see Vanderstam and his sensible approach in action.
For the very last time.
A 69-year-old with an impressive resume — and nagging ankle issues — he retired following Father Lacombe's 89-73 triumph.
Fact of the matter is, Vanderstam had originally declared that his swan song would be Feb. 26 in Prince George — site of the men's match between the host University of Northern British Columbia and the University of Victoria. Word quickly got out. The visiting team even stuck around to wish him well and shake his hand.
However, the idea of a faraway farewell did not sit well with his chums. "Guys said, 'Well, you've got to do one last one in Calgary,'" said Vanderstam.
He hemmed and hawed, then agreed, but with certain conditions.
Such as bumping the crew from two officials — typical for high school action — to three. Such as inviting fellow long-timers Doug Carter and Troy Eagar to join him on the court. Laughing, he said he told them: "OK, you can carry me in my last game."
During his finale, Vanderstam, a pro to the end, said the emotion of the occasion did not eat at him. "It was in the back of the mind, but there's lots of stuff going on, on the floor, so it really didn't hit me till the last buzzer, right?"
At which point, his pals nabbed the game ball — a lovely keepsake for their friend, for whom the reality of the moment soon began to seep in. He refers to refereeing as a hobby, but, clearly, it meant a lot more than that.
"I was impressed with the fact that I was still doing it at 69, still running up and down the floor, still reasonably good, still refereeing the top level," said Vanderstam. "So I take it as a good achievement.
"But I was kind of sad. Forty years is a long time in your life."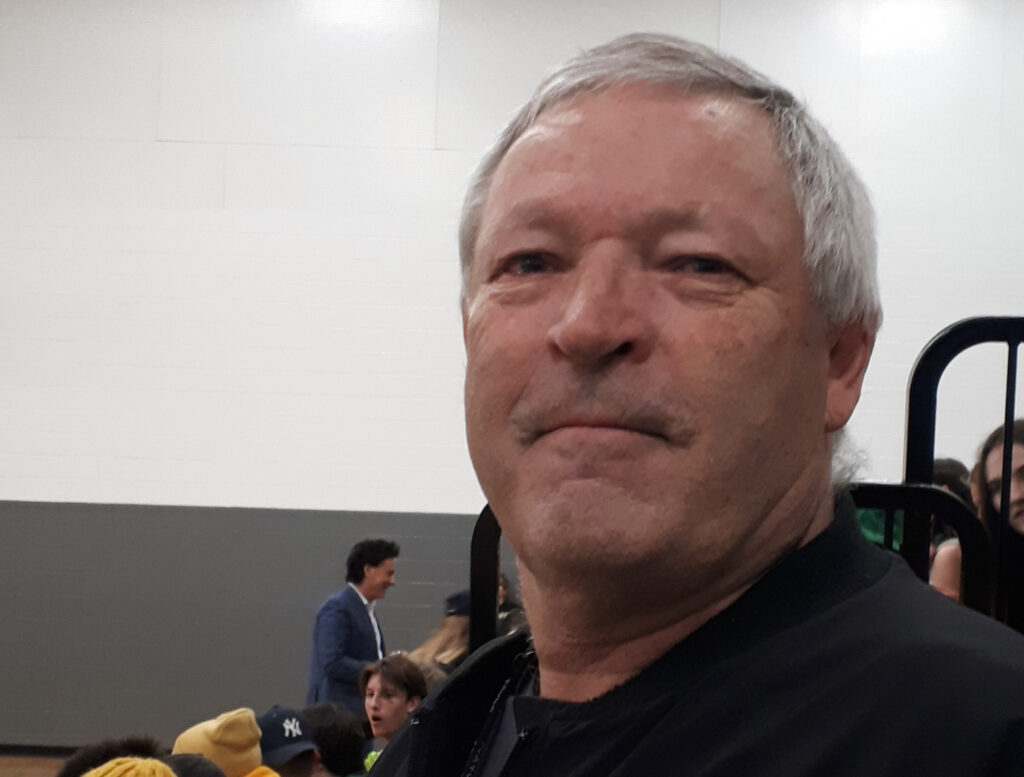 That Dick Vanderstam forged a legacy in athletics would come as no surprise to anyone acquainted with family's accomplishments.
His mother, Elisabeth Koning, sprinted for Holland at the 1936 Olympics in Berlin. (Years later at the Jubilee Auditorium, Vanderstam got to meet the hero of those Games, Jesse Owens, thanks to Mom's connections.)
Vanderstam's older sister Liz was also a track star, winning the 1966 Gretta Schwartz Memorial Award, presented by the Calgary Booster Club to the Grade 12 female athlete of the year.
So Vanderstam, growing up in Knob Hill in the southwest part of the city, was initially drawn to running. Then he changed course. "I had to find something different, a niche."
As a Grade 7 student at Viscount Bennett, he was introduced to basketball. He'd found his game, playing through school, then on the University of Calgary's junior varsity squad.
Upon graduation, he embarked on his career as a junior-high teacher and settled onto a team on the local senior men's circuit.
Years passed and, nudged by a family friend, Vanderstam decided to explore his options. Refereeing, to his thinking, was a way to extend his basketball life. "It let me stay in the game because I was 29, 30 at that point."
After attending an officiating clinic — "It was probably mostly above my head at that point" — he started refereeing in the fall of 1982. First it was community and junior high assignments, with an experienced official with him on the court.
"It was kind of easy," Vanderstam said. "They don't just throw you out (over your head) — they're trying to keep you. Because many people don't stick around … people are so obnoxious in the stands."
But, as he soon learned, there's a rather large difference between dribbling the ball and commanding the court.
"All of a sudden, you've got a whistle in your hand and there's a lot of things going on," said Vanderstam. "You've got to determine what's important, when to blow your whistle, how you present yourself on the floor. You need good signals, a strong voice."
He had goals, too. His sister had competed overseas in track, but, as it turned out, chasing something like that wasn't practical for Vanderstam. The International Basketball Federation (FIBA) wasn't offering licences for anyone over the age of 40. "By the time I was pretty good, I was already 35, 36."
Twice, though, Vanderstam had the honour of handling crew-chief duties for national-level championships — junior women in 1991, college men in 2000. The latter coincided with him receiving the Award of Excellence, a national nod. He also received the President's Award from the Alberta Basketball Officials Association.
All along, the pace never slackened, averaging more than 100 games per season. Retiring in 2008 from teaching — after 30 years, including his last stop, Nickle School in Lake Bonavista — he actually cranked up his work-rate, hitting 165 games one winter.
The decision to mothball his whistle had been a few years in the making.
Officiating basketball is a young man's game — or, at least, a younger man's game. He points that colleagues have worn smart watches during games, reaching 7,000 steps. High school assignments are typically doubleheaders, so it adds up.
"The old body is breaking down," said Vanderstam. "I didn't want to get up in the morning and not be able to walk or get out of bed. (Aches and pains) don't respond as fast as they used to when you're my age.
"And I really don't look like a referee much anymore — I'm a little, uh, rounded."
Four years ago, at 65, he had been pleasantly surprised that he was "still wanted," so he stayed in the rotation. COVID's shutdown may have presented a natural jumping-off point, but "I didn't want to quit that way."
Then came this past winter, which felt like the perfect time to bow out.
So he signed the scoresheet at Bowness High School for the last time and walked away.
"I got to go on my terms."
Vanderstam says he may continue to mentor up-and-coming referees, something he's done for 15 years. But that's not the same.
"I love being on the floor. I love being involved in the game," he said. "And I'll probably miss the camaraderie. After I stopped teaching, refereeing was my social life — it was the only way I got out of the house. These close friends, they're going to be there for a long time. We go out on the floor because we fully trusted each other, right? We had each other's back."
Of course, Vanderstam had been getting paid all along. At the start, $15 per game, then, as he rose in the officiating ranks, more. "Basically, the money I earned was our summer (vacation) money."
Now for Vanderstam and wife Kim, also a retired teacher, there are finally holiday possibilities that stretch beyond July and August.
Kim watched him referee only a couple of times. "She got tired of people yelling at me." He laughs. "So she never came back. But I owe her some winter months in the sun."
Next fall when basketball starts up again he knows there'll be a void in his life. "That's probably when it'll hit me the most."
But the alternative is pretty appealing, too.
"I'll be somewhere hot, chasing a little white ball instead of a big brown ball."