Photos courtesy of Matt Soukup.
At the bottom of the hill, three of the Canadian ski jumpers congregated, enjoying the buzz-worthy occasion.
Having already completed their final turns in the mixed-team event at the 2022 Olympics in Beijing, the trio — Matt Soukup, Alexandra Loutitt, Abigail Strate — awaited the last jump of Mackenzie Boyd-Clowes.
They were confident, happy, relaxed, according to Soukup.
Till they took a peek at the scoreboard. Which revealed Canada's status — nicely burrowed into third place — with the experienced Boyd-Clowes on deck. The vibe instantly changed.
"We were like, 'Holy,'" recalled Soukup. "That's when it really, really hit us that something amazing could happen here. We told ourselves, 'No matter what Mac jumps, we're going to get out there and we're going to hug him and tackle him.' Just because it's amazing for us even to be there at that time. Fighting for a podium is amazing."
Competing at his Winter Games, Boyd-Clowes embraced the moment and delivered. "A spot-on amazing jump," is how Soukup describes it, and one that sealed the crew's forever fate — bronze. "We're laughing, hugging," said Soukup. "We just lose it. So happy."
Understandably, because no matter how this is dissected, bagging a ski jumping medal is remarkable.
Undeniable is the historic angle. Canada's best ski jumping finish at the Olympics had been seventh — Horst Bulau's large hill result at Calgary in 1988. So that evening's slice of excellence in Beijing will not be soon forgotten.
More? For the past four years, because of the facility closure at Canada Olympic Park in Calgary, this group had been forced to train full-time elsewhere. They ended up basing their entire operation in a small city in Slovenia.
So for the four heroes of mixed team — all Calgarians, by the way — barging onto the podium was stunning stuff.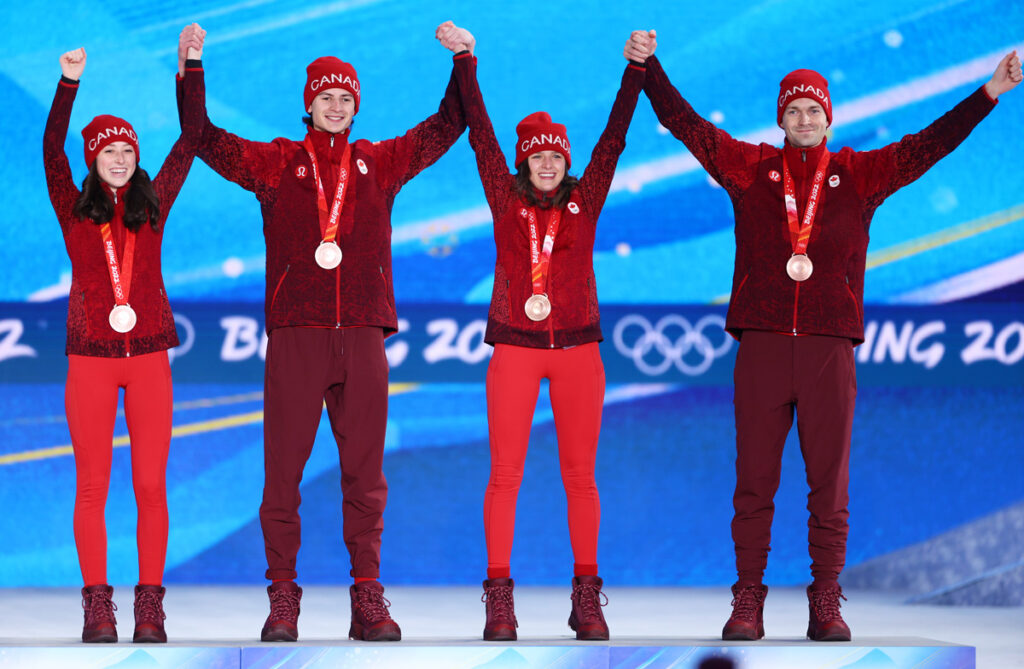 "Uncharted territory for our little ski jumping community in Canada," said Soukup. "All of us realized what this means for everyone who has ever been involved, for everyone who has supported us throughout the years. It resonated with them. It's definitely a shared experience.
"The medal definitely belongs to them in some way."
The performance — and its aftermath — had been difficult to comprehend.
Post-competition, the newly minted stars got back from the hill at midnight, with the medal ceremony was scheduled for the next day.
"I remember getting maybe an hour of sleep that night, addicted to my phone, addicted to hanging out with people and celebrating," said Soukup. "When I woke up in the morning, I was like, 'Oh, wait — that actually happened.'"
Proof, in the form of a bronze keepsake, soon arrived. As it turned out, that was no less surreal for the Canadians — standing on the stage, having their names called, stepping onto the podium, gazing out at the crowd, which included teammates and friends.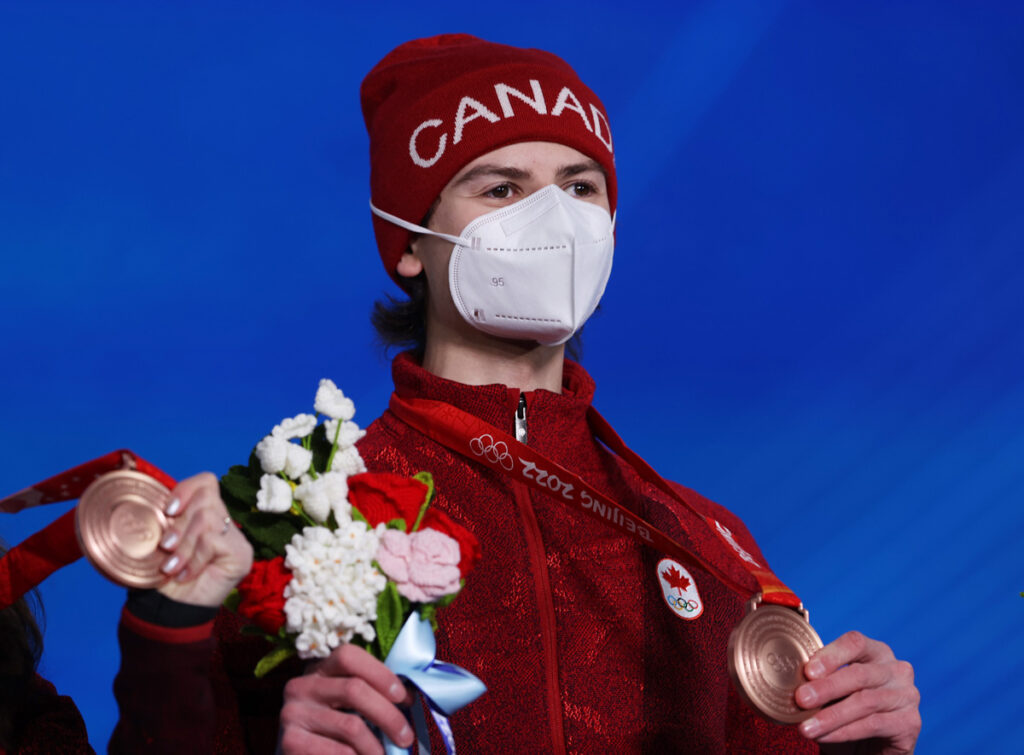 "Then they put the medal around our necks," said Soukup, "and it was, 'OK, this still doesn't feel real, but now I've got this nice shiny necklace.' To get a medal was unreal. Sometimes when I think about it's, 'Oh, yeah, it's not just a dream.'"
He is asked about that feat, claiming a medal as underdogs, coming through in the clutch, grabbing the headlines. Is there a bittersweet feeling, considering what Canadian ski jumpers needed to overcome?
Because, in addition to having no home base in their own country, they received not a nickel of help from Own The Podium. ("In the case of ski jumping for both PyeongChang and Beijing, there was not evidence of medal potential," Own The Podium CEO Anne Merklinger told the CBC.)
Soukup's response is measured. No broadsides, deserved or otherwise. Instead, he says he wants to be optimistic that Beijing is the start of something.
So his prevailing emotion …
"I think it's just happy," said the 24-year-old. "Yeah, it was hard and we did have to do what we had to do. But everyone's goal is always to leave something behind. (Because of) the accomplishment, hopefully they make changes to how things work. With our medal, I think it's going to better the situation in Canada for ski jumping.
"I hope it gives kids the opportunity to do what I did and have that Olympic dream, and have the facilities. That's what these kids are missing right now. If you look at how ski jumping was supported for the last four years compared to other Olympic sports, we are way, way under-funded.
"We're the only sport that medalled that didn't get any funding. If a medal won't change anything, then nothing will."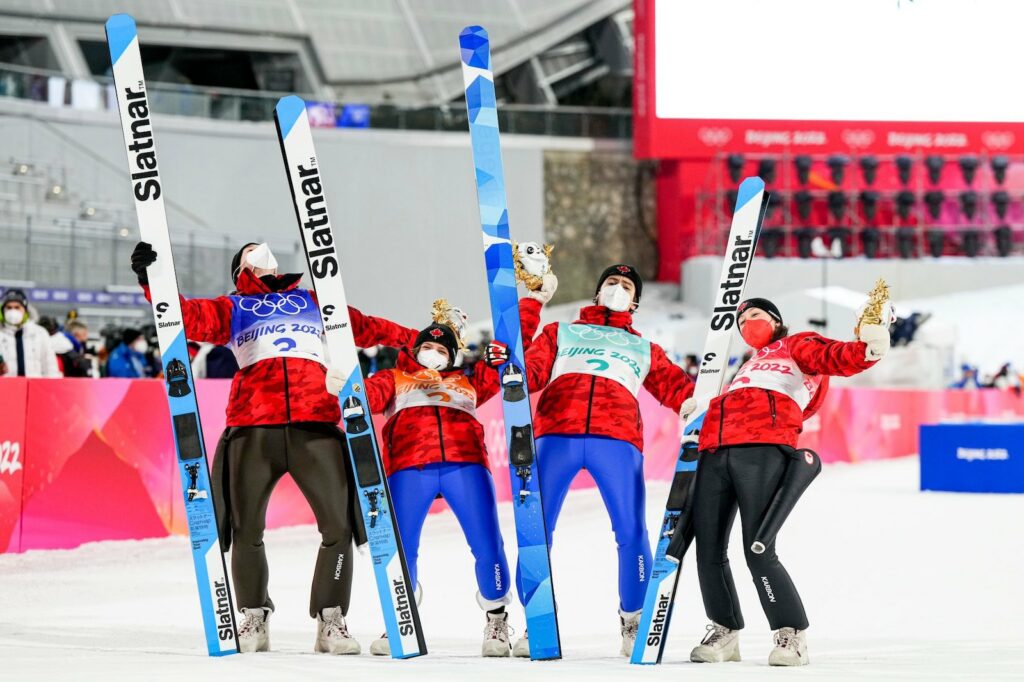 Soukup, at one point in the conversation, states the obvious: "It's been quite a long journey to where I am now."
A recreational skier by the time he was three — "just being corralled down the bunny hill" — Soukop, a few years later, enrolled in a summer camp at COP. There, he was introduced ski jumping, biathlon, mountain biking, luge. When Mom and Dad asked about his preferences, he chose to pursue you-know-what.
"I was one of the those kids who was always searching for a thrill, trying to go fast, trying to go far," said Soukup. "That was the main appeal — having fun, spending time with friends, getting a little adrenaline rush."
Not that this new sport was too spine-tingling — at least in the early stages.
"We're just sliding off the end and surviving pretty much — but having a good time," he said, chuckling. "Slowly you get more confidence. As a kid, it's always an accomplishment to get over that hurdle make it to the next-sized hill.
"But it reached a point where I realized I could actually be pretty good at this."
Devoting himself to the sport could not have been more convenient. The hill was only five minutes from the family's home. By 11, Soukup was pitted against youngsters from the United States. By 14, he was testing himself in Europe.
"Somebody told me about the Olympics when I was really young," he said. "It was always an idea. Then I could actually see a path where this happens. That's what kept me going."
Soukup graduated from the National Sport School and, at 18, progressed from a large hill attempts to ski flying, the grandest launchpad of them all. "That's the last step."
He laughs. "It's a pretty interesting journey we have as ski jumpers."
His original aim had been the 2018 Winter Games. Then 20, he fell short, a development that put a fork in his athletic road. "I had the choice to stop pursuing it and just accept that that's how it was or fight and keep going another four years. I ended up picking to fight. It worked out."
Well, for the most part. But not without hurdles.
Because in October 2018 — the first autumn following the PyeongChang Games — ski jumpers learned that their facility was being shuttered because of costs.
What's an elite athlete to do? For starters, adapt. The possibility of settling in Slovenia was presented. The team was already spending a month or two there every winter. "We didn't really have a choice," said Soukup. "It was either work hard in different places or sit in Calgary and not do anything."
So, for the past four seasons, for the bulk of each year, the Canadians have been based in Kranj. Soukup even kept the same apartment, sharing quarters with a couple of American skiers. The place must have felt like home.
"A little bit, honestly," he said."When you spend enough time in one place, you meet people and become good friends with them. It's honestly kind of hard coming back here (to Calgary) — 'Oh, yeah, this is what it's like. This is what normal life is like.'"
As far as his grasp of the local language, he laughingly acknowledges his limitations. "I know enough to get through a grocery store and to have a small conversation, but nothing more than that. Well, I know all the swears."
This year, the young man had departed for Slovenia in mid-June and returned home only four times — August for two weeks, October for one week, Christmas for five days, post-Beijing for three days. The rest of the time he was on the road. Only since March 29 has he been back.
Nowadays, Soukup is laying low, sneaking in a little recreational skiing and catching up with friends, but deservedly — and uncharacteristically — taking it easy. "It's honestly quite the change. Switching lifestyles can be hard, but it's also really nice sometimes."
However, the pace soon quickens. Workouts resume in a week's time. Chasing down a business degree at Mount Royal University, the spring semester opens next month.
In June, the Canadians fly back in Europe, kicking off the four-year cycle leading into the 2026 Olympics in Italy.
No surprise, given the satisfaction of the Beijing Games, Soukup is keen to add another Winter Games appearance to his resume. It wasn't only the trip to the podium that left him with a favourable impression.
"I really enjoyed it," he said. "Even with all the COVID precautions and restrictions, the atmosphere, in my opinion, was still really great. Someone you talked to at breakfast gets a medal later in the day, it's a pretty surreal experience.
"I know it was different than other Olympics, but I don't have anything to compare it to. I had a really great time. There just wasn't as many parties and what-not. I still made a bunch of friends with athletes from other nations."
Competitors talk about the considerable weight of Olympic participation — the all-consuming preparation, the unforgiving spotlight. But for Soukup, reaching Beijing without being derailed by a positive COVID test created the most strain.
"When I got there, my stress levels actually went down," he said. "Then I could just focus on sport."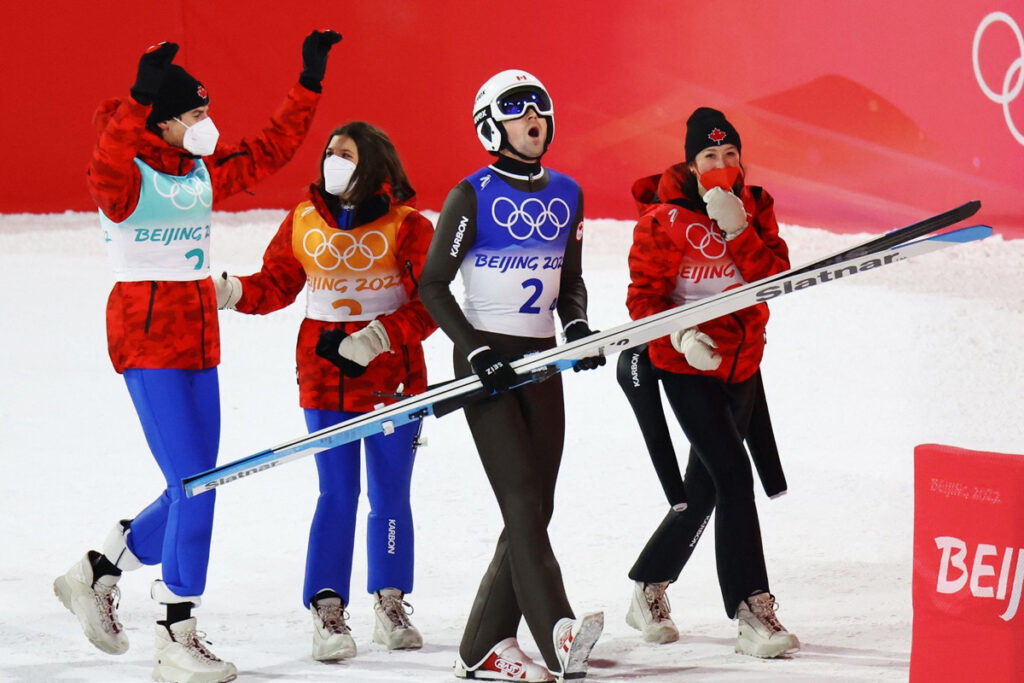 By now, everyone knows what happened at the hill.
In case anyone forgets, there's a bronze souvenir, which, along with a few other keepsakes from Beijing, he plans to mount. And, of course, he'll happily make room on the mantelpiece for another medal.
Asked what it would take for Canadians to get abreast of ski jumping powerhouses such as Norway and Germany, Soukup says the key is maintaining a system, the sole purpose of which is catering to high-performance athletes.
As it is, their crew, including support, is relatively small — "one moving van on the road, basically." So comparisons to countries with multi-million-dollar budgets and dozens of staffers? Apple and oranges.
"But it is really nice to see that we can still be competitive with the resources that we have," said Soukup. "It's nice to be an underdog sometimes because whenever you do well, people are so happy."