Photos courtesy of Steve Claggett.
A boy named after Steve Yzerman is going to play hockey.
Growing up in Scenic Acres, this kid is a centreman, too. Not particularly big but, progressing through the minor-hockey ranks into bantam, he's plenty feisty.
One game, a skirmish doesn't go his way. He'd stepped on his own stick, allowing his rival to get the upper hand, which does not sit well with him. He is furious. Like, livid.
Which worries his mother, who sees a youngster in need of a healthy outlet, a way to vent. At her aerobics class, she hears that a gym in Silver Springs is offering boxing lessons. She signs up her son.
The first day under the watchful eye of trainer Eric de Guzman, the 13-year-old spends time hitting the heavy bag. The following day, they work on movement.
Two sessions are enough.
"I started to love it," said Steve Claggett. "That was it. I was bit."
Only months later he jumps at the chance to notch his first official bout. He is added to a card hosted by Impact Boxing, a gym in downtown Calgary.
Much remains vivid about the introduction into that world. He can tell you today the opponent's name and weight, even his home town.
In the minutes leading up to the three-rounder, Claggett sits in a back room and soaks up the atmosphere. "I could hear the noise of the crowd, all the yelling. That was my first experience of fight night, the energy of it." De Guzman comes in, drapes a towel over the novice's head, tells him to visualize. "I was so deep in my thoughts. I was terrified. It was an adrenaline rush like I'd never felt."
He doesn't recall walking into the ring, only, all of a sudden, being inside the ropes.
But once the bell rings, Claggett knows exactly what he wants to do — show off his newly acquired boxing skills. So he opens with a snappy succession of jabs, "like we'd practised in the gym."
His sturdier counterpart — 119 pounds to his 113 — has different ideas. "He ran right at me and hit me with a right hand, his power hand, square in the nose, and it hurt bad," said Claggett. "Then he hit me again."
Nose bleeding, eyes watering, his ears are still working fine, so he hears someone in the crowd urging his rival to finish things, to bag an easy first-round knockout.
Insulted and incensed, Claggett changes gears. "I didn't care about boxing, I didn't care about jab, hook, I didn't care about technique," he said, laughing. "It made me so mad. I just started fighting as hard as I could, probably just throwing wild haymakers. But I have a good right hand and a good left hook, so I ended up hurting him and I backed him up. Then I hurt him again."
All of that action is crammed into the one-minute round. Claggett doesn't stop there, doling out more punishment in the second round, forcing a standing eight-count in the third.
Match over, the combatants are ordered to the middle of the ring. Scorecards consulted, Claggett's hand is raised in triumph.
Nose still oozing, head pounding from excitement, the victor is nevertheless thrilled. "I was in so much physical pain," said Claggett, "but I remember thinking, 'This is awesome. This is the best day of my life.' That sparked my boxing fire."
Which, 20 years later, still burns.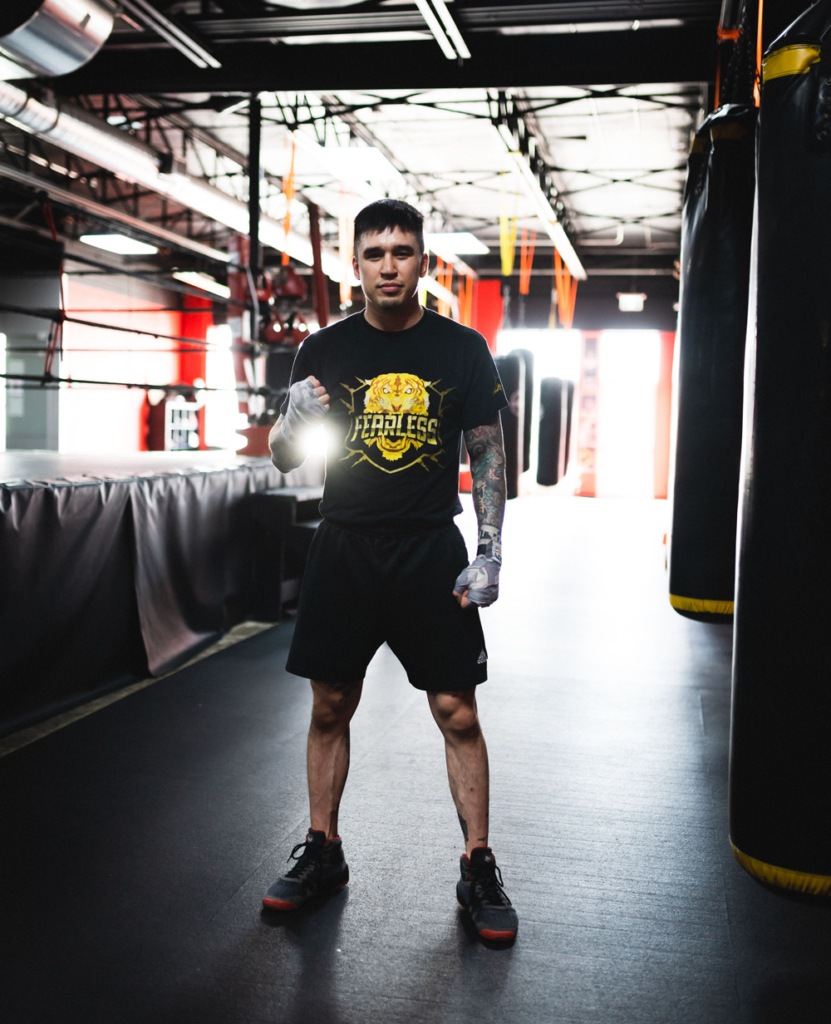 Remarkable, because the pursuit has forced the Calgarian to embrace the good, to overcome the bad, to steer through the unknown. "Such a roller coaster." There is little he hasn't encountered.
Shabby management and scheming promoters. Street brawls and brushes with the law. Knockouts given and received. Falling as a favourite, prevailing as an underdog. Matches in Slave Lake and Medicine Hat, showcases in Ireland and Mexico. Pampered like a champ, treated like a campaigner. Sparring with the game's cream, sweating by himself.
Rarely boring, this career has been busy enough to blur. Then one day, as Claggett recently noted on Facebook, you wake up as the owner of 40 professional fights
Asked about hitting that milestone, the 32-year-old cackles. "That is a lot."
It's the kind of total that creeps up. Because no active scrapper is obsessing about benchmarks. There is only a single concern — the next outing.
"In the heat of the moment, you're just going through it, right?" said Claggett. "You get ready for the fight. You're really scared and nervous. You prepare and you train — that's all that exists during those weeks. Just that one fight.
"When it's over, you go back to your regular life. But before you know it, another fight comes up. You don't think about the last fight. You're only focused on one thing. It forces mindfulness upon you … to be all the way into one thing."
After 233 rounds, his record stands at 31-7-2. But he refuses to let the ink dry on his resume. He has won four of his last five punch-ups, most recently March 3 in Montreal.
The 140-pounder will tussle again this summer.
"With the perspective of hindsight, it's a different look," said Claggett. "When you've done it, when you've crossed some finish lines, you're proud of it. I'm also amazed by how it just drags you into the moment."
He admits he's thought about retirement. But in the same breath he adds that he may still be trading blows at the age of 40.
"It's all I know and I love doing it. I don't see any end in sight, that's for sure."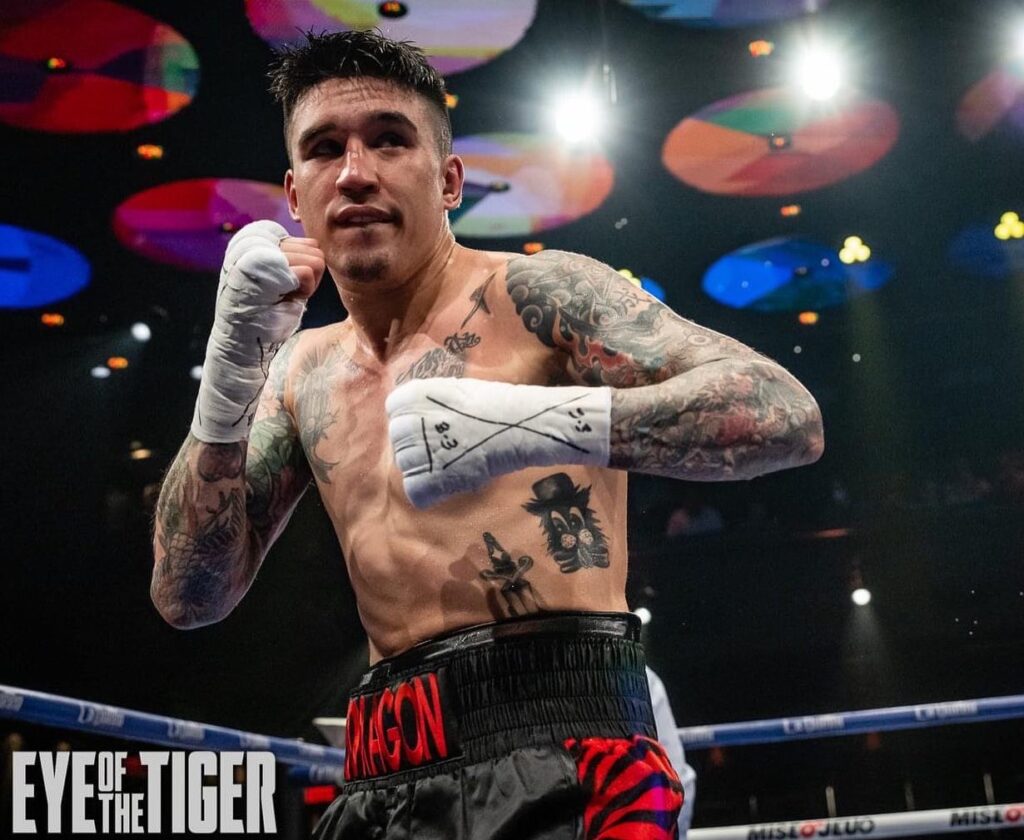 Helping matters these days is being linked to a reputable promotional company.
Since signing with the Montreal-based Eye Of The Tiger group three years ago, he's finally got stability, which includes monthly stipends on top of prize money.
"I'll built enough of a buffer where I'm ahead on all my bills," said Claggett, who trains locally out of the Olympus and Legacy clubs. "I'm a 100 per cent fighter now. That was a long time coming for me. Now I'm in a good spot. Everything's golden.
"I've got the ball now — all I've got to do is show how well I can run."
His bona fides are already sound, having claimed championship belts such as: World Boxing Council Francophone super lightweight, WBC Youth Intercontinental super lightweight, International Boxing Federation International super lightweight, IBF North American super lightweight, North American Boxing Association USA super lightweight, Canadian Professional Boxing Council national welterweight, Canada welterweight.
"They're solid — you can't debate that," he said. "I've won quite a few titles that nobody else from Calgary has ever won — it's an honour for me to say that. A lot of that goes under the water because there's not a huge following for boxing here in Calgary. But it shows my hard work and my success."
Two nights define him. In both — against southpaw Ricky Duenas in Ontario, Calif., in October 2012; against Petros Zenanya in Brampton, Ont., in July 2018 — he had been knocked down in the opening round before rallying for the win. "I was so emotionally invested in those ones, they were definitely the most impactful on my life," he said. "I still remember them. They mean the most to me, taught me the most about myself."
And, no doubt, helped to cement his reputation as a gamer.
Through 14 years as a pro, the 5-foot-8 toughie has taken few steps backward. Asked what boxing insiders would say about Steve (The Dragon) Claggett, he replies: "They'd tell you that I am relentless, that my fighting style is go go go go go. They'd tell you that I'm a good body puncher, known for the attack. And they'd probably tell you that I exchange a little too much … because I have been easily goaded into fights in the past. By 'fights,' I mean back-and-forth (battles) — if he hits me, I want to hit him back. They'd tell you that I bang a little too much."
What happens inside the ring is only part of the boxing racket. No shock to even casual fans is the notion that raw deals seem as common as square ones.
Claggett manages a laugh when the topic is broached. He's no stranger to the cutthroat nature of the game.
"The problem is there is no unified boxing league," he said. "A lot of stuff goes on, a lot of shady business. When there are no rules overhead, who's going to tell you not to?"
It can be a brutal existence, especially for unsigned commodities, who often end up operating as "opponents" — fodder for the ranking's favoured sons. Claggett is familiar with both sides of the equation, the so-called "A side" (filled with promoter darlings) and the "B side" (jammed with journeymen hoping to make names for themselves).
Claggett has fielded calls when the offer is a legitimate shot against a legitimate contender. The catch? The card is in a week's time. Despite the jarring disadvantage, it is forever tempting.
"Promoters have all the power," he said, "because they're like, 'Fine. Don't take it. Whatever. We'll offer it to someone else. They'll take it. No money for you. Bye.' And they hang up the phone. The tricky part is, you want the fight, you want the notice, but how do you balance that with zero leverage on your side?"
Desperate, he once accepted an assignment on 20 days' notice. "I was not ready. But I needed the money, so I took the bait." It did not go well.
Being pegged as an "opponent," though, should ensure motivation. After all, you're being rushed in to test a bigger name, someone who's the favourite. Who wouldn't love to ruin the night of some hotshot?
Short notice, however, isn't the only drawback. Indignities can pile up — crappy accommodations, red-eye flights, lousy transportation. "All these little unspoken details."
So getting fired up isn't necessarily productive. In fact, it can sidetrack a hungry puncher.
"When you're in an agitated mindset and they throw rocks at you? You're going to get even angrier."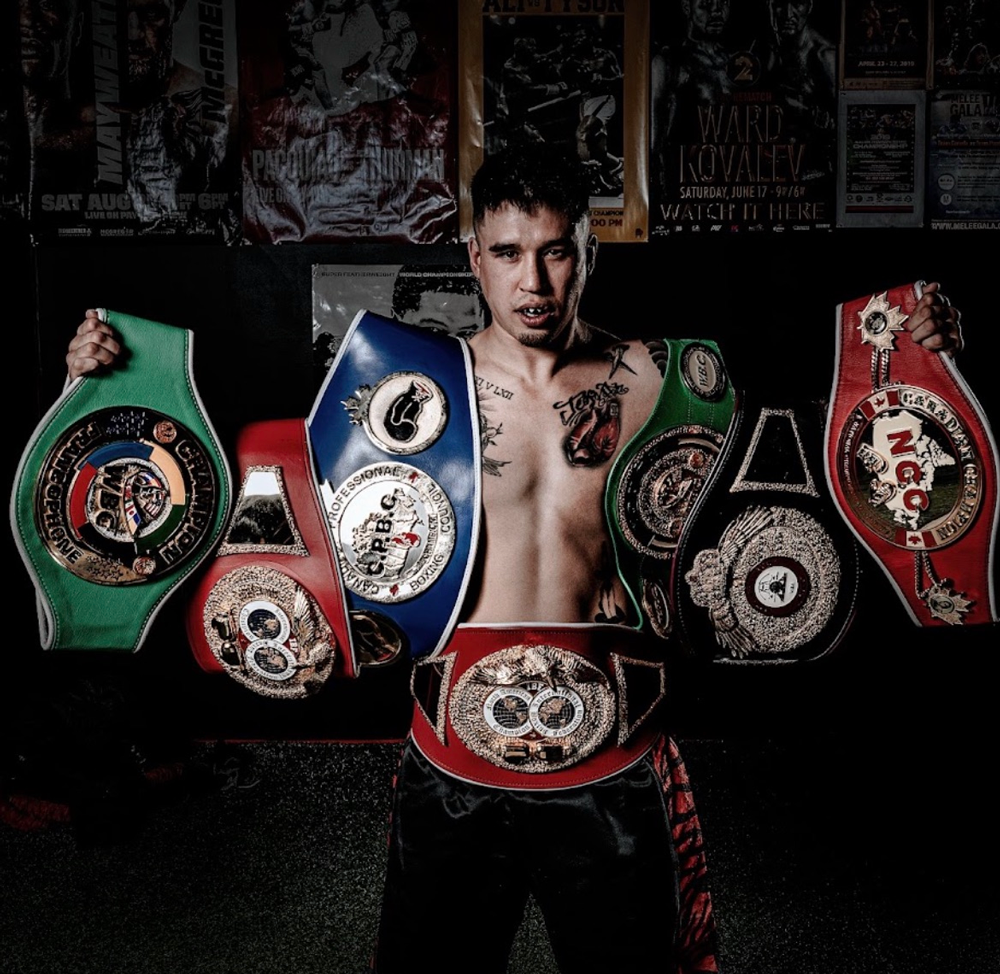 Then again, sometimes the bad hand is one you deal yourself.
While dedicating himself to mastering the sweet science, Claggett had also forged a rep as a bad boy.
During his days at St. Francis High School, there was trouble. Personality can explain some of it. "Aggressive by nature," is how he describes himself. But he found it increasingly difficult to take the high road in conflicts at school, at clubs, at bars. He'd taken well-meaning advice from his father — "Don't ever start a fight, but you don't have to walk away from one" — and twisted it into a green light to take on all challengers.
"All the big guys want to fight because they heard that I was a tough guy," said Claggett. "So it led to a lot of scraps. People want to test you. It was a big messy spiral."
At one point, still a teenager, he left home, choosing to spend nights at the gym — literally sleeping in the ring, with boxing gloves for pillows. Even as a mixed-up kid, Claggett saw any chance of a bright future fading. So he made a decision. "I don't want to be a gangster. I don't want to get into that stuff. I have boxing … and I am good at it. I might as well commit fully to boxing."
The summer he turned 19 he trained like crazy, eager to join the professional ranks. At that stage, he wasn't dreaming of 40 fights — or even 10.
"The only thing I was thinking about was how to win my pro debut," said Claggett. "That was my whole life, 'You can't lose your pro debut. You have to do your best. You have to look like a star.' I wasn't thinking about how long my career would be.
"If I'm diving into the pool, I'm thinking about doing the perfect dive."
Sept. 12, 2008, in his first bout, he faced an MMA brawler. "He was massive. But I was so dialled in and I wanted it so bad, it overshadowed all the little details. I was in a good mindset."
In the third round, he hurt his right hand unleashing an uppercut into the opponent's eye brow. "I distinctly remember, 'Oh, my knuckle is broken.' The human skull is hard. But you've got adrenaline going, so you keep throwing the hand."
Earning a majority decision, he revelled in the feeling of fulfillment.
"I trained all summer for that fight and I did it," he said. "To go through it all and face the fear? That's the real reward. It makes it all worth doing again."
Like, 39 more times — and counting.
Claggett, more than once in the conversation, insists that he's got lots left in the tank, that he's got plenty to prove. But when speculating about his future, it's clear he intends to help the next generation after he hangs up the gloves.
Having spent two-thirds of his life immersed in the sport, he's got plenty to offer newcomers.
"Tons of advice," said Claggett. "I would tell them to make sure you have a good circle of people around you. They don't need to be boxing guys. They don't need to be established or educated. They just have to be good people who have your best interests in mind."
Oh, and one more thing. "Get your personal life in order because it will help you in your boxing life."