Photos courtesy of Josh Schaefer, David Moll, and Kevin Barrett.
Wearing a big smile and sitting at his spotless dining-room table, Eric Lutz is in a good place.
He's just put the finishing touches on his social work degree at the University of Calgary. And the other day he got the news that his employment at Hull Services — a group home for kids with mental-health challenges — is being upgraded to full-time.
Also a middle-distance track star, Lutz recently polished off another splendid year for the Dinos. Now he turns his attention to the outdoor season, which includes races in New York; national championships in Langley, B.C.; Canada Summer Games in Niagara, Ont. And don't forget the Commonwealth Games in Birmingham, England, because they're on his mind, too.
Lutz's immediate schedule? Well, since the previous night featured an intense track session at Foothills Athletic Park — and he figures tomorrow's will, too — this evening means an "easy" lope, something in the neighbourhood of 15 kilometres.
Short- and long-term, everything seems perfect for the 24-year-old. No wonder he's so upbeat. This is someone who must have breezed past athletic benchmarks, who must have encountered few obstacles.
At least, given his demeanour, that's what it feels like. That everything has been beautifully mapped out.
But that's not true. Not even close. Asked about the road from pint-sized go-getter in Red Deer to medal-hoarding hotshot on the UCalgary campus, Lutz grins.
"Not the most conventional."
His is a trajectory that got derailed twice. Either twist could have shuttered his hopes.
Instead of caving, though, Lutz readjusted his approach, recalibrated his intentions, renewed his appreciation, and today he claims he is better off for having endured the setbacks.
So while talking about the lofty heights of his pursuit, including a push for the 2024 Olympics, Lutz isn't afraid to discuss the occurrences that could have waylaid his running dreams:
Suffering from a wicked case of burnout as a teenager, something that made him literally limp away from the sport — and stay away — for two full years.
Suffering from a broken back during his sophomore year at the University of Calgary, an in-season injury that forced him to the sidelines for 12 weeks.
Yet somehow …
"I'm grateful of the path I've taken," said Lutz. "A good learning opportunity, for the sport and outside of the sport. It built me into who I am today, so I can't ever complain about that."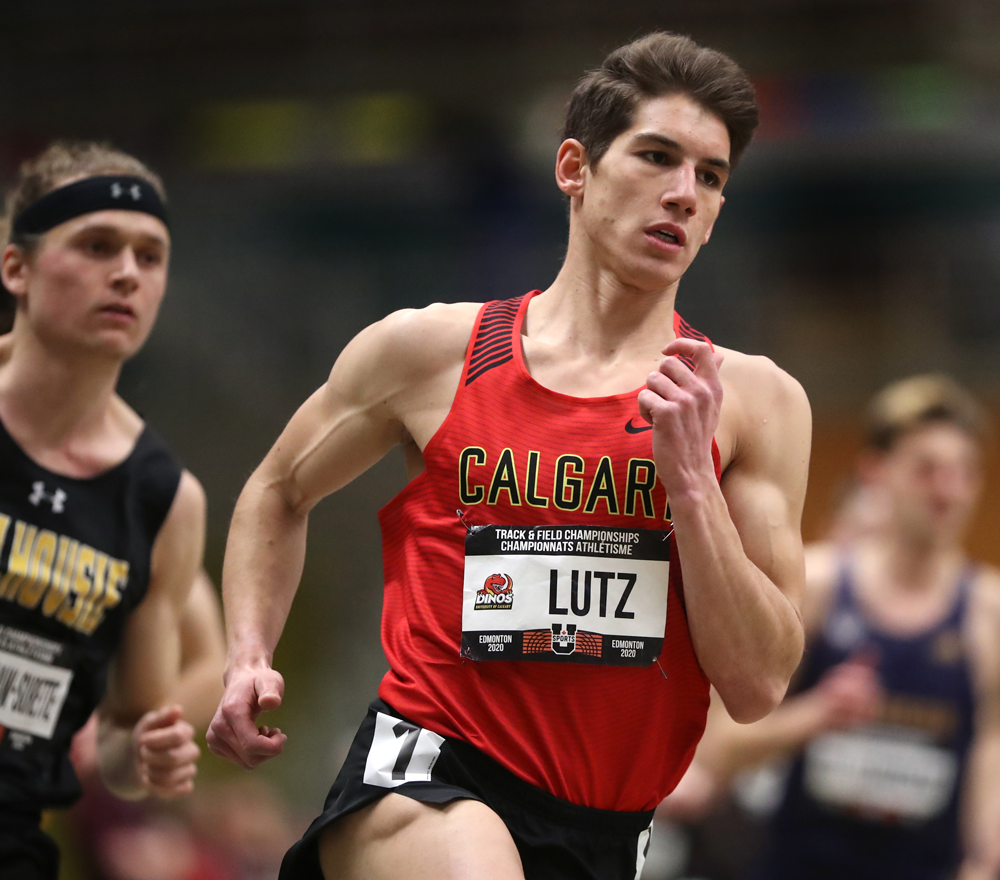 The burnout, Lutz admits, had been entirely self-inflicted.
This was a boy, who, growing up in Red Deer, started to show tremendous prormise in junior high. He loved to race. He loved to run, period. "I remember really, really enjoying it. I would do one lap, then it was, 'Can I do another?'"
In his early teens, he was churning out 100 kilometres per week. "Everyone was saying, 'Oh, you're over-training.' And I was like, 'No, I can handle it,' because when you're young, your body's tough and versatile."
Results followed. Through Grades 8, 9, 10, he dominated the cross-country trails and the track.
Then a couple of things happened.
Unmistakably, peers began to gain ground, a development that blindsided Lutz.
"That took a toll on me," he said. "Young athletes who have that really early success and start losing a bit, it takes a hit on the ego. That's what happened to me."
And more critically? His knees began to squawk, thanks to the heavy workload. "I was starting to see the consequences of that," said Lutz. "I stopped enjoying the sport."
His solution? That his Grade 11 and 12 years at Hunting Hills High School would include no racing — or any running. At all.
"I had to step away from the sport and ask, 'OK, why am I actually doing it?' That's what my initial phase was," said Lutz. "It was a time to get healthy. It was good for me. If I'd continued to run, I think I would've pushed through for a couple more years, got to university, and maybe then burned out and quit."
The hiatus, as it turned out, prolonged his career. True, he did sacrifice the opportunity to showcase himself for NCAA schools. But, upon reflection, Lutz harbours no regrets.
"Probably the best thing for me," he said. "I think you see a lot of people fizzle out once they hit university."
Dormant, Lutz had been able to regroup. And following high school, he took a gap year and brought training back into his daily life.
He joined UCalgary's cross-country and track teams in 2017. His body was refreshed. So was his mindset. Not only was he carrying "a little more fire," his love for simply running — stepping outside, choosing a direction, taking off — had been enhanced.
"I realized how good it was for me," said Lutz. "It allows you to have such a great routine, to have such a healthy lifestyle. You feel so much better. Sometimes it's the best part of my day, taking an hour and going for a nice little run. It's pretty rewarding."
Too, he relished seeing the progress — and he didn't have to look far. At the end of the fall semester of his second year, he placed ninth overall at the U Sports cross-country championships. A result Lutz calls "shocking" — that's how impressive his display had been that day.
"I knew I could do it, but actually doing it was pretty exciting," he said. "I was feeling pretty confident after that meet. I was pretty excited for what was to come."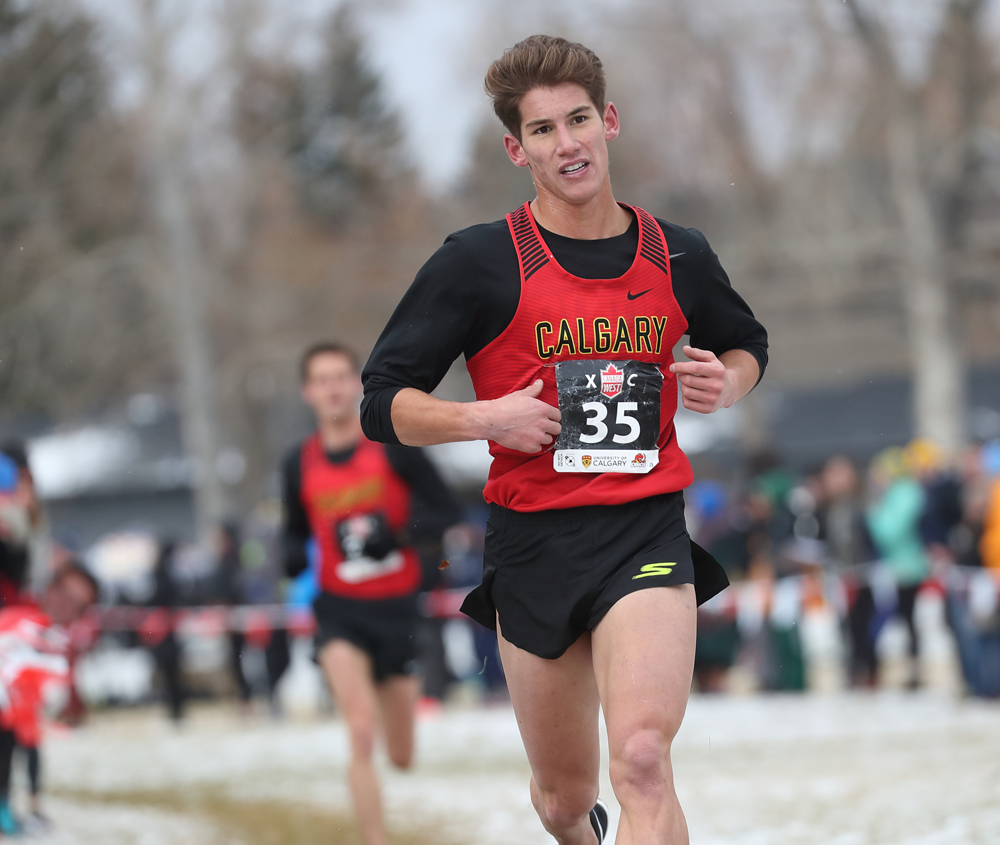 Stoked, Lutz went home to spend Christmas with his family.
During the break, he climbed aboard his dad Dave's new all-terrain vehicle. With brother Curtis riding shotgun, he made an error in judgment on icy conditions.
"I got carried away and, unfortunately, we flipped it."
Curtis was fine, but Lutz, who hadn't been wearing a seatbelt, was thrown — but not clear. The roll cage crushed him.
Post-crash, the injury didn't appear too serious. Then he started to feel strange, struggling to walk. On the way to the hospital, he remembers being scared. For good reason. Examination revealed that the 20-year-old had fractured four vertebrae and snapped two transverse processes.
A natural-born bright-sider, he describes the damage as being "luckily" close to his hips, meaning things remained relatively stable.
In fact, he was able to go home that night without a brace.
Nevertheless, a 12-week recovery period was required. "I was obviously pretty upset in that moment." But he figured he could still squeeze in some cross-training. That hope got swiftly nixed. He was ordered to not do anything besides attend classes.
Racing, however, remained on his mind.
"What if I come back and things don't move as well anymore? There were definitely worries in that regard. But I wasn't ready to quit, that's for sure."
In the meantime, he planted himself in schoolwork, contemplated his academic future, mulled potential career choices. Being laid up meant he suddenly had the attention span to consider the bigger picture. "Going through that, I was, 'I have to do more than just run. What's my life outside of running?'" said Lutz. "That's when I started to really figure out that my path was social work."
As scheduled, after three months, he was permitted to tug on his sneakers. Fitness was surprisingly decent, but it was a struggle to stay healthy.
"My body was pretty shocked by things," said Lutz. "I was really stiff, had some hamstring injuries. Just a lot of residual injuries."
That was March. By summer he had resumed racing, posting a personal best in the 1,500. For that kind of performance, he credits the newly cultivated balance in his life. "I started involving myself in the community more, I started caring about my education a lot more."
The following season — 2019-20 — he found his stride, sweeping the 1,000 and 1,500 races at the Canada West Conference final, then again at the U Sports showdown. Four individual gold medals. "A really awesome season."
Body mended, his mental game had never been sharper. This approach, too, was fresh.
"Honestly, if people ask me, 'If you could go back and not have that injury?' I often say that I appreciated the fact that it happened to me," said Lutz. "It gave me a new perspective not only on life, in terms of my education and my career path, but it also made me change my outlook on sport.
"I started enjoying training more, I started enjoying racing more. I started appreciating it more. Rather than being nervous and being worried that I'm not going to do what I want to do, I just said, 'Be in the moment,' because not a lot of people get these opportunities.
"Those shifts in my perspective really helped me do well."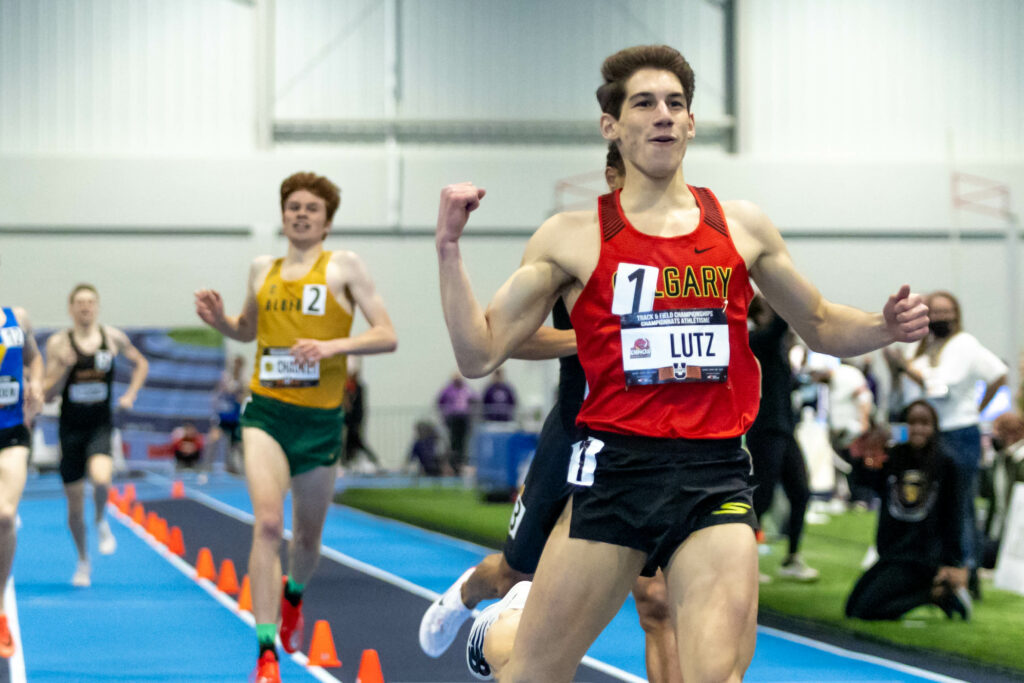 It's plain that Lutz's ability to overcome has served him well.
He's twice been a member of the Dinos' championship teams at the cross-country nationals.
This spring, he once again swept the conference 1,000 and 1,500 races, shattering the Canada West standard in the latter. At nationals, he defended his crown in the 1,000 — a whisker away from the U Sports record — and settled for bronze in the 1,500.
Not surprisingly, he earned Canada West honours as the male track athlete of the year.
Lutz was also the male recipient of the Dr. Dennis Kadatz Athlete of the Year award. Soccer star Montana Leonard, who set a conference record with 17 goals in 12 games, claimed the female award. She was also named the U Sports women's soccer player of the year.
On top of which, Lutz picked up the Student Athlete Community Award — yet again. And he does tick all those boxes — twice recognized as an Academic All-Canadian, with continued devotion to volunteer work. In addition to social-work practicum duties, he's mentored at-risk, foreign-born youth at the Centre for Newcomers, he's served as a trainer for people with disabilities at the Rehabilitation and Fitness Centre, he's helped to coordinate athletes and organize track meets for the Calgary Spartans.
Generous spirit well-established, he quietly did something for himself in February.
Itching to break four minutes in the mile — a long-standing measuring stick in track — he entered the David Hemery Valentine Invitational in Boston. "It goes under the radar because it's not on the university circuit, but it's an exciting one for me," said Lutz. "My training hinted at the potential that I could do it, but putting it together on the day is always a question mark."
In fact, with 400 metres to go, he had been off pace. Hustling home, he posted an official clocking of 3:59.40. "I was able to do it, which is kind of neat."
Now the 5-foot-10, 155-pounder has a plan.
To work full-time, to train steadily. With designs on a career on child-protection work, he wants to embark on a master's degree in social work, starting in the spring of 2023. Back at university, he will use up his final year of athletic eligibility, while making a bid for the Paris Olympics.
Not bad for a guy who, twice, was nearly out of the running game, but instead found himself fortified by difficult experiences. Burning out and breaking his back had been integral to growth, insists Lutz. "It built a lot of character. I wouldn't change any of those things because, when it comes to the sport, I might not be here today without them."