Photos courtesy of Craig Perrett.
An upcoming date on Ryann Perrett's calendar is circled. Or, perhaps more accurately, not circled.
May 23.
Its significance in Perrett's world is striking. That day, like few others for the Calgary teen, is not spoken for. These 24 hours remain wide open — and well-appreciated.
Because this kid is immersed in one breathlessly hectic stretch of hockey.
Right now — as a member of the West Region representative Notre Dame Hounds — she's competing in the Esso Cup, the tournament that determines national female supremacy for U18 clubs. The prestigious event, staged in Okotoks, wraps up May 22.
On May 24 — with barely any rest, but mercifully little travel — Perrett plunges into Hockey Canada's U18 selection camp in Calgary. One of 24 forwards invited, the right winger dearly hopes to make the final cut, which would thrust her onto the world stage in Wisconsin next month.
It adds up to one whopper of a fortnight.
Back to back, the biggest tournament of her life and the biggest tryout of her life — with only a Monday between them. "Definitely, it's going to be difficult on my body."
Worth mentioning, too, is the fact that the 17-year-old happens to be a Grade 12 student, meaning there are also final exams to consider, grad plans to finalize, life decisions to mull.
"I'm very excited. It's definitely going to be a couple of stressful months, just getting everything ready — especially the next couple weeks," said Perrett. "Time is flying this year. From September till now, I definitely thought I'd have more time than I did. It's already May."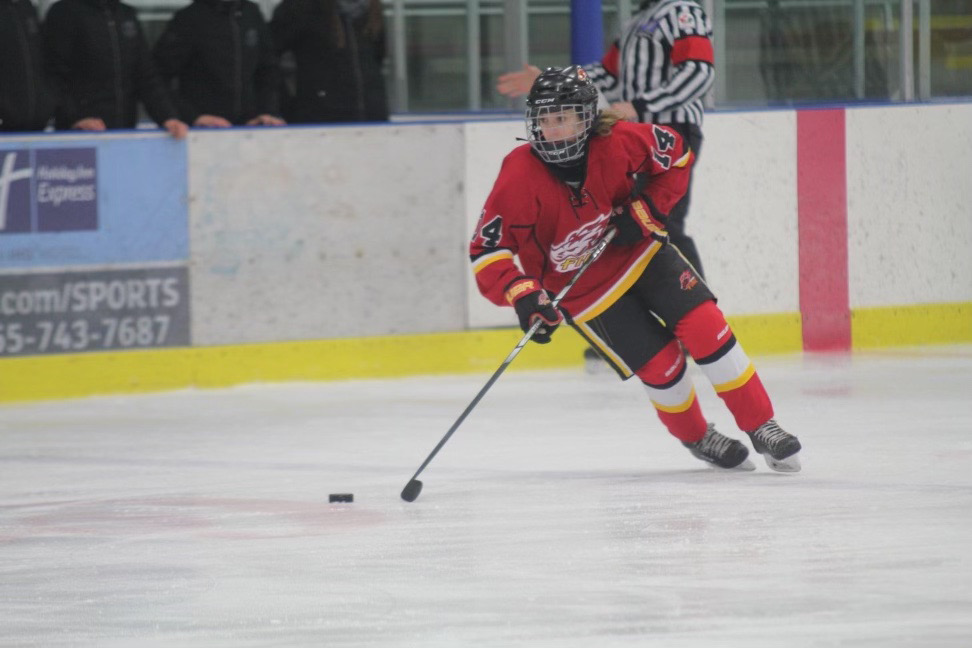 First things first — the Esso Cup.
Coached by Perrett's dad Craig, the Hounds left their base in Wilcox, Sask., on Sunday. The following afternoon they edged the Atlantic Region's Northern Selects 2-1 in overtime at Pason Centennial Arenas.
No one doubts Notre Dame's qualifications. This is an outfit that rumbled to a 24-2-2-2 record, beating Regina for the Saskatchewan Female U18 AAA Hockey League title. Then, in a series in which Perrett was named MVP, the Hounds swept Westman to earn its ticket to Okotoks.
"The Esso Cup, there's a lot of hype behind it and you never think you're going to get a chance to play there," she said. "So the fact that we actually get to go and actually get to play? It's so surreal. We're just so excited for it.""
A bonus? The Hounds' boys qualified for the Telus Cup, so, unprecedentedly, both Notre Dame crews are fighting for national titles at the same time — at the same rink. Which makes the week "even more awesome," according to Perrett.
Other Calgary-area girls on the squad include Payten Evans and Keana McKibbin. Perrett notes that because there is plenty of Notre Dame alumni in the vicinity, their games should draw a crowd. "It's so exciting to go home because all the family's from back there, all my friends. It's nice to go back to where everything started."
Perrett doesn't bother to try to downplay the showcase, calling it the most important event she's ever participated in. The Hounds' leading scorer — for the third straight winter — she's not afraid of high stakes.
"I'm always nervous before I step on the ice, but I definitely think I thrive a bit under pressure," said Perrett, who wears one of the club's four A's — there is no captain. "I have a lot more fun when there's a direct end goal, you know what I mean? A keep-your-eyes-on-the-prize sort of mentality."
Which means the Esso Cup — and the Esso Cup only — is on her mind right now. But the audition for the U18 national squad in an opportunity that is impossible to ignore. Perrett attended last year's tryout, so she knows what to expect at WinSport during six scheduled days of scrutiny.
"Definitely the first couple shifts are super nerve-racking. But once you get into your game and settled down, it's a lot of fun," she said. "I'm super super excited. To go and play against the top players in Canada? It's just so much fun."
Of the 40 invitees, only two are from Alberta — Perrett and Mundare's Emerson Jarvis. At the last camp, the provincial pals were put on the same line.
"So it's nice to have a familiar face around."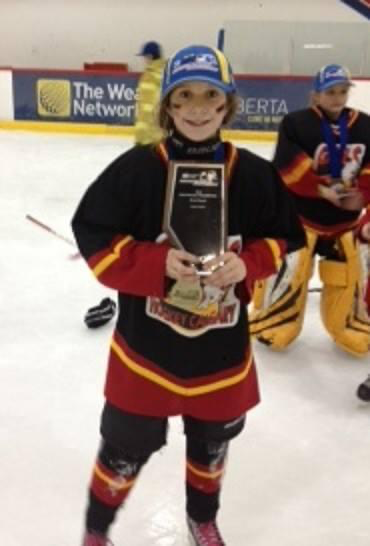 As a little girl in the Marda Loop/Altadore neighbourhood of southwest Calgary, Perrett dabbled in a bunch of sports.
And? "I didn't love anything."
However, what must've seemed certain was that she'd eventually get bitten by the hockey bug. Her dad skated at a high level — SJHL Melfort for three years, NCAA Michigan Tech for four years, minor pro for two years — before becoming a bench boss.
"My dad's always been around hockey," said Perrett. "He grew up with hockey, coached everywhere. I grew up at the rink. Every day, I'd get picked up from school and go to the rink while he did his practices. I was literally living there. So I wanted to give it a try."
Her brother Reid, two years younger, had enrolled in hockey. She wanted to follow suit. Even at eight years of age she was adamant that she get to play with and against girls — not boys. "I was kind of grossed out by them," she said, laughing. So she joined the Girls Hockey Calgary Association.
Meanwhile, Dad remained busy. He spent time at the helms of the Bantam and Midget AAA Royals boys' squads, then moved to the Mount Royal University women's team. And his daughter never turned down a chance to tug on her skates. "I got to go on the ice for some practices, which was super cool."
In 2018, Craig was hired to oversee the girls' program at the Wilcox-based school, officially the Athol Murray College of Notre Dame. The following season, Perrett joined Dad. "I just needed a change in my life. I wanted to see new places."
In Grade 10, she joined the Hounds' U18 AAA squad. Unsure of what to expect, she admits to having been nervous about the jump from bantam to midget.
"But I honestly had such a good year and so much fun."
It showed. With 31 points in 30 outings, she earned the league's top rookie award and a spot on the second all-star team. "I did not expect that at all," she said of the accolades.
Her Grade 11 year, the 2020-21 campaign, got chewed up by COVID. The Hounds suited up for only four dates — Perrett recording nine points — and settled for practising all year long.
"At first it was super difficult because hockey is literally everything — it's all I've ever done," she said. "Because I was only going to have two more seasons of minor hockey, it was super upsetting. It was definitely very frustrating. Every day was the exact same, so that just felt like it was forever."
As if that wasn't bad enough. In May 2021, Robert Morris (Penn.) University, the U.S. college to which Perrett and her best friend Payten Evans had committed, shuttered its women's and men's hockey programs.
"So I lost my scholarship," she said. "At first, I was, like, 'This isn't happening. This isn't real.' I thought my dad was joking with me, but he wasn't. It got super stressful because obviously the other schools I'd talked to filled up. With the COVID rules, people are getting (extra years of eligibility), so that was taking up more spots."
To make it work, Evans and Perrett acknowledged that they needed to go their separate ways — the former to Merrimack (Mass.) College, the latter to Lindenwood (Mo.) University. "That was one of the most upsetting things. We thought we were going to go to school together and play together for another four years."
Perrett enrolled in the school's pre-dentistry program, making her career goal plain.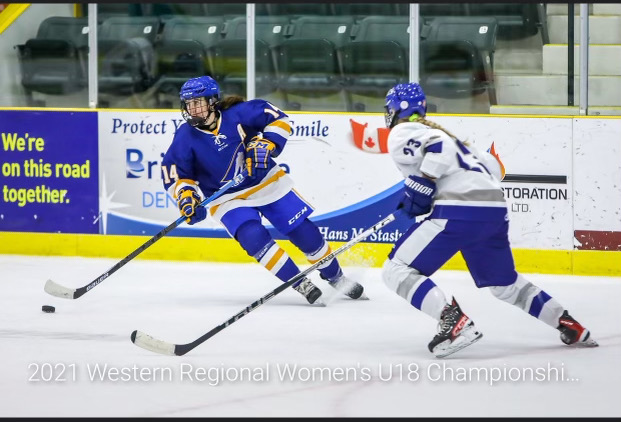 Also in her future, she hopes, is a chance to perform for Canada's senior squad.
She remembers, just a couple of years after her entry into organized hockey, being captivated by the women's action at the 2014 Olympics in Sochi. "I was super into that team."
And this past winter? Of course, she had been glued to Canada's gold-medal spree in Beijing.
"I definitely watched every game I possibly could," said Perrett. "You watch it and it's so much faster, so much quicker. Everybody's just so much more skilled. Girls hockey has really improved in the past couple years, I'd say."
Which leaves her where? On track, it's fair to say. Participating in a best-on-best tourney at this moment. Trying out soon for a national team that is bound for the world stage.
Make no mistake, this is a proven top-flight player — someone who's paced the Hounds in production and penalty minutes every season, someone who's a physical power forward with a well-rounded approach and a high hockey IQ. Which figures.
"I grew up with hockey — I eat, sleep, breathe hockey pretty much," said Perrett. "Just listening to my dad when I was younger talk to other coaches, you pick up on things. Then it's kind of embedded in my brain."
So wanting to take aim at the 2026 Winter Games doesn't feel farfetched.
"That would be nice, for sure," said Perrett. "I've definitely thought of that. But I'm kind of taking it step by step. Hopefully this next couple of weeks goes well."