Photos courtesy of Kyra Christmas, Diane Keus Bekhazi, and Leah Hennel.
Kyra Christmas, strong and competitive and capable, was blossoming in the world of water polo.
Unfazed by the demands, cool in the face of the sport's simmering hostility, Christmas deserved notice.
Which she got, being selected to her first national team — an under-18 side — when she was only 15. Good news, naturally.
But when Christmas and the rest of the star-studded group travelled to an international event in Australia, the experience turned out to be too much for the High River native. "Overwhelming" is how she describes it.
"It was positive in the end," she said, "but I think the path to get there was something that caused a lot of anxiety and pressure for myself.
"That was the root of it all starting."
Even now, a decade later, bouts of anxiety can be triggered by unfamiliar situations. But she better understands the fleeting nature of mental health — and, critically, how to best cope in tough times.
A standout these days, Christmas is literally the picture of success. Take a peek at the recent photo of her year-end haul with her club team, Olympiacos, in Greece.
Trophies aside, this is someone willing to share her stories, to discuss her challenges. Which, she acknowledges, are ongoing.
"I definitely still struggle with it," she said. "I like to talk about it, so if anyone else is dealing with that sort of thing coming up through the (national team) program, I can help them or shed some light on solutions."
For newcomers, Christmas is someone look up to — and not only because she is 6-feet tall. At the Tokyo Olympics, the southpaw paced Canada with 15 goals, seventh most in the tourney. And all the while, she was managing her anxiety.
"Definitely stressful" is how she found the lead-up to matches. And Canada played seven times.
"I was barely sleeping," she said, adding that access to an on-site mental-performance professional did help. "It's super important for teams to have someone there who's not your coach or assistant coach or team doctor. You need somebody's who's outside all of that, who you can bounce ideas off of, or who can remind you that, in the end, it's just a game and you're going to be OK."
While anticipation can create issues, Christmas notes that the burden lifts as soon as she drops into the water.
"That's where I feel the most confident, the most calm," said the 25-year-old. "It's everything surrounding (games that causes strain) — the travel, the being away from home, the stress of being on a team and needing to perform for other people, not just yourself. That sort of thing."
The importance of mental health is gaining a broader profile. Canada's golden goalkeeper — and the Calgary Booster Club's female athlete of the year for 2021 — Stephanie Labbé has gone public with her own obstacles. At the Olympics, superstar Simone Biles took a step back from gymnastics. Tennis player Naomi Osaka, too, puts self care ahead of other considerations.
Yet despite all that …
"People overlook it," said Christmas, adding that online critics don't appreciate the circumstances. "(Social media is) hilarious when people are just making fun of athletes' performances or saying, 'I could do that,' or, 'They've done this a million times — why can't they score a goal now?' They're making a joke out of it.
"But really? I don't think they understand fully what goes into it."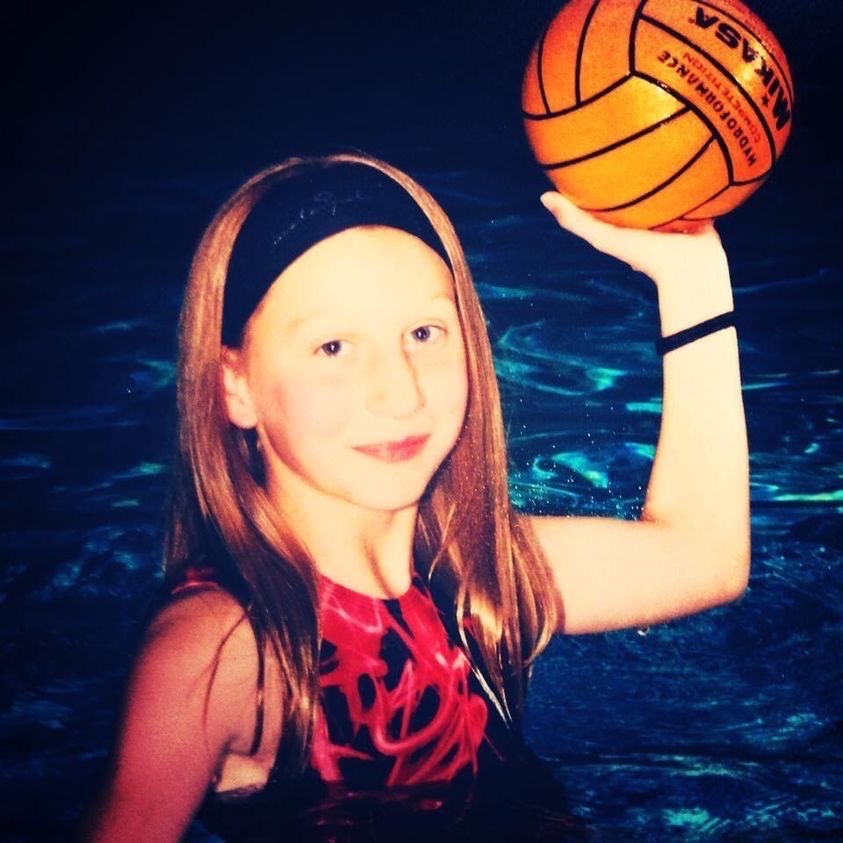 As a youngster, Christmas was racing for the High River Otters swim club.
When she was six, a family friend — who happened to be a former member of South Africa's national team — set up a water-polo club, the Prairie Dolphins. Despite being keen, she was forced to wait two years to meet the minimum age requirement.
"Because it's a bit of a brutal sport. I mean, it's contact," Christmas said. "The whole time I couldn't play, I was just watching. I couldn't stop talking about it. Once I started, I was hooked."
Operating as a driver on the right side of the pool — she is left-handed — Christmas discovered her passion. For someone who had tested her competitive spirit through wrestling, flag football, badminton, and nearly everything else, water polo was especially appealing.
"Swimming laps can get pretty boring. I know for some people it can be quite therapeutic," she said. "But for me, water polo has so many tactical components and the added (elements of) endurance, strength, physicality. Everything that makes the sport so difficult is what draws me to it. There's never a ceiling you can reach.
"There's always more to learn, more to get better at."
Joining the highly regarded Calgary Renegades, Christmas attended the National Sport School for Grades 11 and 12. In mind, not surprisingly, was the NCAA route. The Renegades' annual trips to California were scouted by U.S. colleges.
Christmas pounced on a scholarship offer from the University of the Pacific in Stockton, Calif., where she ended up being part of three Golden Coast Conference championships. Three times, too, she was named an All-American. "A really good experience."
While working towards a sport management degree, she interned for the Stockton Heat, farm club of the Calgary Flames. She may one day add a psychology degree to her portfolio.
But right now she is devoted to squeezing as much as she can from water polo.
"When I started getting good, it was, 'Yeah, I'm taking this all the way. I'm going to do as much as I can with this,'" said Christmas. "(At 12) I watched the national team when they won the silver medal at the (2009) worlds in Rome. And the men's national team trained in Calgary, so I would watch them practise every day after my practices.
"I was really into it from quite a young age."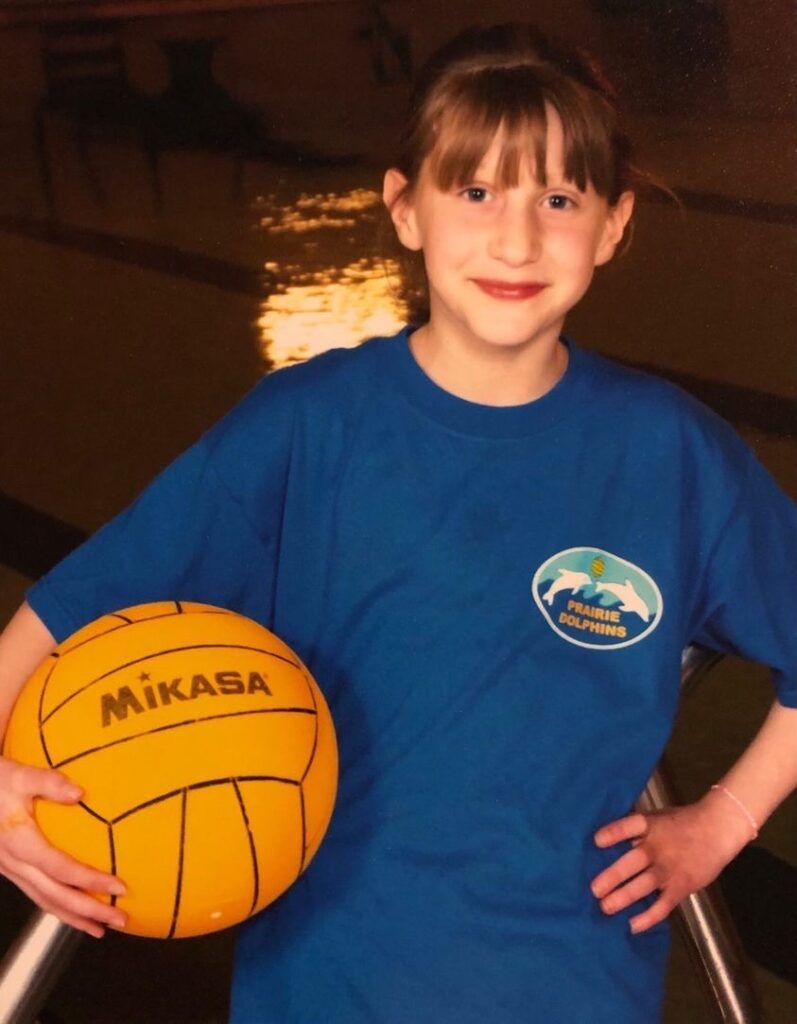 Christmas has represented her country at world showcases of all levels — youth, junior, senior.
In 2016, at the Pan American Junior Championship in Edmonton, she led Canada to gold and snagged most-valuable-player honours. And she was part of the silver-medal display at the 2019 Pan-Am Games in Lima, Peru.
But as she was preparing for her first Olympics — the Summer Games in Tokyo — the COVID pandemic disrupted her training intentions. Restrictions closed facilities and, suddenly, she had nowhere to practise.
No worries. Christmas and her parents, Steven and Dayna, decided to construct a pool in their backyard, quickly and efficiently.
With hay bales. ("What could be more Western Canadian?" Mom told CTV.)
Stacked and braced, the bales, with a black plastic liner, were walls for a small pool — eight feet by 16, and six feet deep.
Yes, the water was cold — Christmas always wore a wetsuit — but it paid off. She was able to stay sharp, whipping balls into a net and swimming against a resistance band.
Not surprisingly, news of the home-made pool grabbed the attention of sports fans and reporters. Stories and photos of her unique training set-up were everywhere.
Christmas laughs. "Honestly, I didn't expect any of the attention I got. But it was really exciting for water polo in Canada in general, because it put us on the map and now a lot more people know about the sport."
The pool — which eventually became home to hundreds of mice and is now dismantled — did serve its purpose.
Because even if the 2020 Olympics had been postponed, the Greek championship was not. So when the Olympiacos coach called to ask Christmas if she was ready to play, she could answer in the affirmative.
"I had to start training quite hard, actually, because I was getting extremely nervous from not being in the pool," said Christmas. "So that hay-bale pool was amazing in the end. It saved me from going to Greece without having been in a pool for months."
The Olympics, when they did finally arrive, left an impression on Christmas.
She soaked up everything about the atmosphere, including the mixed reaction of the locals. "Every time you would leave the village you would see citizens of Tokyo with signs saying, 'We love you,' and they were super excited … or you would see protesters and people upset that you were there."
Typically, at international water-polo events, teams lodge at the same hotel, which, given the sport's in-water intensity, can create awkward moments. "Kind of a hostile environment." To the point that, even in the lobby, rivals don't make eye contact.
The Summer Games, however, produced a refreshingly different vibe.
"No hard feelings or anything," said Christmas. "Everyone was just so super excited to be there. I really liked that part about it. It was really uniting. Such a positive experience, it was really cool."
But in the pool — where confrontations remained as menacing as ever — the Canadians could do no better than seventh, particularly disappointing after their fourth-place finish at the FIFA World League Super Final a month earlier.
"No athlete likes to lose," said Christmas. "It's just frustrating knowing that you're as good as those teams."
After Tokyo, Christmas returned home, taking a one-month break before resuming her training regimen. Then she rushed to Greece to join the Olympiacos season, already in progress.
"I'm kicking myself a little bit," said Christmas. "I don't think I took enough time off. I didn't really realize how exhausted I was from the whole (Olympic) experience. As soon as I got back into the serious phase of the game, mentally and emotionally, I was still pretty fatigued."
But there is no knocking her success at the club level, as Olympiacos ran the table, capturing the 2021 LEN Super Cup, 2022 LEN European championship, 2022 Greek Cup, 2022 Greek championship.
Now Christmas is hustling back to Calgary to enjoy three days of home cooking, before flying to Montreal, where the national team will congregate in preparation for the upcoming world championship.
"A very quick turnaround. But that's just how it goes with water polo."
The next Olympics — Paris — is only two years away. Asked about her mindset heading into another push, Christmas says she prefers to break the journey into bite-sized pieces. It's a healthier approach in her estimation.
"I try to take things day by day," she said, "just because I'm travelling a lot and I don't have a lot of time at home. Each part of the season is quite long in itself. Not thinking too far ahead is a key for me to continue to be successful and to stay in the sport."