Having freshly joined the Calgary Bantam Football Association board of directors, Ron Logan knows what's on his to-do list.
Logan, as the rookie member, will be in charge of organizing the coaches' annual get-together at a downtown hotel, a task to which he dedicates himself. One day, the venue's manager tells Logan about a friend in Orlando, Fla., who happens to put on football tournaments in the United States. Sounds interesting.
Connecting with the friend, Logan gets the low-down — and an invitation to enter a Calgary outfit.
Logan knows a dandy idea when he hears one. He takes it back to the board and the notion sells itself.
"And that's how our Calgary Selects program got started."
With modest beginnings and good intentions, from initiative to mainstay, the Selects quickly become one of the signature ventures of the city's amateur sports scene.
Approval, in 1987, had been quickly made official. A year later, an all-star team of 30 mid-teens brushed up on the four-down rules and travelled south to take on American counterparts. The experience was an instant hit.
Over the years, bantam squads have been dispatched to St. Louis on 15 separate occasions. A couple of trips were made to Las Vegas. The Calgarians have also dropped into Orlando, New Orleans, Albuquerque, for football festivities.
"One thing I'm quite proud of is the Selects team that we've developed, that I started," said Logan. "A lot of those kids went on to play good college careers, and a few pros, too.
"So I'm proud of that program."
And, as you might expect, local football is proud of Ron Logan. Very proud.
A thick packet of reference letters and heartfelt testimonials and personal endorsements was enough to convince the Calgary Booster Club to bestow upon Logan its highest distinction — Sportsperson of the Year.
At the Gala, June 26 at WinSport, Logan and other winners will be recognized. For tickets: https://www.eventbrite.ca/e/68th-annual-calgary-booster-club-sports-gala-tickets-338641544977.
"Well, it's an honour to be recognized," said the 71-year-old. "It's a huge honour, but you don't do it for that."
Logan cackles at the memory of getting the call in March that he was going to be singled out for his volunteer efforts. Shortly after the vote on the award, a Calgary Booster Club representative had reached out to inform Logan. Driving home from a late-winter's holiday in Arizona, he'd just pulled into Butte, Mont., when his phone buzzed. "She said, 'Is Ron Logan there?' And my standard comical answer to that is, 'Oh, does he owe you money?'"
Explained that instead it was an appreciative city keen to pay a debt of gratitude to him, he'd turned serious. Something like this, of course, is meaningful.
On his right hand he wears a ring, a keepsake from being voted into the Football Alberta Hall of Fame last year. "A wonderful honour." The latest award, too, thrills him.
"This'll be Year 49 coming up for bantam football, coaching and administrating," said Logan, named an Honoured Athletic Leader by the Calgary Booster Club in 1996. "You do it because you love it, because of the people you meet. It's just one big happy football family in Calgary."
Decade to decade, the hours devoted to sports, primarily football, have piled up.
Logan worked plenty — 40 years in the oil and gas sector, handling business development for pipeline construction and trucking — but volunteering remains close to his heart.
Professionally, he may be retired, but his sporting contributions have never waned. Even now, the commitment runs nearly year-round.
"Part of it is the love of the game," said Logan. "The other part would be the camaraderie with the guys. It's like a family. And the fact that you're doing something for kids. We wouldn't do it if we didn't love doing it for the kids."
Asked how he'd have spent all that spare time if he wasn't burrowed into the local football community, he lets out a laugh. "When you're in this fraternity, you're not allowed out. But, honestly, I couldn't imagine not doing it."
He takes pride in the fact that the reputation of the Calgary Bantam Football Association is ever-solid, that members are able to "maintain the atmosphere" of the club. He's heard from Football Canada brass that the CBFA is one of the best-run programs in the country. "That makes you feel good."
Logan thinks of another gratifying byproduct of a life dedicated to amateur sports. Something that clearly means plenty to him.
"You're walking down the Plus 15 in downtown Calgary and you hear, 'Hey, Coach. Hey, Coach. Hey, Coach,'" said Logan. "Guys are hollering at you and they come over and give you a hug. That's rewarding."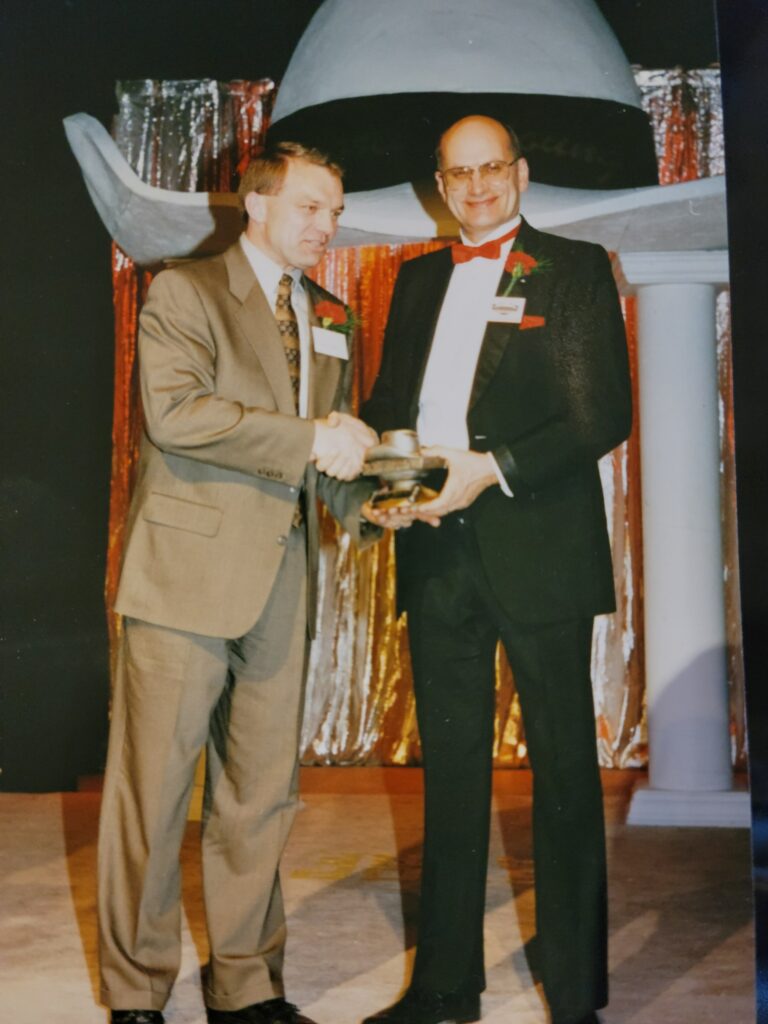 Before immersing himself into organized sports, Logan was a typical kid, stampeding around the playground, engaging in rough-and-tumble matches.
Growing up in West Hillhurst, he had a pal who was a water-boy for the Mount Royal Cougars football team. Meaning neighbourhood kids could get their mitts on old gear.
"We'd have all this equipment that was too big," said Logan. "We called ourselves the Westmount Bombers and we'd put our blue jerseys on, we'd put our helmets under our arms and run down to Broadview Park and we'd play the Second Avenue guys.
"I was always the youngest, so I got the heck beat out of me. My mother would say, 'Oh, your bloody nose, your bloody lip!' And I'd say, 'I'm going back tomorrow to get them.' And I'd come home with another bloody lip."
Eventually, he was steered into proper leagues. One of his role models, an older boy named Dennis O'Hara would drag him to tryouts. "That's how I really got started in sports."
Logan skated in West Hillhurst for a squad called the Blackhawks. Naturally, he had an affinity for the Chicago NHLers, rooting for the likes of Stan Mikita, Bobby Hull, Glenn Hall, Pierre Pilote, Kenny Wharram. His Windy City adoration extended to the NFL's Bears.
But his own football at the time had been limited. "Just parking-lot stuff."
Then at 13 — this in 1964 — he joined the CBFA, playing for three years for league-founder Jim Courchesne on squads such as the Stampeders and the Kramer Kats.
Attending Queen Elizabeth High School, he evolved into a dual-sport threat.
Football for the Calgary Colts juniors, Logan was an all-star, operating as the centre.
Hockey for the local junior outfit that competed at the 1971 Canada Winter Games, then later for the University of Calgary Dinos, he also played centre.
Logan states the obvious: "I would've loved to play pro football, I would've loved to play pro hockey."
Already, a volunteering knack had been established, whether it was scraping the outdoor ice for games or working the counter at the concession booth.
At 17, he coached a peewee baseball team. "That was kind of fun." And while playing junior football, he'd coached the offensive line at Queen Elizabeth.
Then Logan, in his early 20s, was asked by a chap named Brock Jacobs to take over one of the bantam squads.
So he did. For 13 years, he coached the side that would eventually become the Golden Hawks. A stretch that he eventually parlayed into his exemplary stay on the CBFA board and plenty of other roles, including masterminding that Calgary Selects enterprise.
"If I had've said to Brock, 'No, I don't want to coach,' I don't know what direction my life would've gone," said Logan. "I still would have had a lot of friends, all my old football and hockey pals, but this football community that is family to me now? I wouldn't have that. So, no regrets whatsoever.
"I'm so grateful to him coming to me."
So, too, is Calgary amateur sport.
After all, this is a gentleman who coached and managed hockey, acting as director of the Calgary Buffalo Hockey Association for four years. Along the way he guided community soccer squads and Little League baseball teams.
When the Stamps hosted Grey Cup games, he was there, too, pitching in at McMahon Stadium.
But his joy is minor football. He serves as the southern representative of Football Alberta (which saw fit in 1991 to hand him the Gary Hobson Volunteer of the Year Award). And, shovel in his hands, he's been known to help clear snow from fields so the players could strut their stuff. Of course, Logan was also involved in the development of that spiffy facility at Shouldice Park.
Now, with 49 years' worth of contributions on his resumé, he is barrelling towards a magical milestone. And there is no doubting his desire to reach a half-century of service to bantam football in Calgary.
"God willing," said Logan, with a laugh. "I don't plan on going anywhere. I'll be around as long as I'm able to."