Courtesy of Chad Goddard/Okotoks Oilers
Rieger Lorenz, it would seem, does not like to waste time.
Skating by the age of two on the family's backyard rink, he strides into organized hockey a couple of winters later.
He's only in Grade 9 when he makes a decision on his puck-chasing future, choosing to forgo the Western Hockey League and commit to the University of Denver.
And these days? Plenty is happening.
Freshly turned 18, Lorenz is heading down to the college's campus, to get comfortable, to get in some skating, and to get cracking on his finance degree by digging into three summertime courses. In the midst of all that, he intends to jet to Montreal for the NHL draft, July 7 and 8, to see firsthand which club latches onto his rights.
Busy lad. And, as you could probably guess, he isn't one to stand still on the ice, either.
This past season — his first full campaign with the Okotoks Oilers — Lorenz paced the club in scoring. The 38 goals and 85 points established franchise single-season records for freshmen.
It's the kind of handiwork that does not go unnoticed. He was named the Alberta Junior Hockey League's top rookie, then the Canadian Junior Hockey League's top rookie.
The NHL's in-house bureau of talent appraisers — Central Scouting — thought enough of Lorenz's assets to slot the 6-foot-2, 194-pound forward 17th on its year-end list of North American skaters.
Which makes Lorenz the highest-graded Junior A player in the country.
It also stands as the loftiest rung occupied any local kid this year.
"You play Calgary minor hockey your whole life, it's pretty cool to see you're regarded as the top guy out of that pool of players," said Lorenz, who, after working his way through Simons Valley's association, performed for the Edge School before taking his act to Okotoks. "But I don't think too much about that."
Of course, what actually ends up happening at the NHL draft is anyone's guess — and totally out of the hands of the prospects. The deciders of the 32 teams will determine the drama over two days.
So while Lorenz's accelerated approach to life is admirable, when he and his loved ones hunker down in the Bell Centre stands, they may need to be patient. Because once the exercise begins, they're at the mercy of the league's big brains.
Lorenz understands. He's been monitoring the draft since he was a boy.
"I've heard it's pretty hard for some players," he said. "It's a pretty long process, on the first day especially — it's three hours and a bit (to complete the first round). It can be a little nerve-racking. Some guys sweat for a little bit. But it's your dream coming true, so you're kind of looking forward to it."
Without a doubt, someone will spend a draft pick on Lorenz — but who? Great question.
His home-town squad holds no first-round selection — it was used to acquire Tyler Toffoli — but the Calgary Flames do possess a second-round holler. And Lorenz's favourites since he was a little kid, the Edmonton Oilers, own the 29th overall choice, but nothing in the second, third, fourth rounds.
Of course, Albertans represent only two of 32 outfits.
With Eliteprospects.com helpfully rounding up various projections, here is an assortment of rankings for Lorenz — 40th by Draft Prospects Hockey, 40th by The Puck Authority, 40th by FC Hockey, 42nd by TSN's Craig Button, 51st by Smaht Scouting, 52nd by TSN's Bob McKenzie, 55th by Dobber Prospects, 75th by Recruit Scouting, 77th by McKeen's Hockey, 84th by Eliteprospects.com.
"Everything happens for a reason," Lorenz said. "Whatever team I go to will like me for the person I am, the player I am, so whether that's late first round or in the second round.
"I don't think that matters too much to me."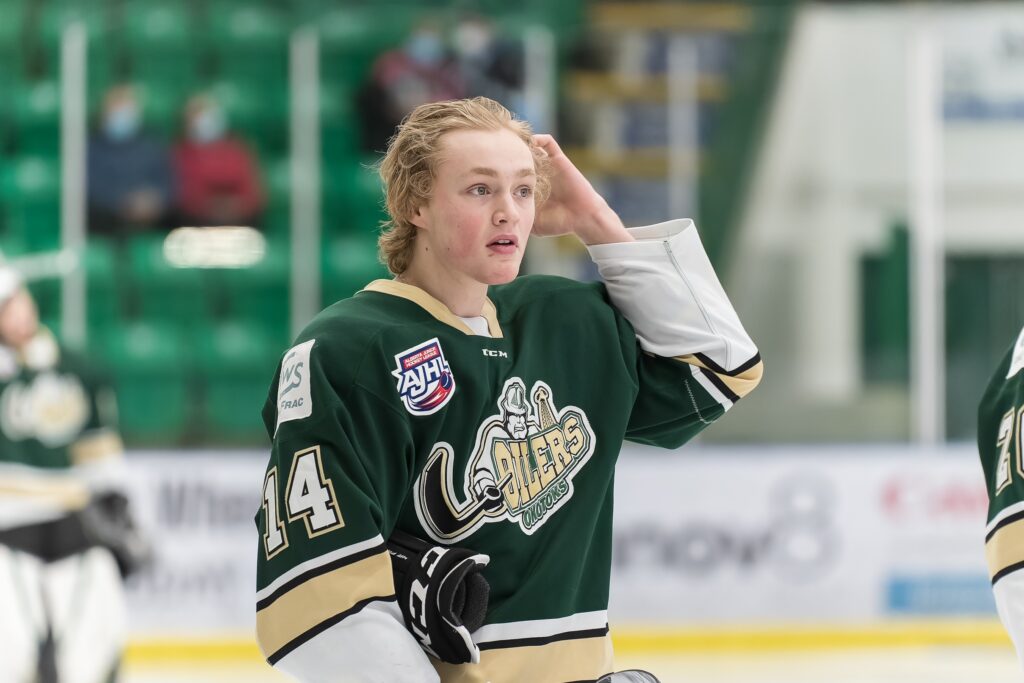 What isn't a matter of debate? The impression Lorenz made on NHL clubs at the combine, May 30 to June 4, in Buffalo.
On the opening day, all of the teenagers were herded through the dastardly VO2 max test. Which, in this case, meant clambering aboard a stationary bike and maintaining a predetermined pace for as long as possible.
Lorenz powered through 14 minutes and 30 seconds, seventh-longest ride of the nearly 100 prospects. Assigned to the group with Shane Wright, the consensus first overall pick, his display was caught by a crowd of observers.
"Stamina and conditioning is something that I have going for me, so I wasn't too surprised," said Lorenz. "It was a bit of a grind. Nice to have it done."
With the remaining fitness tests slated for the combine's final day, ample time remained for interviews. Good thing, because the brass of 25 teams booked Lorenz for chats. Sit-downs typically last 20 minutes. "If you have seven interviews a day, it's pretty mentally draining. By the time you're done, you're ready to hit the sack."
Get-togethers are rarely boring. When the Detroit Red Wings summoned Lorenz, he walked into the room and was greeted by Shawn Horcoff, Kris Draper, and Steve Yzerman. That'll thrill a kid. "A pretty cool experience for me. It was exciting," said Lorenz. "But they're hockey guys and they're trying to do that job. At the end of the day, it's just interviews. So don't over-think it."
Questions tend to be fairly predictable, although odd ones pop up. Like what kind of animal do you most relate to? Lorenz did not get that one.
Nor did he have to field the doozy reportedly asked by the Montreal Canadiens. "Yeah, 10-dollar bill on the counter or 50-dollar bill in the toilet — which one would you choose?" he said, laughing. "I think most guys chose the 50 bucks."
Fair to say that Lorenz aced the interviews. One scout told an NHL.com reporter that the kid's self-esteem actually boosted his stock on the team's list.
"I'm a pretty personable guy, pretty confident with who I am as a person, who I am as a player," said Lorenz. "Going into those interviews, I was trying to show that to the teams. I think I accomplished that."
Of course, it had been in-season work that thrust him on the NHL's radar.
He joined the Oilers for the 2020-21 campaign, but, because of COVID restrictions, the team was able to stage only eight contests. "It was a hard year," said Lorenz. "My first year of junior hockey, you don't really know what to expect. From a development perspective, it was a little bit hard to stay on track."
This past fall, Central Scouting classified Lorenz as a B-level prospect, indicative of second- or third-round potential.
But on its mid-season report, he sat 24th. And on the final list? He'd improved to 17th.
"I thought I filled some holes in my game throughout the year," said Lorenz. "Coach (Tyler) Deis helped me a lot with that. The coaching staff in Okotoks, I can attribute that fully to them and the way they helped me shape my game."
It added up to an impressive rate of production. Through the schedule's 60 dates, his 85 points were 26 more than the Oilers' next-best kid, fellow Calgarian and rookie Bowden Singleton.
Lorenz's output also exceeded that of his father Terry, whose best winter in the AJHL was 82 points for the 1991-92 Lloydminster Blazers. Which, no surprise, is a topic for conversation at the dinner table.
Lorenz laughs. "I just beat him, so there's a bit of a joke going on there."
But Dad's playing career was nothing to sniff at. He earned a college scholarship at Notre Dame, played there four years, wearing the C as a senior.
"He took a similar path to me — AJ, then NCAA. Kind of cool that I get to follow in the same footsteps," said Lorenz. "My dad's been really good with my hockey career. He's helped me a lot. He's never forced me into anything. He's laid out the information and let me make my own decision. That really benefitted me, personalized my development plan. I think it's paying off now."
Nowadays no one is about to criticize that particular route.
There's that other Calgary boy who decided to play Junior A in Brooks, go to UMass-Amherst for a couple of seasons, then turn pro. That would be Cale Makar, who was plucked fourth overall by the Colorado Avalanche in 2017.
Another local product, Dylan Holloway, skated in Okotoks, played two years at the University of Wisconsin, then got drafted 14th by Edmonton in 2020.
Both suited up for Game 4 in the Western Conference final.
"Seeing those guys it's kind of a reassurance of the path I've taken," said Lorenz, "how they've had success throughout their hockey career so far."
There's been no shortage of achievement in Lorenz's, either. In late-April — after Okotoks was knocked out of the AJHL playoffs — he had the opportunity to represent Canada at the U18 world championship in Germany. "It was a big jump for me," he said. "The style of play was a lot different, the calibre of play was a little bit different, coming from Junior A to the top players in the world."
He nevertheless finished with four assists in four outings — only two teammates registered more points. "As the tournament progressed I got better. I was happy where I ended off, but it was a shame we didn't make it (beyond the quarter-final)."
Getting to showcase himself at that tournament, in the mix with major-junior hotshots, was one pre-draft checkmark.
Showing well at the combine had been another.
All that's left for Lorenz? Putting on a nice suit, sitting back, waiting to learn his NHL destination.
"Everything's out of your control right now," he said. "It was a stressful year, obviously, but I enjoyed it. I'm excited to see which team I go to."