Photos courtesy of Dave Holland.
Stephanie Labbé will never forget 2021. How in the world could she?
Not only was it her final season of soccer — it was her best. Coming into the campaign with a reputation as one of the soccer's top goalkeepers, she cemented her legacy as a big-game presence, an elite-level talent, a tide-changer.
"It was going to be one of my last years of playing soccer, so I knew that I had to give it everything and push myself to the absolute limits," said Labbé. "Looking back, it's pretty remarkable the things I was able to achieve. I'm just really proud of myself for being able to put myself out there and get those performances."
She started the season with FC Rosengård, which would go on to claim the Damallsvenskan championship — without the services of Labbé, who decided to cap her year with another outfit, "iconic top-class" Paris Saint-Germain.
And in between her handiwork on behalf of the Swedish and French clubs?
Well, everyone knows exactly what she was doing.
Labbé was heroically backstopping Team Canada to Olympic gold in Tokyo, smiling her way through a heart-stopping shootout against the Swedes.
"To be able to put in some of the best performances in one of the world's best tournaments shows how hard I worked," she said. "It's a true reflection of what I put into my career and the time and energy I've spent to get myself to the top level."
The year was so stellar that it had been surprising to see her finish as runner-up for the FIFA Best Women's Goalkeeper Award. Imagine that — being recognized as the second-finest goalie on the planet is actually a letdown.
Discussing the voting process — Chile's Christiane Endler prevailed — Labbé opts for the high road. "You never really play to get those awards," she said. "When you're up for them and you're nominated, it's always such an honouring feeling."
Locally, however, she was not denied top billing.
From a strong shortlist of Calgary competitors vying for the Henry Viney Trophy (female athlete of the year during the 2021 calendar year) — swimmer Morgan Bird, speed skater Ivanie Blondin, rower Kasia Gruchalla-Wesierski, swimmer Rebecca Smith, speed skater Isabelle Weidemann — Labbé emerged victorious.
The Calgary Booster Club will recognize her at its Gala, June 26 at WinSport. Tickets are available: https://www.eventbrite.ca/e/68th-annual-calgary-booster-club-sports-gala-tickets-338641544977.
"It's my first award as a Calgary resident," said Labbé, who's lived in the city for five years. "It's a huge honour. I'm very happy to receive it."
The Stony Plain, Alta., native laughs. "I hope it doesn't mean I have to cheer for the Flames now, because I don't think I can accept it if that's what it means. I'm a die-hard Oilers fan."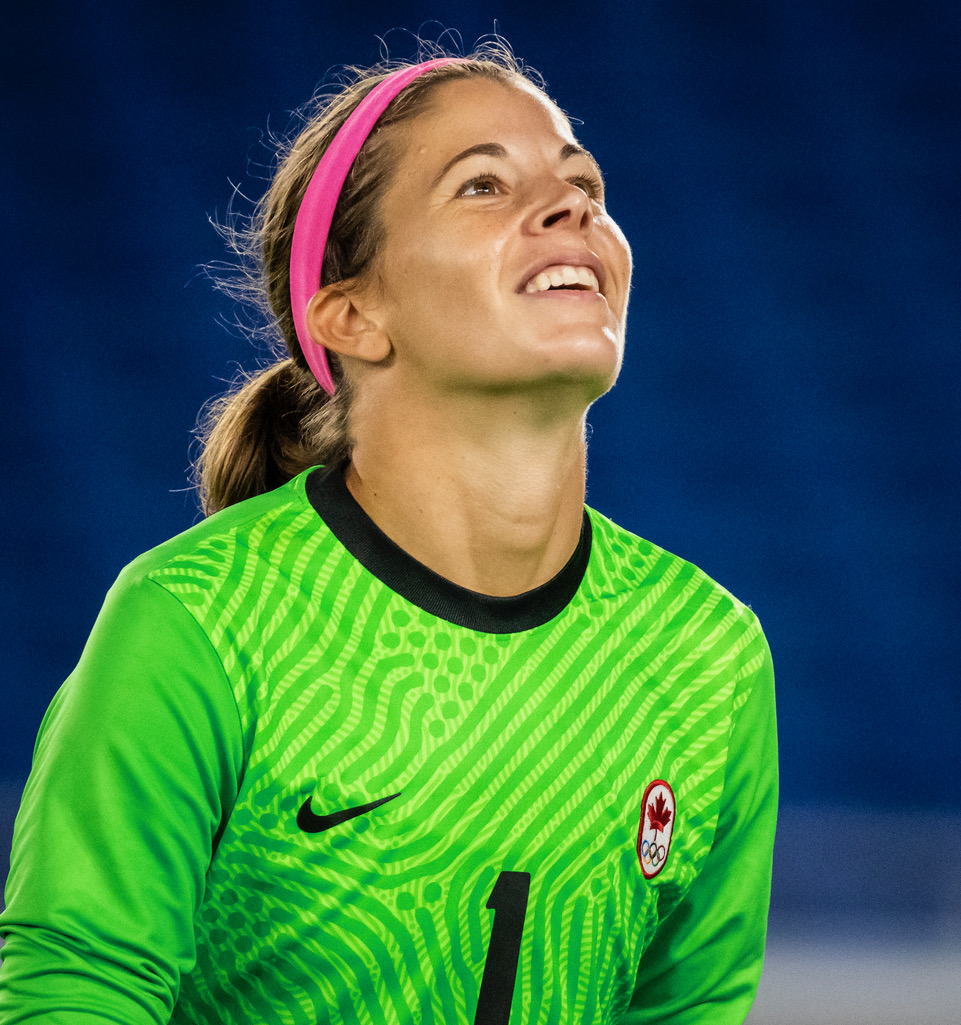 In retirement, Labbé remains a popular figure. Of course, there are repeated requests for selfies — "Too many to count" — and no end of hey-isn't-that-the-goalie double takes.
Hers is a household name by now. And when you see her, even away from the pitch, even out of context, it's a familiar face.
"It's a new thing for me, for sure. I was definitely caught off-guard," she said. "It's made me realize how much of an impact this team — and our performances and that medal — had on this country. It's a continual reminder of what an amazing accomplishment we were able to achieve."
Hence the ongoing attention.
Camping "in the middle of nowhere" between Lake Louise and Jasper, and well off the grid, Labbé was recognized. "There was no service there, so it's not like they looked me up," she said, chuckling. "I'm wearing a plaid jacket and sweats and not looking like a soccer player, that's for sure."
Another time — at Grand Central Station, in the middle of New York City — she got picked out of the teeming crowd by a fan. "I'm like, 'How is this happening?'"
Her influence goes well beyond interactions with appreciative strangers. She's heard that there are suddenly more kids than ever interested in becoming goalkeepers. "Which I think is extremely exciting." As a lasting impact, she couldn't have asked for much more than that, youngsters merrily following in her footsteps.
For Team Canada, she suited up 85 times, making 80 starts and registering 43 shutouts. There was not much more that soccer could wring out of Labbé, which made retirement a relatively easy decision. "I truly felt that I was at the point where I'd given everything to the sport. Mentally and physically, I just felt exhausted and also super excited for the next stage of my life."
Asked what she'll miss most about playing, she doesn't hesitate. Teammates — being surrounded by her best friends every day. "Not waking up and knowing you're going to see them, that's a big change."
What she'll miss least is a longer list. Mind games. Politics. Contract negotiations. Strain of being a top-flight performer. "The weight of that takes a toll. The thought of having to prove yourself every single day, it's quite draining."
Now, eager to share her soccer wisdom, she's launched the Stephanie Labbé Champion Tour. Three dozen camps across the country are already booked for this summer.
"The sheer numbers and the excitement in response to this is incredible."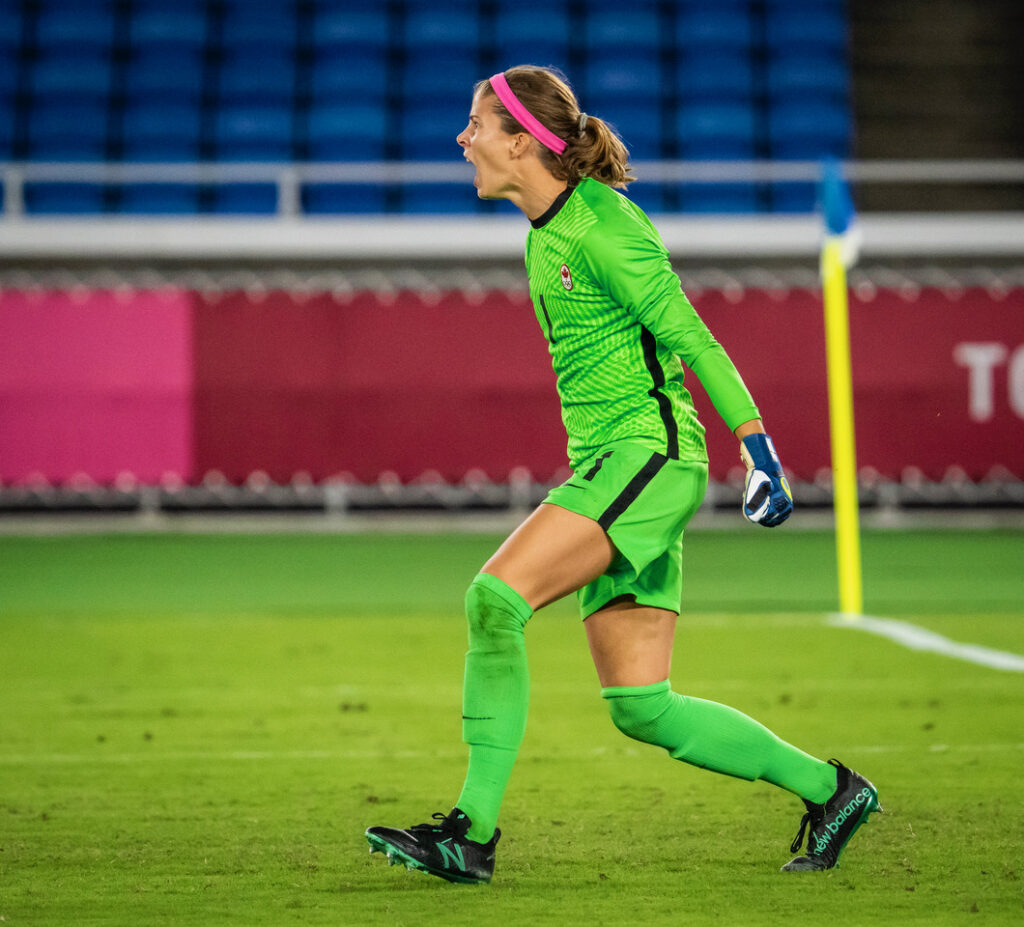 While her work for the Swedish and French clubs had been commendable, it was Labbé's clutch display at the Olympics that sealed her greatness.
Although it was not easy.
Labbé was hurt in the opener against Japan after wrenching her torso. A rib broke off her sternum. There was internal bleeding in her chest cavity. Describing the extent of her wounds, she manages a laugh. "It was quite the injury."
Forced to sit out Canada's match against Chile, she was in and out of the hospital. Eventually, it was determined that she couldn't make things worse by playing, so …
Against Great Britain, only six days after suffering the damage, she started. Maybe to no one's surprise. "It would take some severe broken bones and torn ligaments to keep me out."
Vivid is the quarter-final against Brazil, a victory that required a shootout. "Honestly, that whole game I remember getting battered and bruised and beaten up."
For different reasons, the semifinal against the U.S. stands out. "Before that game, I was struggling with a lot of anxiety and panic," she said. "Because of the challenges I've gone through before and also the work that I've put into my mental strength off the field, I definitely had a lot of tools and resources with me.
"I was speaking to a psychologist on the daily while I was in Tokyo. That was a huge help as well, just having that external voice, someone I knew and trusted that I could speak openly with."
Labbé blanked the Americans, setting up the championship showdown. With gold on the line, Canada and Sweden pushed through regulation time, through overtime, and into the shootout.
At that stage, for a goalkeeper, there is nowhere to hide. All eyes are on you. The game — CBC's most-watched event at the Olympics — drew 4.4 million viewers.
Yet there was Labbé — in the middle of the pressure-cooker — beaming. Like, actually beaming.
She explains that four of Sweden's six shooters had been her teammates with FC Rosengård, so she was trying to get into their heads by smiling. "If I can get them to think about me for even a slight second, I've done my job."
Labbé, who blocked the final three attempts to clinch the shiniest medal, says there was another good reason for wearing that big grin.
"It was pretty genuine — I was really enjoying myself and having a great time."