Photos courtesy of Riley Fleming, and Frederic Blanchet.
Riley Fleming doesn't mind rehashing 2021 — for good reason.
The young man's life took a delightful turn in September when he married his sweetheart, Shauna-Lee. "That was obviously the biggest thing I did last year."
The biggest thing perhaps — but far from the only thing.
"It was a pretty busy summer," added Fleming. "It felt like I was either playing in a tournament or teaching or wedding planning. It was a blur. It went by quick.
"There was a lot going on."
That's one way to put it. Because, in addition to becoming a newlywed, Fleming stitched together one terrific stretch of tournament golf, piling up titles — the PGA of Alberta Assistants, PGA of Alberta, Alberta Open, and PGA Championship of Canada.
All of which moved Golf Canada to name the Airdrie resident the Mike Weir Player of the Year.
Asked about the productive pace, Fleming doesn't mince words.
"Damn near perfect," said the 29-year-old. "It was so good. I couldn't have been happier with it. There was not much I left on the table last year.
"You look at the results — I'm getting goosebumps right now thinking back — it was pretty impressive."
No arguments there. Among those taking note of his accomplishments had been the Calgary Booster Club, which added Fleming to a who's-who shortlist featuring speed skater Jordan Belchos, speed skater Ted-Jan Bloemen, paratriathlete and cross-country runner Stefan Daniel, curler Kevin Koe, hockey player Brayden Point.
"When I heard the names of the finalists, I was just shocked to be included, honestly," said Fleming. "Someone was asking me about it and I was joking with them, 'I know who the other guys are, but I'm certain no one has ever heard of me.' So it's kind of funny."
But it was Fleming who earned the Scott-Mamini Memorial Award as Calgary's male athlete of the year for 2021. All of the winners will be toasted June 26 at the Calgary Booster Club's Sports Gala at WinSport. Tickets are available: https://www.eventbrite.ca/e/68th-annual-calgary-booster-club-sports-gala-tickets-338641544977
"Obviously, it's a huge honour," said Fleming, a teaching pro at Lynx Ridge Golf Club. "And it's also really cool that a golfer got recognized. I don't know if it's happened much. But it's kind of neat because we're obviously a hockey town. I certainly never grew up thinking I'd be a golfer, I thought I'd be a hockey player, too.
"So it's pretty neat to win an award for a game that I obviously love so much."
Riley is the first golfer to be male athlete of the year since Stephen Ames in 2008. Other golfing winners include Bob Wylie, twice, and Keith Alexander.
Without question, the peak of his unforgettable spree was capturing the PGA Championship of Canada. He added his name to a winners' list that includes legendary figures such as Arnold Palmer, Lee Trevino, Moe Norman, George Knudson.
"I've won provincial tournaments, I won my first pro tournament at 20 or 21, I've won smaller events before," said Fleming. "But to break through in a national one was pretty cool, pretty neat."
Interestingly, Fleming had had a hunch. Even before departing for Bromont, Que., he had been convinced that he was bound for first place.
"This weird feeling — and I normally don't do this — but I told my wife, 'I'm going to go out and win it. I'll be back in a week,'" he said. "It was a different emotion, a different feeling. I knew I had a job to do and I was pretty confident I was going to get it done."
But a "terrible" practice round of 74 filled him with concern. Typically a wonderful ball-striker, he trudged to the practice range, where he "found it, sorted it out, and just battled." The businesslike mindset served him well. He reeled off rounds of 66, 63, 68, 66 — 25-under par at Parcours du Vieux Village — and sealed a three-shot triumph.
"I can definitely say I've never put as much into a full tournament, for as long as I did, as I did there," said Fleming. "It was everything I had. I came home exhausted. I've never been more proud.
"It was the best feeling of all time, being able to say, 'Yeah, I left it there. It was all out there.' It was special. I nailed it."
And, this being professional sports, an achievement like that arrives with a dare. Yeah, nicely done, pal — now do it again.
Which happens to be Fleming's plan. That this was a breakthrough, something he can take with him moving forward.
"Now that I know what that feels like," said Fleming. "Golf is a personal thing. You're out there by yourself. It's a solo journey. I look back fondly on just knowing how hard I worked for that week.
"But it's not (only) a week — it was years and years and years of practice to capitalize for one week."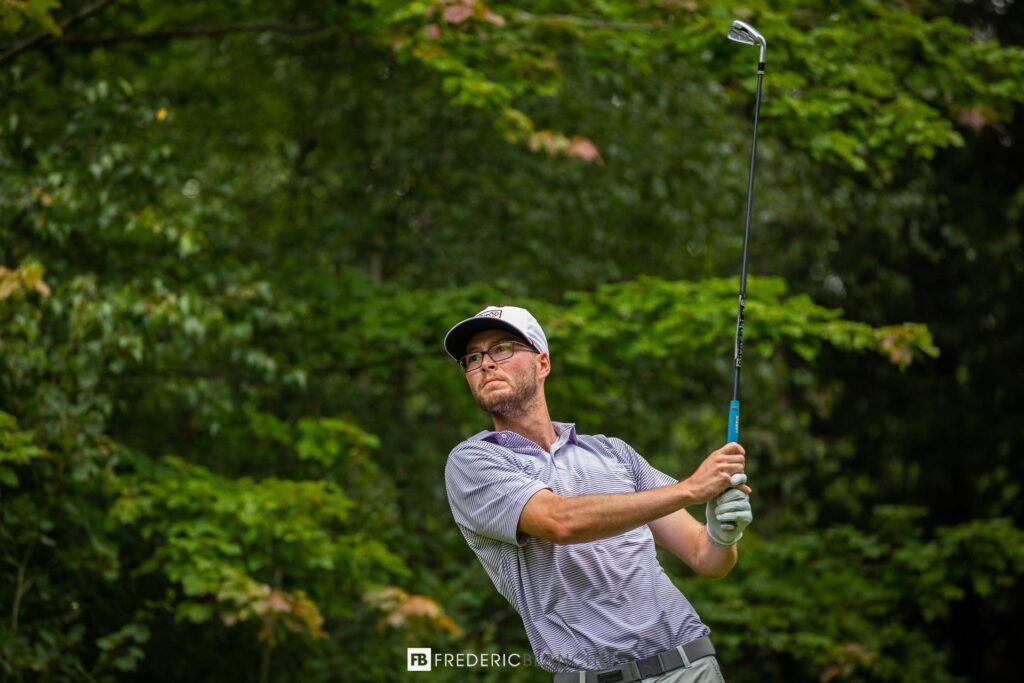 About the time the Airdrie kid had been done with hockey — at age 13 — he was beginning to surge in the world of golf.
Part of it was natural ability. Part of it was an affinity for individual pursuits.
"To be completely honest, I got really tired of winning and losing as a team," said Fleming. "I hate losing as a team. I'll own (my mistakes), but when other people don't, it really bothers me.
"I loved (golf's) aspect of winning and losing by yourself. It's a lonely feeling when you lose, but I really liked it. There's no hiding, there's no blaming, there's no, 'So-and-so dumped the puck in wrong' — it's just you.
"For me, it's a mature game — a beautiful battle against yourself and the golf course."
Entering tournaments, he started to do well. Encouraged, Fleming chose to home-school for Grades 9, 10, 11 in an effort to cram into his life as much golf as possible. "I knew I was behind kids in America. I knew I had some catching up to do."
One day someone brought up the possibility of college. "That's when it got on my radar, but I had no idea what NCAA even was." By 16, though, he knew that a scholarship was within grasp.
He performed for Team Canada's junior side, which turned out to be eye-opening — in a good way. "There was a couple kids on our team — Adam Svensson, for one — who I knew would one day be making millions playing golf. But I knew at that point I could at least take a shot at it."
Fleming did play a year for the University of Texas at Arlington, but then, at the tender age of 20, he turned pro.
And? "I chased it for four and a half years over three continents."
While the pursuit of something like that is gruelling — and never as glamourous as it may sound — Fleming doesn't regret heading overseas.
"The favourite decision I ever made," he said. "You're spending a lot of money, but I look back on so many memories playing in Asia, Europe, and having some life-altering events."
The most powerful example is when he spent a couple of weeks competing in northwest France "surrounded by battle fields and war memorials," said Fleming. "And here I was, upset because I wasn't getting through the tournament … and a hundred years ago, people were there fighting for freedom. It completely changed how I looked at golf.
"It shocked me back into reality, which is exactly what I needed. I realized how lucky I was to be playing a game for a living, instead of going over there (and fighting) at 19.
"That was my last true tournament as a full-time professional."
In his early 20s, back in Calgary and done with touring professionally, Fleming tried his hand at teaching. He discovered he had a knack for it. "I loved it. It was fun. It got my mind off of playing golf."
Two years ago, he joined the staff at Lynx Ridge.
And, in a twist, stepping away from the competitive branch of the game has allowed Fleming to flourish in the few tournaments he does enter.
Because he appreciates golf again. With a newfound balance in his day-to-day existence — holding down a full-time job, not relying on prize money to pay bills — he can better keep things in perspective.
"So when I get out there? It's fun again. I feel like a kid — 'Yeah, I get to go play a tournament this week,'" said Fleming, 6-foot-3. "I'm back to doing what I used to do all the time. It's almost like I get a vacation back into my old life. I can focus on playing good golf.
"I'm looking at golf as a blessing again, not a job. I'm way smarter. I don't waste any time."
Gone are the hours and hours on the range, grinding through the motions, through countless buckets. Fleming admits that he had been guilty of that. "It felt like I was doing work. My hands were sore, my back was sore, there's a bunch of grass missing from the range" — but little was accomplished.
Nowadays he brings a more productive approach to practice. The other day, for instance, Fleming had a seven-minute break in his work day. So he used the time to rap out 20 balls. "It's working on whatever part of my game needs it the most — that's where my attention goes."
Things have come together to the point that he's planning to revisit the possibility of playing full-time again. In the fall, Fleming, new and improved, will take a crack at the Korn Ferry Tour Qualifying School. "It is very much on my radar. I don't think that I'm done."
Except these days in his corner is the support of an entire golf club, the membership of Lynx Ridge.
"When I go away to big events, my phone just explodes," said Fleming. "Especially in such a lonely game like golf, it's pretty cool to have a whole bunch of people cheering you on."