Photos courtesy of the Calgary Roughnecks.
He was good enough — and stubborn enough — to play lacrosse in the summer and hockey in the winter.
Even as he moved into his 20s, he kept up the pace. The idea of surrendering one of his passions never sat well with Kaleb Toth.
"It was non-negotiable."
A couple of his hockey coaches, fearing an injury to the speedy forward, ordered Toth to drop lacrosse. "My rebuttal to them was, 'There's a chance of getting hurt doing anything, so you can't tell me I can't play.'" And that was that.
Which added up to a continuous competitive loop. And, given the schedules of lacrosse and hockey, there was no overlap. Usually.
One year, however, when Toth and the Burnaby Lakers were chasing the Minto Cup, emblematic of junior-lacrosse supremacy in Canada, the Moose Jaw Warriors of the Western Hockey League gave him permission to miss training camp.
The Calgarian's double-barrelled approach went beyond junior.
Skating for the Chesapeake Icebreakers of the East Coast Hockey League, Toth heard from the Toronto Rock, which had selected him second overall in the National Lacrosse League draft. But since the NLL's season ran concurrently to hockey's, he could not do both. So he informed the Rock that he intended to honour his hockey contract.
Later that winter, though, the Rock called back, wondering if Toth could find time to, you know, squeeze in a few lacrosse matches during the hockey season. "Of course, I would've done it," he said. "I would've tried at least."
The plan was run past his coach Chris Nilan, legendary hockey hard-man. "And he said, 'Absolutely not.'"
So Toth carried on in the ECHL, enjoying a bountiful rookie campaign. (Only one teammate would end up scoring more times than him.) The Cleveland Lumberjacks took notice. From what Toth heard they wanted to bring him up the ladder to the International Hockey League — only one rung below the NHL — but the Icebreakers refused to release him, saying they needed the player to stay put.
"To me, that's screwing over a kid that's getting an opportunity. That put a real sour taste in my mouth," said Toth. "After that, I really wanted to give lacrosse a shot."
Done with hockey, he joined the Rock following year and became part of the 2000 championship team. In fact, in the final second of the deciding game against the visiting Rochester Knighthawks, he authored the winning strike, which stands as the last goal ever scored in Maple Leaf Gardens.
Suddenly in a one-sport groove, Toth took off, fashioning a splendid professional career, which spanned 13 years — including 11 for his home-town Calgary Roughnecks — and featured all-star games and playoff sprees.
He may have retired 10 years ago, but his contributions have hardly been forgotten.
Earlier this month, he learned that he is being inducted into the Canadian Lacrosse Hall of Fame.
The Class of 2022 includes a couple of other Roughnecks — Josh Sanderson and Rich Catton — but it was Toth who had been the face of the franchise for more than a decade.
Toth, who will be recognized at the induction ceremony in New Westminster, B.C., in November, says it was thrilling to get the news.
"I was surprised. I was kind of shocked, but definitely honoured."
He laughs. "It was exciting, but, honestly, I thought it was a joke to begin with." After being informed that he'd been singled out for the Canadian Lacrosse Hall of Fame, Toth was told to keep quiet until the official announcement. "I was like, 'Oh, OK. That's awesome. Thank you very much.' Then right when I got off the phone, I honestly thought to myself, 'One of my buddies is messing with me.' So I just kept my mouth shut and waited."
Of course, with a resume like his, there is no denying the qualifications.
It's a bio is crammed with accomplishments. "There's something about every championship you win that's special." He mentions prevailing in the Minto Cup and the Mann Cup, bagging NLL titles in Toronto and Calgary, clinching the 2003 world crown with Team Canada.
"I was on a lot of great teams and I was thankful I got to be a part of it," said Toth. "And I'd like to think I might have contributed a little bit."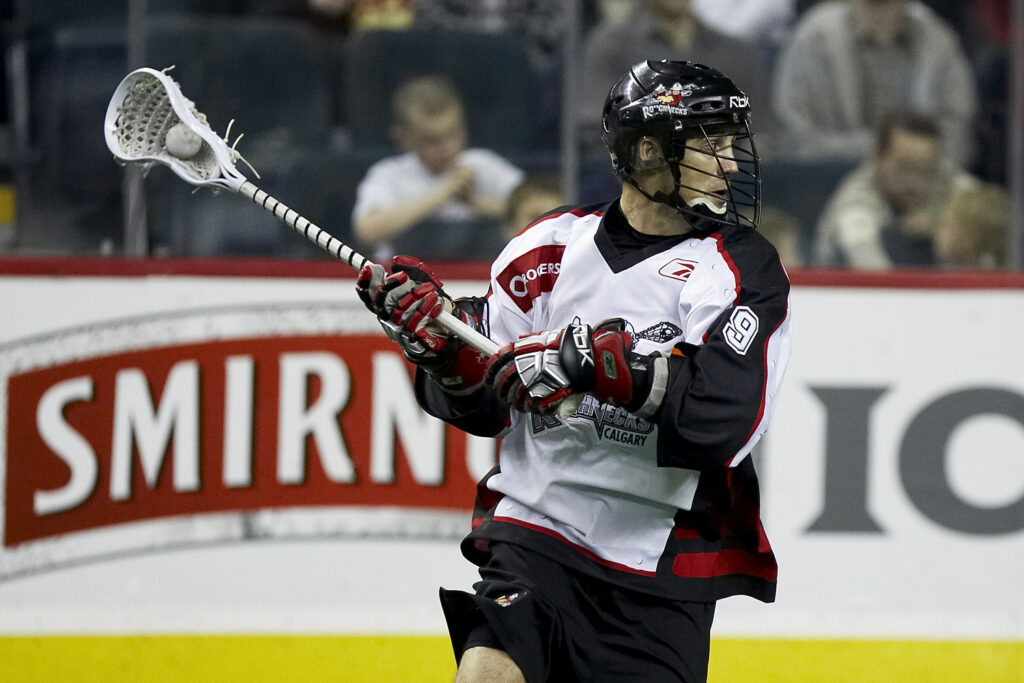 Growing up in the city's southeast, Toth got an early start in sports.
Like, a really early start.
"What happened was my mother was supposed to go register my brother (Joseph) for soccer," said Toth. "When she was at the community hall, she got talked into registering my brother for lacrosse. At the first practice, the coach saw me running around and was like, 'Well, why isn't Kaleb playing?'"
Unfazed by the boy's tender age — three — the coach welcomed him aboard. Just like that, he became a member of the Calgary Axemen. He soon added hockey to his arsenal, chasing pucks for Willow Park, before graduating to the Buffaloes' program.
Dreams in those days were simple. "To play in the NHL," said Toth. "I loved lacrosse, but I didn't even know there was a professional league."
He reached the next level — junior — in both sports, playing for the BCLA's Burnaby Lakers and the WHL's Prince Albert Raiders, Moose Jaw Warriors, Lethbridge Hurricanes.
Toth relished the year-round routine, even if the commitment took a toll. "To be honest with you, it was tough," he said. "It was really tough."
He explains. After skating through the hockey season, he'd shift to lacrosse, running up and down the concrete floor with inevitable results — "horrible shin splints." And because he wasn't on the ice during the summertime, he needed all of training camp — plus extra work before and after practices — to get his skating legs under him.
"But I was always in great shape. I was training all year."
Even when he made the athletic shift to lacrosse-only, he refused to slow down. Winters were spent starring in the NLL. Summers? Playing senior in the Western Lacrosse Association for Victoria, then Nanaimo.
In the midst of that was the arrival of a twist, career-shaking and name-making.
Calgary had landed a spot in the NLL, and the expansion franchise was eager for a marketable presence. Having established himself through two seasons with the Rock, Toth was the obvious target.
Who better than a home-grown hotshot to kickstart the Roughnecks? Toth maintains he never demanded a trade. But the Rock shipped the then-24-year-old to Calgary in return from the top draft pick, Blaine Manning.
"I was a young guy. I had a couple championships under my belt," he said. "And (owner Brad Banister) wanted a local guy he could build a franchise around. It worked out.
"Every break I ever got happened in lacrosse."
Including, it would seem, the Roughnecks adding Tracey Kelusky. The transaction lessened the load for Toth and enhanced the on-floor punch for the squad. "Basically a 1-2 partnership." Together, they helped to push the Roughnecks to the top, capturing the 2004 and 2009 titles.
"Once you win a championship, you never want to lose again," said Toth. "Winning's addictive."
Success in pro sports, though, is rarely long-lived.
Kelusky, in 2011, was traded to the Buffalo Bandits. And the following season marked the end of Toth's run. He tore a quadriceps muscle in camp and, in December at the age of 35, he announced his retirement.
The Roughnecks, under new ownership with a new coaching staff, were keen to turn the page, said Toth. "Realistically, I could've tried to get on somewhere else." But that well-miled carcass — at 6 feet, 190 pounds — was becoming increasingly creaky.
"The wife (Mary-Anne) would see me wake up in the morning and it would take a little while to get the old knees going. So I think she was kind of happy that I retired," said Toth. "We just had our second child. There was a lot of stuff you needed to do as a parent … and not as a million-dollar athlete. We never made enough money that we could just live off of lacrosse. We had to work."
Which, over the years, is something he relayed to the younger players in Calgary — enjoy your playing career as much as possible. "Because one day it's going to end and you're going to have to get back to real life, where you're going to work 9 to 5, you're paying mortgages, you're putting your kids through school. When you're done playing, it's grow-up time."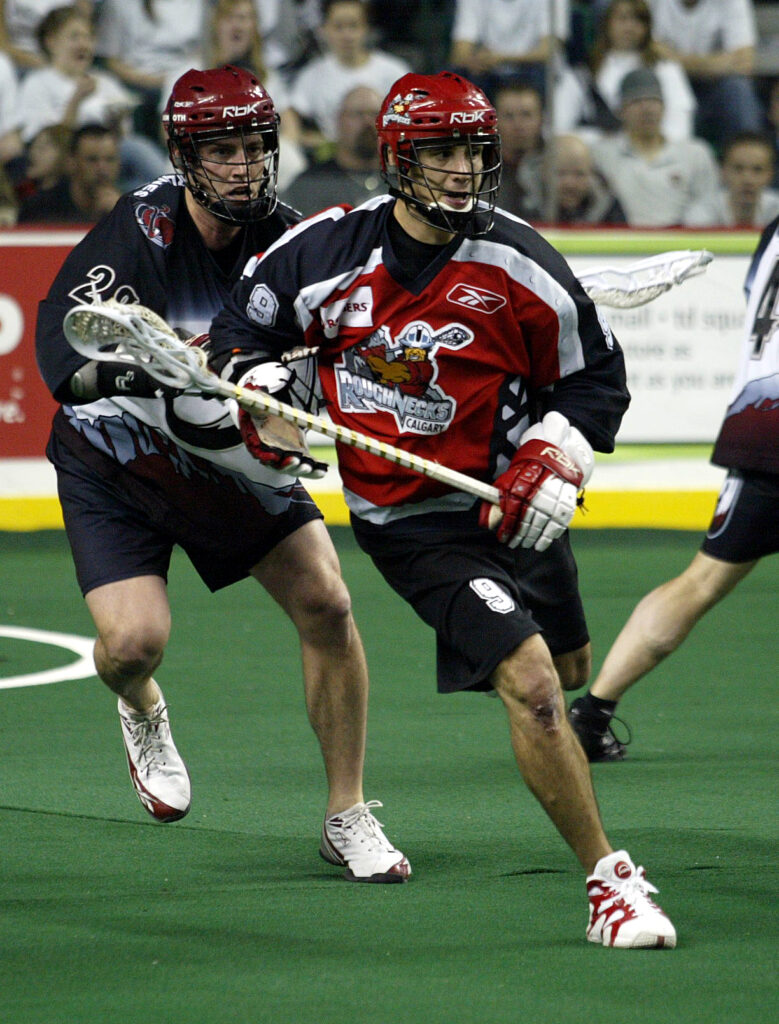 On behalf of Canada Post, Toth marched miles as a letter carrier. But as a casual employee, there was little stability.
Later, settling into Ladysmith, B.C., he'd been volunteering at the local fire department when he was introduced to a gentleman who owned an Integra Tire and Auto Centre. There, in front of him, was an opportunity. For the past half-dozen years, Toth has managed the business.
This past winter, he also served as offensive coach for the NLL's Vancouver Warriors. He is not returning.
"I'm not going to pursue any (coaching jobs) right now," he said. "My kids" — son Deo, 13; daughters Lillianna, 12, Annabella, 7 — "are at an age when they need me and I need to be around."
The man is certainly busy enough these days, toiling at the tire shop, being a dad. This past weekend, he was in Prince George at the B.C. Summer Games, coaching his boy's field lacrosse team.
But evidence of his storied career is kept mostly under wraps.
To refresh his memory about the exact year of the world title, Toth needed to take a peek at the championship ring — which was tucked away somewhere, not on his finger.
In fact, on display in his home is only a single sports item.
Recognized in 2013 at the Forever A Roughneck ceremony — where his No. 9 (a career-long nod to childhood hero Lanny McDonald) was raised to the Saddledome rafters — Toth received a commemorative stick from the club.
That is on the wall his living room.
"I've got jerseys that are framed, but they're in my crawl space," said Toth. "My wife has told me to put them up. If I put them up, it looks like a shrine to myself. I don't need a shrine to myself."
Asked about his legacy in the game, about what people might remember about him, he hedges. He acknowledges that he did possess a hard shot, and teammates used to say that he could do anything — score, defend, fight.
"But I don't know. It's tough for me to talk about myself," said Toth, who turns 45 next month. "When I was younger and a little more cocky, it was easier. But, realistically, I don't like to brag about myself."