Photos courtesy of Dylan James and the Sioux City Musketeers.
Forever fantasizing about an NHL career, dedicating his teenaged years to the pursuit of the highest level, skating through winters of scouting scrutiny, putting an incredible campaign into the books this past season, everything had been building and building.
To this point.
To this draft-day crescendo.
So the notion of being left hanging in the moment of truth? Unforgettably bizarre for Dylan James.
It is the morning of July 8. General managers, having made their first-round choices the previous evening, are barrelling into the remaining rounds of the NHL draft at the Bell Centre in Montreal.
So James, at his family's home in southeast Calgary, is predictably glued to the television, watching as teams declare their second-round picks.
He notices the Chicago Blackhawks, at No. 39, choose a centreman from the Kingston Frontenacs. Studio analysts dissect the decision, introducing the prospect to the viewing audience through a series of highlight clips.
While this is going on, James thinks he catches his name in the background. "I look at my parents and go, 'Did you guys hear that?' And they're like, 'Yeah.'"
Right then, however, the screen offers no clue about the draft order, about whose turn it is.
Stunned, James sits there, assuming his wildest childhood dreams have been realized. But where the heck is he going? What is his NHL destination? He has absolutely no idea.
It feels like an eternity. In reality, "a nervous 30 seconds."
Eventually, the broadcast crew updates the proceedings and James finally learns his fate — he is joining the Detroit Red Wings organization.
"It was pretty cool when I found out it," said James. "Everything was a blur that next 10 minutes. I was kind of just starstruck. I couldn't even think. I can't remember who phoned me. Then a pretty crazy two hours after that."
Fair enough. There is plenty to be excited about, including that draft slot.
Heading into the fateful weekend, James had heard that a number of clubs were interested in his services. In fact, so keen are some of the suitors that he may wind up being plucked in the latter stages in the second round or early in the third — likely, in other words, the 60-to-80 range.
Instead, James is nabbed with the eighth shout of the second round, 40th overall.
"I was pretty shocked," said the speedy winger, who skated last season for the USHL-kingpin Sioux City (Iowa) Musketeers. "I didn't expect to go that high, but I'll take it, obviously."
Because of what had been likely to happen — the boy being drafted was basically a foregone conclusion — well-wishers had flocked to the James residence early that morning.
Everyone, except for an aunt who hadn't anticipated her nephew's significant rise in stock.
"She didn't expect I was going to get picked that early, right?" said James, chuckling. "So she went to Tim Hortons to get some muffins and she ended up being late. She was bummed, but I got some muffins."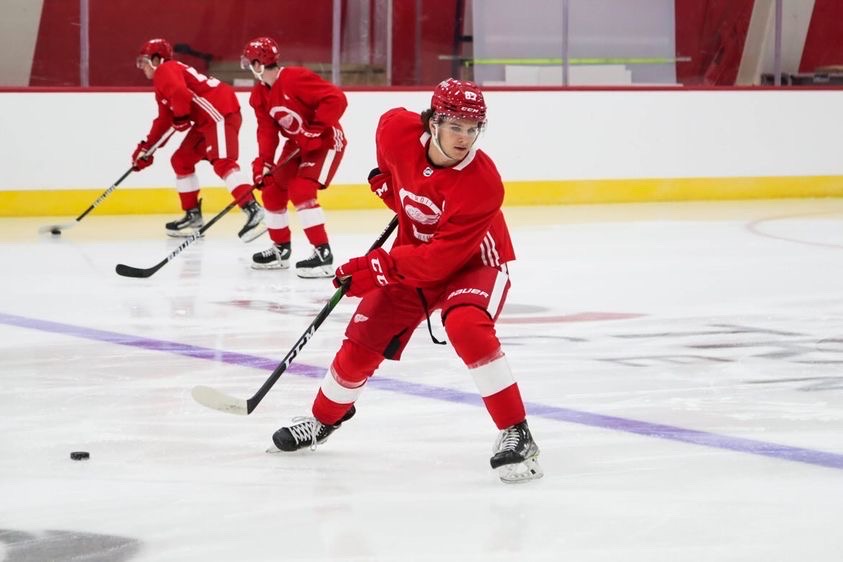 Right now, James is in Grand Forks, where he'll attend the University of North Dakota in the fall.
He's participating in morning workouts and informal practices with the varsity gang — and, hopefully, spending some time gathering his thoughts.
It has been that kind of off-season for the teenager.
When the Musketeers, by knocking off the home-ice Madison Capitols, laid claim to the league crown, it was May 21. Days later, James was whisked to Buffalo where, along with 90 other hotshots, he competed in the NHL prospects combine.
There was fitness testing — "The VO2 bike was brutal" — and tape-measuring (he carries 177 pounds on his 6-foot frame), plus loads of interviews. James ended up meeting with 23 clubs, including six in a single day.
"Pretty exhausting," said James, adding that the hockey fan in him was thrilled by the company he was suddenly keeping. "I was in awe, for sure, of the Yzermans and the Sakics. It's like 23 job interviews for your future with legends. So it's a tough week. It's pretty nerve-wracking, a couple stutters here and there. But I got through it."
(James is asked if, upon reflection, there had been any indication that the Wings would be in his future. "I think I did pretty well in the chat. (General manager) Steve Yzerman's a pretty serious dude, so I couldn't read him and see what he thought. I didn't think Detroit was going to be a huge one, but, I mean, you really don't know. I heard they were talking to some of my old coaches and what-not right before the draft, so I could see it.")
Confident of the impression left on NHL deciders — thanks to his in-season display (as the USHL's top rookie) and his showing at the combine — James decided he'd done all he could.
He would remain in Calgary for the draft. "I hadn't been home in months," he explained. "I had some friends and family over, celebrated with them, so it was nice. I wanted to go to the draft, but I didn't want to leave home again. It's been a busy summer already."
Which continued full throttle after the draft.
With the rest of the Wings prospects, James was in Detroit for the week-long development camp, staged at Little Caesars Arena.
"It was sick," he said, rattling off the (household) names of hockey-ops chaps such as Niklas Kronwall, Kris Draper, Dan Cleary, Yzerman. "I'm sure you know them … they've got a good staff there, so it was a fun week."
Shortly after that, he accepted an invitation to the national-junior camp, the start of preparations for the squad bound for the world championship in Halifax and Moncton this winter.
Then, on Aug. 1, he made his way to Grand Forks to bunker in for his freshman year.
"It's been really busy," said James. "I was in Calgary for a good 10 days this summer … I haven't really been home. It's not a bad problem to have, being busy, right? It's nice."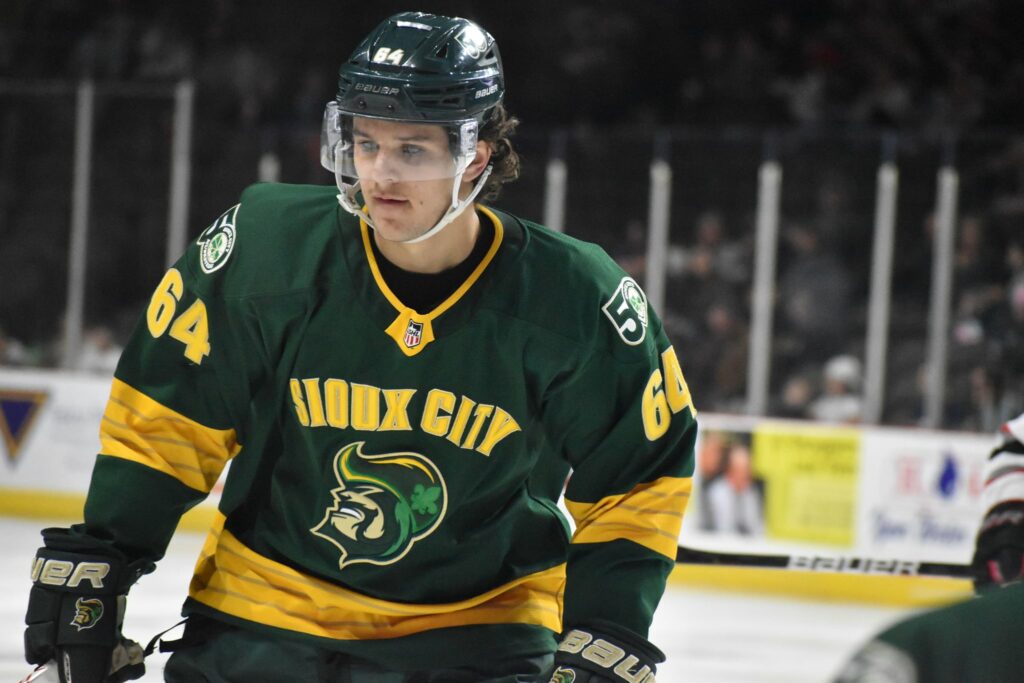 With hockey-playing big brothers — Kyle and Justen — and access to a backyard rink, it's no surprise that James embraced hockey.
"If you're Canadian, you probably play hockey at some point in your life," he said. "I started skating when I was two. My mom (Michelle) was telling me not too long ago that she'd take me out skating when my brothers were at school."
While his favourite team these days is obvious — "A Wings fan now, baby" — he did have a soft spot for the home-town crew.
At least for a while. "From birth till 10, I was a Flames fan," said James. "Then I fell in love with St. Louis. I liked (Vladimir) Tarasenko and I liked their jerseys. So I was a St. Louis fan. Till now."
Since his grandpa was a season-ticket holder, the boy got to see his fair share of Flames games. "Pretty cool. I grew up watching (Jarome) Iginla in his prime, right? I kind of idolized him."
His devotion to hockey had been only enhanced by those trips to the Saddledome.
"I left that building every game more motivated than I was entering it." While he does like to ski, nothing came close to his passion for hockey. "I didn't want to waste my time elsewhere."
Progress was plain. Rep hockey for the Buffaloes. Serious attention from outsiders.
The Brandon Wheat Kings nabbed him in the 2018 WHL bantam draft. Not long after that, UND reached out with a scholarship offer (acceptance of which, of course, means only Junior A hockey — no WHL).
What's a youngster to do?
Keep his eyes open. One August, on the way to Wheat Kings' main camp, the James clan made a southward detour — to Grand Forks, where they checked out the campus and, of course, Ralph Engelstad Arena. Which got him thinking.
"When you're 15 you don't know how good you're going to be," said James. "You don't know how hockey's going to go for you in three years." So despite being from this part of the world — "where the Western Hockey League is surrounding you" — he committed to North Dakota.
"I figured this place was going to be better for me."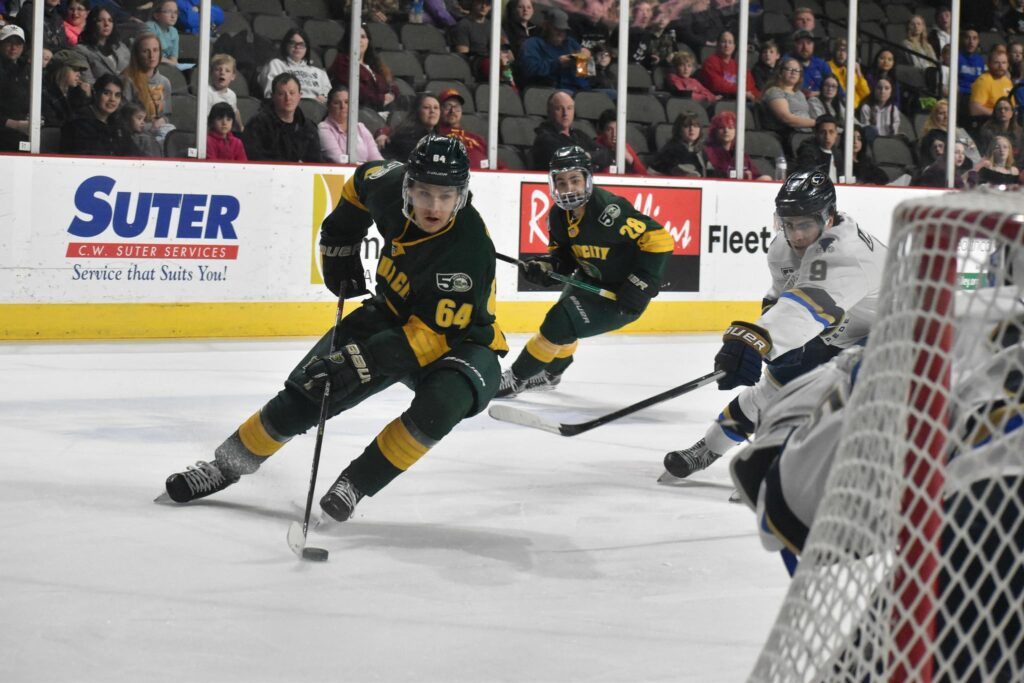 First, though, he needed to finish off Grades 11 and 12. In his first season with the Okotoks Oilers — piling up 43 points — he made the AJHL's (South) All-Rookie Team. The following winter, however, COVID restrictions limited James to seven games. Definitely a downer for someone heading into his draft year.
But he had options for the 2021-22 season. The Musketeers had selected him in the 2019 USHL draft. Unsure of what the pandemic protocols would look like in Alberta, he decided to play in Sioux City. "I didn't know much about the place," said James. "But definitely no regrets with that."
Tugging on a green sweater with No. 64 on the back — a nod to the birth-year of his dad Robin — he thrived. He appreciated his billets, his coaches and teammates. Everyone and everything. "I didn't know anyone going in there and that was probably the closest team I've been on."
A great draft-year situation. Not that James paid too much attention to outside noise. He avoided mock drafts and hot takes. "I wasn't searching up the Twitter guys."
On Central Scouting's preliminary report, James was considered to be a C prospect, an indication of fourth-, fifth-, sixth-round potential.
By midseason, he sat 67th.
And on the final list of rankings? Up to 37th.
The ascension, of course, reflects his season, which started solidly, then got better. He finished with 61 points in 62 outings.
The postseason only bolstered his profile. And not because of his playoff beard.
He laughs. "Just a chin-strap type of thing — only on the bottom. I can't grow anything on the cheeks."
But in harness, on the ice, James was a go-to presence as the Musketeers worked their way through Waterloo, Tri-City (which, at 47-11-4, had been league's top outfit), and Madison.
"It was crazy. I've never been a part of games with that many fans," said James, who registered eight points in 10 spring dates. "I'd never played a junior playoff game. So that was my first crack at it.
"I felt that personally I did pretty well. I had some clutch goals. (NHL) teams would like to see that. Being part of a championship team is a good quality."