Photos courtesy of Sarah Orban.
This athletic slate is already brimming.
Playing soccer and running track for Lethbridge College.
Then playing soccer and running track for the University of Lethbridge.
Still, for Sarah Orban, there is a piece missing. "Decently competitive," is how she describes her U Sports status. An outside midfielder, she realizes that the window for drawing national-team consideration has closed. And, as a sprinter, she is good — regularly qualifying for finals, but rarely getting onto the podium.
The end of the Calgarian's varsity career is within sight — only a year or so away.
But Orban's father, Scott — who played professional hockey, who raised two sons, James and Blake, who would follow in his footsteps — knows his daughter possesses gumption. "He was always in my ear, 'You could go to the Olympics one day.' He was a huge supporter of me and believed in me."
In what sport, they do not know. That detail remains hazy.
Then one day Dad discovers the details of a Bobsleigh Canada Skeleton identification camp. "He motivated me to go give that a whirl," she said.
Signed up, Orban is put through a battery of "pure-power" tests — sprint, long jump, medicine-ball toss. Bobsleigh Canada Skeleton brass calls a few weeks later to say that her numbers match those of national-team members.
"That's what sparked me, 'OK, maybe I could make it to the Olympics in this sport,'" she said. "That got me thinking that, after university, I'd go try out skeleton."
Bobsleigh Canada Skeleton also encourages Orban to check out RBC Training Ground, a platform for young athletes to showcase themselves to a range of national sporting organizations. Doing well there, she is told, will help her secure funding to kickstart her sliding career.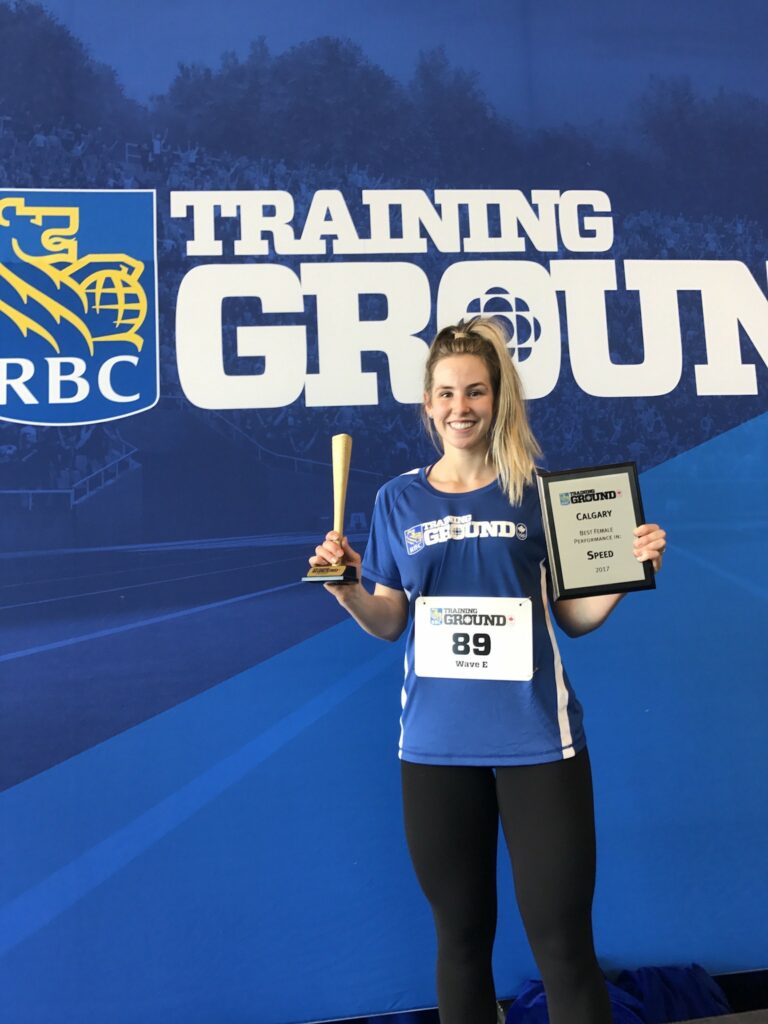 After strutting her stuff at one of the regional tryouts, she advances with 99 others from around the province for RBC Training Ground's event at the Canadian Sport Institute Calgary, where in a single day hopefuls are ranked for endurance, lower- and upper-body strength, speed, explosiveness. Among the challenges is a six-second stationary bike test, which measures how much power, in relation to body weight, a candidate can generate. (Spoiler: she aces this task.)
That is April 2017. Orban is 21 years old.
"I knew I could do well," she recalled. "It went better than I expected."
Orban, after scores are tabulated, is declared the top performer in Alberta. Based on the attention-grabbing display, she is officially recruited by Rugby Canada, Bobsleigh Canada Skeleton, Athletics Canada, Cycling Canada.
"I thought it was pretty cool that all these sports reached out," she said. "I had no idea what path I wanted to go down. But I wanted to give them all a shot."
Well, except Athletics Canada. As Orban explains, she'd already run track. "And I didn't see myself making it to the next level."
Which leaves three potential undertakings.
For skeleton, she grinds through more dryland testing. Then, aboard a sled, she is shoved from the track's top.
"I was getting banged around like a ping pong ball," said Orban, chuckling. "The sled actually flipped and hit me in the face. I didn't really see that sport being for me. And not just because of the crash. It's a really short amount of time where you use your physical abilities — only five seconds, the running start. On the way down, it's really finesse, a mental game."
Skeleton scratched, she flies to Victoria for a closer look at rugby. She knows very little about the sport, but from her soccer days, she is familiar with a team setting. But, at this point, Orban is looking for something fresh. "I was ready to go all-in on my own. That lined up with track cycling."
At the Glenmore Velodrome, an outdoor facility in southwest Calgary, she gets her first look at a sport she'd seen only on TV. She'd never ridden a track bike. Never seen one up close.
On site, she discovers there are no brakes. Gamely, she clambers aboard, chugs through her first lap — and is hooked.
"Definitely different and scary, but I liked that kind of fear side of it," said Orban. "I liked the sound of the challenge.
"At the end of the day, I ended up picking cycling, mainly because I saw myself having the most success."
The hunch, as it turns out, is on the money.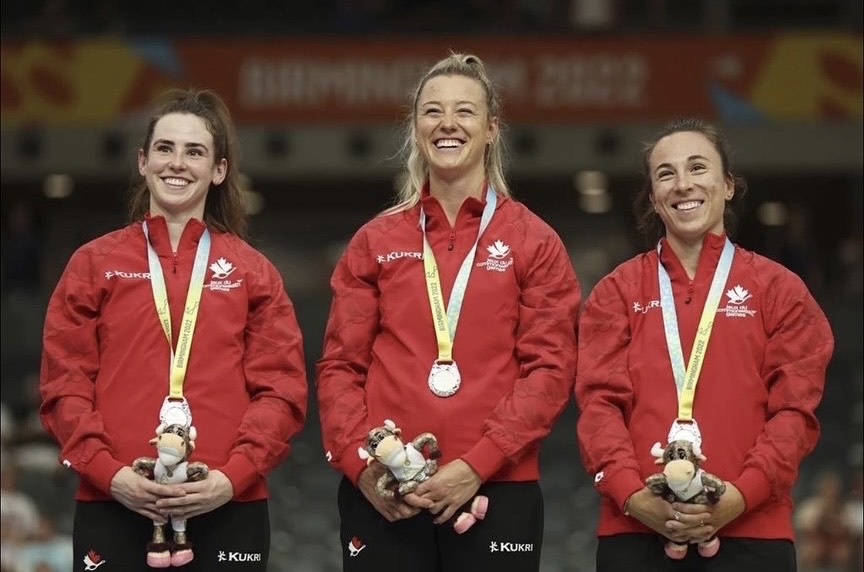 Telling this remarkable tale is someone with a Commonwealth Games medal around her neck.
Earlier this summer in Birmingham, England — only fours years after embracing track cycling — Orban teamed up with Kelsey Mitchell and Lauriane Genest and jumped onto the second step of the podium.
"It's very special," she said of receiving silver in the women's team sprint. "Everything happens so fast. It's hard to process it in the moment. The emotions come in the days following — at least that's how I experienced it. But it was definitely an amazing feeling standing next to my teammates who I train with every single day.
"It was a pretty cool feeling, especially at my first major Games. That was a big moment."
And a well-earned one.
Orban is devoted. Her commitment is undeniable.
A couple of years ago, she relocated from Calgary to Milton, Ont., home of the national squad and host of the Canadian championships, where, this past weekend, she earned a couple of bronzes (time trial, team pursuit), a couple of silvers (keirin, sprint), and a gold medal (team sprint).
But those races had been less about filling the trophy case and more about preparation for next month's world championships in Paris. The competition takes place at the site of the 2024 Olympics.
A connection that is not lost on Orban.
Competing in the Summer Games, after all, is the whole point of this sweaty enterprise. And it's not farfetched. Not anymore.
Some day she may chase down a master's degree en route to a career as sports psychologist. Or see what comes of her recipe-preparation sideline (sorbscooking.com) or maybe even capitalize on her social-media prowess (@saraheorban has attracted 275,000 followers on Instagram).
But right now? She's locked on the Olympics.
"It's definitely a goal and it's within reach," said Orban. "That's what keeps me motivated to get up and train every day and work towards the small goals. I like to focus on the process.
"The big-picture goal is the Olympics. That's what keeps me going, that keeps me hungry for more.
"It's been quite the journey. At this point, I feel like I've been a cyclist forever."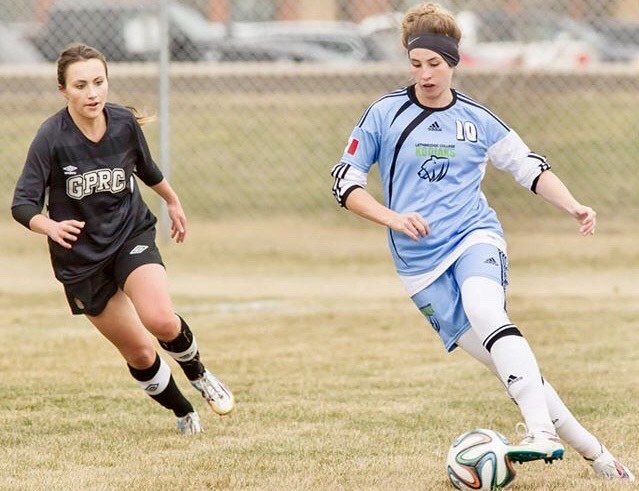 As a little girl in the southeast community of McKenzie Lake, Orban dabbled in all sorts of activities, including diving, hockey, gymnastics. "The one that really stuck was soccer."
From Timbits, she progressed swiftly on the pitch. Grades 8 and 9 were spent at Fairview School, in the National Sport Academy's program. "At that age, I was just playing for the sake of playing, but I was super competitive," she said. "I wasn't really thinking about scholarships. Not even Team Canada. I just wanted to play in the highest level in the city."
Graduating from E.P. Scarlett High School, she spent two years at Lethbridge College, then three at the University of Lethbridge, earning degrees in psychology and kinesiology.
Her post-secondary foray into sprinting is telling — she simply wanted to train more, to be pushed harder. With soccer in the fall, indoor track in the winter, the timing of the seasons panned out.
But Orban's athletic quiver was far from full. She was still putting into place building blocks. "You can learn so much from all kinds of sports and use those skills to hone in on one. You gain a lot more that way than just focusing on one sport."
So when the 5-foot-5 powerhouse pledged herself to track cycling, it was no lark. Immersion had been required, because this wasn't going to be as simple as hopping on a bike in the spring of 2018 and spinning to glory.
Orban says it took her a year and a half of hard work before she even considered herself a legitimate cyclist. "Super challenging, especially in the beginning," she said. "There's lots — a lot — to learn. Technical skills that I really didn't even think about."
Dedicated to the cause, she progressed to the point where she was named an alternate for the 2020 Olympics. "Unless they were injured there was no chance of me going (to Tokyo)."
Not that Orban has been shortchanged in the travel department.
Living out of a suitcase is a surefire indication of headway.
This summer, commitments took her to Scotland in April, Colombia in June. Then, immediately after the Commonwealth Games in England, she was bound for Peru and the Pan-Am championships, where Orban and her two friends claimed gold in the women's team sprint.
Upcoming passport stamps? France for the worlds in October. Then the national gang gets busy preparing for the Nation's Cup — the sport's top circuit circuit — which opens in February in Indonesia.
The globe-trotting is fitting, given how this adventure began.
As a reward for winning the RBC Training Ground, Orban got to travel to PyeongChang, South Korea, for the 2018 Winter Games. She visited the athletes' village and checked out Canada House. She met athletes and attended events.
For any sports fan, it would have been a remarkable trip.
But for someone who had just landed on a fresh athletic ambition, it added up to one powerful experience.
"Definitely being there sparked the fire," said Orban. "I said to myself, 'These athletes work hard to get here. Why not me?' Ever since then I've been on this journey trying to make it to the Olympics and make that dream a reality."