Photos courtesy of Stefan Daniel.
Pitted against the finest paratriathletes on the planet, Stefan Daniel prevails. This, very often, is the story.
For example, this past summer's consecutive wins:
June in Spain.
July in Montreal.
August in Wales.
Following that spree of dominance, the globe-trotting, gold-grabbing glutton for punishment had nothing pressing — nothing, that is, until the world paratriathlon championship in Abu Dhabi in late November.
The Calgarian saw the scheduling gap for what it was — a tantalizing opportunity.
To rest? To recover? To regroup? Nope. Not likely. Not this guy.
Instead, Daniel embraced the idea of invigorating his training, of broadening his racing horizons, of heaving himself into the deep end of a fresh challenge. So he entered a half-ironman in Santa Cruz, Calif.
Big deal, you might say. Swim, bike, run — same disciplines in the same order. Same sport, right? Yes and no.
On the world paratriathlon circuit, Daniel competes in sprint distance — 750 metres in the water, 20 kilometres on the bike, five kilometres on the trot — and typically he needs a shade less than an hour to break the tape and earn his place atop the podium.
But the half-ironman is a considerable load — 1.9-kilometre swim, 90-kilometre cycle, 21.1-kilometre run. Roughly four times the demands of his bread and butter. A heck of a departure, especially mid-season, for an elite athlete.
"It really wasn't in the plans at the start of the year," explained Daniel. "But over the course of figuring out a schedule, I started to think about doing one. My last para-race was in Swansea in early August and then I didn't have any races till the end of November, which is a very long time.
"So we thought it might be fun to throw in a little bit of a volume block, do some half-ironman training, and just try one. That was kind of it.
"It was more to do something different … and it was a good time to do it."
Before the Sept. 11 race, he was able to soak up a few weeks of half-ironman preparation — which he describes as "maintaining an uncomfortable pace for a longer time" — but banked not nearly enough hours to make a full-scale transition to the longer course.
Then again, this isn't some weekend warrior trying to lever his keister out of a La-Z-Boy.
But even primetime performers such as Daniel can harbour concerns. Even four-time world champions with multiple Paralympic medals can feel a wee apprehensive about a new undertaking. Tweeted Daniel a few weeks before the race: "2 goals for this one: don't bonk or cramp. Looking forward to trying something a little different! #InOne"
Excited to make my Ironman 70.3 debut at @IRONMANtri Santa Cruz on September 11th with @eric_dokter and @its_ellla ! 2 goals for this one: don't bonk or cramp 😵‍💫. Looking forward to trying something a little different! #InOne pic.twitter.com/wtYQZ9mKi5

— Stefan Daniel (@sdaniel97) August 25, 2022
The fateful day arrived.
Fast forward to the finish line of his half-ironman debut — 12th place in the men's professional division. "I really enjoyed it," Daniel said. "I was just trying to stay within myself."
He completed the ocean swim in 24:29, cycling portion in 2:10:17, which left his go-to element — the run.
"I did two, three, four K, then I started to cramp," said Daniel. "That's just learning. You get experience. I wasn't used to the distance, so it was probably to be expected."
Once his leg muscles began to rebel, there was very little he could do. "It's pretty much impossible to get back. You can kind of get back, but not really."
Nutritionally, there are things he might have done differently. "I just burned a lot more than I thought I would. Now I'll know for next time."
Hurting but with a handful of kilometres to go, Daniel couldn't help but notice that he was on pace for a sub-four-hour clocking — which is remarkably good.
He'd resisted the pre-race temptation to set targets. "Because I hadn't trained much specifically for this, I didn't want to carry expectations. I just wanted to go out and have fun with it. It was a pretty deep field. I didn't know how I'd place or anything."
But the notion of cracking four hours? Now that was a benchmark worth pursuing, enough to keep him chugging along painfully on those tightening legs.
Teeth clenched, Daniel finished in 3:59:53, one of only 14 entrants (in a field of 2,711) to sneak in under four hours.
This, after all, is someone accustomed to in-race suffering. It is central to his chosen sport. But the half-ironman — sometimes referred to as the 70.3 (for the total number of miles of the course) — produced a new sensation of discomfort. "Especially on the run," he said. "Aerobically, your heart rate's not that high, it doesn't feel like you're working. But your legs are just dead … your body's not responding — it's an interesting feeling.
"Very, very different than what I'm used to. I'm used to a very short, fast, extremely painful race. But this was more of a mental and physical grind than anything. It was a good challenge. I enjoyed it a lot."
Twenty-five years old and a frequent visitor to the winner's circle, he actually appreciated the shove out of his comfort zone.
"Definitely," said Daniel. "There's a lot of depth, so you get challenged no matter how fit you are. Being pushed in all areas will really benefit me. It will really help me more towards Paris."
In France, the 2024 Paralympics will mark Daniel's third trip to the Games — he earned a silver medal at 2016 Rio de Janeiro and a bronze at 2020 Tokyo last year — and the Santa Cruz half-ironman will be viewed as a building block of sorts.
Eventually. Because he admits that since the race his legs have been pretty stiff. He did nothing for three days. Then, resuming his regimen, he went for a swim.
"Obviously, my body's in shock. I've never done one of those before," said Daniel. "But it's not like I walked or anything — some guys were walking out there, so I managed better than them.
"I'm able to train again, so that's good."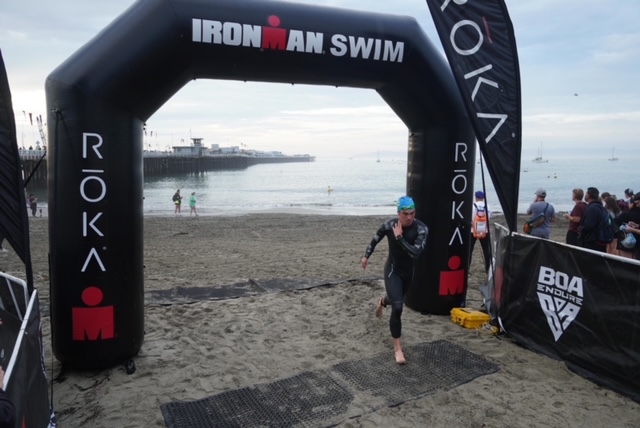 History shows that this young man isn't one to idle.
After the Toyko Paralympics, he returned home and immediately jumped back into the rotation with the University of Calgary cross-country crew.
Daniel had been part of the Dinos' back-to-back national titles — laying claim to the Canada West conference's individual crown once — and the 2021 season for a few of veteran dashers represented their final year of eligibility.
So, understandably, he wanted to be there.
"That was probably a mistake," he said. "I ran into injury trouble pretty quickly. I think my body was telling me to stop. I tried to run, but it wasn't a great year. I don't regret trying — it was still fun.
"For any athlete, whether we do well or not, it's such a long build going into an Olympic or Paralympic Games. You put all your time and focus and everything into that. Once it passes, you go into the post-Games blues, I call it. You're kind of de-motivated — 'What's next?' Your body and mind needs a break."
Sound now — mentally and physically (give or take that recently earned leg soreness) — Daniel's next phase is a trip at the end of this month to Flagstaff, Ariz., where the national paratriathlon team is holding a high-altitude (and, he dearly hopes, snow-free) camp.
At that point, there'll be two months till he graces the world stage in Abu Dhabi in the United Arab Emirates.
"I obviously want to go there to try to win it."
His aim, of course, is hardly outlandish. Already, he's bagged four world paratriathlon championships (2015, 2017, 2018, 2019).
In a stretch between June 2018 and July 2021, Daniel raced nine times internationally — capturing all of events. On the world's top paratriathlon circuit, he's made 51 starts in his career, getting gold in 28 of them.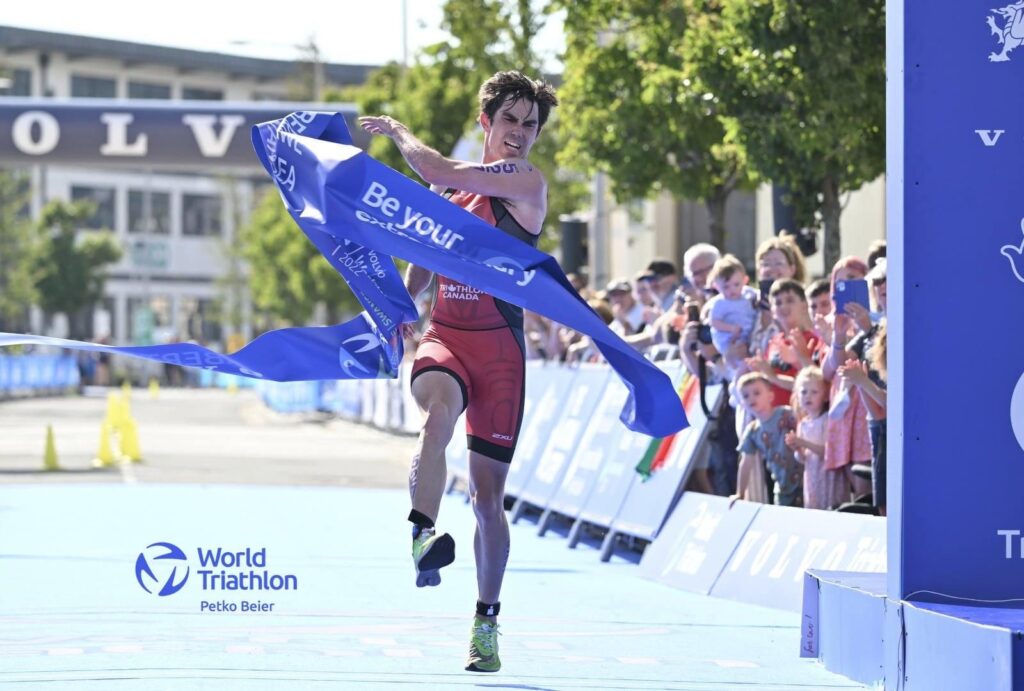 Now, thanks to the aforementioned productive summer, he's on a three-race winning streak.
"I've been lucky to have a relatively consistent career," said Daniel, who was born with bilateral radial club hands. "I haven't had too many dropoffs or anything like that."
And apparently he is far from finished when it comes to burnishing his brand.
Daniel expects to enter more half-ironmans, leading up to, at some point, the full distance — 3.9 kilometre swim, 180.2 kilometre cycle, 42.2 kilometre run. And? Cross-country running still appeals to him, so he's not done with that, either.
This is what he does, what he loves. Within a year, he'll have nailed down his business degree from UCalgary, but he's in no panic to embark on a workaday existence. "I'll see what avenues open up for me," said Daniel. "I'll get through Paris … then if I'm not ready for a job job, I'll keep doing triathlon for a bit. Right now, I'm just focused on the next couple of years — then we'll go from there."
Because, as he points out, this is no chore. When he throws himself into a training block, it is with genuine appreciation. Even if practice commitments for the three disciplines keep him hustling up to 25 hours per week, not including weightroom sessions.
"Everybody goes through periods where they lack motivation," said Daniel. "There are days when you aren't motivated, but those are the important days to get through. You always remember how you feel after a good race and it makes all those days worth it. I try to remember my goals and all that stuff. And I do enjoy what I do.
"It's long hours, but I know it's a pretty sweet gig to have and I'm pretty thankful for it."