Photos courtesy of UCalgary Dinos, Field Hockey Canada, and Yan Huckendubler.
Clearing her throat, Melanie Scholz stands up and belts out O Canada.
Her audience is relatively small — teammates on the national women's field hockey crew — but appreciative.
This is a powerful moment for Scholz.
Having just earned her first senior cap by participating in Canada's opener at the Commonwealth Games in Birmingham, England, that had been the next step — the solo rendition of the national anthem, which is the traditional welcome-aboard for newcomers. You play, you sing, which Scholz merrily does in a meeting room in the Athletes' Village.
She also autographs the Canadian flag the team brings on its tours. And, as a keepsake, she is handed the game ball.
For perspective on the achievement, Scholz points out that her roommate, earlier in the summer, had reached the 200-cap milestone.
Just beginning her own adventure, the Calgarian will never forget July 29, the day she got to play for the country's top unit. Not only did the rookie start the contest against Wales — "Pretty cool" — it was, in her mind, the ideal scenario for her debut.
"I was like, 'This is probably the best it could've gone,'" said Scholz, whose outfit posted a 4-0 victory. "We weren't playing a bad team. They were super competitive. And also we're not playing the Netherlands, where we're just going to get wrecked, basically.
"It was the perfect game for back and forth, for building my confidence. I was quite relieved."
The Canadians moved through the group stage with two wins and two losses, putting them into a fifth-place contest against Scotland, which they won. The triumph assured their best-ever finish at the Commonwealth Games.
For Scholz, who saw plenty of action, the event had been an education. "I did start to feel more comfortable, whether or not that showed. I honestly felt better … I had something to bring."
The Canadians departed Birmingham after the Games, concluding a stretch overseas of two months. Understandably tuckered, Scholz returned to Calgary.
"Just re-connecting with people, seeing my family and stuff," she said. "I can be myself around my team, but it's so comforting to just be around your parents (Kari and Carl), to be in the city that you're from, to feel at home again for a bit — before you have to go back."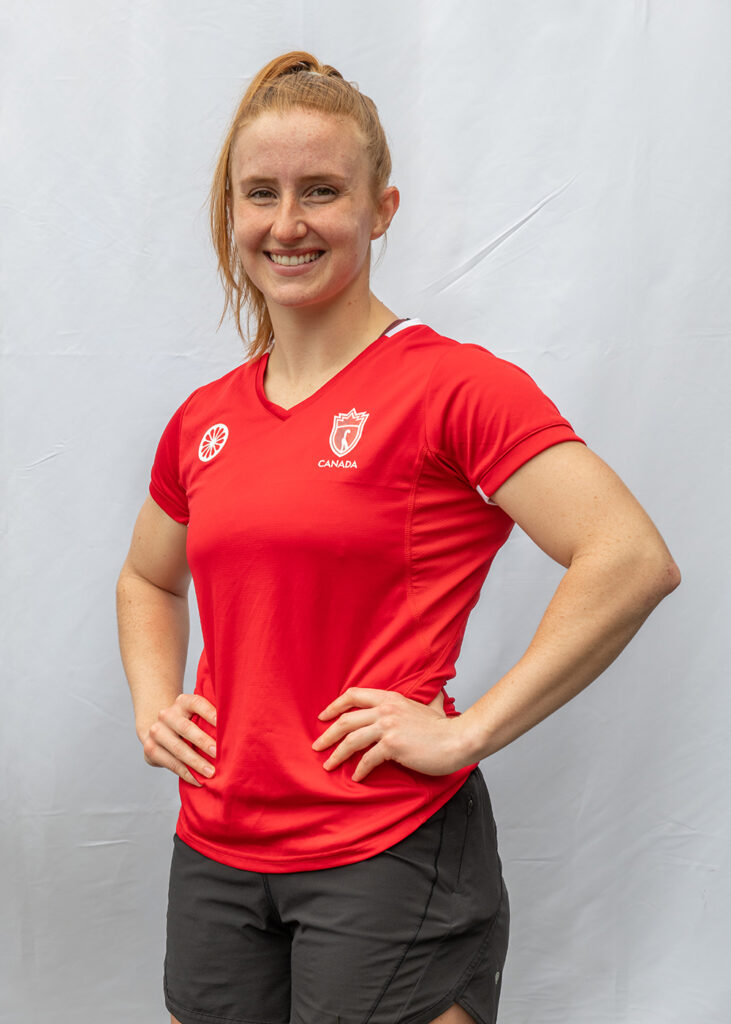 By Sept. 14, only a month later, Scholz was back in Vancouver, headquarters of the national team.
Graduating from the University of Calgary this past spring, earning a kinesiology degree and finishing her Dinos career, now it is time to get accustomed to life as a full-time athlete.
The 22-year-old's plan is straightforward: "To really commit to field hockey and see where we can get with Olympic qualification. The big push is right now, so I really wanted to be dedicated to the program and see where that goes."
Ahead for the squad — besides a punishing amount of training — is the Nations Cup in Valencia, Spain in December. After that? The 2023 Pan-Am Games in Chile.
The end game, no surprise, is the Olympics — where Canada's women haven't appeared since 1992. Ranked 14th in the world, they are aiming for the Summer Games in Paris.
"I think everyone is thinking about it," said Scholz, adding that the team had been "so close" to earning a berth in the Tokyo Games. "It was heart-breaking for the core group. I think it's in the back of their minds, that they're holding on for one more Olympic run to see if they can make some magic happen."
Not yet part of the senior program during the qualifying process, Scholz, nevertheless, had kept close tabs on their attempt. "I remember watching it and seeing my role models — and now they're my teammates," she said. "It's kind of weird in that sense, too."
Partially because the path to the top has been relatively brisk.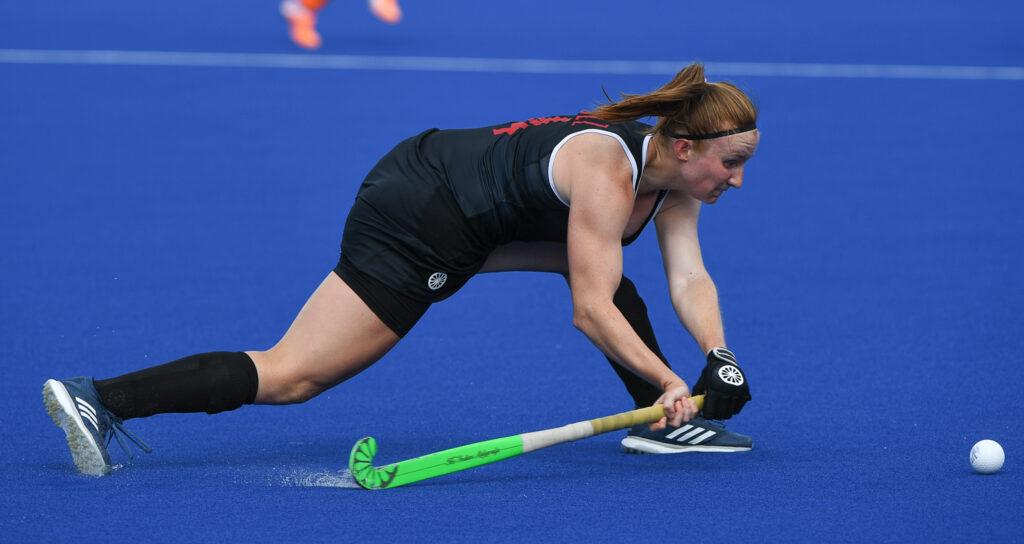 It hadn't been till high school — at William Aberhart — that field hockey edged onto her radar.
Her older sister Robyn had tried it and liked it. So Scholz, already a seasoned puck-chaser (after following Robyn's venture into ice hockey), wanted to add another sport to her repertoire.
Determined, she made a legitimate case for joining the varsity squad as a Grade 10 student, something that doesn't happen often. But, plainly, this youngster had potential. "I scored a lot of goals and made sure that I owned it."
Naturally right-handed — all field hockey sticks are right-handed — Scholz stuck to playing defence, also her position on the ice. "People trust me too much or something," she said, laughing.
Growing up in Hidden Valley, a neighbourhood in the city's northwest, she'd also dabbled in soccer. So, for her, field hockey made sense. "The perfect mesh of soccer and ice hockey," said Scholz. "The skills are like ice hockey, but the game is played like soccer where you have the backfield that controls possession."
Meanwhile, she continued to tug on her skates for a local squad. "I always wanted to play high-level ice hockey." In fact, she still held out hope that one day she could play for the Dinos. But chats with the coaching staff had not been promising.
But for field hockey? "I saw that as an avenue right away," she said. "I'm very competitive, so when there's an opportunity to go far in a sport, I'm going to give that my all. I was like, 'Oh, this is how I'm going to play U Sports.'"
And, as it turned out, it was nearly that simple. Peter Taylor, who coached Scholz on provincial teams during her high-school days, was also in charge of the Dinos crew. One day Taylor asked her where she was planning to go university. "It was such a casual conversation." She responded that she'd like to stay in Calgary and play for the Dinos. "And he was like, 'Great. Love to have you.'" Done deal.
Coaches continued to endorse Scholz's contributions. In her second year at UCalgary, Roel van Maastrigt was hired. It was the new coach who sang Scholz's praises to Team Canada brass, who, in turn, invited her to a carding camp in March 2021.
Even so, she had her doubts. National-team identification showcases during high school had gone nowhere.
"So I felt really turned off," said Scholz. "I almost didn't go because I was like, 'I don't know if I want to put myself out there like that, I'm not really sure of myself, and I definitely don't think I'm good enough.'
"But I went and I'm pretty grateful I did because I wouldn't be here without (van Maastrigt) encouraging me to go and recommending to the coaches that I'm good enough or could be good enough."
With a laugh, she adds that the camp was still a mental battle. "I wouldn't even touch the ball a lot in the scrimmages. I basically ran around for an hour." Nevertheless, she got the nod for carding.
"It's all about potential — 'She's young and she works hard. Give her a shot.'"
It was about then that, after a season of Junior A ice hockey, Scholz made the decision to mothball her skates.
"I wanted to devote my time and energy to something that was going to give me some reward back," she explained. "I just wanted to invest in myself doing one thing and see where that got me."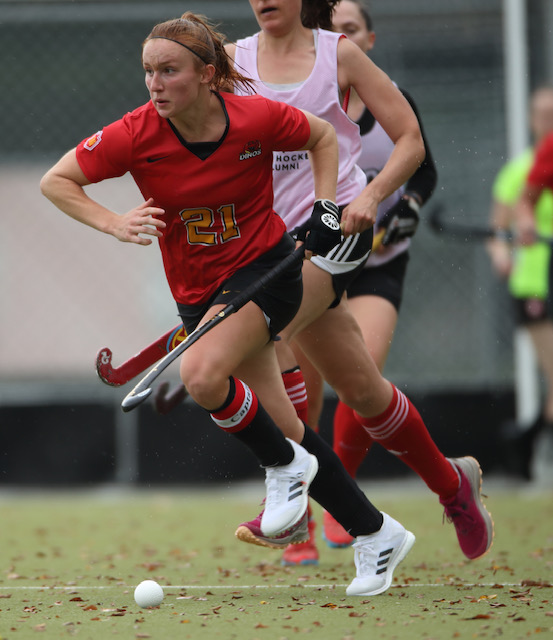 As a full-fledged member of the Canadian program, there has been no shortage of memorable moments for Scholz.
At the Junior Pan-American Cup in Chile, the national team claimed gold. A thrill, of course.
Next up had been the Junior World Cup in South Africa in December 2021. Arriving early, the Canadians learned on their fourth day in Potchefstroom that the Omicron outbreak was shutting down the tourney. "We were under the impression that we'd be leaving the next day — that was so not the case."
Because, as they soon discovered, travel was impossible.
Marooned — no matches in South Africa, no flights out of South Africa — they practised daily. "You would think it would be good because you're keeping busy and working towards something," said Scholz. "But it was honestly really hard to stay motivated when all you can think about is your situation."
Meanwhile, days kept ticking by — 21, in fact. "We were like, 'Oh my gosh — we're going to miss Christmas. We're going to be here forever.'" They managed to book a Dec. 12 flight that would ferry them to Frankfurt, Germany. "But then Canada wasn't going to let us in."
Transportation home was eventually settled, and the event was re-scheduled for April 2022. Even if some players chose to not travel back to South Africa, Scholz was keen to make the return trip — "I wanted to see it through" — and she was named captain. "Which was super-exciting at the start," she said. "Then I was like, 'Oh no, I'm responsible for us winning and it's not happening.'"
The team failed to rustle up a single victory. "We were just so below where we needed to be."
But there had been little time to fret. Weeks later, with her carding kicking in, she joined the senior side and started to train with her heroes.
In June, the national side's official summertime rosters were scheduled to be announced. A fresh face, Scholz had been unsure of where exactly she'd slot in. "I still had to prove myself. I'm one of the younger ones … and the squad just has so much experience."
Scholz learned that she would serve as a reserve player for the World Cup in the Netherlands and Spain. But for the Commonwealth Games, she got the green light — a first for her.
"I think it was a massive accomplishment," she said. "It was just really hard coming into this environment, which is very overwhelming. Adapting to the style of play — and even the speed of the game — is difficult.
"So I was very happy when I got picked for the Commonwealth Games."
One week after finalizing the rosters, the Canadians flew to Europe.
During the World Cup in early-July, Scholz, as a spare, paid her dues. "That meant I got to do running and conditioning instead of games."
A week later, the Canadians congregated in England, where Scholz kickstarted her international career at the Commonwealth Games — endearing herself to the veterans, proving herself to the coaches, collecting her fifth cap.
Meaningful? Without question.
"Overwhelmingly, the craziest event I've been to," she said. "Even going to opening ceremonies, it just gives you chills. It was so cool."