Photos courtesy of Jordan Jensen-Whyte.
While the clock slowly counts down, the Canadians are clinging to the most slender of leads.
A single point — with bronze on the line.
The red-clad threesome, however, never loses focus, defending madly. The Scots, desperate in the dying seconds, heave a long-range shot, which is off-target and neatly corralled by Jordan Jensen-Whyte, who hugs the ball.
A beat later the horn blows and the Calgarian squeezes the precious cargo, then raises it above his head and slams it down onto the hardwood floor. The significance of the 13-12 victory is plain.
"That, honestly, was one of the most amazing 10 to 15 minutes of my basketball career," Jensen-Whyte said of the Aug. 2 performance. "To be involved in a game like that was special. To be able to get the win was an incredible feeling. A lot of emotions came out afterwards, because as an athlete you work so hard. Sometimes you might not even know what you're working towards in the offseason. You don't know how the season's going to play out or where you're going to be.
"So just to sit back and take in the moment was pretty cool. I'm super grateful."
Knowing that their 3×3 fate at the Commonwealth Games had been sealed, Jensen-Whyte — after huddling with his teammates, after hand-shaking his opponents — walked back onto the court, already vacated. There, he hunkered down for a quick slice of alone time.
"I remember just kind of sitting there," he said. "It wasn't so much shock. It was … a moment of reflection by myself. It's a moment I'll never forget, actually."
A minute later, trotting off the court with chums Alex Johnson, Bikramjit Gill, Adam Paige — and with television cameras rolling — Jensen-Whyte pulled at the front of his sweat-soaked jersey top, emphasizing the CANADA emblazoned across the chest. "Right there, baby, right there," he told the viewing audience.
"Any time you get the opportunity to play for Canada … I love Canada. I love everything about it," he said of the bronze-medal experience in Birmingham, England. "I know those moments are fleeting, so every time I get an opportunity to do it, I'm always thankful to just go out there and compete.
"I know I've worked my career really hard and it's nice to get the recognition."
Now, a couple of months later, Jensen-Whyte is preparing for what's next. Even if he's not exactly sure what that might be.
Currently an assistant coach at the Edge School, the 28-year-old is mulling potential playing avenues.
He might return to London for his second campaign with the Lightning, with whom he won the National Basketball League of Canada crown in June. Appealing to him, too, is Calgary's new outfit, the Canadian Elite Basketball League club that relocated from Guelph to his home town. "Obviously, being from Calgary … if the timing is right and everything can work out, I would love to do that."
But who knows? Certainly not him. "My winter is up in the air."
Then again, he may decide to dedicate himself to Canada Basketball's 3×3 program. Qualifying for the Olympic Games in Paris tops his to-do list.
"There's definitely a drive — 2024 is circled on the calendar," said Jensen-Whyte. "It's something every day I'm striving towards. As an athlete, sometimes you lose motivation for a day or two, so to have that in the back of your mind, 'The decision you make today might make the difference in that Olympic qualifier or that World Cup' — that kind of stuff is great for athletes. So there's definitely a drive for my teammates and I to continue to push in that direction.
"It's just a matter of seeing how things play out."
Which is a mindset that has well served Jensen-Whyte, a product of Western Canada High School in Calgary, a graduate of the University of British Columbia in Vancouver, a veteran of the professional and international game.
"I've had a really interesting and unique career," said the 6-foot-6 guard. "Not a lot of guys have had that 3×3 gift to their basketball careers. I'm really excited about what's going to be happening next. Some things are being planned, for sure.
"But, as I've learned over the years, things can change."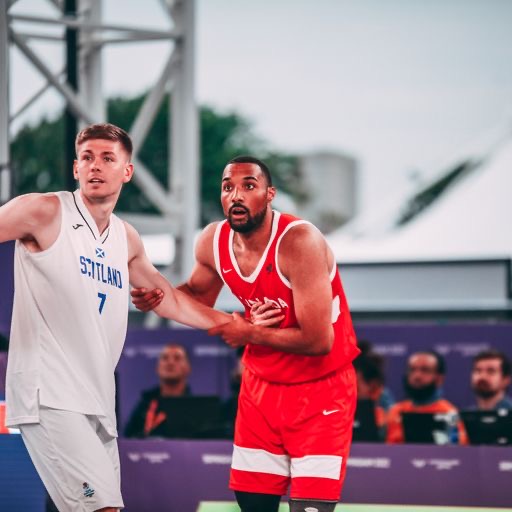 Less mysterious is his start in sports — and basketball.
As little brother to a pair of go-getters, Josh and Zach, Jensen-Whyte naturally followed. In the driveway of the family's home in the Whitehorn-Rundle neighbourhood was a well-used hoop.
"The first sport I picked up. Probably four years old," he said. "Pretty much from the time I can remember I was playing basketball."
Seven years older, Josh was a star, first at Lester B. Pearson High School and, eventually, at UBC, where he would be named 2010 U Sports player of the year.
"I followed his path growing up," said Jensen-Whyte. "Incredible role model. Josh had a huge impact on me. I got watch an incredible basketball player, because our mom (Katherine Jensen) would take us to all of his games. So a lot of my game was moulded from him. He was a huge role model on the court and, obviously, off the court."
Thriving in his own right as a kid, he embraced the standard dreams, which included making a living in the NBA.
"I knew that when I was done high school," said Jensen-Whyte, "I was going to get the opportunity at the next level, regardless of where it was — the States or Canada."
Mulling offers, including one from the University of Calgary, he chose to follow his big brother to Vancouver. But because of the age gap, their on-campus paths never crossed — Josh's final season was 2010-11, while Jensen-Whyte's freshman year was 2012-13.
Getting starts even as a rookie, the youngster's game progressed steadily. Then came the offseason following his third year. "I remember that summer, a really good summer of work for me," said Jensen-Whyte. "I knew at that stage of my career I was moving into a position … where I needed to be successful. So I locked in, in my fourth year. That's probably when I took the biggest leap of my career."
It was noticeable. He was earned a spot on the All-Canadian team. The next season, he was named the conference's top defensive player. "Another big year. I had great growth on the court and off the court."
Summer of 2017, he competed at the FISU Games in Taiwan, capping his collegiate career.
"My time at UBC was incredible," said Jensen-Whyte. "They turned me into a professional player in terms of treating the game with the ultimate respect all the time. I felt like I was capable, like I was ready to get that goal of being a professional player."
Which, sociology degree tucked in his pocket, he pursued.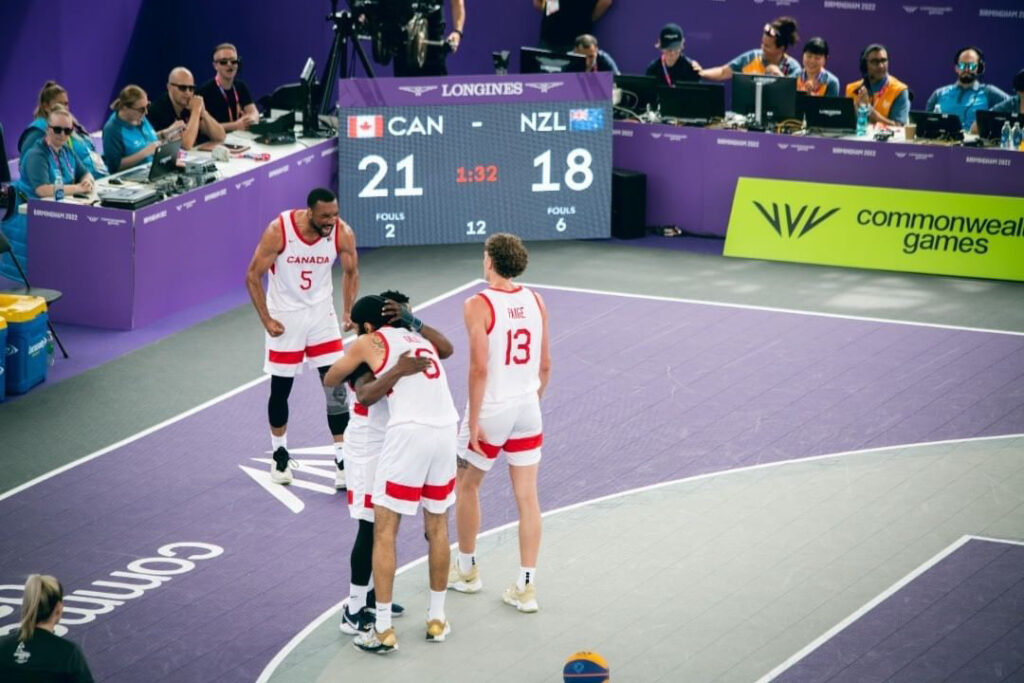 Turning pro, he joined the St. John's Edge of the NBLC for the 2017-18 season.
It turned out to be a decision that shaped his future.
Wrecking his ACL one night during a game in his rookie year, Jensen-Whyte faced surgery — and a long layoff. Devastating news, but he did not waste the down time.
He used the recovery period to take courses at UCalgary, starting down a path that he hopes one day leads to law school. "That year allowed me to build off what I had done at UBC on the academic side. That year was instrumental."
And once he was ready to resume his basketball — 13 months after suffering the injury — an Alberta group of 3×3 keeners approached him. "It ended up being a diamond in the rough. I'm very fortunate to have been given the opportunity."
The sport, a half-court branch of basketball, was a perfect fit for Jensen-Whyte, especially with his well-rounded skillset.
"You need versatile players," he said. "Ones that, for sure, can play defence. And offensively, you have to be able to be physical, you have to be able to make decisions really quick, play through pretty intense fatigue. So there's a multitude of factors, just in terms of stylistically."
And it's a version of the game with some serious momentum. At the Tokyo Olympics and the Commonwealth Games, 3×3 basketball, with 10-minute matches and four-person teams, made its debut. It's worth noting that Canada's women won gold in Birmingham.
"A really cool sport," said Jensen-Whyte. "I know a lot of people may not know too much about it, just in general, because it is still in its infancy. But when you get an opportunity to sit down and be at an event or watch a game, it's incredible because you've got great athletes. It's basically like the fourth quarter of basketball game, right? It's a really unique sport and I really love it.
"It's definitely opened a few doors for me."
Last winter, he did return to 5×5, signing with the NBLC's London. This meant reuniting with Doug Plumb, the Lightning head coach who had been an assistant in St. John's, who had played alongside both brothers at UBC.
Jensen-Whyte also needed to renew acquaintances with the full-court approach.
"It's not that you forget the rules, but it's more positioning," he said. "In 3×3, I was so accustomed to not being able to go and help (defensively). So you're a little rough around the edges when you get back."
But there had been few complaints. Following a 19-3 regular season, the Lightning swept the Windsor Express and the Titans, based in Kitchener-Waterloo, to nail down the league title.
"A great season," Jensen-Whyte said. "We really did get along. Sometimes in professional settings it gets harder to have that chemistry. So to have the chemistry we had … that was special.
"And to win a championship? Huge."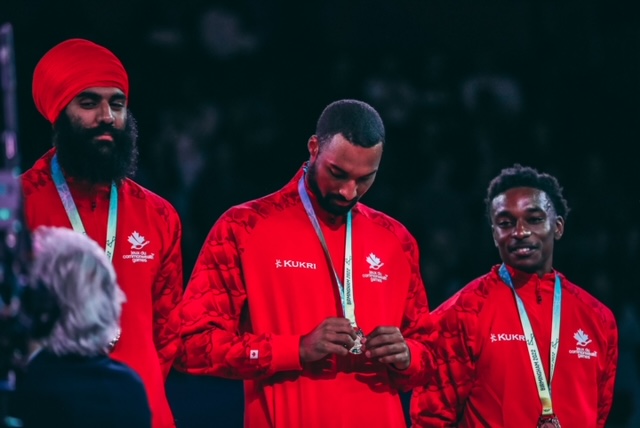 Then, a couple of months later at the Commonwealth Games, there he was picking up more hardware.
Complimented on his accomplishments, Jensen-Whyte responds by bringing up his support system, which includes his parents, Katherine Jensen and Henry Whyte, his brothers, Josh and Zach, as well as the Edge School's Eddie Richardson III and Canadian Sport Institute Calgary's Jeremiah Barnert. "I know that I'm only as strong as the people around me," he said. "From the bottom of my heart, I'm extremely thankful to those that know they've played a part in my journey."
And that journey — which includes individual acclaim at the university level, triumphs in the professional realm, success on the international stage — continues.
"It's been a great career," said Jensen-Whyte. "Obviously, there's been some lows and there's been some highs. But that's where you find out how badly you want it. I've always been a determined individual, a self-motivating individual.
"It is a testament to just putting on that hard hat … when things aren't idealistic or the pandemic's happening or it's 25 degrees outside and you've got to go run up a hill.
"My career is a story of perseverance. I'm super proud of that."