Photos courtesy Ellen Pennock.
Retirement, by any measure, is treating her well. More than two years after her final triathlon, Ellen Pennock can report that she is thriving.
Living in Victoria, she is the creative director of Feisty Media, a company devoted to "creating an empowering culture for women in sport at any age." The role is rewarding and the company has momentum. She just finished a two-week business stay in Kona, Hawaii, where she and co-workers buzzed around the Ironman scene, compiling content and producing podcasts and spreading goodwill.
Athletically, too, Pennock remains tip top, even if she's only entering events for fun.
In the spring, it took her barely 17 minutes to finish a 5-K race. Then, in May at Portland, Ore., her first stab at the half-marathon distance, the Calgarian — who, thrillingly, was running in legend Shalane Flanagan's pace group — dashed through the 21.1 kilometres in 77 minutes.
"A really cool experience," said Pennock. "I definitely exceeded my expectations. Next year, maybe I'll try a marathon."
She also swims and cycles on a regular basis. "It's funny because when I retired I had this perception that you'd stop participating in your sport," said Pennock. "Now I've realized how important those three sports are to my life. I need them."
She's also coaching, having helped Team BC's triathletes prepare for the Canada Games in Niagara, Ont., this past summer. "I love it and I want to stay involved."
These days she has few complaints. She digs Victoria, loves her community. Heck, she occasionally runs into Simon Whitfield, who lives nearby, at one of the local coffee shops. She's laughs, noting how cool it is to share "a neighbourhood with Canada's most famous triathlete."
In the figurative sense, too, she is in an awesome place.
"I have things I'm excited about, which is great — because, for a long time, I didn't feel excited about things," said Pennock. "This is definitely the best I've been in a long time."
Given what she's accomplished, what she's experienced, it's hard to believe that she doesn't turn 30 until December. Which, by the way, is a milestone she faces with zero trepidation.
"Everyone says it gets better in the 30s, so I'm open to being in my 30s and accepting it," said Pennock. "I'm more so looking forward to the 30s than grieving my 20s, because my 20s were pretty hard."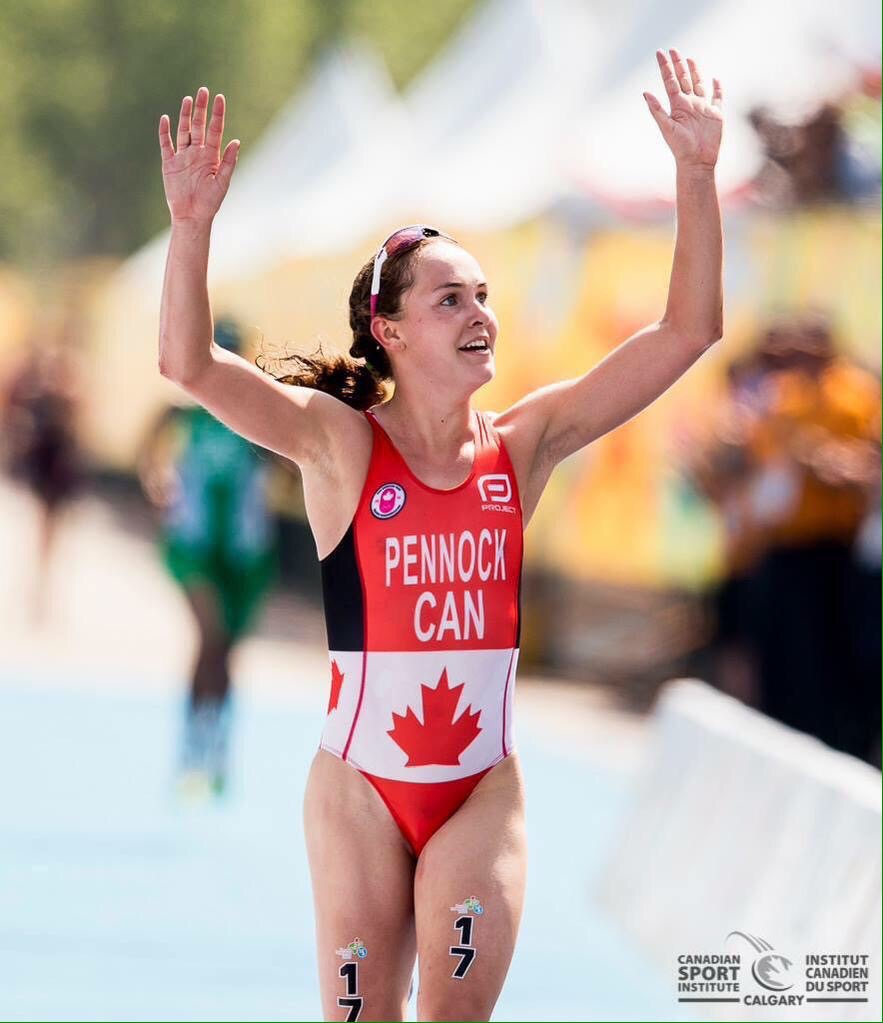 From sportswriters, it's a common prompt, one that allows athletes to pump their own tires.
"What is the highlight of your career?"
Pennock's response is telling — because the snapshot offered includes the good and the bad from her days as a big-time performer. She points to the 2015 Pan-American Games in Toronto. There, representing Canada, she placed sixth.
"I was really happy because I overcame a lot of self-doubt," she explained. "I really felt, going in that race, it was some of the most challenging times I've had in triathlon … so just to prove to myself that I can execute and deliver when it matters.
"Even though it was probably a nail in the coffin for me."
Only 22 at the time, Pennock notes that she had been struggling going into the Pan-Am Games, yet even more was being demanded of her. "Even when you're burned out, you can still scrape a little more from the bottom of the barrel — that was that race for me," she said. "After that, I was never able to get back to that same level."
Soon after — disappointed by the decline in her performance — she quit.
"It was not a super-positive environment. I felt my only option was to completely stop the sport."
She eventually returned, only to discover that that the break had done little to restore her. Formerly "a super high responder" to training, she was flat. Someone who could bang out five kilometres in 16:30 was suddenly failing to break 20 minutes. "It was crazy."
Pennock acknowledges now that mental strain had been wearing her down. She was experiencing anxiety and possibly depression.
Remarkably, she continued to train and compete for four more years.
March 7, 2020, she placed 12th at Clermont, Fla. Not terribly pleased with that result, she had actually been looking forward to redemption a week later in Sarasota.
The COVID-19 outbreak ensured that that would never happen. And, because of the cancellation of upcoming qualifying races, her bid for the 2020 Olympics was snuffed out.
With little fanfare, Clermont ended up being the final stop of Pennock's triathlon career. "There was going to be no racing for a year-plus. I didn't feel that I could push that long."
Her financial status was not stable, either. And with her position at Feisty Media starting to gain traction, she decided to walk away. Via social media, she and Triathlon Canada announced her decision. But the whole thing felt a tad hollow.
"When you retire you want to get all your friends together … and have one final race and know it's your last one," said Pennock. "But I didn't really get that because of the pandemic. I got home from (Florida) and quarantined for two weeks.
"I would say there's a little lack of closure."
Friends and family members supported her change of direction, although some of those close to her worried she'd have regrets if she didn't continue her drive for the Olympics. "I'm still wrestling with the fact that I never got to go," said Pennock. "But it doesn't mean I can't go to the Olympics in a different capacity, whether it be as a coach or even in media. So I still haven't let go of that dream. It might just look a little bit different."
Asked what she misses most about triathlons, she mentions the race-day ritual. "Putting on the tattoos" — marking race numbers on her legs and arms — "and having your special race-suit that kind of makes you feel like a superhero. The warmups, seeing everyone, then being in the zone."
But in the absence of never-ending preparation, she feels she's finally got room to blossom.
"I've really been able to develop other parts of my (life), other interests," said Pennock. "I feel I've gotten to know myself a lot better. I'd say I have even more confidence in myself since stopping sport, because I do have other skills, like with my job. I have more time to invest in a lot of my friendships as well."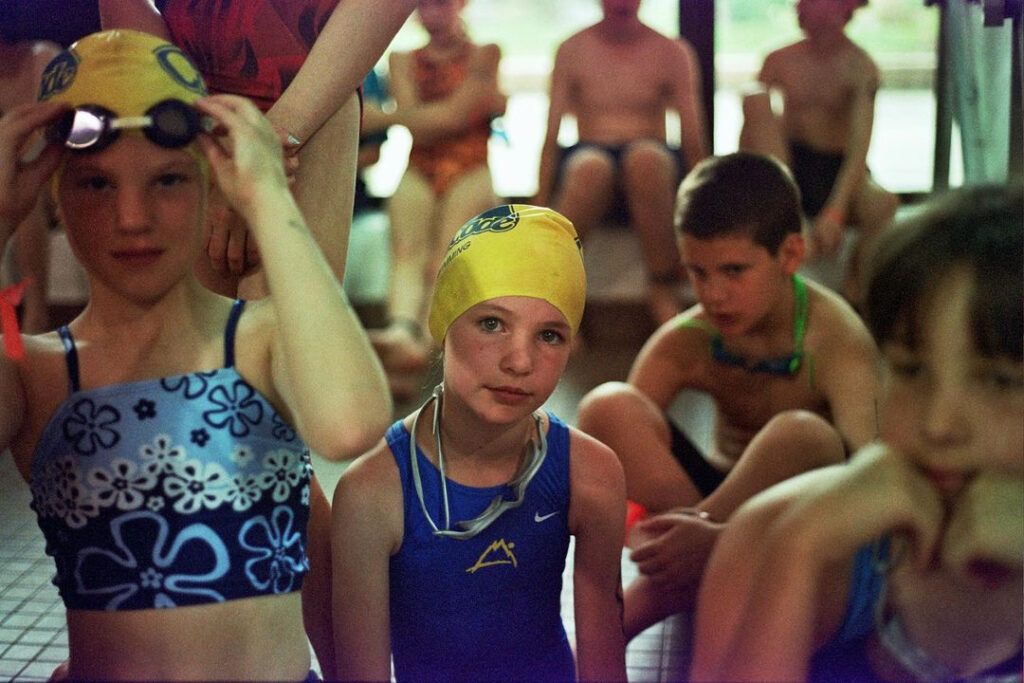 Pennock, who grew up in Haysboro in the city's southwest, went to Henry Wise Wood High School.
"Pretty average" as a swimmer, she blossomed at 16, qualifying for the national junior championships. "But I was never going to make the Olympics in swimming."
But triathlon? That was another story. A gifted runner, she breezed to the junior worlds in triathlon. Gains in those days had been brisk. The future was bright.
"All I thought about, 'If I'm improving like this right now, I'm going to win a medal at the Olympics,'" said Pennock. "That was my perception — at 28, I'd be winning a medal at the Olympics.
"Which wasn't the way it went."
In terms of regrets, she says her progress had been partly derailed by excessive training — high volume and intense — in particular, in Australia and Spain when she was barely out of her teens.
"I should've paced myself a bit better," said Pennock. "I should've continued to go to UVic and continue to train in Victoria and just listen to my gut and my intuition, because that is what I wanted to do in the first place — but then I got convinced otherwise.
"Looking back, just trust your gut. Even if you're 20 years old, you probably know what's best for you."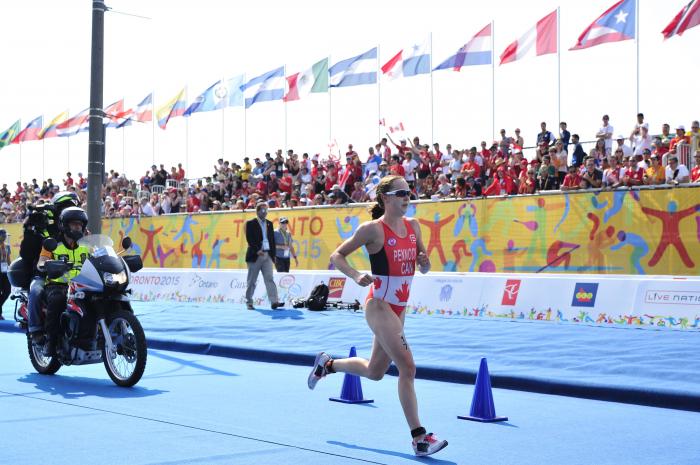 Of course, there were highs along the way. She captured the Pan-American junior title. A fixture on the international scene, she graced World Cup podiums. She represented Canada at the 2014 Commonwealth Games in Glasgow.
Wisdom accrued from the roller-coaster of high-performance sport is something she intends to share.
Coaching youth and junior programs in Victoria alongside Kelly Guest, Pennock knows her experience is a resource for up-and-comers.
"I really don't want any athlete to go through what I went through," she said. "The appeal for me is to be able to create really positive cultures and positive environments. I've realized, 'Wow. It's not that hard to be nice to people. It's not hard to treat people with respect.' For me, it comes naturally. It's the only way I will coach.
"An athlete is going to stay in a sport and enjoy the journey and also perform at their best if they're a happy and healthy athlete."
Which is where Pennock is now — happy and healthy. She's staying busy and, once more, running fast.
"This is the first year where I've really felt good in my body again. It's funny, because I'm not even competing anymore and, all of a sudden, it's coming back," she said. "I'm proud of the way I've persevered. I'm definitely proud of the way I've been resilient and have handled these past situations.
"If anything, it's going to make me a better coach and a better person because I can empathize with athletes."