Photos courtesy of Gabriella Durant, Josh Schaefer, and David Mollb.
This is a sight to behold — Gabriella Durante at rest. Her reputation, and the well-miled skateboard at her side, suggest the state is temporary.
For now, though, she is sitting down.
And deservedly so. By 6:30 a.m., she had been on the ice, coaching at a goaltending school. Then came a full slate of classes at the University of Calgary, where she's bent on earning her fourth straight nod as an Academic All-Canadian. That was followed by an afternoon practice and video session at the Olympic Oval where, as the Dinos' first-string netminder, she continues to sharpen her skills.
After supper, the 21-year-old tugged on her skates for the third time and officiated a women's beer league game.
What do you call this kind of pace? Answer: Tuesday.
Because in Durante's world, a brimming schedule is nothing new — not just on a daily basis. This goes year-round.
She wouldn't have it any other way.
Growing up in Edgemont, she got into hockey at nine, and soon showed promise. But she figured if she followed a path into elite hockey, the commitment would cut into her other interests — basically, all sports.
So Durante waited a few years before stepping into the city's top tier, catching on with the Bantam AAA Rangers. Meaning she was finally forced to dump non-hockey pursuits, right? Wrong. She didn't drop a thing.
Rather, she dove into badminton, volleyball, basketball. Starring for Sir Winston Churchill High School's track and field team, she won the city's javelin championship three times in a row.
Hectic for anyone. Surely, maximum capacity.
Except in the middle of all that activity — school sports, top-flight hockey, academics — she signed up for RBC Training Ground, the athlete-identification program that was making its debut in February 2016. Realizing it was being staged in Vancouver, she needed to sell her parents, Sam and Melissa, on the trip. Squeezing in a quick week of training, she participated in the one-day showcase.
"I didn't have any hopes necessarily. I just wanted to go for the experience," said Durante, who had just turned 15 years old. "There's these 23-year-old big dudes and people who were just physical specimens. I'm like, 'I don't belong here. I'm so skinny.'"
A week later, however, Durante received an email from Canoe Kayak Canada, whose assessors must have taken note of her long levers and athleticism. She was told to report to the Calgary Canoe Club. "I searched up team sprint," said Durante. "The videos that come up are these guys that are just jacked. So I was just totally pumped — 'Oh my god, this is totally going to be my summer thing.'"
That was more than five years ago. Since then, she has represented Alberta twice at the Canada Summer Games. From the 2019 Western Canada Summer Games in Swift Current, Sask., she brought home nine medals, eight of them gold.
If that seems like an awfully cramped calendar, well, it is. Canoe workouts go twice daily throughout the summer months. Then comes her load at UCalgary.
Paddling to puck-blocking to paddling to puck-blocking.
"It's exhausting physically, mentally, emotionally, because you never get a break. You're always pedal to the metal," said Durante. "A lot of my friends travelled this summer. I can never travel because I've got to be training.
"When you're in-season, in-season, in-season, it can get to be too much sometimes."
Yet all of this is in her control.
She smiles. "Yeah, it's on me."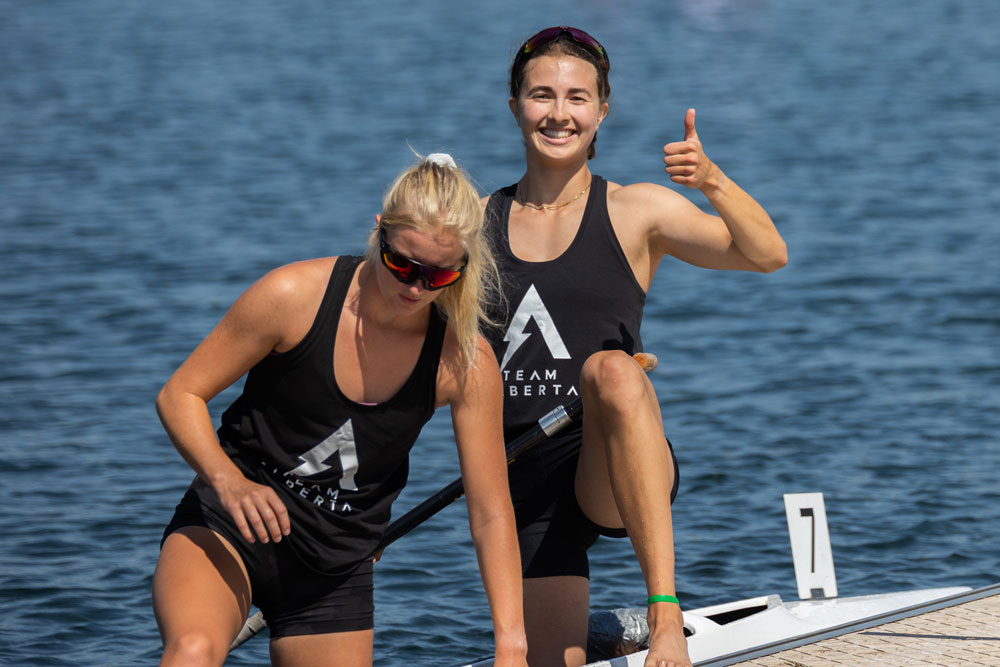 Despite — or perhaps because of — her late start in canoeing, she is reluctant to cast it aside, especially after surviving the steep learning curve that awaits all newcomers.
Durante laughs. "The boats are very, very tippy. You get in the boat and immediately go swimming. You do that for months before you can stay up in the boat and actually paddle."
Soakings aside, she never considered quitting. "It was really discouraging, but, at the same time, I'm like, 'I want to get in this stupid boat. So I'm going to keep going until I can stand up.'"
Stubbornness paid off. After only a year, she was racing at the 2017 Canada Summer Games in Winnipeg. "Just to get experience. It wasn't necessarily competitive." This past August, at the Canada Summer Games in Niagara, Ont., it was a different story.
Entered in five events — C2 200, 500, 1,000 metres; C4 200, 500 metres — Durante knew it would be tough against the powerhouses of Nova Scotia, Quebec, and Ontario. There was an assumption that the Albertans would end up racing B finals exclusively. But twice she was in boats that advanced to A finals.
"That was a complete shock," she said. "Personally, and for the team, that was a very successful Games."
Durante realizes the odds are against her. For perspective, she brings up Nevin Harrison, who, at the Tokyo Olympics, won gold. The American is more than a year younger than her.
"I've been playing catch-up with paddling my entire career," she said. "It was really intimidating. But, at the same time, I'm thinking, 'These guys don't play hockey at the level I do. These guys don't anything else that I do at an elite level.' So I was always cutting myself some slack, while putting in as much effort as I possibly could."
Which, in the world of sprint racing, is no small thing.
Two daily 90-minute training blocks all summer long. A right-side paddler, Durante says performance demands are excruciating. "You're basically holding a lunge the whole time. You don't think it uses your legs, but it's insane on your legs. A full body blast. It's exploded my overall strength.
"It's the most physically challenging sport I've ever done and I've played every single sport out there."
Ahead are the U23 and senior ranks. And, yes, the Olympics has crossed her mind. But, in addition to her relative lack of experience, Durante isn't in a position to devote 12-month stretches to paddling.
"I don't think it's physically possible to be extremely elite while I'm doing hockey," she said. "So I've said to myself and even told some of my friends, 'You know what? If I retire from hockey before canoeing, I'm going to go full-blown into canoeing and see where I can take it.' I feel if I can dedicate myself to it, why wouldn't I?"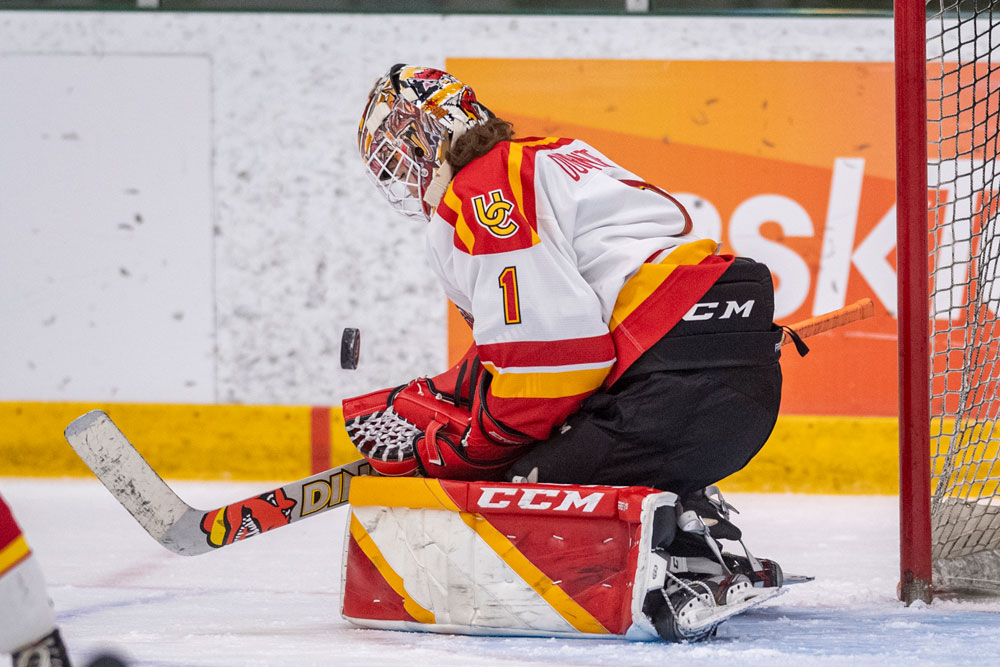 The seasons of hockey and canoeing do not overlap — for the most part.
But while Durante is finishing up her hockey commitments, canoe keeners are already hard at it, travelling south for thrice daily workouts in the spring. "When I should be super hockey focused," she said, "I'm looking on Instagram and it's, 'I wish I was in Florida paddling right now.'"
The two-pronged approach leaves her forever in a state of transition. "As soon as the hockey season ends. I'm like, 'OK, I've got to starting hitting more pull-ups in the gym.'" But rather than look at the pursuits as separate entities, Durante views them as complimentary.
Canoeing has helped her goaltending. Not only because of increased upper-body strength — all the better for knocking interlopers out of her crease — but mentally, too.
"Canoeing, you have to go to a place that's very uncomfortable," she explained. "Pushing yourself in that way, I definitely learned that from paddling. Also the determination — because if you're falling in constantly, you're not getting the times that you want — you essentially have to work harder. That can sometimes be tough.
"That's definitely helped in hockey, making me stronger."
Which is where her athletic focus currently rests. Named earlier this month the Dinos' female athlete of the week, she's bagged two shutouts in eight starts, compiling at 2.18 goals-against average and a .932 save percentage.
According to Durante — the only conference goalie to shoulder more than 1,000 minutes in 2021-22 — the current group can reach the postseason. A sweet accomplishment, of course, but one that would cut into her preparations for canoeing.
Not that teammates are aware of her moonlighting ways.
When the Dinos reconvene after offseasons, if someone happens to ask her about the summer, she'll fill them in. And, if the curiosity is genuine, Durante will take them down to the reservoir and let them take out her boat. "I don't brag about it or anything. It's a sport that's very low-key. Not a lot of people know about.
"I didn't even know about it until they emailed me and said, 'You should try it.'"
It was that note, of course, that had created the someday fork in her road — to paddle or parry pucks?
For someone like Durante, that is only one of the internal debates, because she refuses to confine her future to sports. Education is important, too.
With a biomechanics degree — "A mix of kinesiology and engineering, two of my interests" — Durante graduates in the spring. Because the COVID pandemic wiped out her sophomore season, she will still have two years of varsity eligibility remaining. So she may pursue a master's degree while playing for the Dinos. "We have some girls on our team who are in grad school and they're handling it pretty well. It's something I'm willing to work towards."
The insatiable appetite on display surely comes as no surprise to those who know her well. Also not a shock? That she has zero intention of surrendering either sporting passion. In the canoe and in the crease, that's where she plans to remain.
From her parents, there is never pressure to pick one. Coaches, however, are a different story. The paddling boss told her to make a choice — a year ago.
"I obviously didn't make that decision," Durante said, laughing. "I couldn't imagine giving up one or the other right now.
"Both will always be in my life."