Brand-new to the sport, this was his first game of football — ever.
Cameron Fewster had already survived tryouts for William Aberhart High School's varsity side. Now, on opening day at Hellard Field, the Grade 11 student was going to get an authentic taste of the sport against Henry Wise Wood.
His debut had not started well.
Wise Wood's offence kept burning Aberhart with one play call in particular — a jet sweep. It had already resulted in a 99-yard touchdown and a couple of other big gainers.
As a linebacker, Fewster was ideally positioned to be part of the solution. So one of the coaches encouraged the rookie to bust through the line of scrimmage, to snuff out the potentially explosive sequence in the backfield.
"So I did exactly what he said."
The result? A five-yard loss. "My first-ever football tackle," said Fewster. "It was against one of their top players, too, who I did not think I could catch up to, speed-wise — but I did. I was kind of impressed with myself. I had never done that before.
"It felt insane. I was on top of the world."
The handiwork did not go unnoticed. Progress continuing, Fewster started every game after that — and, not surprisingly, every game this season, his senior year, during which he also worked on special teams and occasionally moonlighted as a receiver.
He also served as one of the captains of the Orange.
Amazing stuff, considering that late start in the sport.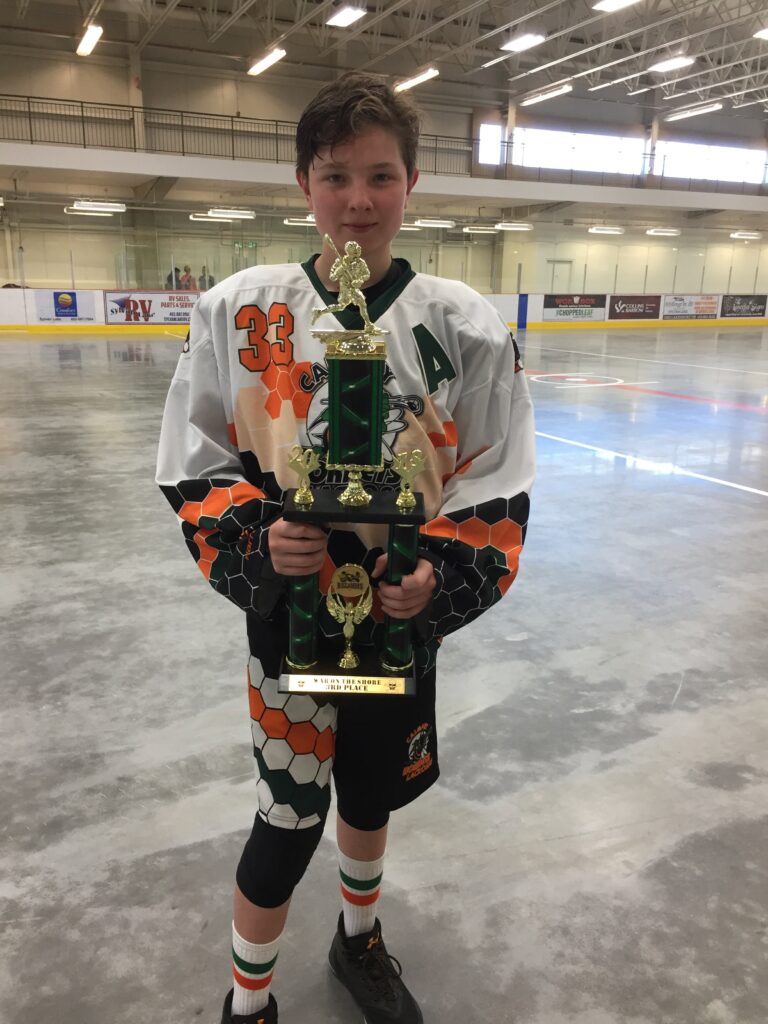 Then again, Fewster's all-round ability is well-established — co-athlete of the year in Grade 9 at Branton School; long-time player of hockey (goalie) and lacrosse (defender) and basketball (forward).
COVID-19 may have scrubbed his Grade 10 hopes for football. But in 2021, he decided to step onto the field as a total greenhorn.
"I never even watched football until I started playing. I didn't know much about it … honestly, I was more of a hockey guy," said Fewster. "I just wanted to play. My friends were playing. I just like being athletic, running around hitting people. But coming in, I was a little intimidated. I was playing with all these guys that had played at least a season.
"It's pretty scary at first when all those big guys are running at me and I wasn't super big. But once I got used to it, I just loved it. I loved everything about the game — all the play-reading, being athletic, the speed."
The adjustment, as everyone could plainly see, ended up being near-seamless. Fewster was a natural.
What he appreciates most about football is that if you're keen, if you work hard, if you've got physical gifts, there's a place for you. "That really showed with me. Anyone who is an athlete can excel at football, even without having a ton of experience, just by knowing how to be active."
Dedicating himself to Aberhart's football program did not come at a cost. Fewster's marks remained high — honour roll as usual — as did his participation in volunteer initiatives.
All of which makes the Grade 12 student a worthy recipient of the Harry Hood Memorial Football Scholarship, which celebrates athletic and academic achievement, school and community engagement.
Getting the Division 2 nod, Fewster receives a $1,000 scholarship sponsored by the Calgary Stampeders and a plaque presented by the Calgary Booster Club.
He'd learned of the honour when Julie Farquhar, his phys-ed teacher and the school's athletic director, pulled him out of English class the other day. "Everyone thought I was in trouble," he said, laughing.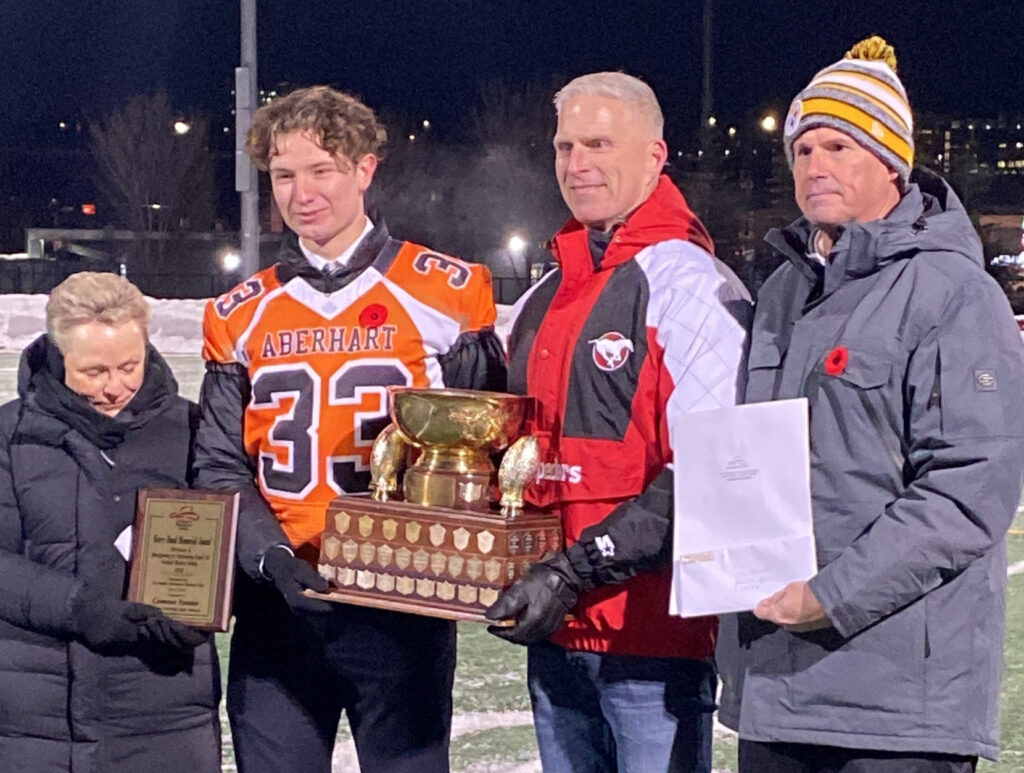 After learning that he'd won the award, he returned to the classroom and explained what the Harry Hood meant to him. "It was fun," said Fewster. "Then the whole class congratulated me. It was kind of cool, actually."
Division 2 standouts Jett Barry (Crescent Heights), Marshall Smith (Western Canada), and Aadam Uddin (Centennial) were nominated, too. Also receiving recognition this year were Danry Louie (Bishop McNally), Santiago Rodriguez (Bishop O'Byrne), Nolan Vermeire (Bishop Carroll), Declan Webster (St. Mary's).
Fewster is now invited to the Calgary Booster Club's 69th annual Sportsperson of the Year Gala in April.
"It's great," said Fewster, who plans to pursue an engineering degree next year while playing university lacrosse. "A lot of my life is dedicated to playing sports, so it's good to see that other stuff has been recognized, like my academics. And my community involvement — most of that is helping out in sport, but it's helping out the younger generation and helping build the sports I do play."
The conclusion of the football season isn't the end of his athletic march at Aberhart. Not by a long shot.
The 6-foot-2, 195-pounder is a member of the basketball team. Around the corner is track season, when he'll run 800 and 1,500 metres, and maybe even take on the pentathlon (with its five events).
And? He's carrying on full steam with hockey, Northwest Warriors U18-1, and lacrosse, Okotoks (Junior A) Raiders.
The hectic pace runs in the family. His brother Neven, a Grade 10 student, is immersed in soccer and volleyball. But parents — and triathletes — Mark and Clare have never tried to slow their boys' roll.
Even if commitments are non-stop.
"There's a lot of overlap in seasons," Fewster said, laughing. "At times I think about (taking a break) … I wish I had a couple hours here and there just to relax. But, at the same time, I enjoy being active and being busy. I like the way it's structured.
"I've been enjoying how busy my life is, and it's never really been a problem, honestly."