Photos courtesy of SAIT Trojan Athletics and Tessa Lowry.
There is no disputing Tessa Lowry's designation as a hockey lifer. It's obvious.
Only days old, she attended her first game. This was an NHL contest featuring her father Dave, then a regular with the San Jose Sharks.
Tessa's strides on the ice also came early. There were all-day outdoor sessions on McKenzie Lake, the community where her family settled after Dad signed with the Calgary Flames. Then came organized hockey, in which — at her insistence — she participated with boys teams. All the better to follow the footsteps of her heroes, brothers Joel and Adam.
The Lowrys know the game.
And, as winters blur by, the hockey bona fides of the clan have become even more entrenched. Retiring after 1,084 games, Dave began coaching. Now in his 18th season pacing the bench, he is part of the Seattle Kraken's staff.
Meanwhile, her brothers, both selected in the 2011 NHL draft, remain active. Adam is into his 10th season with the Winnipeg Jets, while Joel, overseas for the past three years, is a point-per-game presence for the Kassel Huskies in Germany.
For Tessa herself, there are precious few gaps in her resumé.
Through peewee — and merrily immersed in full-contact hockey — she established herself as a fearless defender. After graduating from Edge School, she shifted south, joining The College of St. Scholastica, a private school in Duluth, Minn., where, gritting her teeth, she skated her first of four seasons on a broken ankle.
Two seasons ago, she helped guide the U16 AA Fire girls team in Calgary.
Last year, she was on the staff of the U18 AA Fire, which captured the provincial championship.
And now? Tessa, hired by the SAIT women's squad, is part of something special. At the Trojans' helm is a quartet — head honcho Amanda McLeod, assistants Sara Craven, Jessyka Holt, and Tessa — that is brand new and fresh-faced. All are female and none is 30.
"In our league, we're the only all-female coaching staff — it's empowering to see that," said Tessa, 24. "We've got a few comments, like, 'Oh, this is so amazing.' There are no males on board. It is kind of cool to see that the game is now shifting a little bit."
Without doubt, this is remarkable. Especially when you consider that forging her own direction in the game is not easy.
Not with a family like hers.
And not with commitments like hers. Not only does Tessa work a full-time day job, she is also going to grad school, taking, via Yorkville University's online program, her master's degree in counselling psychology.
It started when she heard in the summer that McLeod had sealed the top job at SAIT. She passed on her heartfelt congrats and, in turn, Tessa was asked if she wanted to apply for an assistant's role.
Interest piqued, she reached out to her dad. "We talked about it for a while. He said, 'Why not? Go for it if that's what you want to do.'"
She nailed down the gig, re-arranged her busy life, settled into the routine — even if others questioned the wisdom of taking on more responsibility.
"But, to me, it's not a job. It's fun," said Tessa. "I enjoy being at the rink. I enjoy helping players improve their skills. For me, that's my happy place, my safe place. I don't think about anything else that's stressing me out. So that's why I coach.
"It's a lot I have on my plate, but I love it. So I would do whatever I could so I could coach."
Already Tessa digs the role, something she wouldn't mind seeing turn long-term.
She uncorks a knowing laugh. "But, obviously with coaching, you never know."
Tessa, as well as anyone, understands the fickle nature of professional sports.
Her dad played in Vancouver (where Sarah was born); St. Louis (where Adam and Joel were born); Florida; San Jose (where Tessa was born); and Calgary.
The coaching racket was no more orderly for Dave — WHL Calgary (assistant, associate, head coach); NHL Calgary (assistant); WHL Victoria (head coach); NHL Los Angeles (assistant); WHL Brandon (head coach); NHL Seattle (assistant).
"It was honestly inspiring, I would say, watching him do it," Tessa said of her father's post-playing odyssey. "My dad's worked very, very hard to get to where he is. It was inspiring to me because I knew that eventually my time would come, when I couldn't play hockey anymore, and I thought that would maybe be a great way to give back to the game."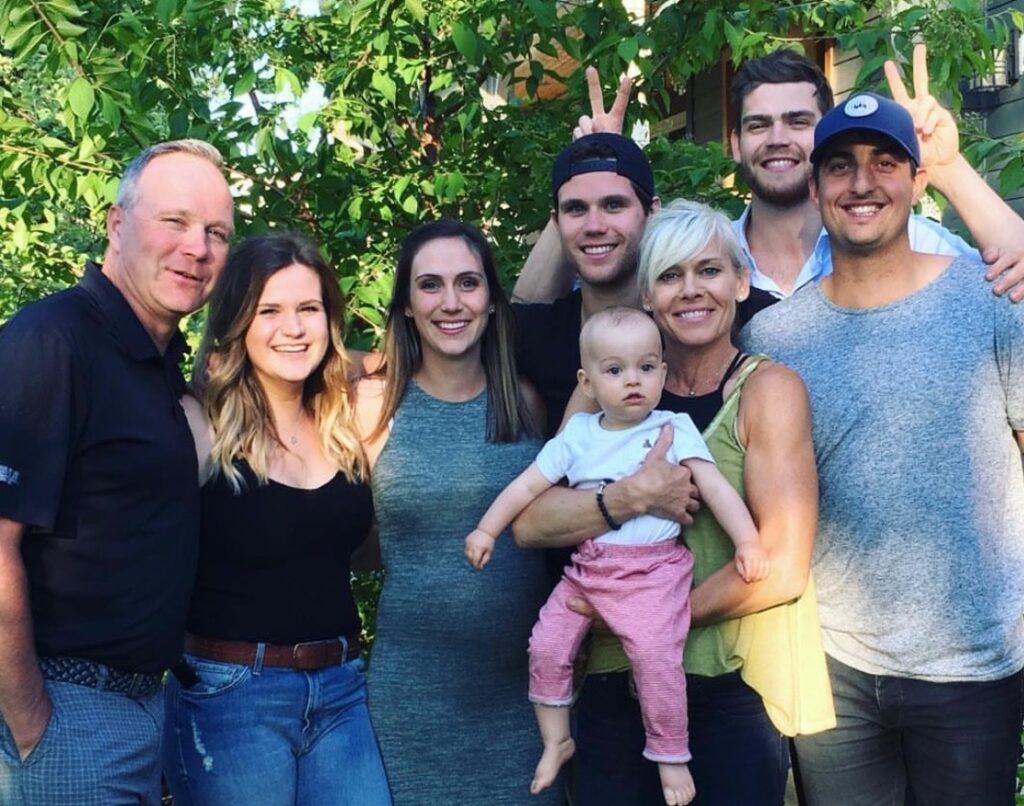 Two years old when the family moved from San Jose to Calgary in 2000, Tessa was soon sampling sport — and dance — of all kinds.
It was no sure thing that puck-chasing would be her go-to activity.
Her mom Elaine is an endurance athlete, competing in ironman triathlons and marathons. And big sister Sarah was a volleyball ace.
Tessa tried soccer and lacrosse — her cousin Matthew Dinsdale suited up in the NLL — but nothing was going to top you-know-what.
"My dad always told me, 'If you don't want to play hockey anymore, if you don't enjoy it, quit. But you are finding an activity to do, whether it's Girl Scouts or a different sport. You are not turning into a mall rat. I don't care what I have to drive you to, but you need to do something. You need to learn how to be committed to something,'" said Tessa. "My dad loved that we loved hockey, but it was never forced. It was actually very nice to grow up without that pressure of, 'Your dad played hockey for a career, so you now need to.'"
It had been the sport's potential for bruising that appealed to her. That's why she insisted on boys' leagues. That's why she became the family's lone blueliner.
"Because I really like to hit people," said Tessa, laughing. "I played the tough role. I loved corner battles. I loved just rubbing out the boys."
Funny story: Dad, during his time in Victoria, coached Matthew Phillips, who, during his Calgary minor-hockey days, had played alongside Tessa. "(Phillips) got asked in an interview one time, 'Who's the toughest player you ever played with?'" she said. "He got bright red and said, 'My coach's daughter, Tessa.' He was always the best player on my team, so obviously he had a target on his back and he wasn't that big. People would go after him, so I'd have to go after them."
Her take-no-guff attitude extended to the playground. So, despite her dad's role as a player or coach with the locals, no one was teasing her about the Flames' fortunes.
"People didn't really mess with me," said Tessa. "I was kind of scary when I was a kid … so people usually didn't say much."
Later, the connection to Victoria's head coach produced interesting inquiries from some of her male peers, who would encourage Tessa to get their names on the Royals' radar. Never worked. "I'm like, 'You know what? My dad knows what he's doing. I'm not going to say anything. If you're good enough, he will find you, his scouts will find you. That's not my area. If I tell my dad to look a player, it's going to make him not look at a player. So I just keep my mouth shut.'"
Frequent trips to the Saddledome meant she was pals with Craig Conroy's daughters. She knew Mike Vernon and his family. And, of course, she'd met the face of the franchise, who, years later, put a no-friends-in-hockey twist on the relationship. "(Jarome) Iginla played with my dad, my dad coached Iginla — then Iginla fought my brother," she said, laughing, recalling the night in 2015 when the former Flames captain, then with Colorado, tangled with Adam. "Kind of funny because he's known us, he's known my brother since he was so young."
Meanwhile, Tessa, working her way up the ranks, reached her goal of U.S. college hockey.
At The College of St. Scholastica, she served as a stay-at-home defender for four years and, in 2020, left Duluth with an elementary education degree.
"I wanted to go somewhere where no one knew who I was, to make a name for myself," she explained. "I wanted to pave my own path."
Which — with a master's degree coming her way in May 2024, with that ground-breaking staff at SAIT — is a journey she's continuing.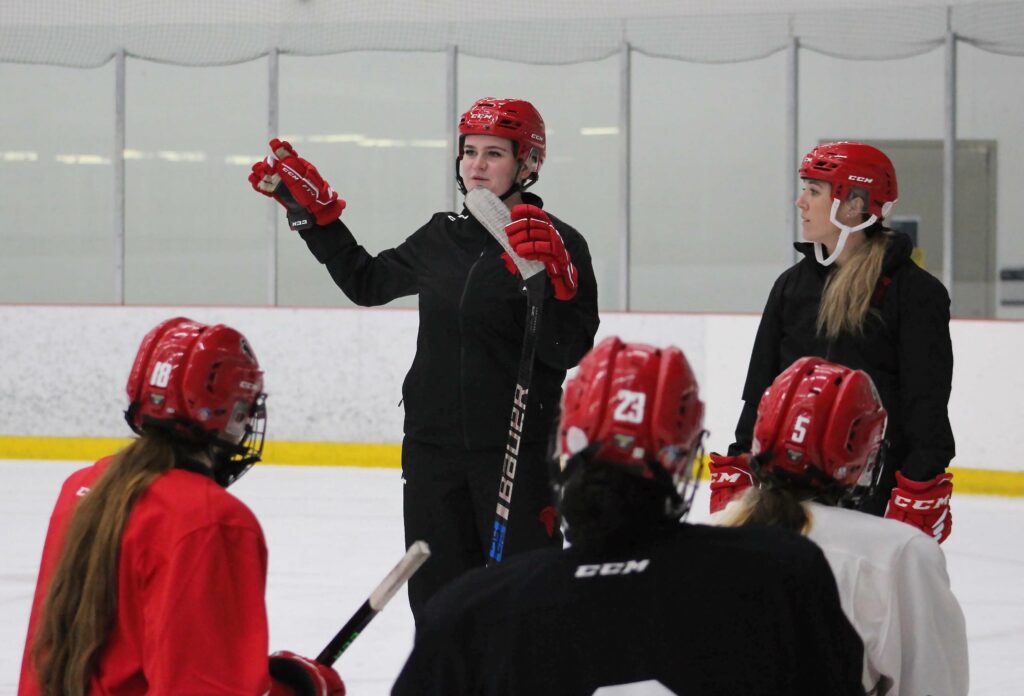 As an up-and-coming coach, Tessa would be hard-pressed to have a better resource than the one she has on speed dial.
"He's amazing," she said of her 57-year-old father. "When I got the job, he got a little disc drive and filled it with drills, with books I could read, with NHL coaches' conferences, stuff like that, to help me."
When she reaches out, no matter how hectic the hockey season gets, she can count on useful feedback from Pops.
"Sometimes I might be frustrated about a situation or something, and I can always talk to him," said Tessa. "Usually, he tells me I'm over-thinking it. He brings me back down, which is nice. He does a really good job of allowing me the freedom to find my own coaching style … but he's also willing to give me his two cents."
Dave, by now, is an old hand. But at Trojans headquarters, there's the start of something new.
Three of the four coaches — Amanda McLeod, Sara Craven, Tessa — graduated from Edge School together. In 2016. It's a bond remains fresh. "Kind of cool," said Tessa. "None of us have changed — at all. We're all the same people we were in high school. Same personalities. We look the exact same. Except now we all have jobs."
Now in charge of an ACAC outfit, expectations are there. On the ice and on the bench. Even in the dressing room.
"We had pushback obviously from the girls being a young, all-female coaching staff," said Tessa. "We had to prove to them that we know what we're talking about. 'We're here for you. We're doing this because we enjoy it.' The girls can see that we're having fun.
"The girls can see that we've bought into them — and we respect them — so now they've given it to us."
Last season, SAIT posted a 2-13-0 record. This group is 2-5-0, with game — and work — resuming in January.
"We've really had to demand respect in this league," said Tessa. "I think we're starting to earn it. We're a different team than the girls were last year. It's really exciting to see our improvement.
During games, McLeod and Jessyka Holt run the forwards, while Tessa is in charge of the defenders. From a cross-rink vantage point, Craven evaluates the action.
"We're starting," said Tessa. "Obviously, teams have coaches that have been there for years — they've had their building years and stuff. We really focused on culture in the room and culture on the ice and our expectations of how we're all going to treat each other."
Beyond their high school connection, going back a long way are Tessa and Craven, whose father Murray enjoyed a 1,000-game career in the NHL. Murray and Dave were teammates with the Sharks and somewhere there are photos of Tessa and Sara together as babies in San Jose.
Now here they are, 20-some years later, still spending hour after hour at the rink.
"We talk about it all the time," said Tessa. "We think it's hilarious."
But their big-league background is nothing they trumpet. In fact, Tessa says it was only a few weeks ago that the players discovered her family's ties.
"It's not something where I'm, 'My dad's an NHL coach, so you need to listen to me.' That isn't something I really boast about," she said. "It's always going to be like that, people comparing me to my family, but I think I've earned my respect. "It's a big step, especially at my age, to be able to say that I coach a college team. I think it's pretty cool. I'm proud of myself."