Season tip off for the Calgary Surge is fast approaching.
WinSport Event Centre will be buzzing with energy this Saturday, May 27th when the Surge face off against their provincial rivals, the Edmonton Stingers.
"Our players are here, our coaches are here, and we are so excited for the start of professional basketball in Calgary," said Surge Head Coach Nelson Terroba.
"From the first time I stepped foot in this city for my press conference at WinSport, to our season ticket holder launch event this past week, I have witnessed tangible energy and excitement around the Surge. We can't wait to have Calgarians watch us play."
Fans can expect a fun, entertaining, fast-paced style of basketball at WinSport this weekend. Saturday's game starts at 4 p.m. and beginning at 2 p.m., the plaza outside WinSport will be packed with basketball courts, food trucks, a beer garden, and family-friendly entertainment including face painters and balloon artists.
"WinSport is proud and honoured to be home for the Calgary Surge in what will be a perfect venue for the team's inaugural season in the CEBL," said WinSport Chief Operating Officer, John Sutherland.
"We look forward to the season and supporting the Surge as they make a significant contribution to the basketball community and the Calgary community at large."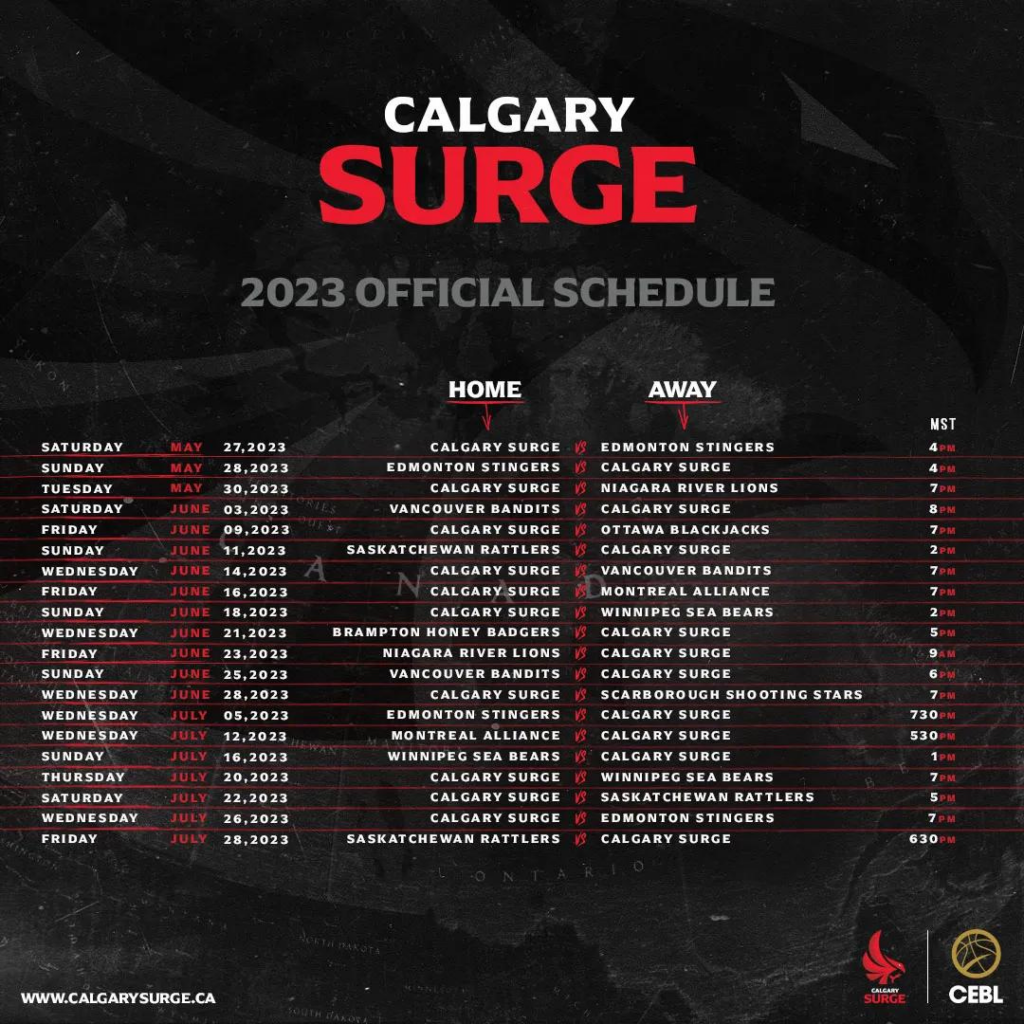 This week the Surge will debut both their primary and secondary jerseys, which fans can purchase at CalgarySurge.ca/shop. More than 90% of tickets have already been sold for the Surge's first-ever game and Calgarians are encouraged to buy tickets before Saturday's home opener sells out. Tickets for the remaining nine home games can be purchased at CalgarySurge.ca/tickets.
"It's hard to believe it's been seven months since we stood in front of Calgarians and unveiled the Calgary Surge as the CEBL's newest franchise," said Vice-Chairman and President Jason Ribeiro.
"We've been working tirelessly since October to build a team Calgarians can call their own and I can't wait for all four corners of the city to come out this weekend and cheer on the home team."
About the Calgary Surge
The Calgary franchise originated as the Guelph Nighthawks in 2018, one of the six founding members of the CEBL. The organization was relocated from the league's smallest market to Calgary in August 2022 as part of the growing league's business strategy to have teams in Canada's largest metropolitan areas. Chairman Usman Tahir Jutt and Vice-Chairman and President Jason Ribeiro saw an opportunity to bridge Calgary's diverse communities together through sport and entertainment and to create a sense of belonging. For more information, visit www.calgarysurge.ca.
About the Canadian Elite Basketball League (CEBL)
A league created by Canadians for Canadians with a mission to develop Canadian players, coaches, sports executives, and referees, the CEBL boasts the highest percentage of Canadian players of any pro league in the country with 71% of its rosters being Canadian. Players bring experience from the NBA, NBA G League, top international pro leagues, the Canadian National team program, top NCAA programs, and USPORTS. Nine players have moved from the CEBL into the NBA following a CEBL season, and 28 CEBL players attended NBA G League training camps during October. The CEBL season runs from May to August. More information about the CEBL is available at CEBL.ca and on Instagram, Twitter, LinkedIn, Facebook & YouTube.
Media Contacts:
Hilary Fontus
Manager, Communications
Calgary Surge
514-918-7826
[email protected]
Annalise Klingbeil
Champion Communications
403-993-8775
[email protected]
(This story was originally published on the Calgary Surge website and is being shared here with permission. View the original announcement here: https://www.calgarysurge.ca/calgary-surge-ready-for-inaugural-game-this-saturday )