Calgarian Makena Hodgson has retired from luge after the 2022 Winter Olympics, but she remains active in the sport and has set her sights on several new goals.
She recently took on a key position with Luge Canada's Board of Directors and is studying biophysics at Mount Royal University.
Hodgson made time for the Calgary Booster Club for a question-and-answer session and provided some thought-provoking responses. Here's what she had to say:
Q: Tell me about your decision to join Luge Canada's Board of Directors. How did that come about and why is this role important to you?
A: Honestly, the thought of becoming a board member didn't cross my mind at first, and especially in the first year after retirement I was just trying to process everything and understand what I was doing. I had a check-in meeting with Sam Edney, our high-performance director, and with Kim McRae, our VP of sport, and they both kind of floated the idea of putting my name up for election. It just seemed like a nice fit for me – having been away from the sport a certain amount of time would enable me to be more objective but still bring in a bit of that athlete perspective where it's needed most.
I know when I was still training and competing my knowledge of the board was extremely limited, and I didn't feel like I really knew the board members all that well. That's one of my biggest priorities with the board is to help bridge the gap between athletes and board members, because that will allow the team to understand what's happening behind the scenes while still focusing on training and competing to the best of their abilities. I wanted to come onto the board to make a difference, in the way that everyone should be connected and jointly contributing to the success of the sport, and having former athletes on the board seems to be a really significant way to guide that process along.
Q: From an outside point of view, it seems like you retired at a young age. Could you discuss what went into your decision to retire following the 2022 Olympic Winter Games?
A: I do get a lot of comments about how I retired too early, how I'm way to young to retire, blah blah blah. And from a certain perspective, I get that – I was only 21, with my whole life ahead of me. But that was the point, I have my whole life ahead of me, and there's so much I want to do with it. My ultimate goal was to make the Olympic Games and to prove myself, and after the Games were over, I was starting to have this feeling of, "Yeah, I'm good with that.'" I had felt fulfilled, and the excitement to wake up and go to training just wasn't there anymore. Certain things just, unfortunately, made me fall out of love with the sport over the last four years of my career, and it didn't seem right to try to stay and power through if there was someone who was more deserving of a spot. If I got offered to hop on a sled for fun in Whistler, would I do it? Absolutely. But would I decide to start competing again? Probably not. I still love the actual aspect of sliding, but the drive in the competitive environment just wasn't there anymore.
It took me a while to fully decide to walk away. After a month of offseason after the Games, I was itching to get back in the gym, and because we had just hired a new head coach (who is one of my favourite people in the world, might I add), I wanted to see if I could fall back in love with the sport. The thing was, after a month of training, I was still dreading waking up early to go to training, and I just couldn't picture myself competing. It just didn't feel like me anymore. And all of a sudden, I woke up one morning and thought to myself, "I think this is it. I think I'm ready to walk away.'" It was one of the hardest decisions I've ever made in my life, but I definitely think it was the right one for me.

Q: Will you be attending Mount Royal University again in the fall? If so, what are you studying and what are your academic goals?
A: Yes, I'll be headed back to school again the fall! I'm currently pursuing a degree in biophysics – which is a huge mouthful to try to explain, but essentially is a joint biology and physics degree – and I also have a minor in psychology. I have always loved school and took about a year-and-a-half worth of university courses online through Athabasca University while actively competing, so that tells you all you need to know about how drawn I am to school. I just love to learn; I've always been the person that wants to know how things work and how to analyze and calculate solutions to problems. It was part of the reason I retired – I wanted to go to school and I had big academic goals that I didn't want to wait until I was 30 to start.
My hope is that I can head off to medical school once my undergraduate degree is complete in two years. Medicine is something that has fascinated me since middle school, and I want to go into a field where I'm helping people and making their quality of life better. Pediatrics has been of particular interest to me, not only because I love working with kids, but because it's so interesting to me to understand how certain diseases and medical anomalies present so differently in children compared to adults.
So small goals, I know. But what can I say? I'm a nerd through and through, and proud of it!
Q: You've been involved in coaching young athletes. What has the experience been like and do you have any goals for yourself in that area?
A: Even before I retired, I've been coaching athletes at the provincial level, so they're anywhere from nine to probably 14 years old. At first, I found it really daunting because I didn't know if the kids would like me, but they've totally grown on me. I love my group of kids, and it makes me happy to see them enjoy the sport the way I did when I was their age. That was one of my main goals going into coaching – to make sure the kids were having fun first and really just enjoying being on the sled, as opposed to worrying whether or not they're going to make the national team in the next eight years.
My big thing going into coaching was that I wanted to give back to the sport what the sport gave to me. Luge really shaped who I am as a person and taught me so many valuable life skills, and I am incredibly grateful for that. Now, I want to make sure that those that come up through the program get that same exposure and have the best experience they can. On the flip side, I also unfortunately learned through my own experiences the kind of coach that I didn't want to be. I kind of built my coaching strategies on that, because I know how terrible it feels to be beaten down and picked on by the coaches you look up to, and I don't want any of the kids feeling that way, especially at nine years old.
So far, I have loved every minute of my coaching experience, and I'm happy that I can give these kids the drive to succeed and let them just soak in every moment, because it all goes by so fast.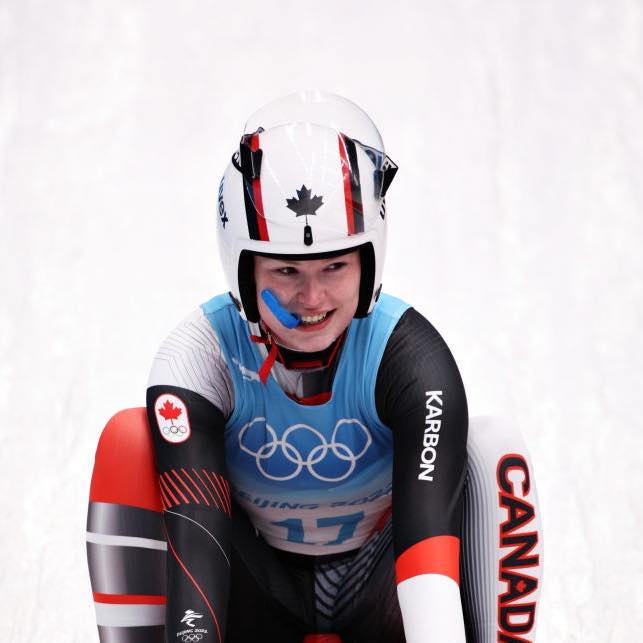 Q: How do you view the state of Canadian luge, both within Canada and on the world stage? And how do you see the future of the sport in this country?
A: This is a really hard one because I do have very mixed feelings about this. I think unfortunately with the track here in Calgary being shut down in 2018, there's been a downhill trend in the sport of luge. Since we no longer have a track here and have to travel all the way out to Whistler just to get experience training on one, it's extremely difficult to recruit kids. I mean, parents don't usually want their kids to spend six weeks away from school every winter to do a sport that they may decide to quit within a year or two. It's not easy to recruit out of Whistler either, since most families don't actually live in Whistler, and B.C. is expensive enough as it is. Killing the 2026 Olympic bid unfortunately had a hugely negative impact on us, and it's really hard to see the foundational level of the sport dwindle. However, on a more positive note, I think at the national level, we're starting to figure things out. Of course, we have one of the youngest teams in the world, so we're not necessarily competing for medals week in and week out, but we're progressing, and that's what matters. I'm really excited to see what these next few years look like leading up to the 2026 Games and beyond.
Q: What currently motivates you and drives you in the sporting world?
A: One of the sayings I live by is, "Work hard in silence, let success be your noise," and it's quite honestly driven me throughout my luge career and into my academic life. I was never the person that sought out gratification for work I was putting in, but I always went into a training session giving 110% because I never wanted to retire from sport knowing there was more to give. I wanted to be the best possible version of myself and give everything I had. Sometimes, that would mean taking it a bit too far in training and actually setting myself back a bit, so I had to find the right balance. But I continued to work because I wanted to see the payoff at the end, almost as validation that I had worked as hard as I possibly could. I think I'm just wired that way; everything I've ever done has been 110% and that's never faltered no matter the circumstances.
Q: How about outside of sports, if you're able to separate the two a bit and just talk about your own personal evolution and how you see your life trajectory in the years ahead?
A: That's hard to do, because so much of my evolution as a person has come from sport, but I owe a lot of who I am as a person to my support network. My parents, my brothers, my boyfriend and his family, and too many other family members and friends to count have given me more support than I could have ever asked for. I learned how to be tough, how to be resilient, and how to always keep pushing no matter how much I wanted to throw in the towel. I can't even tell you how many nights I spent in Europe on the phone with my mom wishing I could have her there, or how many inspirational quotes my dad would send me every morning. I owe a lot to my family because they've taught me exactly who I've wanted to be as a person, and I am so incredibly grateful for everyone I had in my corner.
In terms of my future, it's honestly kind of weird trying to plan things out when luge doesn't take up 95% of your schedule. But I'm learning, slowly but surely, that I can balance school and work and time with friends, and not have to worry about getting to bed by 8:30 at night to wake up for training, or keeping my nutrition plan in check at all times. It's a little scary learning how to be an adult, because sport kind of provided that protective factor because our job was to train and compete, and that was it. Right now, I'm working on finishing my degree and seeing where that takes me, and I'm so excited to see what life has in store.
Q: Last few questions, as we are a Calgary-focused organization, can you reflect on your hometown a bit? How has this community shaped you? How do you view the sports scene here and how do you view the future of sport in Calgary?
A: I'm proud to say I'm Calgary born and raised! This city has taught me so much and I'm so thankful to have lived in a place where I have so many friends and family surrounding me. Calgary has so much opportunity in terms of getting kids involved in sport (or other activities, for that matter), and I think that being able to have some kind of expressive activity is so important in teaching life skills and giving kids a place to feel like they belong. I think in terms of access to sports, there are a lot to choose from in Calgary compared to other places, but some of the more niche sports, like luge and ski jumping, are unfortunately very restrictive in that it's hard to get involved without travelling somewhere to be able to practice. In some aspects, Calgary does a great job of getting kids involved in sports and giving them ways to do that, but in other areas, there's much to be desired. But to be honest with you, I don't have too much to say because I've only known one sport for the majority of my life, so it's hard to say what's changed and what hasn't.
Q: Thank you for your time. If there are any further comments you'd like to make, topics that are important to you that I might not have touched on, please feel free to share them here.
I think one last thing I wanted to touch on is just the importance of mental health. At 17, I was diagnosed with anxiety and suicidal depression, and it totally changed the way I went about my life. I could begin to see what life was like when there was joy and meaning behind it, but it wasn't the picture-perfect story some make it out to be. The competitive environment that luge was, coupled with a bit of coaching that refused to recognize the idea of mental health, led to a long and hard battle for me with my depression and really how I felt about myself. I sat in the Olympic village depressed and feeling as though everyone else would be better off without me. That's no way to feel about the epitome of your career; it's not fair, and I felt so terrible that I could even be feeling that way because of the position that I was in and the success I was having.
Looking back on it now, retirement was one of the most positive things I could have done for my mental health. I've learned my value in life, and I've come to understand just how much the competitive environment impacted my mental health. I'm not trying to give a sob story. What I'm trying to do is gain awareness through the idea that everything in your life could be going exactly the way you want it to, and you can still be unhappy. I think a lot of people unfortunately downplay the state of their mental health because they think no one cares or because they don't think it's okay to be feeling the way that they are, and I know that because I experienced all of that. I want others to know that it's okay to feel this way, and I cannot stress enough the importance of getting help from others, not just for support, but to provide you with a perspective on your circumstances that may allow you to see what you're missing that can help you more than you may realize.
That's all I have. Thank you so much for all of this! I really appreciate it.
Related link: https://sirc.ca/news/olympian-makena-hodgson-elected-athlete-director-on-luge-canadas-board/.