- 1999 Sportsperson of the Year -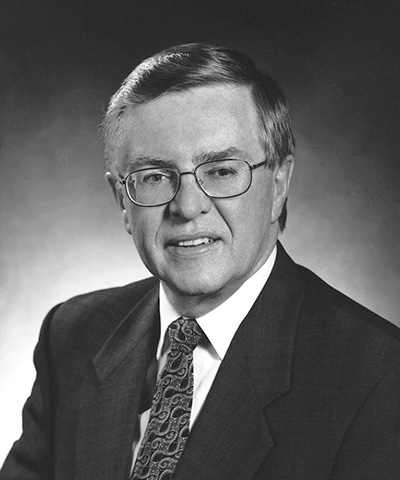 Bill Warren, Q.C. was born in Lacombe, Alberta on March 24, 1939. His parents moved to Calgary when he was seven years old so, all his public education occurred in the city. This Crescent Heights High School graduate participated, for coach, Ken McKenna, in track and field and as a member of the school curling team, going to the Southern Alberta Finals in his graduating year.
While completing his Bachelor of Arts and Law degrees at the University of Alberta, it was the intramural and recreational sports scene that consumed his free time. Like many pre-baby boomers, Bill established himself in business before his marriage to Peggy Graham in 1966. When his first son Robert began to participate in the sports program at Rosedale Community, to be followed by brothers Peter and Jonathan, he also became a participant. Bill's days of coaching hockey and soccer included managing and contributing to the community neighbourhood scene.
These activities quite naturally led to a deeper involvement in the administrative side of athletics and recreation. He became the President of the Rosedale Community Association and the Calgary Booster Club, then Chair of Calgary Parks and Recreation and the Calgary Olympic Development Association. Directorships followed with the 1988 Olympic Winter Games Organizing Committee, the Saddledome Foundation, and he is currently on the Executive Committee of the Pan American Society for the 1999 Winnipeg Pan Am Games. He is an Executive Director on the Toronto 2008 Olympic Games Bid Committee, while he fulfills his duties as President of the Canadian Olympic Association.
When talking to Bill about his athletic involvement, it is the relationship with the athletes that gives him his greatest satisfaction whether as a community coach or to the Canadian 1988 Olympic Winter Games team, or as the Chef de Mission for the 1994 Canadian Olympic Winter Games team. Bill became involved with Bobsleigh Canada when asked by Bob Story to substitute for Cliff Kakish who had been injured in a hang gliding accident. The position became permanent at Cliff's death shortly before the 1988 Olympic Winter Games. This commitment continued at the national and international level until 1994 when he became President of the Canadian Olympic Association.
The naming of the Bill Warren Training Centre in Canmore, Alberta in 1994 is indicative of the esteem the athletic community holds for Bill Warren. It follows a long list of honours in both his professional life as a lawyer and in his avocational life as a sports builder. He is a Queens Counsel, has an Alberta Achievement Award, a 125th Anniversary Commemorative Medal of Canada's Confederation, and is an Honorary Life Director of Bobsleigh Canada, Calgary Olympic Development Association, and the Calgary Booster Club.
It is with great pleasure the Calgary Booster Club welcomes Mr. Bill Warren as the 1999 Sportsperson of the Year.