- 2011 Sportsperson of the Year -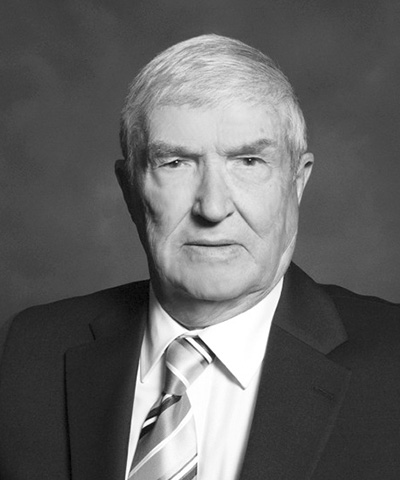 Robert Vickers, more commonly known as Bob, has a long-time involvement in the sport of skiing.  As a youth, Bob was a member of his high school ski team in Montreal, where he competed in numerous competitions winning many medals and trophies in various events.  While serving in Europe with the RCAF, Bob was the captain of the RCAF Ski Team.  The team placed second in an Allied Forces Ski Competition held in France.  He was also a ski instructor and coach during his "off duty hours". 
Bob first worked as the Ski School Director of the Wentworth, Nova Scotia Ski area,  where he coached the Nova Scotia ski teams at the first Canada Winter Games in Quebec City in 1967.  After moving to western Canada, Bob became the Ski School Director under manager, Joe Coulliard, at Happy Valley Ski Area in Calgary.  He was responsible for running clinics to improve the level of skiing of his instructors to assist them in attaining higher levels of certification. 
Bob is a Canadian Ski Instructors' Alliance certified Level III Ski Instructor (which is also an International Ski Instructor and Examiner rating).  Bob taught "ski weeks" at Happy Valley, and later at Paskapoo and Canada Olympic Park ski areas.  He also organized and ran many clinics for ski instructors, as well as being involved in the certification of ski instructors at various locations in Canada.  In 2008, he was appointed as a Canadian Association for Disabled Skiing Level 4 Examiner, which is the top classification for disabled ski instructors.
From 1980 to 1988, Bob was the Coach and Guide for a blind skier who was a member of the National Disabled Racing Ski Team, who competed in the International Disabled World Games and World Championship races in Canada, Austria, Sweden, and the USA.  These events are now known as the Paralympics and World Cup Races for Disabled Skiers.  Bob is a founding member and an active Commissioner (who also coaches new hockey players) in the Calgary 55+ Hockey Association.  He is also an active player in this league, playing two or three days each week.
Bob has served as a very active volunteer from 1967 to the present time with the Canadian Association for Disabled Skiers at the local, provincial, and national levels.  He has been involved in teaching methodology to volunteer instructors.  He was a volunteer with CODA in 1988, and served in both the Opening and Closing Ceremonies.  He was Chief of Gate Keepers for the Disabled Skiing Exhibition Race.  He has been a Volunteer Ski Ambassador (Ski Host) since its inception at Canada Olympic Park.  Bob has also been an active volunteer at Bow Cycle, where he restores bicycles which are given to needy children who cannot afford bicycles at Christmas.
In addition to receiving numerous medals and awards as a guide for blind skiers, Bob's other awards include The Karl Kilzinger Award presented by the Canadian Association for Disabled Skiing, the 25 Year Service Award from the Canadian Ski Instructors' Alliance, as well as being named an Honoured Athletic Leader by the Calgary Booster Club.  For his service to sport in Calgary, the Calgary Booster Club is proud to honour Bob Vickers as the Calgary Sportsperson of the Year for 2011.