- 2012 Sportsperson of the Year -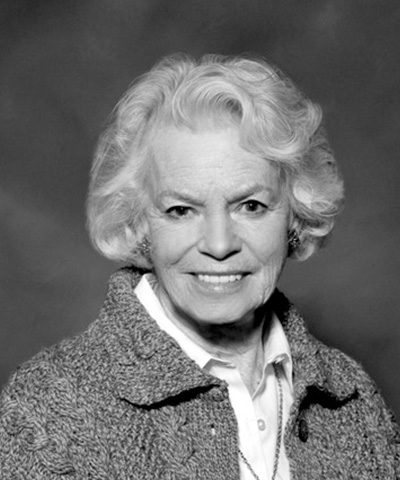 The Calgary Booster Club considers it a privilege to honour Carol Kyle as our 2012 Sportsperson of the Year. For fifty-one years, Carol has been a motivator in Athletics, and the driving force behind the formation and the subsequent success of Officiating in Track and Field programs – not only locally, but also nationally and internationally as well.
In 1958, Carol and her husband Doug started CALTAF, which was the first organized Track and Field Club in Calgary since the Second World War. Together they were administrators and coaches as they trained athletes, sponsored local meets, looked after officiating, and organized all travel arrangements. In 1969, they were transferred to Toronto, but returned permanently to Calgary four and a half years later.
Carol now devoted her efforts into full-time officiating, and in 1973, she achieved her Grade 5 level as a Track and Field official, which is the highest level an official can achieve in this sport at the International level. As the top official in her area of expertise (which is the Vertical Jumps), Carol has worked both locally and provincially at over three hundred meets from 1969 until the present time. This includes club, age class and high school meets, as well as indoor and outdoor provincial championships and summer games. During these years, Carol also found time to offer clinics for officials, and to help young athletes develop an understanding of the rules in their events, so that they could achieve greater success.
Carol's expertise and rapport with athletes and other officials landed her in top positions at over thirty high profile national and international meets over the years. These meets range from Canadian Championships to the Commonwealth Games, the Pan American Games, the World University Games, the World Indoor and Outdoor Championships, the World Police and Fire Games, and the Olympic Games. She is still actively officiating, and Carol will be part of the officiating team at the Canadian Senior Track and Field Championships and the Canadian Olympic Trials, which will be held in Calgary on June 28th to 30th, 2012.
One of the highlights of her long and distinguished career was the Olympic Games which were held in Montreal in 1976. As a high jump official, she witnessed first- hand, Canadian Greg Joy winning the Silver Medal with a jump of 7 feet 3 ¾ inches when he beat out the heavy favorite, Dwight Stones of the U.S.A. The American ended the competition by winning the Bronze Medal, with the Gold Medal going to the Polish high jumper.
Carol was the Officials' Chairman for Alberta for four years, which included the year of the Commonwealth Games in Edmonton in 1978. She was given the job of upgrading, training, and obtaining enough qualified officials for these games, which she did. She also instituted a Recognition Program for Alberta officials with shirts, badges and jackets, which proved to be a huge success.
Before getting involved with officiating, Carol was an outstanding athlete for over ten years in the high jump. She was a high school provincial record holder in Ontario, and she was the Canadian Open High Jump Champion and record holder in 1953 and 1954.
During her illustrious career as an Athlete, Builder and Official in Track and Field, Carol has received many honours over the years. The ones she is most proud of include:
Ontario Outstanding Athlete of the Year Award in 1954 and 1955
Club Builder Award from Calgary Track & Field Club in 1969
Alberta Official of The Year for Athletics in 1989
Calgary Booster Club Honoured Athletic Leader Award in 1997
Canadian Official of The Year in Athletics and Wall of Honor Award in 1998
Inducted into the Alberta Sports Hall of Fame as a Builder in 2000.

Carol has been happily married to Doug for 54 years, and they are the proud parents of a daughter Susan, who lives in England, and a son, Bob, who lives in Calgary. She and Doug have three wonderful grandchildren. Carol has also found time to be an active volunteer in St. Peter's Anglican Church for over 37 years, holding many different positions, as she continually works with both children and adults. Her hobbies include golf as a member of Earl Grey Golf Club, sewing, and her Home Craft business.
In summary, Carol has devoted fifty-one years as a volunteer without pay to Athletics as both a builder and an official. She has made a significant contribution to amateur Sport in Calgary, and for these reasons and many more, the Calgary Booster Club is proud to honour Carol Kyle as our 59th Sportsperson of the Year.