- 2015 Sportsperson of the Year -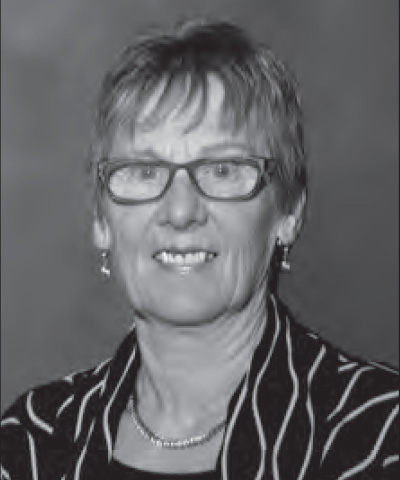 The Calgary Booster Club considers it a privilege to honour Christine Hampshire as our 2015 Sportsperson of the Year Award Winner. For over 35 years she has been involved in the development and expansion of Synchronized Swimming in Calgary as a volunteer. Chris has had many roles including judges chairperson, recreation chair, competitions chair and president. She is also a past president of the Lindsay Park Sport Society and competition chairman for Synchro Canada.
In 1980, Christine started out as a volunteer parent for Synchronized Swimming, became a founding member of the Killarney Synchro program and their president for 15 years. She is also the past president of the very successful Calgary Aquabells and has been an international judge for over 25 years, reaching a level 5 which is as high as you can go. Christine has been instrumental in developing a strong base of officials and event management in Alberta at all levels of competition.
From 1996 to 1998 she was a global volunteer representing Calgary in Malaysia, to help initiate the infrastructure required to develop the sport of Synchronizes Swimming into their country while providing the necessary education and training to host the Commonwealth games in 1998.
A few honors bestowed on Chris include Calgary Booster Club Honoured Athletic Leader in 2006, Syncho Canada Bridge Builder Award in 2010, Alberta Sports Hall Of Fame inductee in 2011 and President's Honor Roll- Synchro Canada in 2013.
The International Pan American Synchro Championships are being hosted by Calgary this year and Christine is the Meet Manager in charge of these Age Class Championships.
It is rare that one comes across a volunteer with the commitment, dedication and expertise that Christine brings to and so willingly gives to Synchronized Swimming. Her influence on the sport over the years has grown from the local level to provincial, national and international levels and made her an icon to literally hundreds of people involved in Synchronized Swimming.
In summary, Christine has devoted 35 years as a volunteer to Synchronized Swimming as a Builder, Administrator and Judge and is still active as a Judge in the sport today. She has made a significant contribution to amateur sport in Calgary and for these reasons and many more, the Calgary Booster Club is proud to honour Christine Hampshire as our 62nd Sportsperson of the Year Award recipient.