- 1987 Sportsperson of the Year -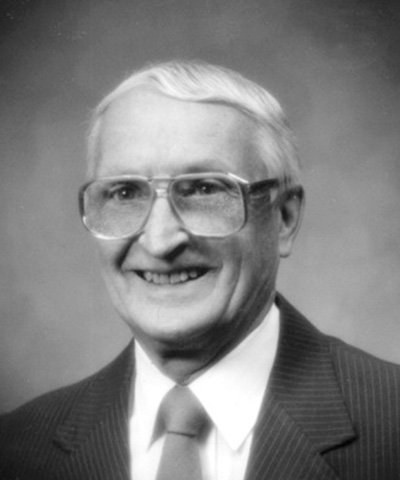 Doug was born on September 24, 1917, in The small town of Pollockville, Alberta. After attending elementary school in Pollockville, Doug graduated from high school in Hanna. He joined the Air Force and served four years as an Air Frame Mechanic and was stationed overseas with the Moose Squadron. In 1946, he joined Revenue Canada in the U.I.C. office and in 1948 transferred to the Income Tax Department, where he remained until his retirement on December 31. 1982. Doug has contributed countless hours to the sports of baseball, hockey, and football in addition to his outstanding contributions at the community level. In baseball, Doug coached the Sun Oil Team in 1957-58 and coached and managed Little League teams in the South West Baseball Association for six years. He is still active with Continental East Little League teams, as coach and/or trainer, volunteering his time each summer for the kids in his community.
In the sport of hockey, Doug has coached, managed, and been the trainer for minor hockey teams from Tiny Mite "BB" up to and including Juvenile "BB." He started the 1948-50 season with the Mount Pleasant Community as coach of the Midget "BB" Hockey Club before moving to the Glamorgan-Richmond Community in 1960. where he coached from Tiny Mite "BB" up to Juvenile "BB" until 1973. In 1973. Doug moved to Lake Bonavista where he coached Midget "B" and was trainer and manager for the Juvenile "BB" club. Doug was always available when the ice needed flooding, cleaning, or if transportation was needed to transfer the teams from one community to another.
Doug also has made a significant contribution to the sport of football. He was associated with the Cowley and Keith Colts Bantam Football Club as trainer and equipment manager for more than ten years. Doug and Bruce Dubbin, a City of Calgary Police Detective, started Flag Football in 1967 for the youngsters of our city. Doug was also involved in the organization of the Frank Andruski Football School in 1971-72. In addition, when time permitted, Doug helped as trainer for the Junior and Senior football teams at E.P Scarlett.
Doug has recently completed working as a volunteer during the Calgary Cup Hockey Tournament and has been a volunteer at the Calgary Booster Chub Hockey School for the past five years.
The Calgary Booster Club takes pride in recognizing Doug Rooke as the 1987 Sportsperson of the Year.