- 2010 Sportsperson of the Year -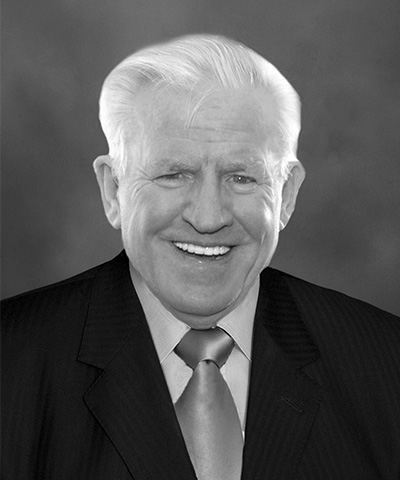 Frank Sisson has been a great friend of the Calgary Booster Club for the past twenty years. So it is with a great deal of pleasure that the Calgary Booster Club awards him with the prestigious title of Sportsperson of the Year 2010. Frank has made numerous contributions to sport and the community that places him into a select group of sport builders and leaders.
Frank has been involved in bowling for over fifty years. In 1958, along with others, he helped establish Talents Unlimited which provided recreational opportunities for mentally disabled children. This program is still going on today in cooperation with NHL players. In 1965, Frank took the first team of women bowlers from Canada to compete in the International Bowling Championships in the United States. Several years later, Frank sponsored the first Lifetime Sports Association Conference. This resulted in sports like curling, archery, golf, and bowling to be recognized and included in the Alberta Physical Education curriculum. Before Frank left Silver Dollar Bowling, as many as 45,000 students would bowl at Silver Dollar at a much reduced cost.
Frank attributes his perfect game in bowling to his involvement in the Lifetime Sports endeavour. Why, you ask? He personally instructed every class for two years. Frank stated, "I was teaching and demonstrating regularly. I just got really good." This involvement with the Calgary school systems led to Frank partnering with the Calgary Booster Club to award two five hundred dollar scholarships for grade twelve graduating students.
Frank continued to give so much to so many in the "bowling fraternity". He has soft spots for individuals with exceptionalities and for seniors "to come and have some fun". As many as fourteen seniors groups were provided with complimentary bowling at the Silver Dollar. He has volunteered for so many years, in every aspect of bowling in Canada, and has been recognized with many prestigious awards. As part of his ongoing involvement with TSN, Silver Dollar hosts a championship event each year, which is another of his favorite volunteer activities. Frank was also a founding member and past president of the World Bowling Writers Association, featuring members in more than sixty countries. Frank wrote a weekly bowling article in the Albertan and Calgary Sun newspapers that lasted for thirteen years.
Frank also had other interests, such as rodeo. With his support and that of the Silver Dollar, he was involved with events such as the Millarville Races and Rodeo, the Jack Daines Innisfail Rodeo, the Ivan Daines Picknik, the Strathmore and High River Rodeos, and the Senior Pro Rodeo Chuckwagon teams. It's not just the monetary support that Frank provides, but he has given countless hours of volunteer time to these events, assisting the local directors to assure a successful event. He single-handedly resurrected the Millarville Races and Rodeo from a losing scenario to a successful and now well-attended event. The Calgary Stampede is also a favorite volunteer activity for Frank. For 34 years, Frank was in charge of Media Security at the Rodeo.
Frank has been great friend and supporter of the Calgary Booster Club. He has annually supported the Club's Sportsperson of the Year President's Reception, as well as the annual Sportsperson of the Year Dinner. The Calgary Booster Club is tremendously grateful for his support and wish to thank him for the many years he has assisted the Club.
Frank has been a volunteer, an innovator, sponsor, supporter and businessman. But most of all, Frank is a man of all seasons. He is warm hearted, generous, philanthropic, modest, and self-effacing in everything he does. If there has been a local need, a requirement for sporting assistance , at any level, regardless of the sport, Frank has always stepped to the front of the line to help in which every way that was needed.
Therefore, it is with a great deal of pleasure that the Calgary Booster Club is pleased to name Frank Sisson as our 2010 Sportsperson of the Year.