- 1985 Sportsperson of the Year -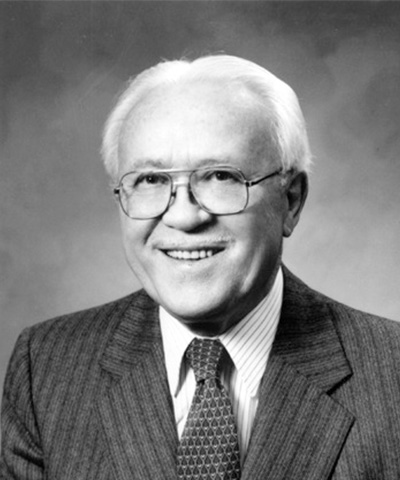 Born in Brandon, Manitoba, George Blundun has dedicated over 30 years of his life to the sport of figure skating. After graduating from the University of Saskatchewan with a B.Sc, majoring in math and physics, George taught in the Saskatchewan school system until joining the R.C.A.F. for the war years. He moved to Calgary in 1945, working for Gulf Oil, Northwest Seismic Surveyors, and Home Oil, before retirement in 1972.
George Blundun's first love is figure skating. He chaired and organized committees for four years for the annual City Figure Skating Carnival. Moving to the National level in 1963, George was named to the Board of Directors of the Canadian Figure Skating Association. He became President of this organization in 1968 after serving as Vice-President in 1966.
During his tenure as Vice-President of the Canadian Figure Skating Association, George was appointed an International Judge. He judged ice dance events in World Championships in Yugoslavia in 1970 and in Lyon, France, in 1971. Also in 1971, George was elected to the Ice Dance Committee of the I.S.U. Congress, making him one of only two Canadians to serve in the I.S.U.
In 1972, he was General Chairman of the "Worlds", a most successful event held in Calgary. George was credited with bringing the world the prestigious "SKATE CANADA" which was first held in Calgary in 1973. In 1974, he wrote a judge's handbook for ice dancing which, after receiving International approval, has become the "bible" for anyone involved in judging this event in international competitions. George has been recognized for his contributions by hav¬ing a city arena dedicated in his name. A member of the Alberta Sport's Hall of Fame, George has come out of retirement to chair the Figure Skating Committee for 1987 SKATE CANADA and the 1988 Olympics in Calgary.
The Calgary Booster Club is proud to add the name of George Blundun to the distinguished list of Sportsperson of the Year.