- 1976 Sportsperson of the Year -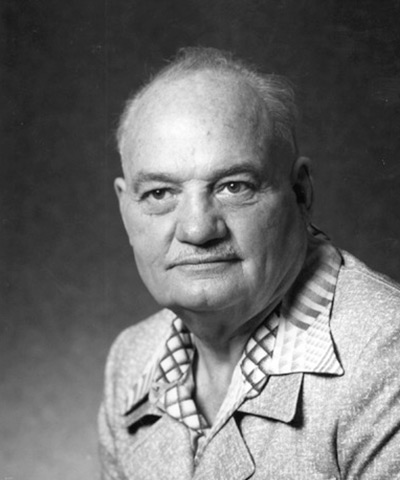 Henry Viney is a man who stands tall not only in his chosen vocation of sports broadcasting but also in his contribution to amateur sports throughout Canada.
Henry was born in Lethbridge on September 3, 1910. As a broadcaster, his career stretches back to 1932 when a Lethbridge hardware store persuaded a local station to put Henry on the air to talk about sports. Thus, without any previous experience in journalism or broadcasting, he vaulted into a career that has brought him recognition from every corner of the world.
Among the many sporting events Henry has covered are included a total of nine World Series of baseball, numerous Olympic Games both summer and winter, the British Empire Games, the Pan-American Games, the World Hockey Championships, the English Football Cup, the heavyweight boxing championships between Rocky Marciano and Jersey Joe Walcott, the Kentucky Derby, the Indianapolis 500, the Stanley Cup Playoffs, the East-West all-star Shrine football game and every Grey Cup game since 1948. He has also just returned from Czechoslovakia where he accompanied the Calgary Spurs midget hockey team on their tour of that country.
Unlike many sports reporters, Henry's knowledge stems from active participation. He has competed in provincial swimming and boxing championships and has participated in baseball, basketball, hockey, track and field and wrestling. As an official, he has refereed Allan Cup hockey, Ladies World Basketball Tournaments, the Dominion Men's Basketball Championships, senior baseball and senior football. Throughout his career Henry has devoted his time unselfishly to all levels of amateur sports. He has served at the executive level as Commissioner of the Southern Alberta Junior Baseball League and as Vice-President of the Calgary Junior Soccer Association. He has spoken to literally thousands as a guest speaker at various sports banquets in addition to serving as Master of Ceremonies countless times. His door has always been open to those in amateur sports who require his services. Henry has been honoured many times throughout his career but a few of those awards have special significance to him. In 1967, he received the Foster Hewitt Award as Canada's Outstanding Sportscaster. In addition, he was honoured by the Amateur Sports Federation of Canada in 1968 and recently was named Outstanding Media Personality during the annual Love Awards presentations. Henry has spent his life promoting amateur sporting activities in Canada and particularly in the Calgary area. Without his co-operation and guidance, many sporting groups would not be as efficient or active as they are today. The Booster Club is extremely proud to add the name of Henry Viney to the distinguished list of Sportsperson of the Year.