- 1986 Sportsperson of the Year -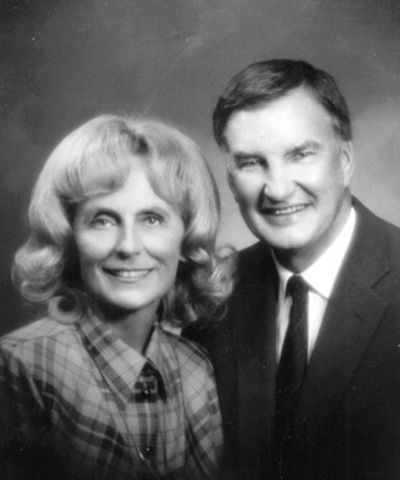 The Calgary Booster Club is proud to recognize Marg & Ron Southern as the 1986 "Sportspeople of the Year."
Through his energy and determination, Ron Southern helped advance a modest-sized family business into a major international corporation.
Through her imagination and enthusiasm, Marg Southern helped create a world famous equestrian centre.
For most of us, either achievement would be sufficient for one lifetime. But not for the Southerns. Individually and together, this remarkable couple continues to promote the best interest of Alberta and Albertans, through a commitment to the community which has extended well over thirty years.
Marg Southern's efforts first gained public attention in the early fifties. As President of Girls Intramural Sports at the University of Alberta, and as a member of the intra-varsity basketball, volleyball, badminton, and golf teams, she developed an early interest in the sporting and recreational opportunities open to Albertans. In 1963, Marg was appointed to the City of Calgary Parks and Recreation Board and was instrumental in the formation of Calgary's ambitious land banking program which ensured lands for future recreation space in the rapidly-growing city.
Ron Southern, meanwhile, was making his own presence felt. He donated, as a Centennial project, the development aspect of the 17-acre Centenary Park near the Calgary Zoo, taking a personal role in its design and landscaping. He backed his support of the Boy Scout movement with a donation of trailer units and played a similar role in the development of Camp Horizon.
Starting in 1970, Marg & Ron entered into a project that many thought was an impossible dream – the development of a world-class equestrian centre just outside Calgary. Their energy and perseverance succeeded in attracting international competitors to Spruce Meadows, a place many competitors had never heard of. Today, Spruce Meadows is a permanent home to some 120 horses and the calibre of its show jumping events has brought credit to Calgary, to Alberta, and to Canada.
The Calgary Booster Club salutes Marg & Ron Southern for bringing Calgary a sporting facility that brings friendship, good sport, pride, and benefits of mind and commerce to all involved.