- 1994 Sportsperson of the Year -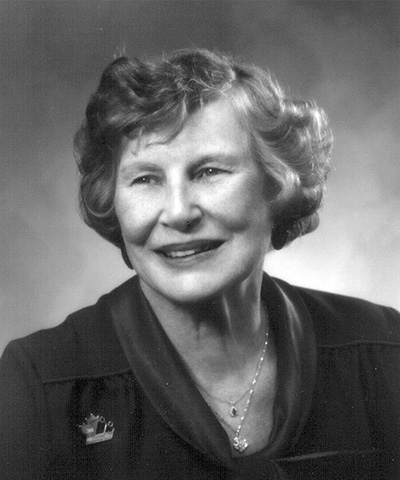 The 72 year old (June 16, 1921) has devoted over 60 years to the aquatic sports scene. For 34 of those years she and husband Dave (married 52 years) have called Calgary home and during that span she has been and continues to be an avid volunteer for synchronized swimming, competitive swimming, diving, Special Olympics, Alberta Games, Calgary Zone Games and the Red Cross Water Safety program.
During Marg's career as coach, official and administrator she has served locally, nationally and internationally.
Born in Vancouver she began swimming at age 3. Her teaching career commenced in 1932 at Girl Guide camp. During her formative years on the west coast she was a competitive swimmer and also a member of the first synchronized swim team (1930s).
After relocating to Calgary in I960 she became immediately involved in teaching and coaching swimming. Over the years she conducted programs at the Calgary Winter Club, Glencoe Club, Lindsay Park, Renfrew , Inglewood, Thornhill, North YMCA and SAIT.
The 1994 Sportswoman served on the provincial executive of the Canadian Amateur Swimming Association during the '80s. She was also involved as an official and was active in the organization of national and international competitions, in the first Alberta Summer Clubs programs and in officials training.
Marg's volunteer efforts in diving consisted of stints on the national executive as Alberta President, Southern Alberta Chairman and Chairman of Officials through the '60s to the '80s. She has coached all levels (Recreational, Competitive, Masters and Special Olympics) and has acted on the National Coaching Development Committee and as Provincial Certification Coordinator. She has also been an examiner and judge and an Alberta Games advisor. This amazing lady has also authored numerous technical articles, papers and books and produced training/teaching videos.
Marg Scott, still Involved today has been called "the perfect volunteer, someone who is willing to do a job no matter how big, or small the task." She is truly a hard working, dedicated sport volunteer and a very worthy 1994 Calgary Booster Club Sportsperson of the Year.