- 2005 Sportsperson of the Year -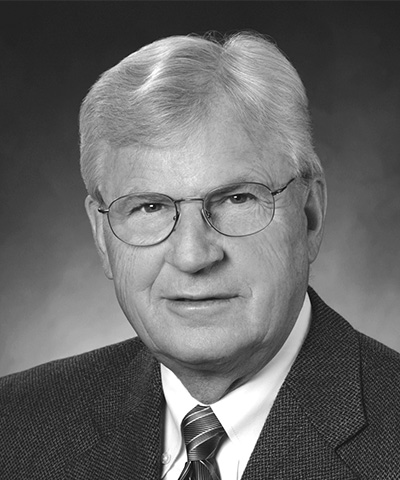 It is with great pride that the Calgary Booster Club names Russ Parker as our 2005 Sportsperson of the Year.
Originally from Moosomin, Saskatchewan, Russ came to Calgary in 1958 and played junior and intermediate hockey and junior baseball. Russ turned to coaching where he guided many teams to city, provincial and national titles. In hockey, his Calgary Orphans team won the Alberta Intermediate Hockey Championship in 1964. In baseball, Russ guided a Southern Alberta All-star team to a win at the 1965 Canadian Junior Baseball Championship.
In 1968, Russ was the coach/manager of the Calgary Odeons and first league Commissioner of the Alberta Major Baseball League. Russ and his wife Diane have four children: Shannon, Brent, Blake and Darren.
In the 1970's, Russ returned to the grassroots to coach baseball in the Centennial and Foothills Little Leagues and minor hockey in the Rosemont and Triwood communities.
In 1977, Russ and his family took the plunge into professional baseball in the Pioneer Baseball League (Calgary Cardinals). Russ is perhaps best known for his role as owner of the Calgary Cannons of the Pacific Coast League (1985-2001). Over the past 45 years, Russ Parker has made a significant contribution to both amateur and professional sport within our city and beyond. During his tenure, the number of young people playing baseball in the city of Calgary has substantially increased. His legacy includes the development of Foothills Park into Burns Stadium. Russ donated the stadium scoreboard and, through 50/50 draws, Calgary amateur baseball has received over $300,000 in support for their programs.
The respect and recognition for Russ Parker points to the high esteem that Calgarians and others have for him and his work. The Calgary Booster Club recognized Russ previously as an Honoured Athletic Leader in 1973. Russ was elected to the Saskatchewan Rural Sports Hall of Fame, and has received many awards at minor and professional levels. Russ was the first Canadian elected to the Board of Trustees of the National Association of Professional Baseball, the governing body for minor league baseball. While his home is in Calgary, Russ now spends time in Scotsdale, Arizona and is the current owner of the Regina Pats of the Western Hockey League. Residents of Calgary are fortunate for having Russ Parker and his commitment to the promotion of baseball. Involved as a player, coach, manager, administrator and owner from 1960 to 2001, Russ richly deserves the title of "Mr. Baseball" in Calgary.
The Calgary Booster Club is proud to honour Russ Parker as its 52nd Sportsperson of the Year.