- 2004 Sportsperson of the Year -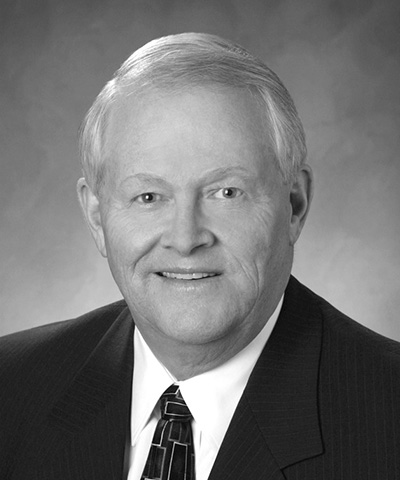 He has been described "a class act" by the media, "conscientious" by his colleagues, and "professional" by anyone who has had the pleasure of working closely with him. He is an individual who has garnered affirmative public recognition in our community, and has done so with great character and dignity. The Calgary Booster Club is extremely proud to honour Stan Schwartz as the 2004 Sportsperson of the Year.
Over the past 48 years, Stan Schwartz has made significant contributions to sport within amateur and development levels as well as the professional ranks. While best known for his role as President of the Calgary Stampeder Football Club from 1996 until 2003, Stan has influenced much of Calgary's sport community in his quiet and unassuming manner. Stan has managed to blend his professional responsibilities with his commitment to amateur sport, creating many opportunities for younger athletes. Stan, along with Tony Anselmo, has been instrumental in the development of McMahon Stadium as a multi-purpose facility that now functions as a first-class venue for several hundred amateur events every year.
Stan was born and raised in Southern Alberta, near Medicine Hat. In his earliest pursuit of athletics, he participated in community and school sports where he excelled in football and track and field, winning awards in both disciplines.
Stan's dreams took him to Mount Royal College and the University of Calgary where he played football and earned a degree in Physical Education and an Alberta Teaching Certificate. In 19/0, the Calgary Board of Education hired Stan and his wife Shirley. In 1972 they left for graduate school, moving to Indiana State University where Stan coached football and received a Master of Science degree in Sports Medicine before returning to Calgary. Over the years, Stan coached high school football, wrestling and track and field. He guided a bantam football team to the City and Provincial Championships. He also acted as the defensive coordinator with the Calgary Mohawks Junior Football Club. He was heavily involved as a wrestling coach, coaching a city high school championship team, participating in the World Amateur Wrestling Coaches Camp and serving as an assistant coach for the Alberta Junior Olympic Team. Stan also served as an athletic trainer and conducted training clinics for the Calgary Board of Education. He spent much of his personal time building football practice equipment that continues to be used by some Calgary high schools today. He spent an equal amount of time building fitness equipment and organizing work out spaces for the use by students. In 1976, Stan started his eight-year career as an Assistant Coach with the Calgary Stampeders. Stan left his coaching position with the Calgary Stampeders and became Manager of McMahon Stadium. In preparation for the XV Olympic Winter Games, Stan and his staff oversaw the $30,000,000 expansion of the Stadium. In addition, Stan contributed many volunteer hours working with the various OCO '88 management personnel, committees and volunteers. Stan returned to the Stampeder fold as Vice-President and General Manager – Administration. In 1996 he was elevated to President of the teams that won Grey Cups in 1998 and 2001. Stan acted as The Calgary Stampeders' representative on the Canadian Football League Board of Governors for eight years. During his association with the Calgary Stampeders and the Calgary Stampeder Alumni Association, successful fundraising campaigns have raised close to two million dollars in support of various Calgary football programs.
The recognition, respect and praise that Stan Schwartz has received from his community underline the high regard that Calgarians have for him. The Calgary Booster Club has recognized Stan previously as an Honored Athletic Leader (1999). In 2000, as recognition of over 30 years of support for high school football, the Calgary Senior High School Athletic Association introduced a trophy in the name of Stan Schwartz. The trophy is awarded annually to the top Calgary high school volunteer football coach. In 2003, Stan Schwartz was inducted onto the Calgary Bantam Football Wall of Fame for his outstanding contribution towards the foundation of bantam football in Calgary.
Stan is a tireless worker, never seeking the public acknowledgement that has quite naturally attended him, committing his life work to the sports community. It is the vigorous dedication of Stan Schwartz that has made a positively indelible mark on the face of Calgary Sports.